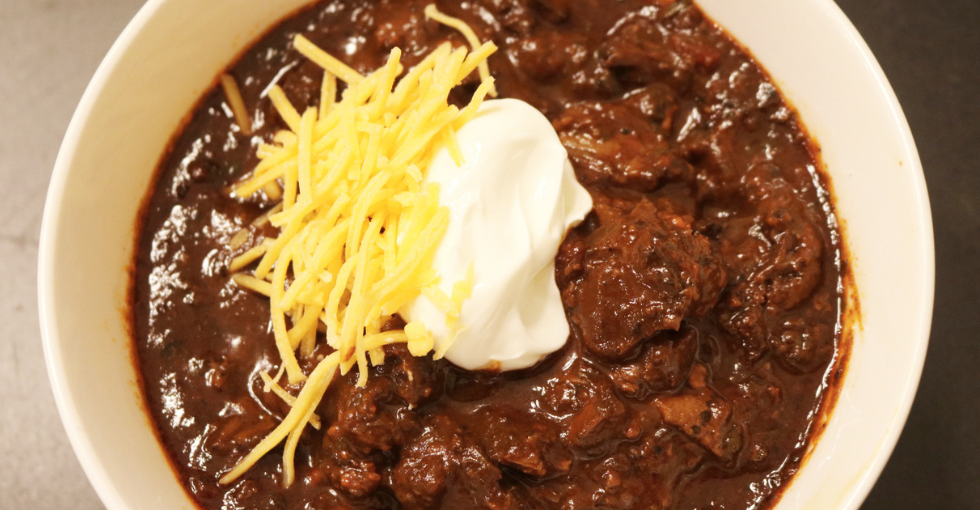 Brisket Chili hands down is my new go to chili… period. I said it. I mean it. I am standing by it.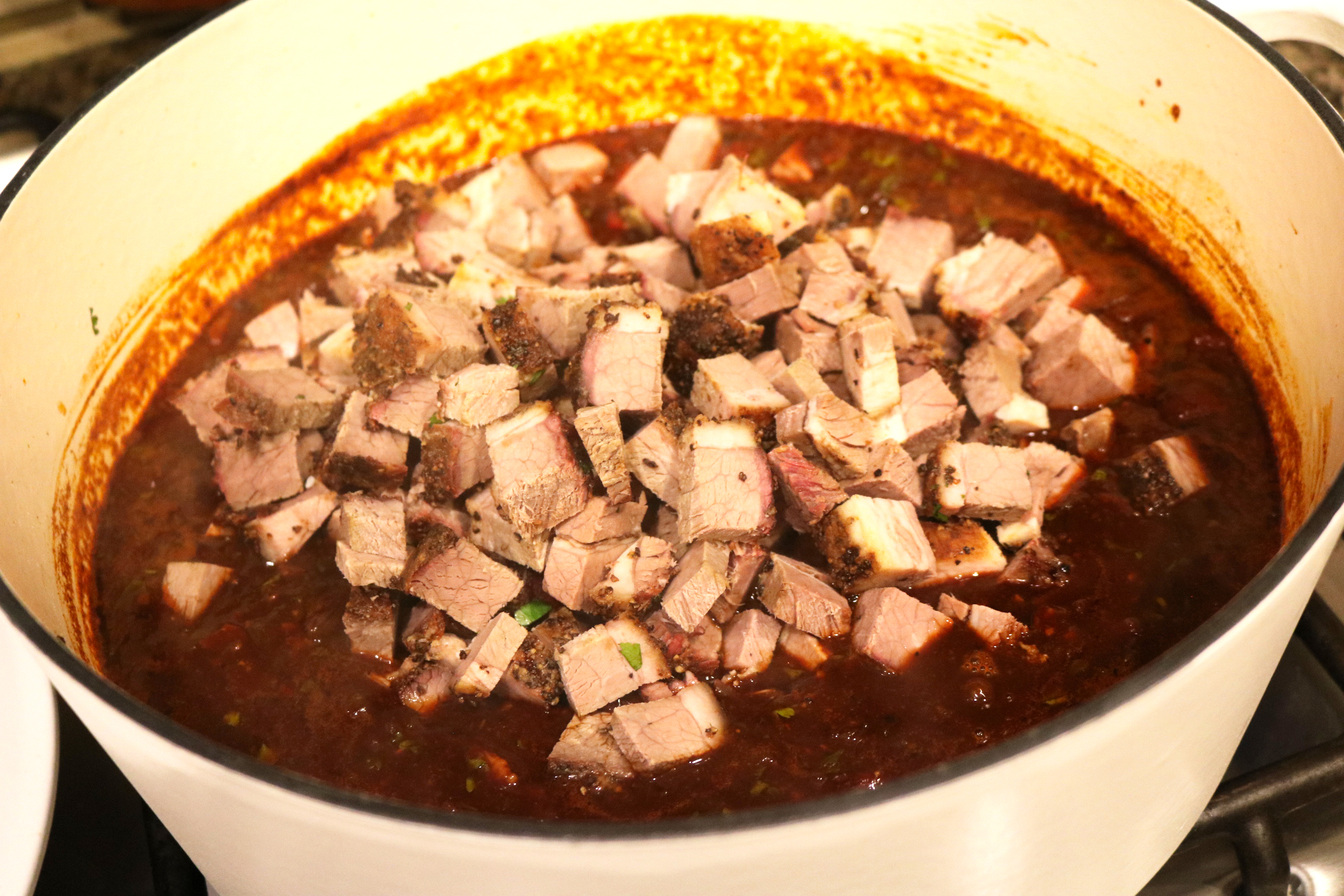 Brisket Chili… your new favorite chili
Being a Texas girl I have had my fair share of chili and I have made my fair share as well. I have made simple ground beef chili, steak chili, chicken chili and now Brisket Chili. I had heard about this type of chili for years from a friend of mine, but never made attempted to make it, until now.
So why now? Well I make chili every Halloween for my families Halloween party and this year I wanted to make something a little extra special. So the weekend of Halloween I decided to smoke my first brisket (thats a whole story) and take some of it and make brisket chili. Oh I am so, so glad I did.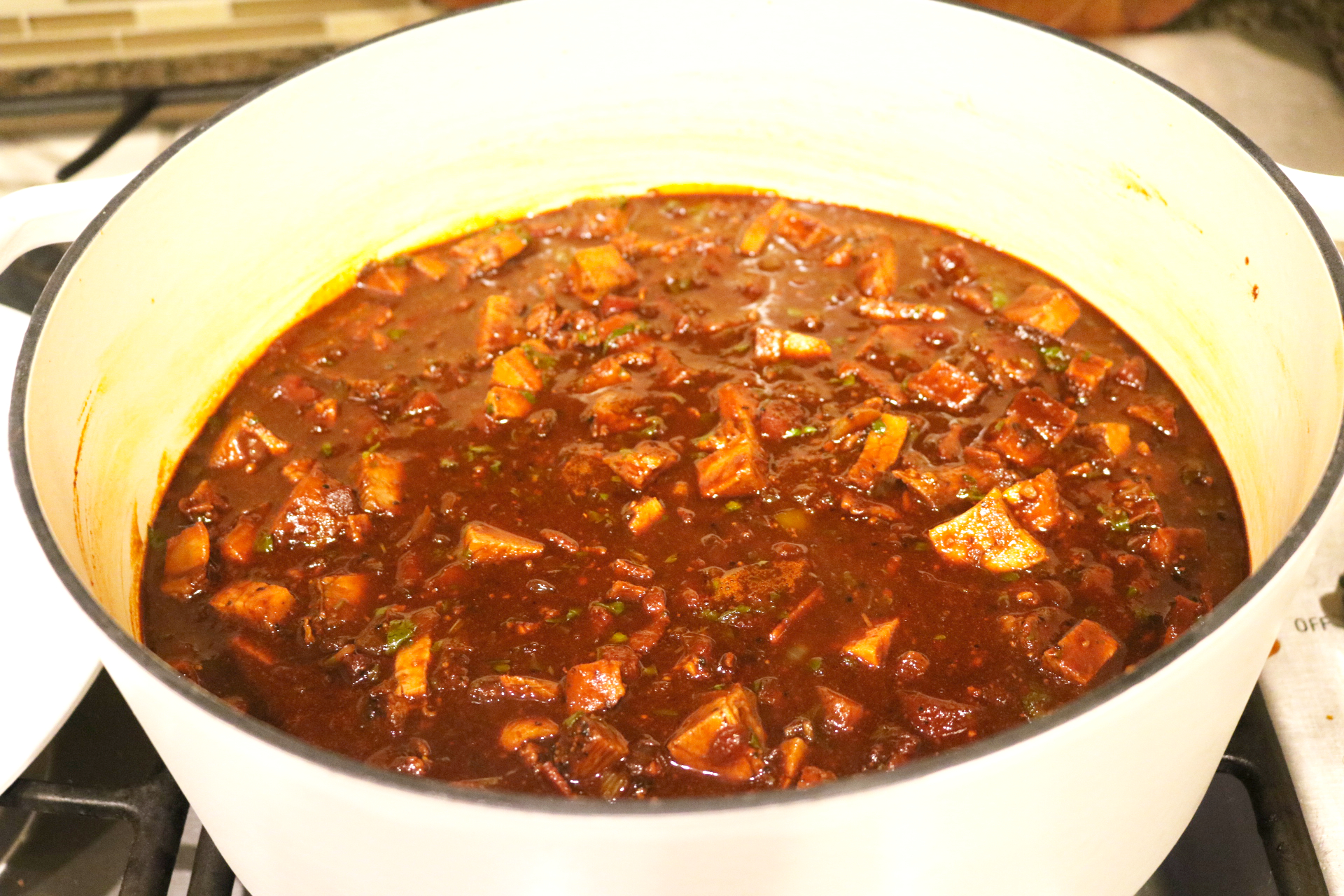 Unlike any other chili
The base of this chili is unlike any other chili I have ever had. My recipe is inspired from this Bon Appetit recipe, but with my own twist on it. First important change I made was I did not use butternut squash in the chili… I mean I am from Texas we do not use beans or squash in chili EVER! Secondly I used already cooked brisket, I like the smoked flavor it adds. Lastly I adjusted seasoning and added a few extra things here and there.
The one thing I did use straight from the recipe was the base of it… ancho chilis and bacon. Yep… ancho chilies, and let me tell you they make this chili AMAZING! Let's not forget the bacon, everything is better with bacon.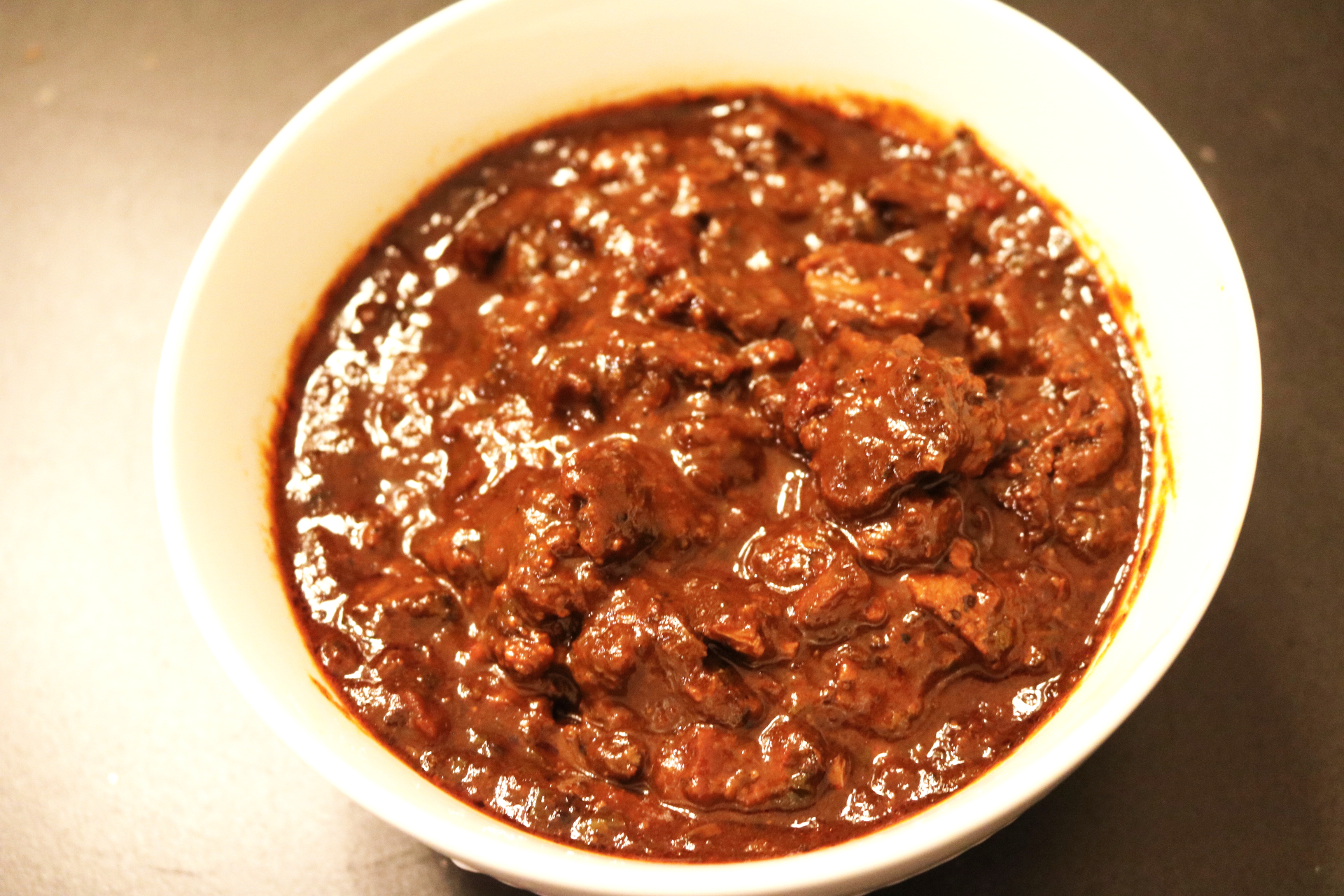 Cook it ahead…
I say this about any chili, but I always make it a day or so ahead before I serve it. I do this for a few reasons. First, I love how the flavors come together the longer they sit together as they cook and then cool and then get warmed again. Secondly, I like to be able to take my time to get the seasoning just right, especially when making a new chili recipe.
The beauty of this recipe is that honestly the longer it sits the better it gets. By the time I served it the brisket literally melted in your mouth and all the flavors came together perfectly. Oh, just thinking about it, makes me want to make it again.
Also when you cook it ahead it gives you time to get all the yummy toppings together and make this AMAZING cornbread.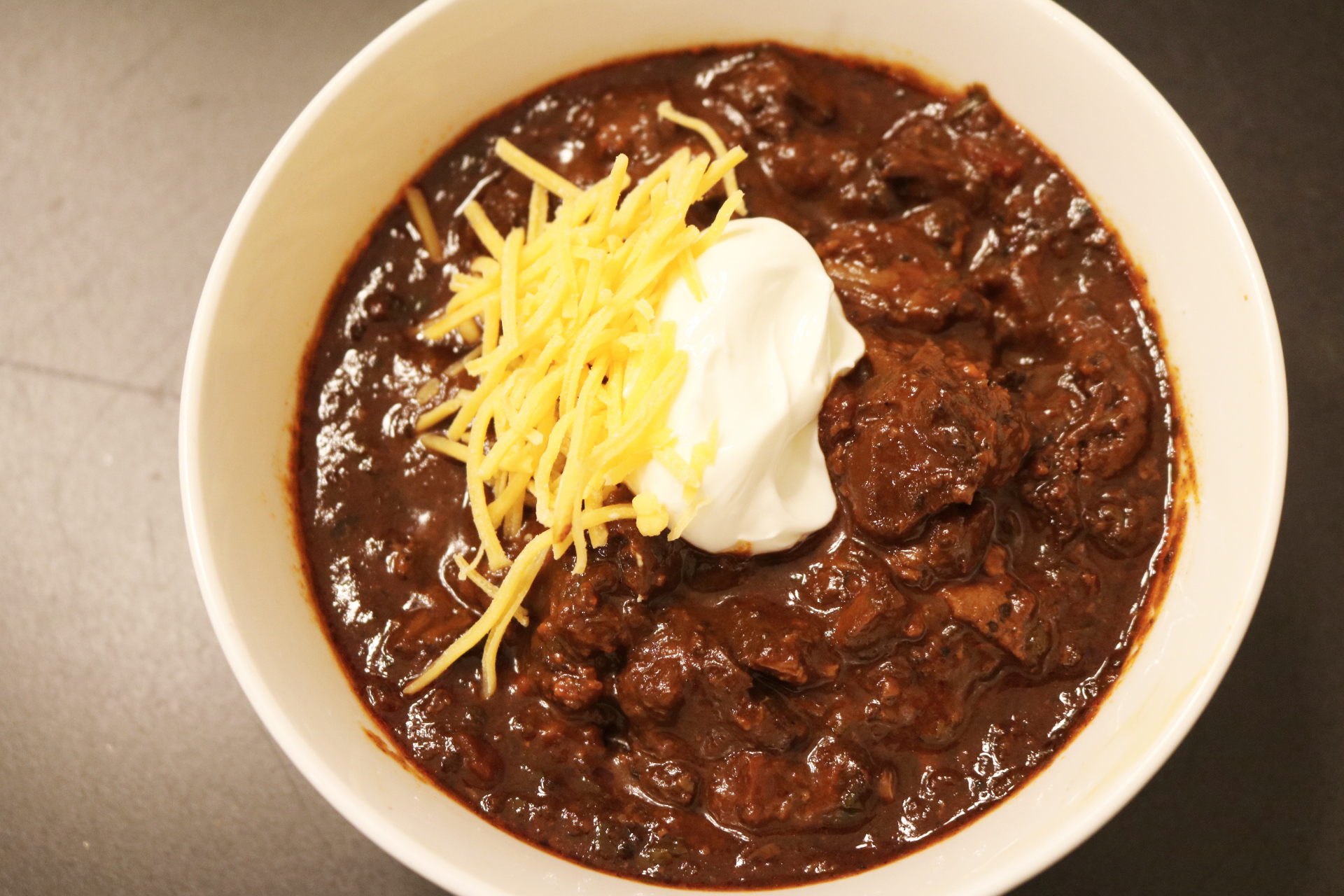 Time for Brisket Chili
Chelle Chelle
10-12 bowls
Brisket Chili
The only chili you will ever want to make again. This Brisket Chili takes chili to the next level and will be the star of you tailgate, family dinner or next get together.
30 minPrep Time
4 hrCook Time
4 hr, 30 Total Time
Ingredients
6 large dried Ancho chilies - stemmed, seeded and roughly torn
6 garlic cloves
6 ounces bacon - chopped
2-3 large onions - chopped
2-3 Tablespoons chili powder
1-2 Tablespoons salt
1-2 Tablespoons pepper
3-4 teaspoons cumin powder
20 oz Rotel tomatoes
7 oz can roasted green chilis
12 oz bottle Mexican beer (I used Modelo) - optional
3-4 cups beef stock
4-5 cups cooked brisket, cut into large chunks
1/2 cup fresh cilantro, finely chopped
Optional Toppings
Sour Cream
Grated Cheese
Corn Chips
Chopped Onions
Fresh Jalapeño
Fresh Cilantro
Cornbread
Directions
In a large bowl place stemmed and seeded ancho chilies
Cover with boiling water
Let sit for 30 minutes, up to 4 hours, the longer the better or until chilies have softened
Once chilies are soft drain chilies, reserving the juice
Place chilies & garlic cloves in a blender with 1/2 cup of soaking liquid
Blend until almost smooth adding more soaking liquid as needed until thick sauce comes together
In a large stockpot over medium heat brown bacon
About 1/2 way though the bacon browning add in chopped onion and cook until onions are soft and bacon is cooked
Add in seasoning (starting with the smallest amount) and stir, cooking for a few minutes
Stir in rotel tomatoes, green chilies and beer (if using)
Cook until liquid reduces by about a 1/4 to 1/2
Add in chopped brisket and 3 cups of beef stock
Stir and bring to a boil
Cover and reduce heat and let simmer for 2 hours, stirring every 30 minutes or so
Add in more beef stock as needed to keep chili from getting too thick
Taste and adjust seasoning as needed. I added in more all purpose seasoning, salt & chili powder to make it just right
Stir in fresh cilantro (if using) and let cook for another 30-45 minutes, or until brisket is super tender and "melts in your mouth"
Serve immediately or let cool to room temperature and then place in refrigerator
To reheat, place over low heat
As it comes to temperature you may need to add in some additional beef stock to get it to the right consistency, taste and adjust seasoning as needed (although I didn't need to add anything the next day)
Serve with any toppings you desire
ENJOY!!
Notes
You can use ground beef if so desired
7.8.1.2
576
https://sparklesnsprouts.com/2022/11/16/brisket-chili/
All images are the property of Sparkles n Sprouts, to use image please contact the webmaster at michelle@sparklesnsprouts.com
Pin this now so you don't lose it!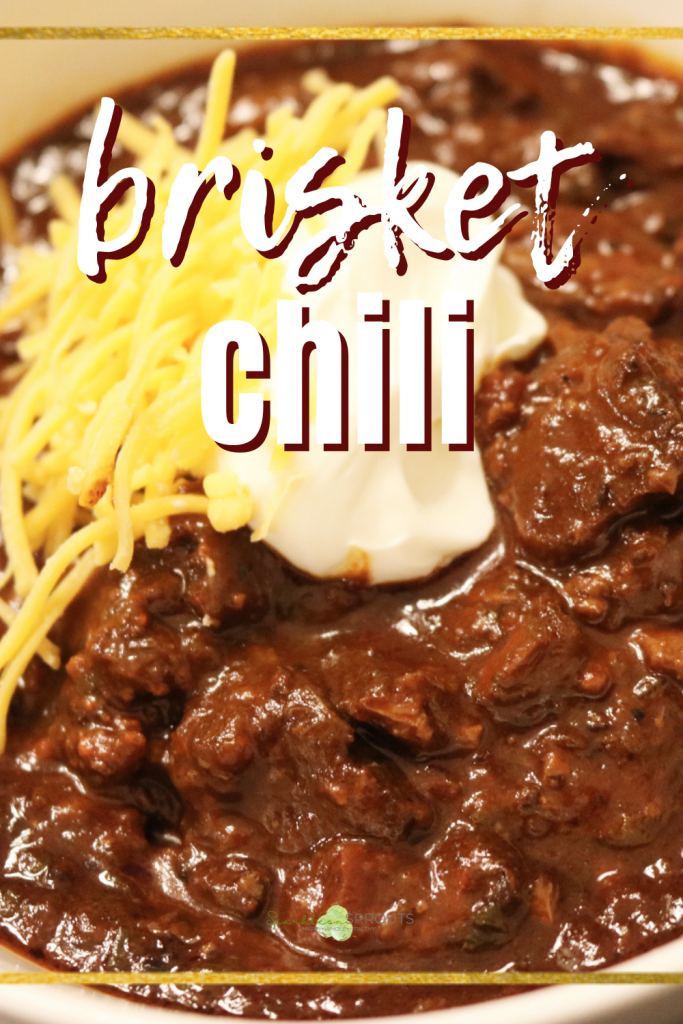 Follow us so you never miss a thing!