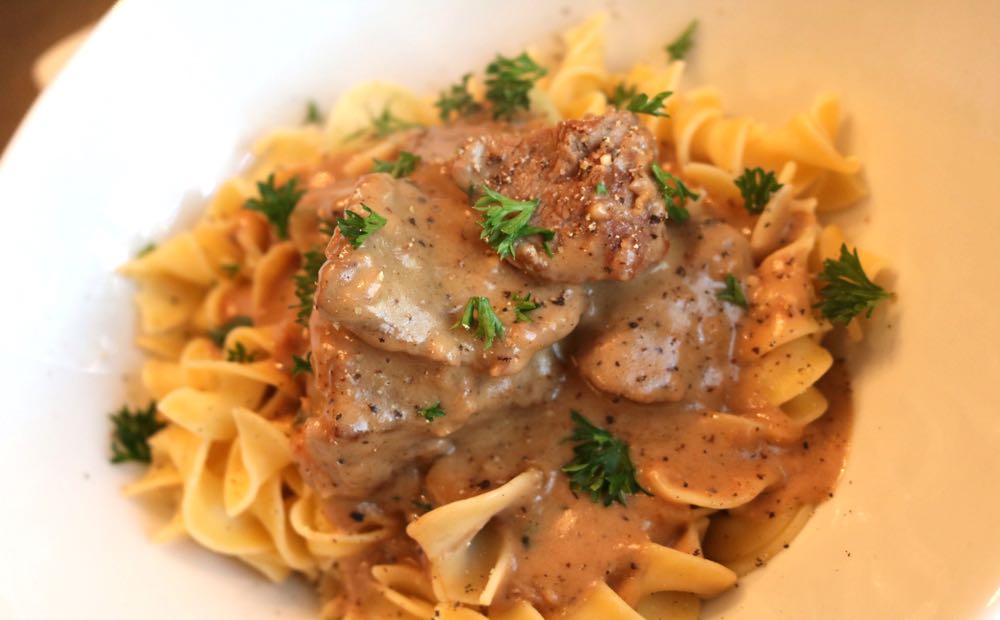 weeknight ready and oh so yummy
Summer is almost here. The business of the end of school will be winding down soon and a new summer schedule will start to become familiar. For me that means it is time to get back into some favorite routines like cooking dinner. There is not a much better place to start than this stroganoff..

Weeknight Ready, REALLY?
Ok, ok I know beef stroganoff is usually one of those dishes that takes all day to prepare. Most of the time I throw it in the slow cooker and let it cook all day, but I have an even better version for you.
My Godmother, Sandy, makes an amazing beef stroganoff. The beef is super tender, the sauce is light but still tangy and it the dish as a whole doesn't feel too heavy. You know what I'm talking about. Sometimes the gravy can get so thick it makes the entire dish feel super heavy and muddled a bit.
For this recipe I really tried to create a light, but still very flavorful dish (like Sandy's) that everyone LOVES!!
And you won't believe how easy it is!!

It all starts in the pan
This dish is so, so good and it all starts with the meat and what happens in the pan. First with the onions (& mushrooms if you want) and then the meat. I used sirloin steak this time and it turned out AMAZING!
I made sure to season the steak really well with salt & pepper. Now I know I could have gone a little crazy and used a lot more seasoning but there is so much flavor coming later I decided just a little here would be good. I then dredged it in a little flour, this will help with the sauce later but also to help create a yummy crust on the meat.
If you think this all sounds good, wait until what you see comes next!!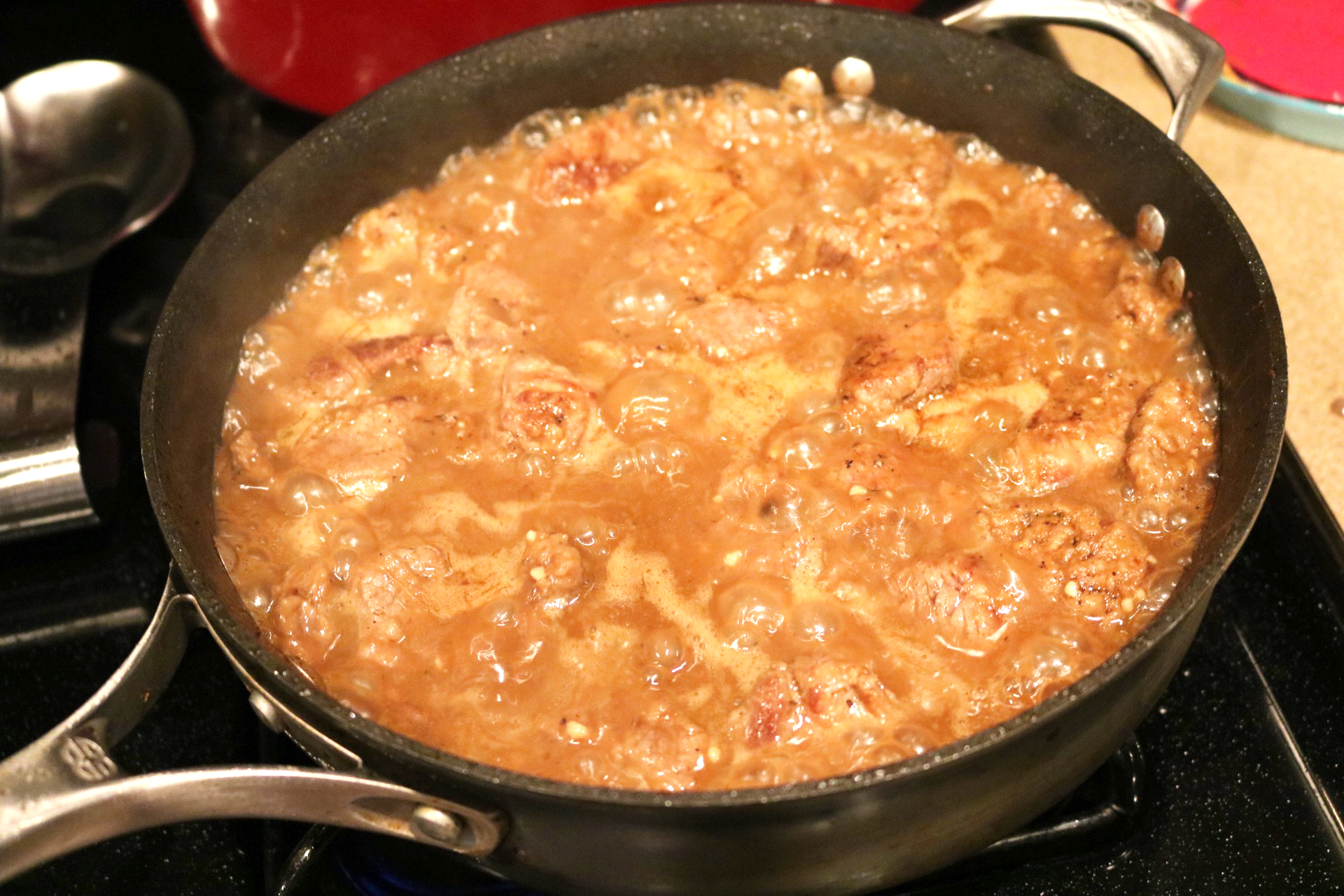 Bring on the gravy
After everything is browned and yummy I threw in some red wine to de-glaze the pan, and to add another layer of flavor. Remember I told you tons of flavor was coming and this is one of the layers I love. You cook it off so there is no alcohol left in the dish, but you are left with a rich base for the amazing gravy that is coming.
After the wine has cooked off it came time for the beef stock. Please note I said beef stock and not beef broth. I use this Kitchen Basics Beef Stock, but if you have homemade that would be amazing, I just didn't take the time to make homemade. Using stock really helps to add a ton of flavor without a lot of added fat or calories, which is always a win, win in my book.
After the stock comes the Worcestershire sauce which is where a lot of the magic happens. There is just something so yummy about Worcestershire sauce. It adds a ton of flavor with just a few dashes here and there, making it a perfect addition to this dish (and so many others).
After you add everything back in to the pan, you let it cook down bit stir in the sour cream and the voila it is done! It really is that easy.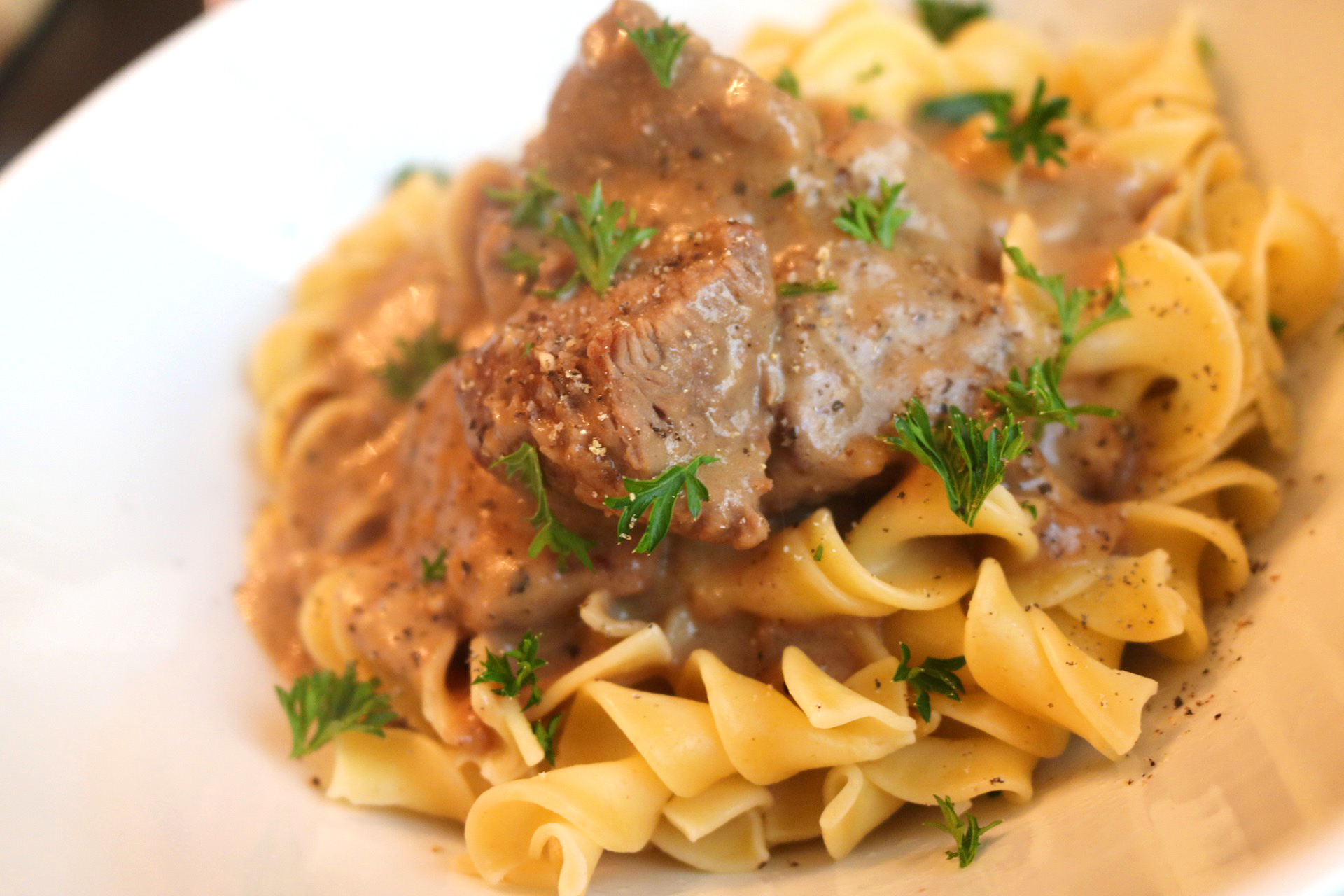 While the sauce is cooking down it is a great time to get the noodles cooking or get some quick mashed potatoes ready…trust me as soon as this is ready you are going to want eat it ASAP!!
Ready, Set…GO
MJ
8 servings
Weeknight Beef Stroganoff
Beef Stroganoff that is loaded with TONS of flavor but can me made even on the busiest of weeknights making this dish a great family dinner option
10 minPrep Time
40 minCook Time
50 minTotal Time
Ingredients
1 pound lean Sirloin Steak, cut into 1 inch cubes (or you can use stew meat)
2 teaspoons salt
1 tablespoon black pepper
1/4 cup all-purpose flour
2 teaspoons extra virgin olive oil
1 large onion sliced very thinly
3 cloves garlic minced
1 tablespoons butter
2 tablespoons extra virgin olive oil
1/4 cup red wine (optional)
1 cup broth, Beef
2 teaspoons Worcestershire sauce
1 -2 cups light sour cream
1 tablespoon fresh parsley chopped
Directions
In a bowl toss together cubed meat, salt, pepper and flour until meat is evenly coated, set aside
In a skillet or saucepan heat olive oil over medium heat
Add in onions and cook for 5-7 minutes, or until onions are starting to brown
Add in garlic and cook for another 1 minutes, stirring often
Remove onions and garlic to plate
To the same pan add in butter and olive oil
Stir in seasoned beef, cooking over medium high heat, until meat is browned on all sides
Remove beef to same plate with onions, reserving liquid in pan
Stir in red wine (if using), scraping up the browned bits off the bottom of the pan, cooking until liquid is reduced by half, if not almost all gone
Add in beef broth & Worcestershire sauce
Stir in beef and onions, bringing mixture to a boil
Cook for 15-20 minutes or until sauce is reduced and thickened a bit
Reduce heat to low and stir in 1 cup of sour cream until well combined
Taste and add in more sour cream as desired
Cook for another 5-10 minutes
Serve over egg noodles, mashed potatoes, rice or on their own
ENJOY!!
Notes
Each serving (about 1 1/2 cups meat & sauce) is 10 WW Smart Points
Nutritional Info
Calories 281 - Calories from Fat 189 - Total Fat 21 g - Saturated Fat 8.3 g - Monounsaturated Fat 8.1 g - Polyunsaturated Fat 0.9 g - Trans Fat 0 g - Cholesterol 57 g - Sodium 937 mg - Potassium 226 mg - Total Carbohydrate 10 g - Dietary Fiber 0 g - Sugars 1 g - Protein 12 g
Vitamin A 1 % - Vitamin C 2 % - Calcium 2 % - Iron 6 %
7.8.1.2
265
https://sparklesnsprouts.com/2017/05/23/weeknight-ready-aqwsedftgand-so-yummy/
All images are the property of Sparkles n Sprouts, to use image please contact the webmaster at michelle@sparklesnsprouts.com
Bring it on again and again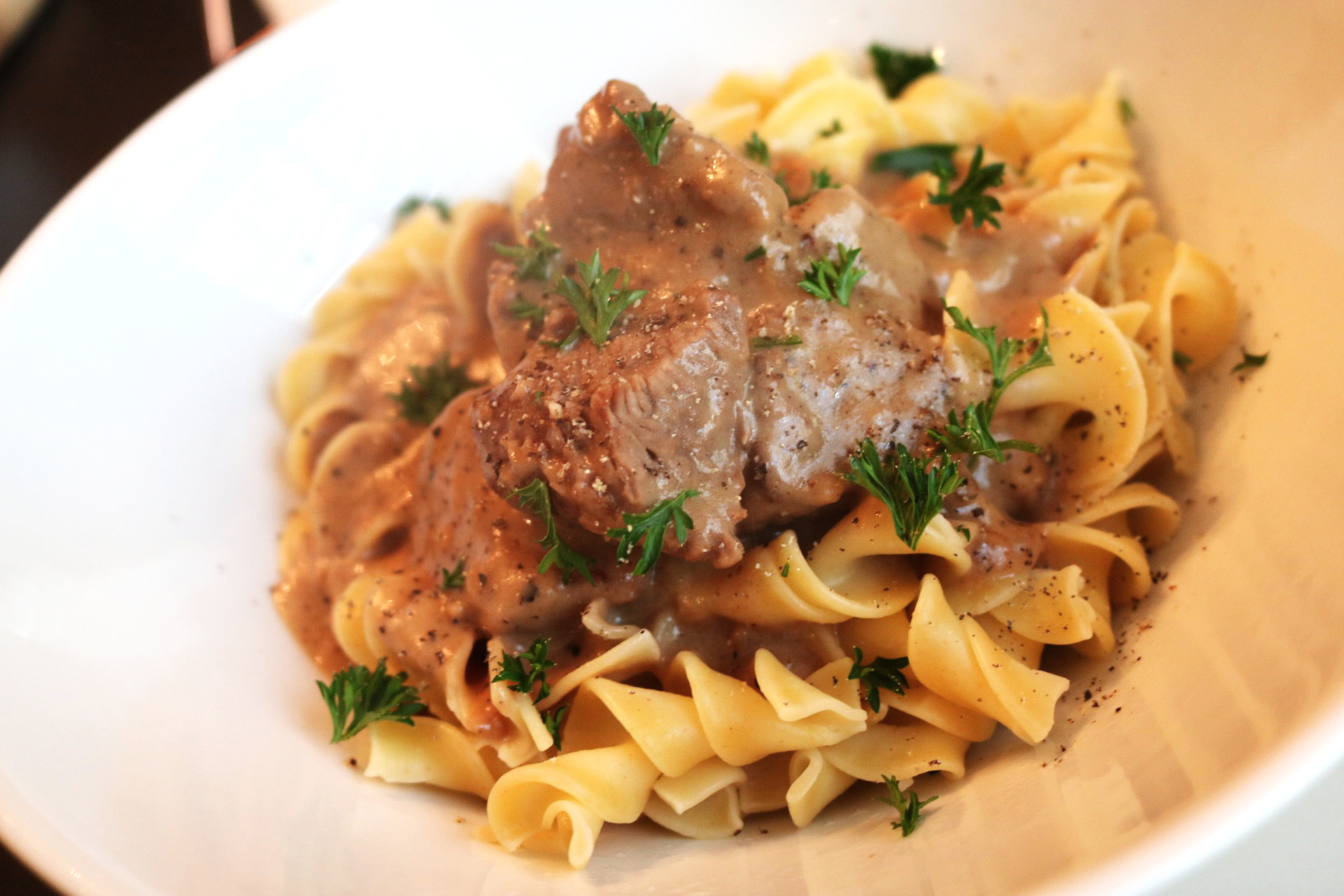 Trust me this is going to be a favorite for everyone!!