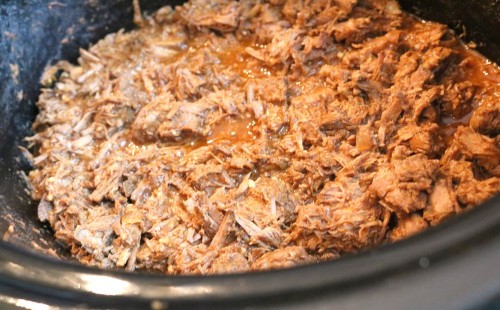 one dish with so many options
It is cold outside, a brisk wind is blowing and maybe even a few snowflakes are falling (at least that is my vision of winter from my warm weather Texas world) and that means it is SLOW COOKER weather!!
My favorite slow cooker dishes are the ones that can be used for more than one dish.  This Mexican Slow Cooker Beef not only tastes amazing but can be used for so many dishes.  This is a must make ASAP!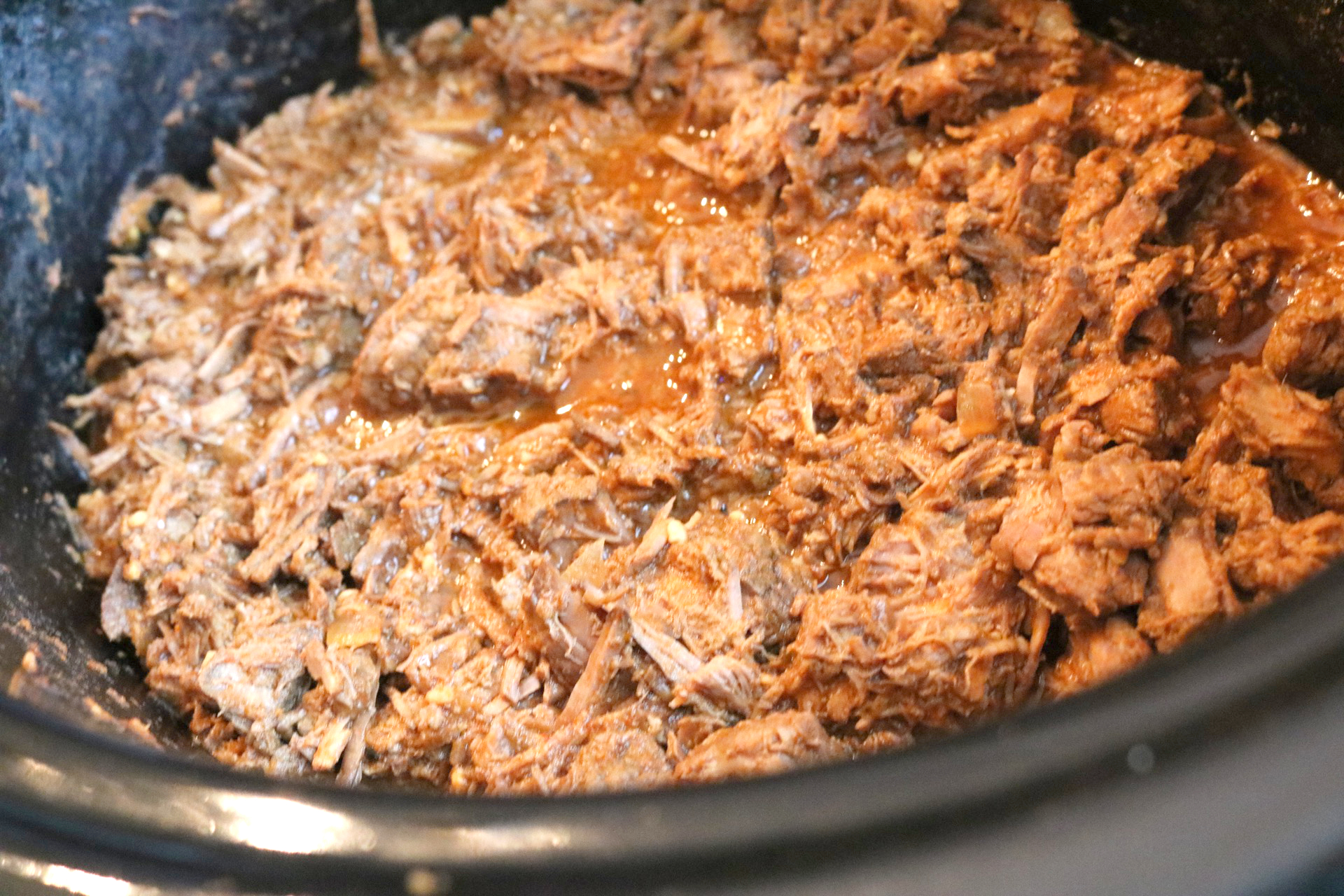 Let it go
One of the best parts of slow cookers is that you throw everything in and then forget about it.  I love recipes like this so much, especially for those super busy days.
The beauty of this recipe is I let this cook all day and never touched it one time.  I was gone for part of the day and let me tell you when I came home and opened the door it smelled AMAZING.  I knew immediately that this was going to be one of those recipes that I was going to make over and over again and again.
To keep the recipe pretty simple while still giving the meat TONS of flavor making it perfect for a variety of your favorite Mexican dishes, I used a variety of spices that you probably have in your pantry now.  Being that this meat is so good I have used this it for Shredded Beef Enchiladas, nachos, tacos and on salads…it was so, so good I couldn't stop coming up with ways to eat it up.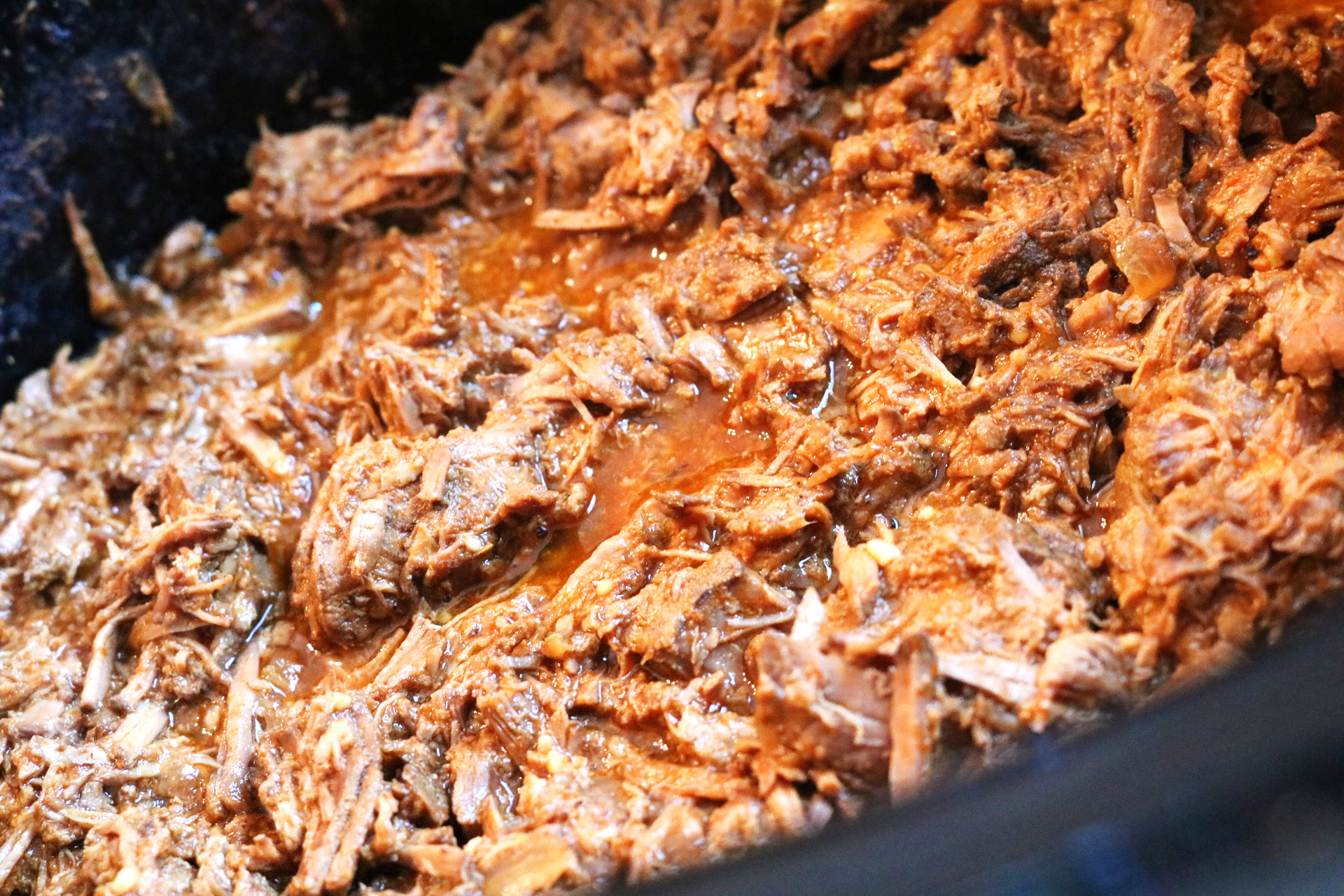 Just saucy enough (in my opinion)
After the meat has cooked all day in its own yumminess I decided to drain most of the juice.  I wanted to add in enchilada sauce for some extra flavor, making it just saucy enough.
You can use my Homemade Enchilada Sauce but you could use store bought sauce if you want.  I prefer a red enchilada but if you prefer green, use that. 1 cup was enough for me, but if you wanted to use more you could.  Make it as saucy as you like.
Low and Slow…
MJ
12 servings
Mexican Shredded Beef
Tender Mexican shredded beef perfect for tacos, enchiladas, soups or on it's own.
5 minPrep Time
7 hr, 30 Cook Time
7 hr, 35 Total Time
Ingredients
2 pounds beef stew meat, cut into 1 inch cubes
1 tablespoon chili powder
1 tablespoon salt
1 tablespoon black pepper
1 tablespoon Worcestershire sauce
1 lime, zested and juiced
1 large onion, chopped
4 garlic cloves minced
1/2 cup beef stock
1 cup enchilada sauce
Directions
Place stew meat into a large slow cooker
Sprinkle chili powder, salt, pepper, Worcestershire sauce & lime zest & juice over meat
Toss to make sure all the meat is coated evenly
Sprinkle onions and garlic over meat
Pour in beef stock, stir to combine everything
Cook on low for 7-8 hours or high for 4-5 hours, or until meat shreds easily
Once meat is tender remove from slow cooker and discard juices that remain in slow cooker
Place meat back into slow cooker and stir in enchilada sauce
Stir to combine
Cook on high for 30 minutes
Shred meat with forks and serve in tortillas for tacos or in enchiladas - really anything you want, it is so yummy
ENJOY!!
Notes
Each serving (1/2-3/4 cup) is 6 WW Smart Points
Nutritional Info
Calories 197 - Calories from Fat 117 - Total Fat 13 g - Saturated Fat 5.3 g - Monounsaturated Fat 5.5 g - Polyunsaturated Fat 0.6 g - Trans Fat 0 g - Cholesterol 51 g - Sodium 801 mg - Potassium 300 mg - Total Carbohydrate 4 g - Dietary Fiber 0 g - Sugars 0 g - Protein 14 g
Vitamin A 13 % - Vitamin C 7 % - Calcium 2 % - Iron 6 %
7.8.1.2
258
https://sparklesnsprouts.com/2017/01/05/one-dish-with-so-many-options/
All images are the property of Sparkles n Sprouts, to use image please contact the webmaster at michelle@sparklesnsprouts.com
Lighten it up a bit…
Being that it is the New Year, you may be looking to lighten it up a bit.  You could use chicken breasts or super lean pork loin for this dish.  Make it perfect for your family, I know they will LOVE IT!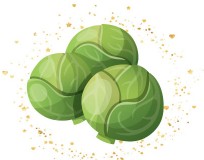 Make today sparkle – MJ