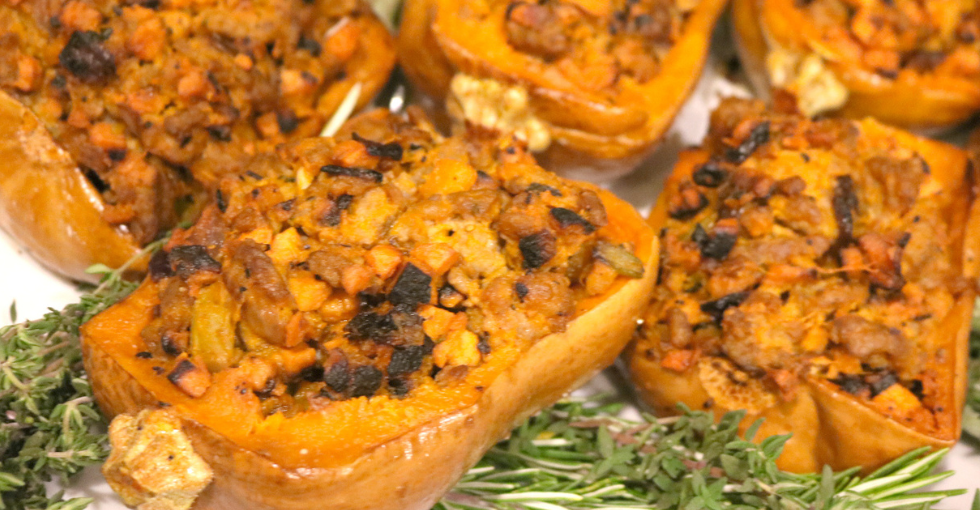 Honeynut Squash is my new favorite squash. Not familiar? I wasn't either, until last week. They are everything you love about butternut only smaller, sweeter, more tender and perfect size for individuals sides.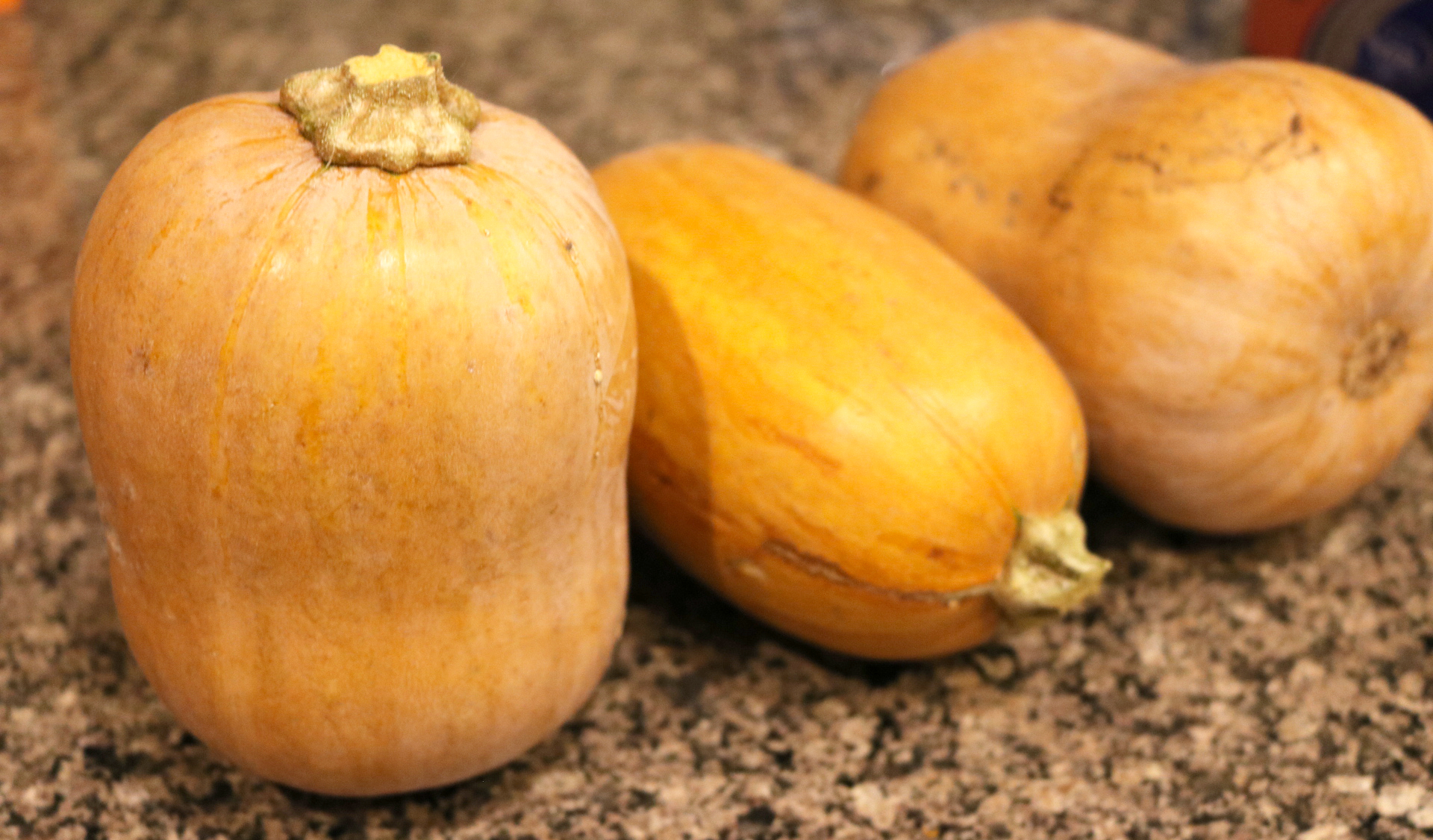 Honeynut = Cuteness & Yumminess
I was walking through Trader Joes looking at the produce and came across these super small butternut squash. I was intrigued as I had never seen one so small. Just then an employee walked up and asked if I had ever had a butternut squash and pointed at these adorable little beauties. Once I said no she began to tell me every reason why I should
She said they cooked a lot quicker, they were sweeter and more tender than traditional butternut squash. I mean after that description, and honestly the excitement she had, there was no doubt I was going to give these a try.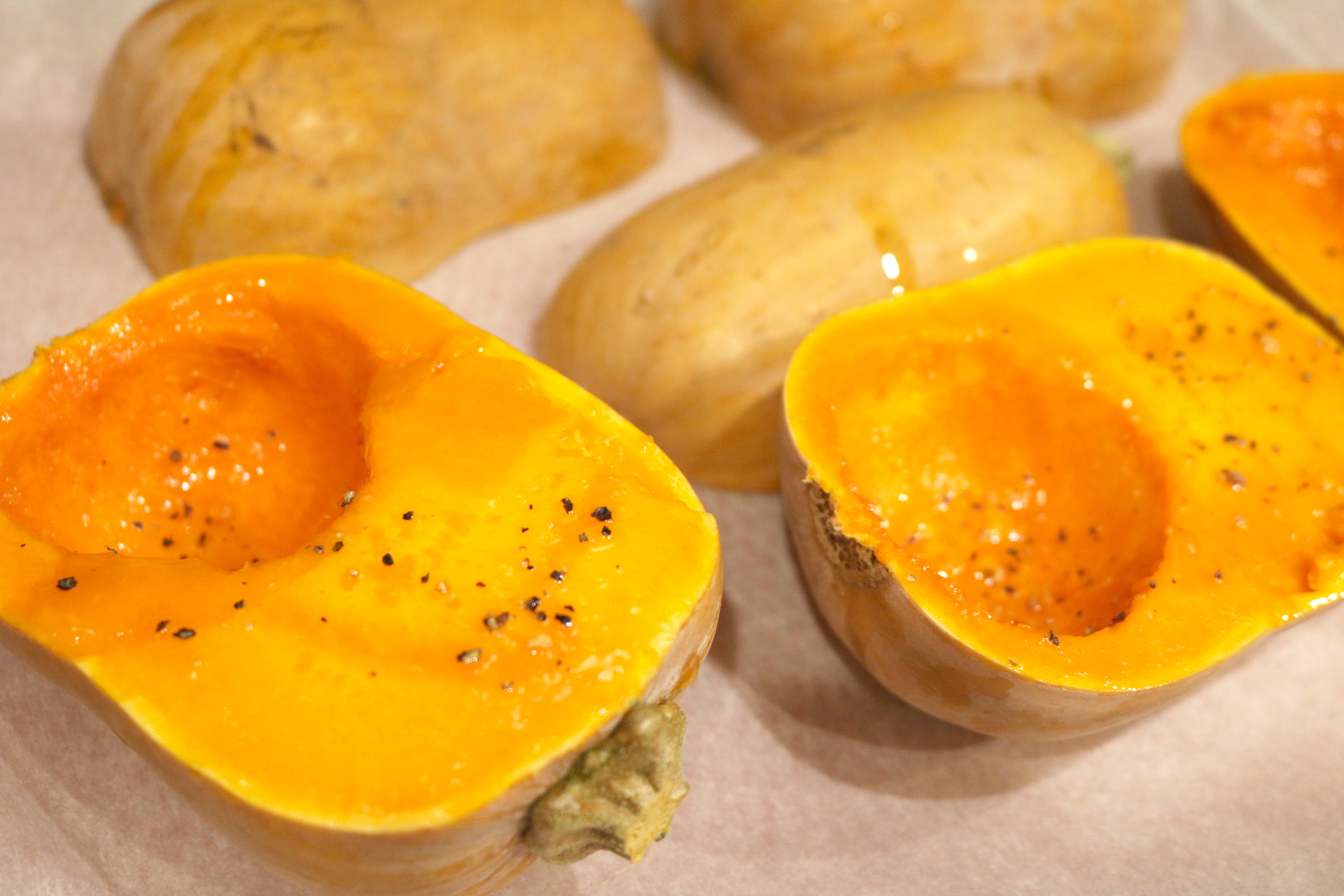 Season, Season & Season again…
It is important to season in every step of this recipe. It starts with seasoning the squash and then the filling and then even a little at the end. The more we season, the more the flavors come together and the yummier it will be in the end.
A little family secret, my sis-in-law puts salt on everything. EVERYTHING! When she had this squash she did not have to add any salt because in her words "there was no additional seasoning needed"… that was like honey in my ears. That is a BIG compliment from her.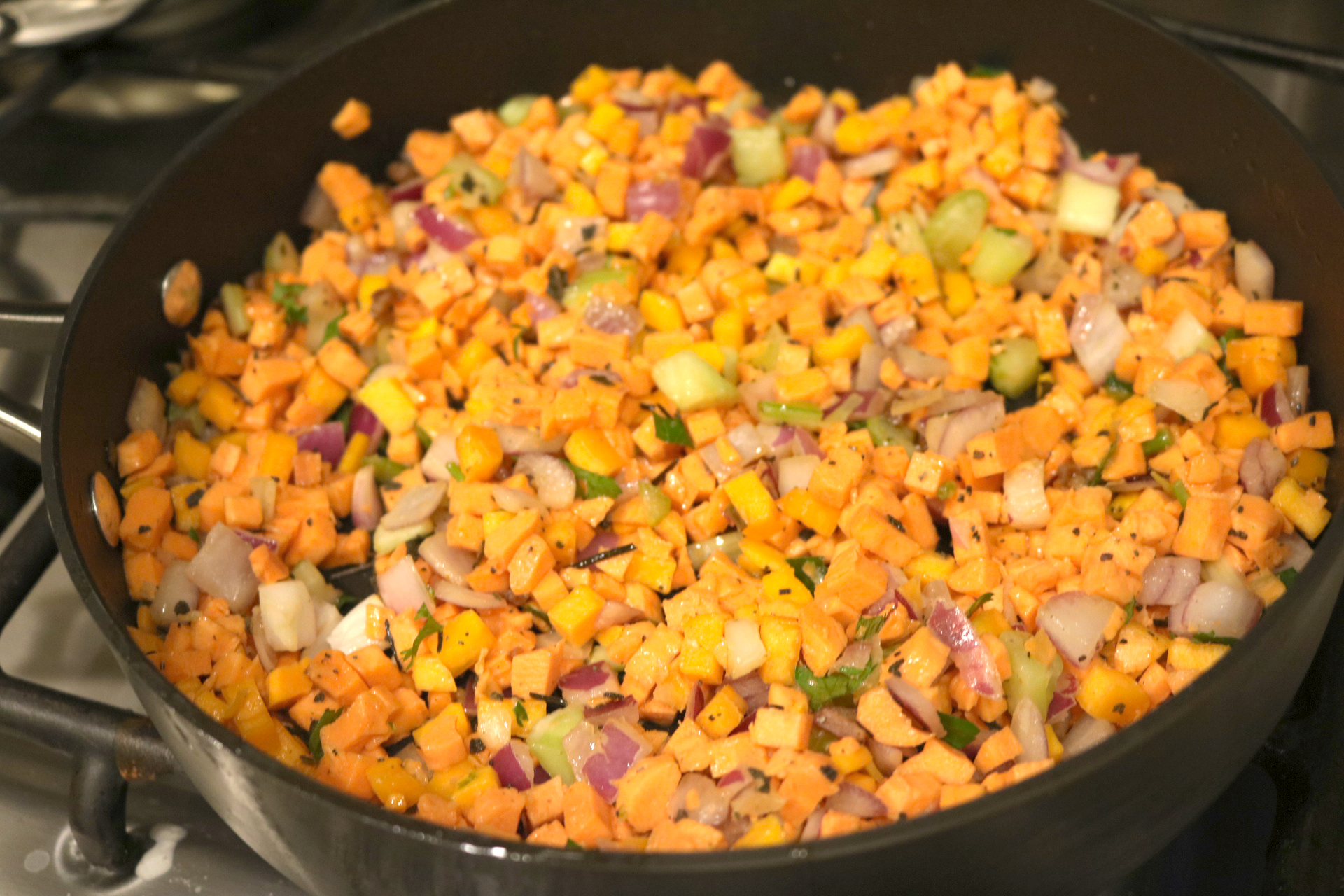 Let's talk filling
To make this stuffed squash extra yummy I really tried to amp up the filling. Not only did I use the filling of the honeynut squash, but I also used some diced up sweet potato, butternut quash, veggies herbs and Italian Sausage. I love the combo of the potato and squashes as they not only add flavor but also some great texture.
If you don't have one of the filling ingredients it's ok… you can honestly use whatever you want in the filling. You could use regular sausage or throw in some cheese or peppers to spice it up. The options are endless.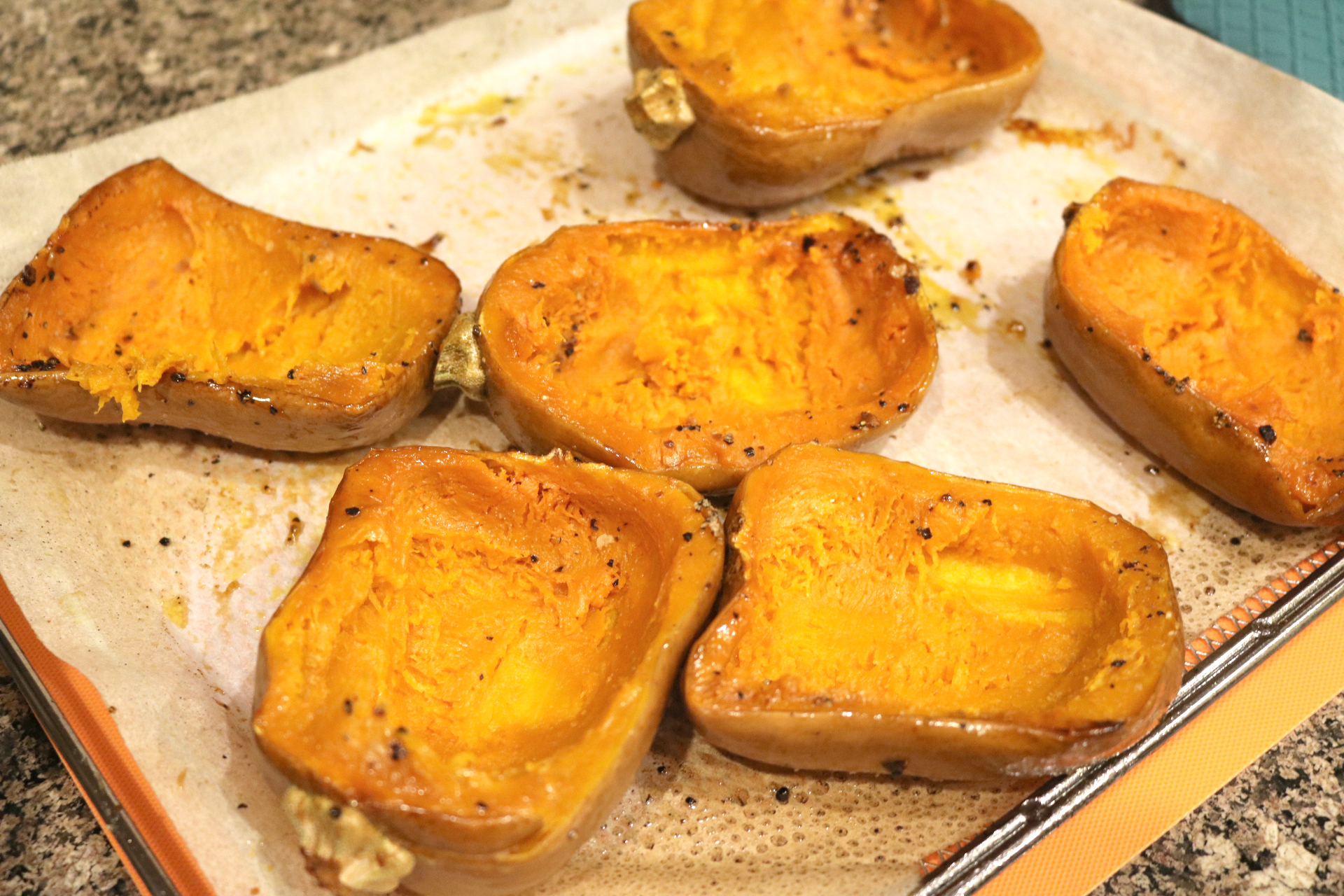 Scoop it out
Once the squash is baked and you can handle it without burning your fingers off, it is time to get all the yummy flesh out of the squash. Using a spoon I carefully scoop out the cooked squash, making sure to keep the skin in tact. I like to leave a 1/4-1/2 inch of flesh around the side and bottom to ensure once they are stuffed they hold their shape.
If you do puncture it, don't worry it will still be AMAZING!!
It Stuffed Honeynut Squash Time!
Chelle Chelle
Stuffed Honeynut Squash
Honeynut Squash is my new favorite squash. It is super tender, a little sweet and just so perfect for stuffing for an individual side. Trust me you need these little squash in your life ASAP
20 minPrep Time
1 hr, 30 Cook Time
2 hrTotal Time
Ingredients
3-4 Honeynut Squash (or small butternut squash)
1 Tablespoon olive oil
2-3 teaspoons all purpose seasoning
1lb Mild Italian sausage (or sausage of your choice)
1-2 sweet potatoes peeled & cubed into small pieces
1 small butternut squash, flesh cubed into small pieces
1 onion, chopped into small pieces
1 celery stalk, cut into small pieces
2-3 garlic cloves, minced
1 teaspoon fresh sage, chopped
1 teaspoon fresh thyme, chopped
1/2 teaspoon fresh rosemary, chopped
1 teaspoon all purpose seasoning
1 teaspoon salt
Directions
Squash
Preheat oven to 450
Line a rimmed baking sheet with parchment paper or foil (spray with nonstick spray if using foil)
Cut honeynut squash in half
Brush flesh side with olive oil and season with 3/4 of all purpose seasoning
Place flesh side down on parchment paper and brush outside with remaining olive oil and sprinkle with remaining all purpose seasoning
Bake for 20-30 minutes or until squash is tender to the touch
Remove and let cool while you prepare the filling
Filling
In a large skillet cook sausage over medium heat until cooked through completely
Remove sausage to a plate, reserving the grease in the skillet
In the same skillet add in sweet potato, butternut squash, onion & celery
Cook for 10-15 minutes or until onions are translucent and potatoes are soft
Add in garlic and fresh herbs and cook for an additional 2-3 minutes
Taste and add in all purpose seasoning and salt as needed (the sausage can be quite salty so we don't want to over salt)
Remove from heat
Once honeynut squash is cool to the touch use a spoon and gently remove the flesh, leaving a 1/4" - 1/2" around the sides and botton to help ensure squash holds it shape
Add in scooped honeynut squash and sausage to the sweet potato filling and stir to combine
Place squash flesh side up on a parchment lined rimmed baking sheet
Spoon filling equally into the squash, mounding it up as much as possible
Cover with foil and bake for 10-15 minutes and then remove foil and continue to cook until top is browned
Remove and serve immediately
ENJOY!!
Notes
You can prepare the day before and and store in the refrigerator, just extend cooking time by 15-20 minutes
7.8.1.2
577
https://sparklesnsprouts.com/2022/11/21/stuffed-honeynut-squash/
All images are the property of Sparkles n Sprouts, to use image please contact the webmaster at michelle@sparklesnsprouts.com
Pin this NOW so you don't lose it!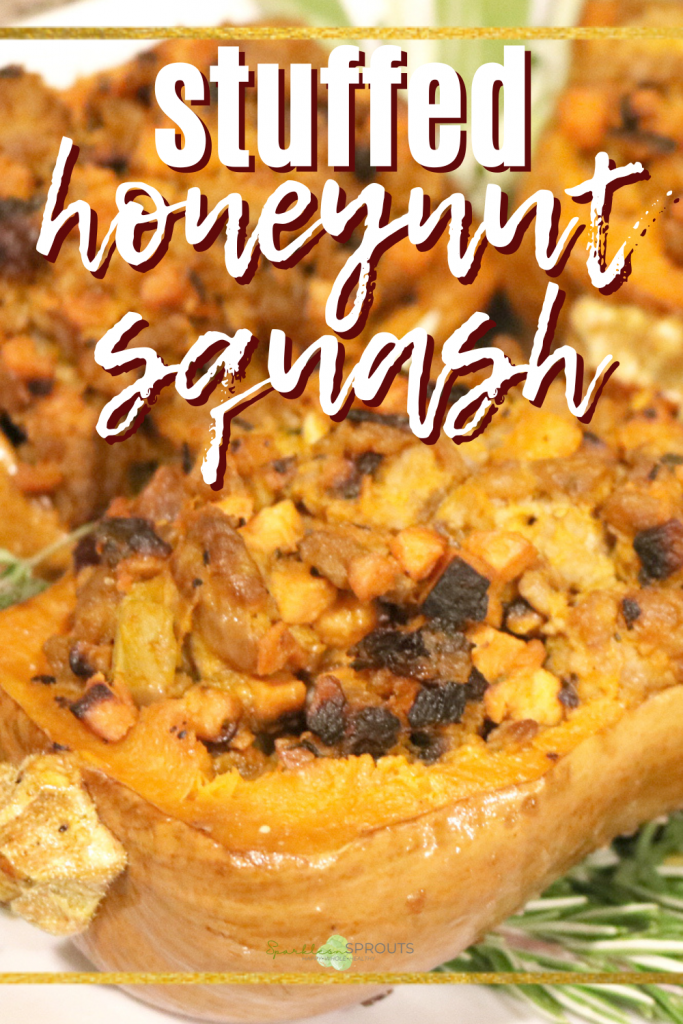 Follow us so you never miss a thing!