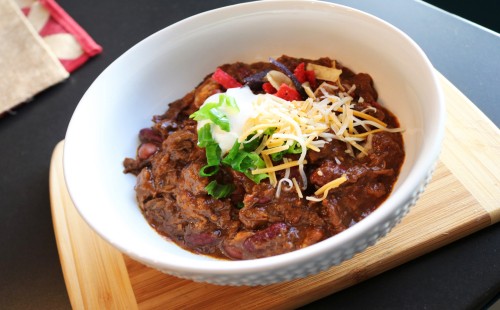 a new chili night…steak chili
Growing up in Texas I have had my fair share of chili. The traditional chili with beef (no beans) and loaded with spices, turkey chili, white chicken chili and of course chili with beans…but sometimes you just have to take a favorite to the next level.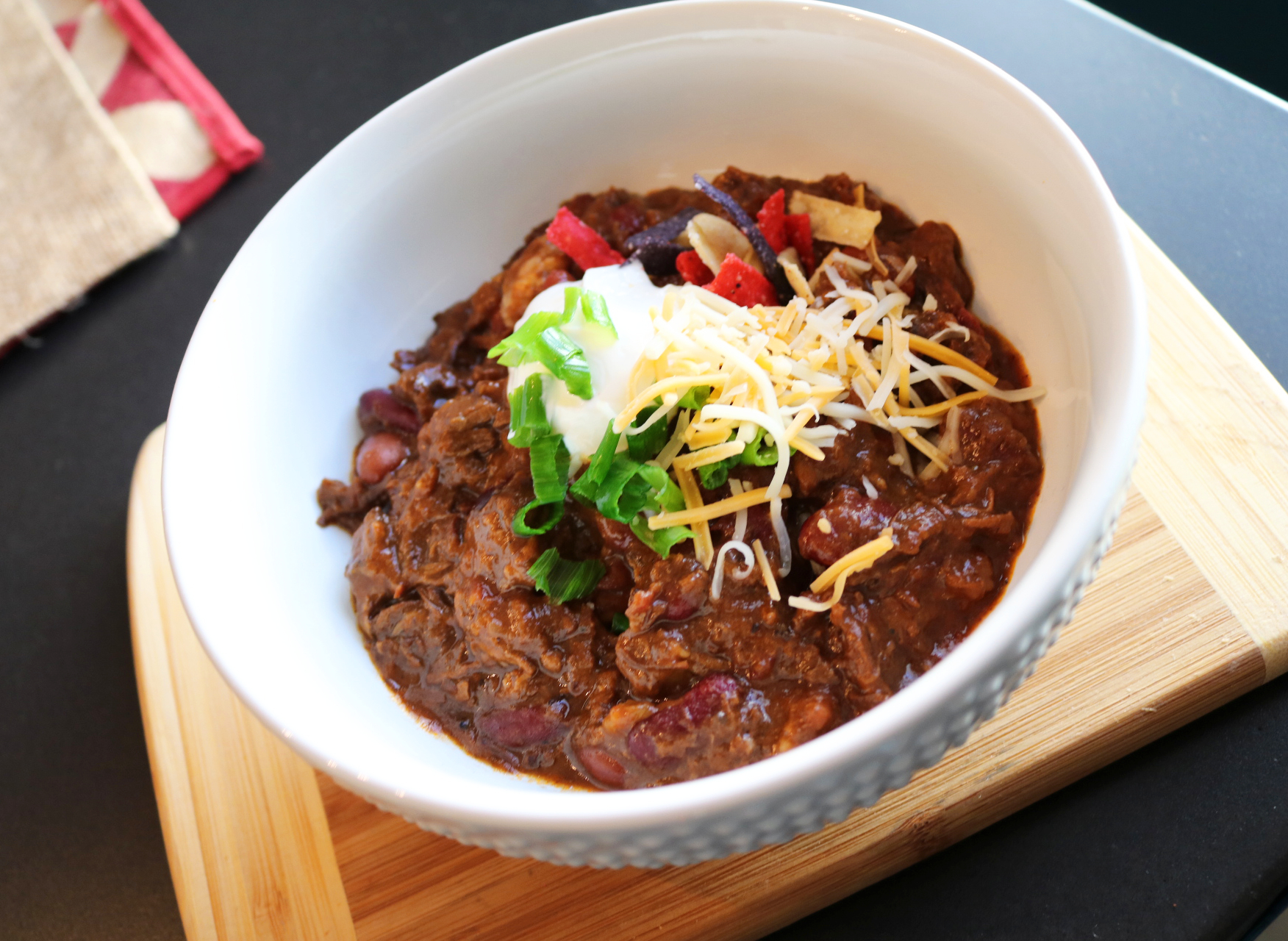 Just trust me
Ok now I know you might be shaking your head at me and asking "why go and mess up something and make it weird" but trust me this chili is everything you love about your favorite traditional chili, only elevated!
It is loaded with tons of spices (some that are a little surprising) and big chunks of meat making this a very special dish.
Surprises can be good
As I mentioned above there are some interesting additions to this chili that takes it from ordinary to something spectacular. The addition of brown sugar, cinnamon, a little chocolate and masa marina gives this chili a depth that is unlike most other chili's.
For me I prefer to eat chili the day after it is originally made so I always make this the day before I plan on serving it. I just love the depth of flavor that blooms as the chili sits and has time to all come together. Even better you can surprise your guests with an already done meal…see surprises really can be good!
It is the to chil(i)l
MJ
16 servings
Texas Steak Chili
A meaty slow cooked chili loaded with tons of tender beef and flavor in each bite
20 minPrep Time
8 hrCook Time
8 hr, 20 Total Time
Ingredients
1/4 cup chili powder
1 tbsp powdered cumin
2 tsp oregano
2 tsp brown sugar
1/2 tsp cinnamon
4 lbs stew meat
4 tbsp flour
1 tbsp pepper
1 tbsp salt
3 tbsp vegetable oil
2 tbsp butter
2 onions, chopped
6 garlic cloves, minced
2 cups beef stock, divided
1 cup water
1 cup tomato sauce
1 ounce semisweet chocolate
3 tbsp masa harina
Directions
In a small bowl combine chili powder, cumin, oregano, brown sugar & cinnamon, set aside
Trim any excess fat off of the stew meat and sprinkle with flour, salt & pepper tossing to coat as evenly as possible
In a skillet or large dutch oven heat oil over medium high heat
Add in beef (in batches) and brown, removing browned beef to a slow cooker after each batch
Continue browning meat until complete
Melt butter in pan and add in onion cooking until softened
Stir in garlic & spices cooking for an additional 2 minutes, scraping up the bottom of the pan
Pour in 1 cup of stock, water, tomato sauce, chocolate and bring to a simmer, stirring until chocolate is melted
In a small bowl combine remaining stock and masa marina, stirring until well combined and let stand until thickened slightly
Stir masa mixture into stock and cook or an additional 2-3 minutes
Pour mixture over beef in stock pot
Cook on high for 6 hours, stirring once or twice, or until meat is falling apart tender
You can serve immediately but I like chili the next day so I let mine cool off and then refrigerated overnight
To reheat the next day pour chili into dutch oven or large stock pot and reheat over medium low heat for 1-2 hours, stirring often, allowing chili to thicken as it reheats and the flavors to meld even more
Serve with your favorite chili toppings such as cheese, sour cream, green onions, chips or crackers
ENJOY!!
Notes
Each serving is 9 WW smart points:
Nutritional Info Calories 351 Calories from Fat 167 Total Fat 18.6g Saturated Fat 6.7g Trans Fat 0.0g Cholesterol 120mg Sodium 719mg Potassium 456mg Total Carbohydrates 8.2g Dietary Fiber 1.8g Sugars 2.8g Protein 36.8g Vitamin A 13% - Vitamin C 6% - Calcium 4% - Iron 30% Nutrition Grade B-
7.8.1.2
123
https://sparklesnsprouts.com/2017/04/24/slow-cooker-beef-chili/
All images are the property of Sparkles n Sprouts, to use image please contact the webmaster at michelle@sparklesnsprouts.com
FYI…if you do not like beans in your chili, feel free to leave them out. I was never a fan until I added them into this chili.
when it is time…
On the day I serve the chili, I heat it in a large dutch oven over medium low heat and stir it often to allow it to continue to thicken up a bit and let the flavors come together even more. To serve it I put out several toppings and let each person choose what they wanted and then serve this AMAZING Cornbread, or any other sides you prefer.
Trust me it is time to turn your traditional chili on it's head with this amped-up steak chili.