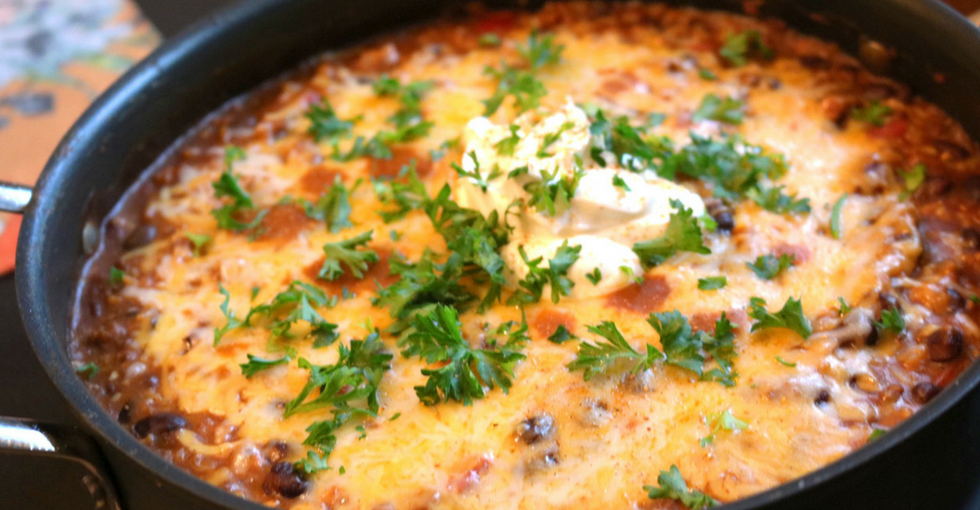 An Update for Taco Tuesday
Does your family have Taco Tuesday every week? I love the idea and just may have to make it a weekly deal in our home…especially is this taco skillet was on the menu.

No Mess…
I don't know about you but one of my least favorite things about hard (& some soft) tacos is how messy they can be. Don't get me wrong I am a fan of messy food (sometimes the messier the better) but not when all the yummy is in the mess and not in my mouth.
You know what I'm talking about…when you take the first bite of the taco and all the best parts (the meat, cheese and toppings) end up on the front of your shirt or the plate, depending on how careful you are, and all you have left are the beans and taco shell. I love taco shells and beans but I also love some meat, cheese and other yummies in there as well.
With this Taco Skillet you get all the best tacos have to offer in each bite without having to worry about the best stuffs falling out…now I love that!!
Add everything you love…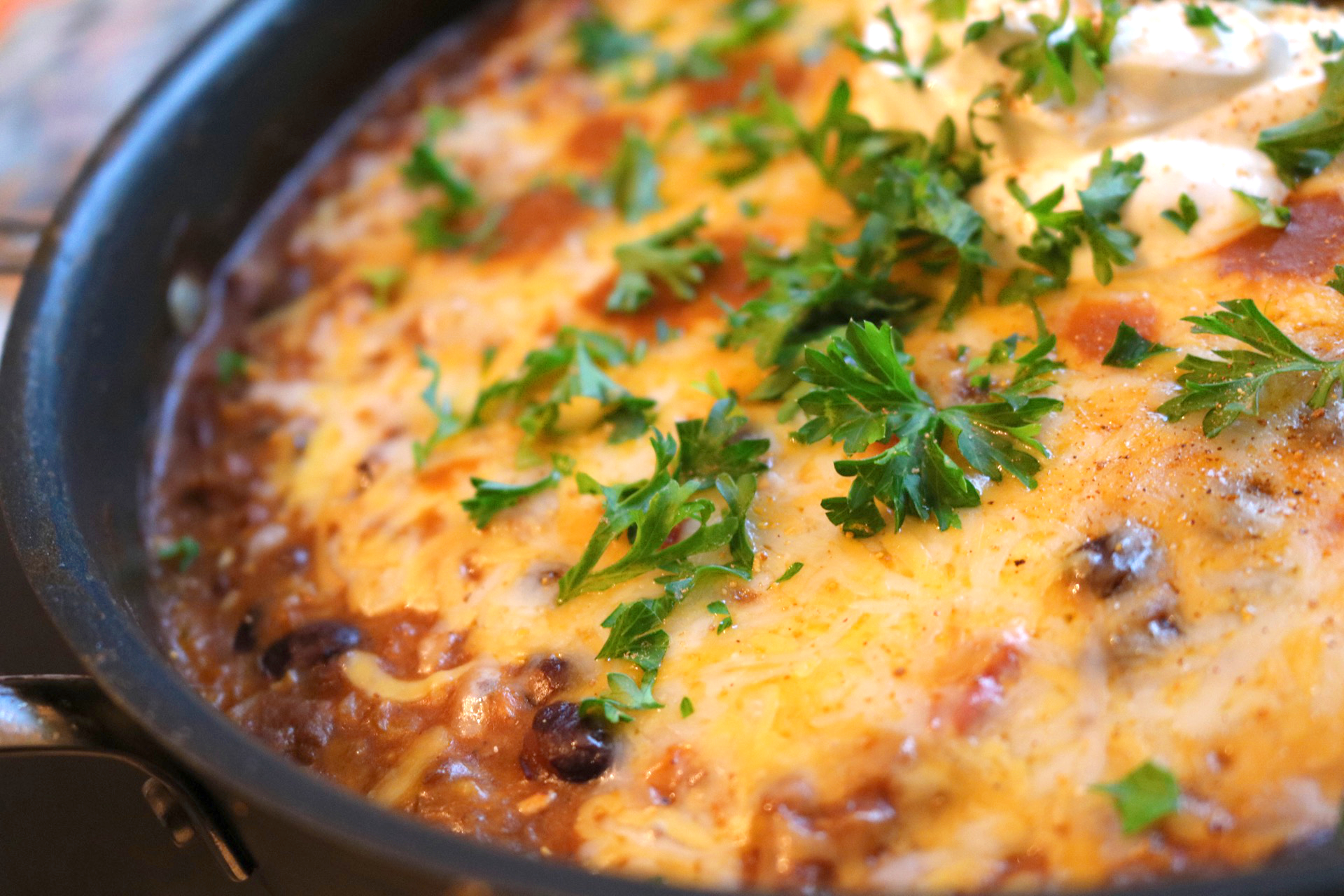 For this skillet I used ground beef, black beans and cheese but you can change it up to make it perfect for your wants and needs.
If you wanted to lighten it up you could use ground turkey or chicken, even shredded chicken breast would work. You could also use chopped tomatoes and green chilies (Rotel) in place of half of the tomato sauce. You could also add in some jalapeño peppers, dried peppers or additional veggies … whatever works for you and your family.
Break out the toppings…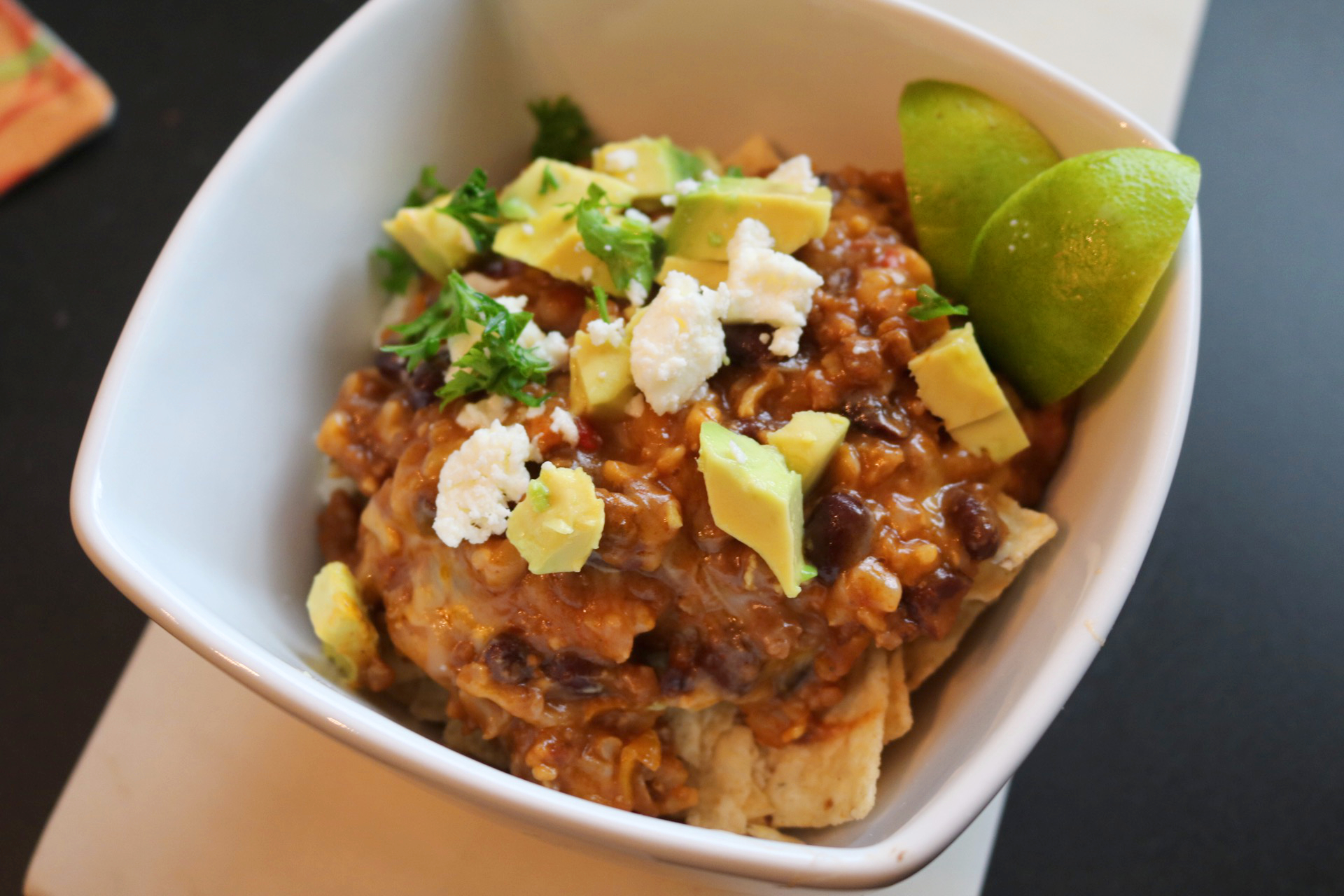 Just like with a classic taco the toppings can make or break it. So for this skillet have fun with your toppings. I served it over tortilla chips and topped it with chopped avocados, cilantro, cojita cheese and some fresh limes.
You could use Mexican blend shredded cheese, chopped tomatoes, fresh chopped onions, pico de gallo, guacamole…really anything you want. Just have fun with it.
Taco Tuesday…Skillet Style
MJ
8 servings
Taco Skillet
A quick taco skillet loaded with ons of flavor that everyone will love
10 minPrep Time
45 minCook Time
55 minTotal Time
Ingredients
2 cups beef or chicken stock
1 cup brown rice
1 teaspoon extra virgin olive oil
1 medium onion, chopped
2 cloves garlic, minced
1 pound extra lean ground beef
2 teaspoons salt
1 teaspoon black pepper
1 tablespoon chili powder
1 teaspoon ground cumin
15 oz can tomato sauce
2 teaspoons chili powder
1 teaspoon salt
1 teaspoon black pepper
1 teaspoon ground cumin
15 oz can black beans, rinsed and drained
1 cup, shredded low fat shredded cheddar cheese
Toppings
Chopped Avocado
Chopped Tomatoes
Chopped Cilantro
Sour Cream
Flour or Corn Tortillas
Tortilla Chips
Directions
Preheat oven to 350
In a large pot bring beef (or chicken) stock to a boil over medium heat
Stir in brown rice and reduce to a simmer and cover, cooking for another 12-15 minutes
In a large oven proof skillet heat olive oil over medium heat
Add in onion and cook for 5-7 minutes, or until it begins to soften
Stir in garlic and cook for another 1-2 minutes
Add in ground beef, salt, pepper, chili powder & cumin - cooking until beef is no longer pink and browned, breaking it up as it cooks
Once beef is browned stir in tomato sauce, remaining chili powder, salt, pepper and cumin bringing mixture to a boil
Stir in cooked rice and black beans, gently stirring until just combined
Sprinkle cheese over the top
Place into oven and cook until cheese is melted and mixture is bubbly
Let sit for 10 minutes before serving
Serve with any additional toppings you prefer
ENJOY!!
Notes
Each serving is 11 WW Smart Points
Calories 395 - Calories from Fat 114 - Total Fat 10 g - Saturated Fat 7.3 g - Monounsaturated Fat 6.4 g - Polyunsaturated Fat 1.4 g - Trans Fat 0 g - Cholesterol 53 g - Sodium 1059 mg - Potassium 1213 mg - Total Carbohydrate 57 g - Dietary Fiber 9 g - Sugars 2 g - Protein 28 g Vitamin A 21 % - Vitamin C 22 % - Calcium 19 % - Iron 28 %
7.8.1.2
238
https://sparklesnsprouts.com/2016/10/18/taco-tuesday/
All images are the property of Sparkles n Sprouts, to use image please contact the webmaster at michelle@sparklesnsprouts.com
Whether you have a Taco Tuesday tradition or not, you need to try this Taco Skillet. It is sure to become a family favorite!!