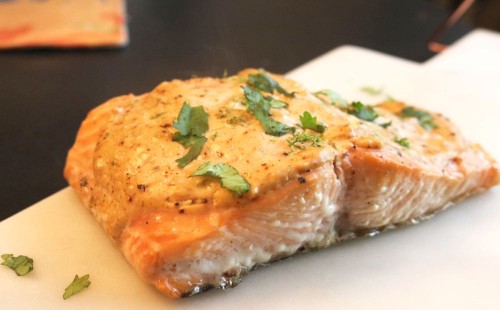 Super Special Salmon (that comes together in no time)
The Hubby and I LOVE salmon.  We grill it, roast it, spice rub it and anything else in between. And now we have a salmon topped with a delicious sauce that is baked on the salmon making it something truly special.
Making it something The Hubby will love
Now as much as The Hubby loves salmon he is NOT a fan of mustard.  In most restaurants if salmon has a sauce paired with it, it is normally a mustard sauce of some sort and The Hubby is not a happy camper.
As a special treat I decided to create a restaurant style salmon that The Hubby will love….so off I went on a salmon adventure.

It's all in the prep
First things first you have to get the salmon ready for the delicious topping.  The Hubby and I try to buy a whole salmon filet without the skin, it is usually more cost effective and I like to make the filet's the size I want them, not the size the butcher decide to make them.
I usually divide the filet into 6-8 pieces depending on the total weight.  If you cannot find a whole filet, or don't want to mess with it, the pre-cut filets work great.  I would still recommend skin off, but if you prefer skin on…go with that.
To get the filet's ready for the topping I season them a little.  Don't worry the salmon will not be over seasoned even with the topping.  Trust me…it will be ok.

Slather it on baby
Now for the topping.  As I mentioned above The Hubby is not a fan of mustard AT ALL (except for honey mustard) but I wanted a little mustard in the topping.   It adds a little body and texture, which I love in a sauce like this.  I went with a grainy dijon, but whatever variety you prefer will work.
In addition to the little bit of mustard I also added in sour cream, garlic, pepper and lemon.  This sounds like a very simple topping/sauce, but let me tell you the flavor it adds is AMAZING!!
It is a little tangy, and little kicky (from the garlic) and a little creamy making for a very special topping for an already yummy salmon.
Now the fun part comes, slathering the sauce all over the salmon.  Yep, I used the word slather.  It really is a word, it means to spread with gusto, and the more gusto the better.  Go ahead, try it…slather away!  You will love it!!
Super Special Salmon Time
MJ
4 servings (each serving is 1 fillet)
Tangy Garlic Salmon
A great update on classic salmon. This tangy garlic salmon is a must make for dinner this week.
10 minPrep Time
20 minCook Time
30 minTotal Time
Ingredients
16 ounces skinless, wildcaught Salmon fillets, 4-4-ounce fillets
2 teaspoons salt
1 teaspoon black pepper
1 teaspoon chili powder
Topping
1/2 cup light sour cream
4 garlic cloves, minced
1 teaspoon Dijon mustard
1 teaspoon black pepper
1 lemon, zested & juiced
Directions
Preheat oven to 425
Line a rimmed baking sheet with parchment paper
Place salmon onto parchment paper
Sprinkle with salt, pepper and chili powder
In a small bowl combine sour cream, garlic, mustard, pepper and zest from lemon
Spread evenly over the 4 salmon fillets
Place in oven and bake for 20-25 minutes, or until salmon is cooked through and topping is browned
Remove from oven and sprinkle lemon juice over fillets
Serve immediately
ENJOY!
Notes
Each fillet is 6 WW Smart Points
Nutritional Info
Calories 227 - Calories from Fat 108 - Total Fat 12 g - Saturated Fat 4.2 g - Monounsaturated Fat 2.4 g - Polyunsaturated Fat 3 g - Trans Fat 0 g - Cholesterol 77 g - Sodium 1250 mg - Potassium 615 mg - Total Carbohydrate 4 g - Dietary Fiber 1 g - Sugars 1 g - Protein 23 g
Vitamin A 5 % - Vitamin C 15 % - Calcium 3 % - Iron 6 %
7.8.1.2
257
https://sparklesnsprouts.com/2017/01/07/tangy-garlic-salmon/
All images are the property of Sparkles n Sprouts, to use image please contact the webmaster at michelle@sparklesnsprouts.com
Not just for special occasions
I know we have a very special Holiday (Valentines Day) coming up very soon and this salmon is a perfect option for a romantic dinner at home, but it doesn't just have to be for a special occasion.
This salmon is perfect for a busy weeknight, or a fun weekend…it will make any meal special.
Make today sparkle – MJ