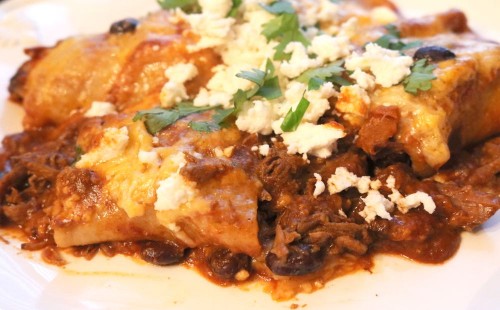 your FAVORITE enchilada at home (trust me)
Yesterday I shared with you my favorite Slow Cooker Mexican Shredded Beef.  Today it is all about using that shredded beef to make AMAZING Shredded Beef Enchiladas.
Trust me you will not need to go to your favorite Mexican restaurant after you have these enchiladas…at least I don't have too.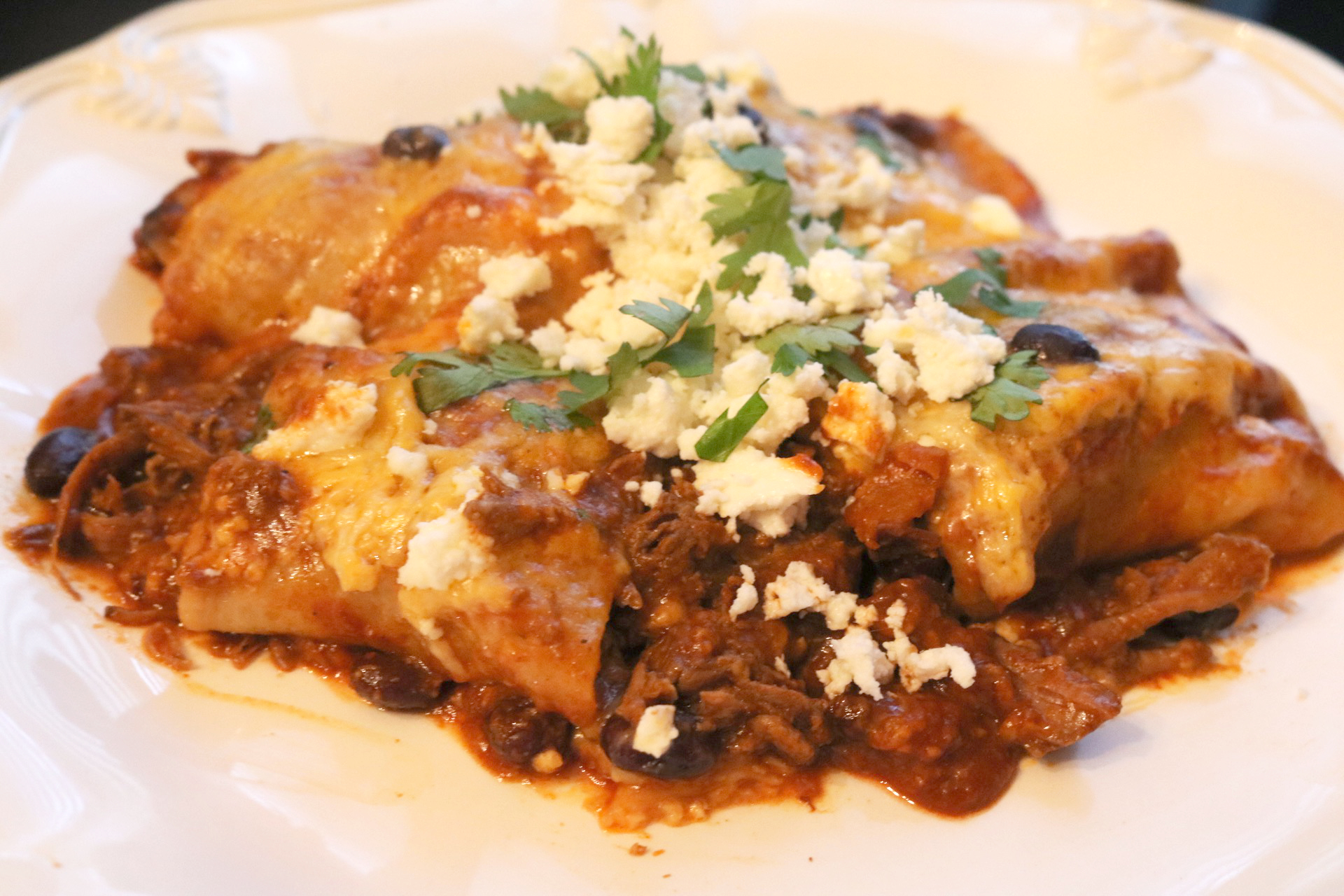 Beef and Bean is the BEST (according to The Hubby)
Anytime we go to our local Mexican restaurant The Hubby will get a beef & bean burrito and I will usually get enchiladas.  Sometimes I will get cheese enchiladas and sometimes I will get beef enchiladas, but my favorite is a shredded beef version.
There is only one place close to me that makes a shredded beef enchilada and let me tell you I go as much as I can….but now I can make them at home.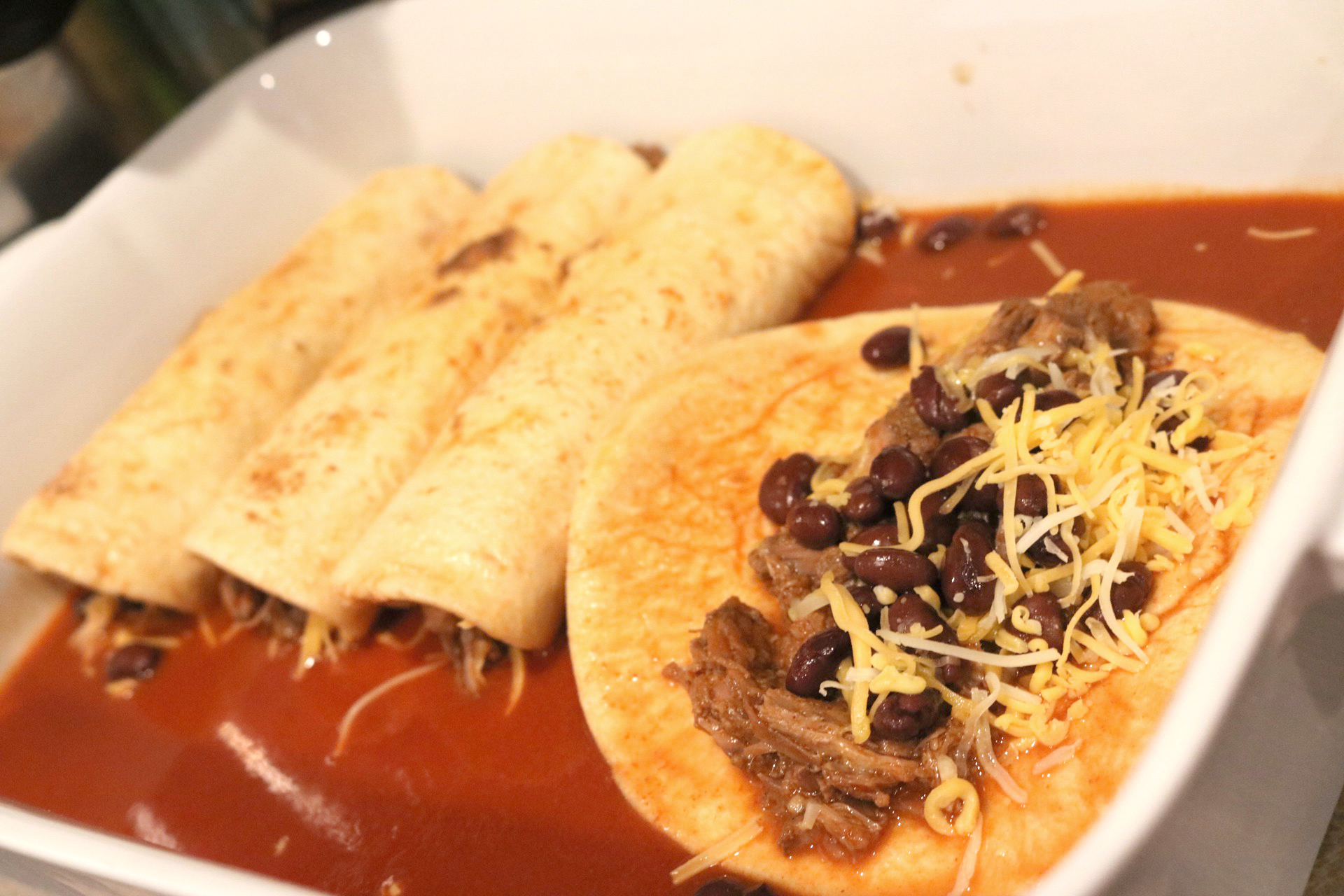 It's all in the prep
What makes these enchiladas so great (in my opinion) is the shredded beef and the Homemade Enchilada Sauce.  I also make sure to have good tortillas.  We like flour tortillas, but if you prefer corn use those.
We also like black beans, but you could use refried beans, pinto beans, charro beans or leave them out. You could also add in some additional onions, pico de gallo or fresh cilantro.
Once you have everything you want ready to go it is time to roll.  One of my favorite tips I learned in Mexico is to coat the tortilla on the inside and out in enchilada sauce as you roll.  This tip really helps to keep the enchilada moist and tender as it cooks.  Trust me I have skipped this messy step before and lived to regret it…I just can't stand dried out enchiladas.

Perfect for a big dinner
One of the best parts about this dish is the fact you can prep it ahead of time and then bake it off when you get ready to serve.  It also can serve A LOT of people making this perfect for your next get together.
I got 12 enchiladas in this casserole dish & I only used 1/2 of the shredded beef.  You could easily get 18-24 enchiladas with a full recipe of the shredded beef.
It's Enchilada Time
MJ
12 enchiladas
Shredded Beef Enchiladas
Rich enchiladas loaded with tons of flavor that are better than your favorite restaurant version I am sure
20 minPrep Time
30 minCook Time
1 hrTotal Time
Ingredients
1 cup enchilada sauce
12 tortillas (flour or corn)
1 can (15 oz) black beans, drained and rinsed
2 cups, shredded mexican blend cheese
1/2 cup, crumbled cojita cheese (optional and can also use another crumbly cheese such as feta)
1/4 cup cilantro, fresh, chopped (optional)
Directions
Preheat oven to 350
Spray a large casserole dish with nonstick spray
Pour 1/2 cup enchilada sauce into bottom of casserole dish
Lay tortilla into sauce
Place about 1/4 cup shredded mexican beef, 1-2 tablespoons of beans & 1-2 tablespoons shredded cheese into center of tortilla
Roll up tortilla and place seam side down into sauce
Repeat with remaining tortillas and meat
Pour remaining sauce over rolled tortillas and sprinkle remaining shredded cheese over top
Cover casserole dish with aluminum foil and bake for 20 minutes and then remove foil and bake for another 10 minutes
Let enchiladas sit for 5-10 minutes before serving
To serve sprinkle with cojita cheese & fresh cilantro (if using)
ENJOY!!
Notes
Each enchilada is 10 WW Smart Points
Nutritional Info Calories 323 - Calories from Fat 126 - Total Fat 14 g - Saturated Fat 6.9 g - Monounsaturated Fat 6.2 g - Polyunsaturated Fat 0.6 g - Trans Fat 0 g - Cholesterol 44 g - Sodium 700 mg - Potassium 167 mg - Total Carbohydrate 32 g - Dietary Fiber 4 g - Sugars 2 g - Protein 16 g
Vitamin A 6 % - Vitamin C 2 % - Calcium 17 % - Iron 0 %
7.8.1.2
259
https://sparklesnsprouts.com/2017/01/05/your-favorite-enchilada-at-home-trust-me/
All images are the property of Sparkles n Sprouts, to use image please contact the webmaster at michelle@sparklesnsprouts.com

Bring on the fiesta
Busy weeks call for fun meals that will bring everyone together and these enchiladas will do that for sure.  Serve with your favorite guacamole and chips and you have a fiesta in the making. n
Oh yeah don't forget the margaritas…I mean for the adults!!
Make today sparkle -MJ