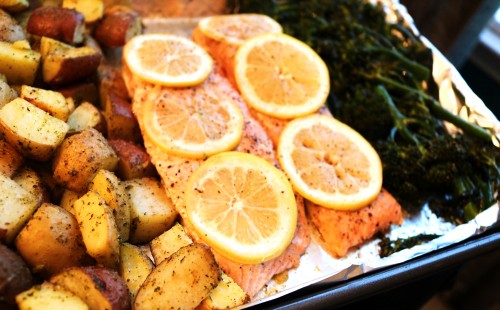 I don't know about you but my schedule is so crazy right now.  There are some days that I don't get home until  super late and I am hungry and The Hubby is super hungry.  To be honest I just don't want to take a ton of time to fix dinner and especially clean-up. On these nights a pan dinner is a perfect go to option.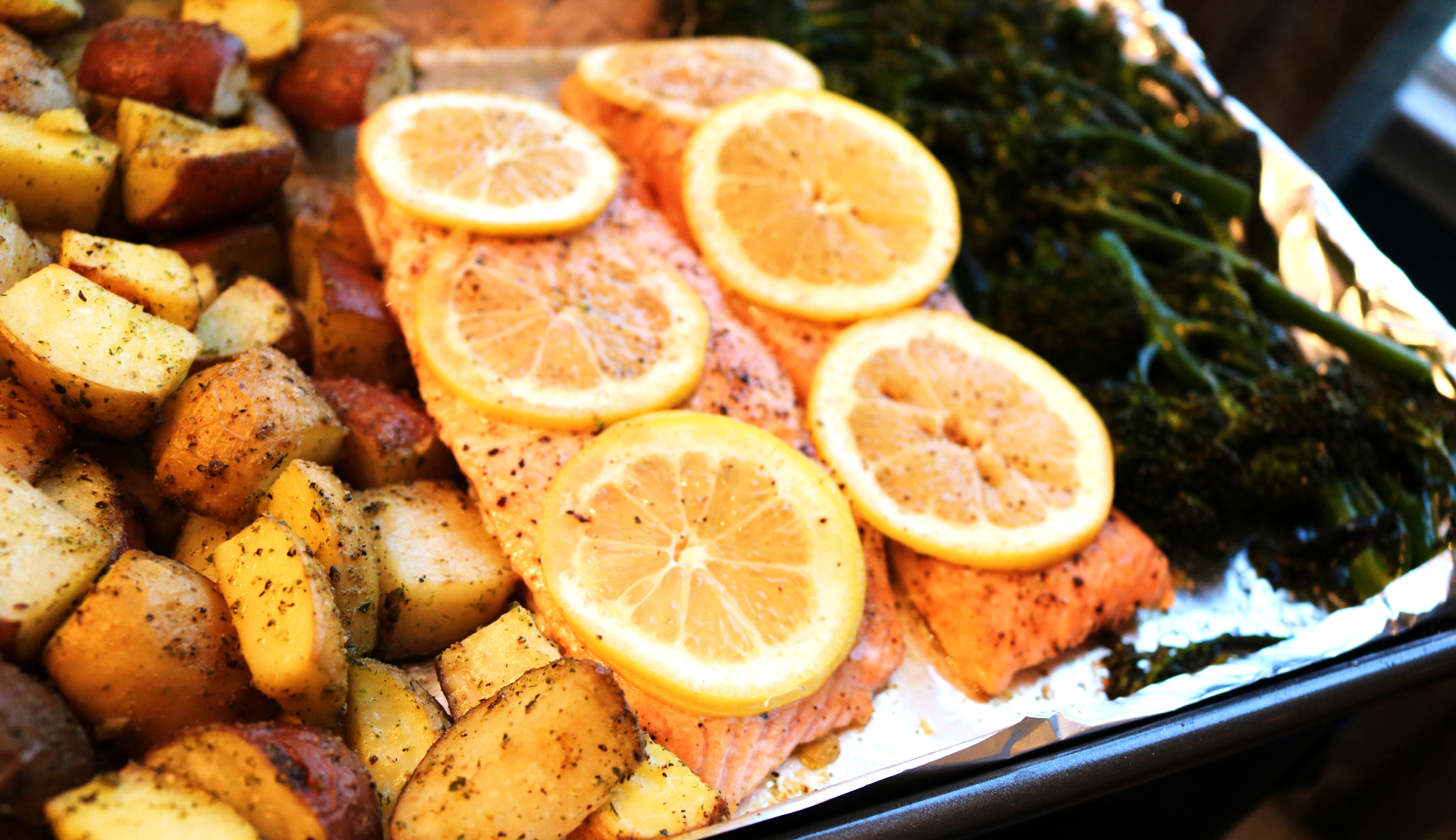 One pan and done
I have done some one pan pasta dinners, one pan chicken dinners but this one pan salmon dinner is so good.  It is not only good it is easy and loaded with veggies.  This well rounded dinner is low in fat & calories but loaded with tons of flavor that everyone is sure to love.
For this one pan treat I used baby potatoes and baby broccoli but you could use brussel sprouts, green beans, asparagus, mushrooms or carrots, just adjust cooking times as needed.  It really is all about seasoning and putting things on the pan that you love and that your family will love.  
Bringing it all together
MJ
2 servings
One Pan Salmon Dinner
A super easy one pan meal that is full of tons of flavor and good for you veggies without much guilt at all!
15 minPrep Time
45 minCook Time
1 hrTotal Time
Ingredients
1 1/2 lbs baby potatoes
1 tsp extra virgin olive oil
1 tbsp ranch dressing mix
1 tsp salt
1 lb Broccolini or Baby Broccoli
1 tsp extra virgin olive oil
1 tsp salt
1 tsp pepper
12 oz boneless, skinless salmon filets, divide into 2 servings
2 tsp salt
2 tsp pepper
1 tsp chili powder
1 lemon, halved with 1/2 sliced into thin slices
Directions
Preheat oven to 400
Line a rimmed baking sheet with foil, and spray with nonstick cooking spray, set aside
Wash & cut potatoes in half (or quarters) depending on size
Spread potatoes onto 1/2 of the sheet pan
Drizzle wth olive oil, ranch seasoning & salt, tossing to coat the potatoes evenly
Place into oven and bake for 20 minutes
While potatoes are baking trim broccolini
Remove pan from oven and place broccolini on the other end of the pan
Drizzle with olive oil, salt & pepper
Place pan back into oven and continue backing for an additional 15 minutes
Remove and place salmon filets into the center of the pan
Season with salt, pepper & chili powder
Juice 1/2 of the lemon over the salmon and then place lemon slices over the top
Place pan back into oven and bake for 10-12 minutes or until salmon is cooked through and flaky
Remove from oven and let sit for 5 minutes
Serve & ENJOY!
Notes
Each serving (1 filet, half of the potatoes and 1/2 of the broccolini) is 13 WW Smart Points
Nutritional Info
Calories 552 Calories from Fat 90 Total Fat 10.0g Saturated Fat 3.9g Cholesterol 46mg Sodium 5469mg Potassium 2187mg Total Carbohydrates 60.5g Dietary Fiber 15.5g Sugars 4.2g Protein 52.8g Vitamin A 17% - Vitamin C 404% - Calcium 23% - Iron 77% Nutrition Grade A
7.8.1.2
37
https://sparklesnsprouts.com/2016/04/07/quick-salmon/
All images are the property of Sparkles n Sprouts, to use image please contact the webmaster at michelle@sparklesnsprouts.com
I have learned over the last few months that no matter what life throws at you it is super important to remember those things that are most important  For me that is The Hubby, my family and spending time with those that I love.  As hard as it can be sometimes to find time to have a family or friends dinner I hope this one pan meal will help make it a little easier…it really is all about balance in everything.  
Instead of salmon you can use…
If salmon is not a favorite feel free to use another fish such as tilapia, or even use chicken if you would like…just make sure to adjust cooking time as needed.
One pan and done is all about making dinner easy, fun and quick and this dinner is all that and more!

Make everyday Sparkle – MJ