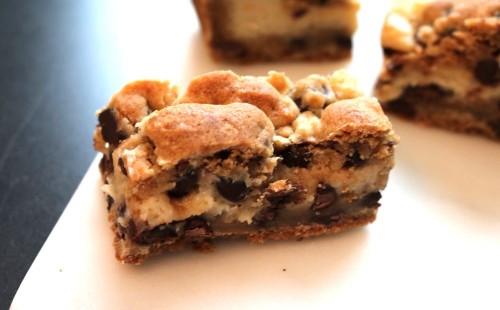 Cheesecake in bars + another favorite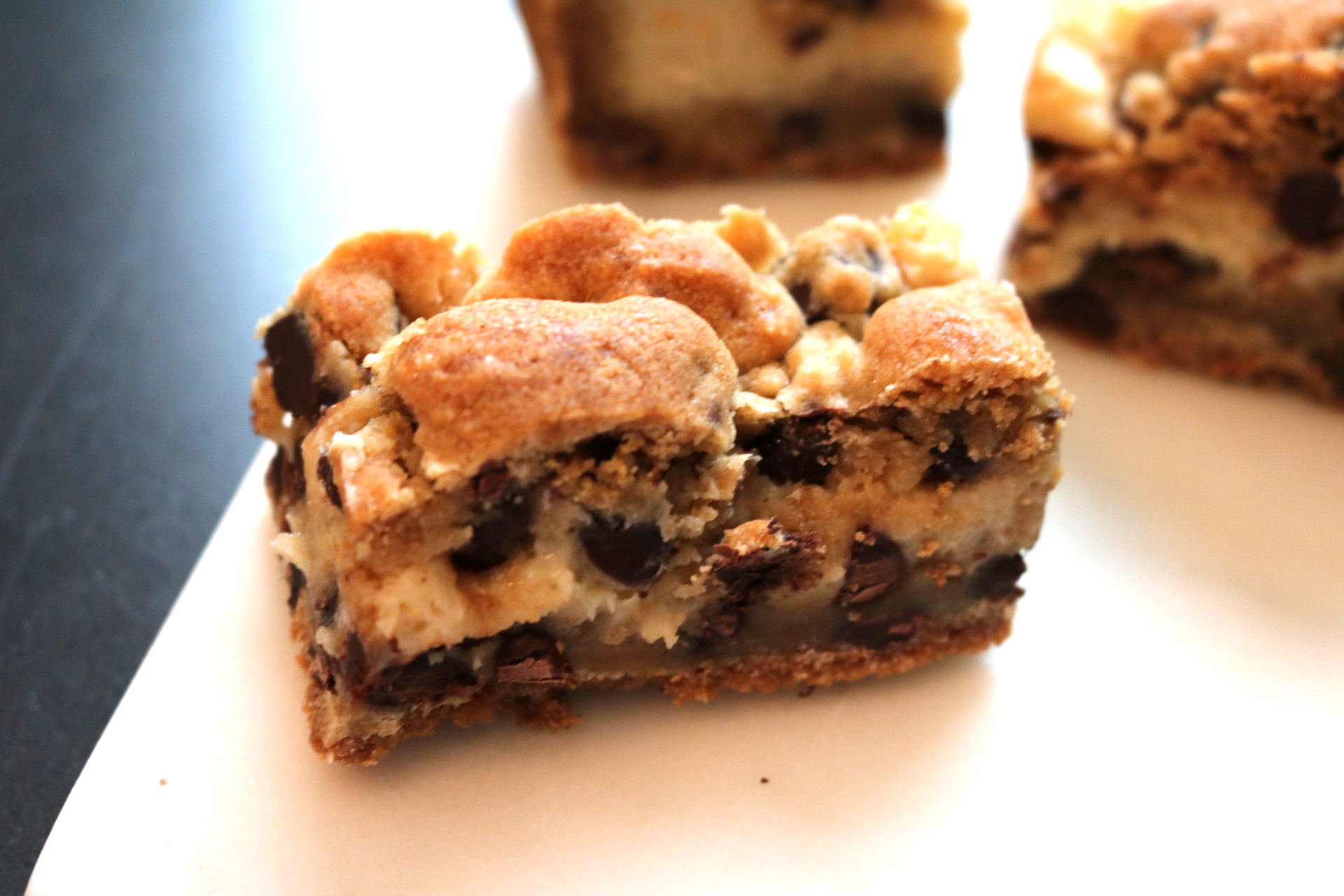 If you were to ask The Hubby what dessert he would want he would say chocolate chip cookies or cheesecake.  If you were to ask me I would say anything chocolate…yes ANYTHING chocolate.  So last week when I was craving something sweet I decided to bring together two favorites into one…Chocolate Chip Cheesecake Bars.
Two in one?
Yes…cheesecake and chocolate chip cookies all in one bar for a dessert everyone will love.
The cookie batter is a perfect balance of semi sweet chips and dark chocolate chips.  I use both as I think the balance is perfect with the richness of the cream cheese filling.  If you do not care for dark chocolate or do not have any on hand, feel free to use all semi sweet, it will still be delicious.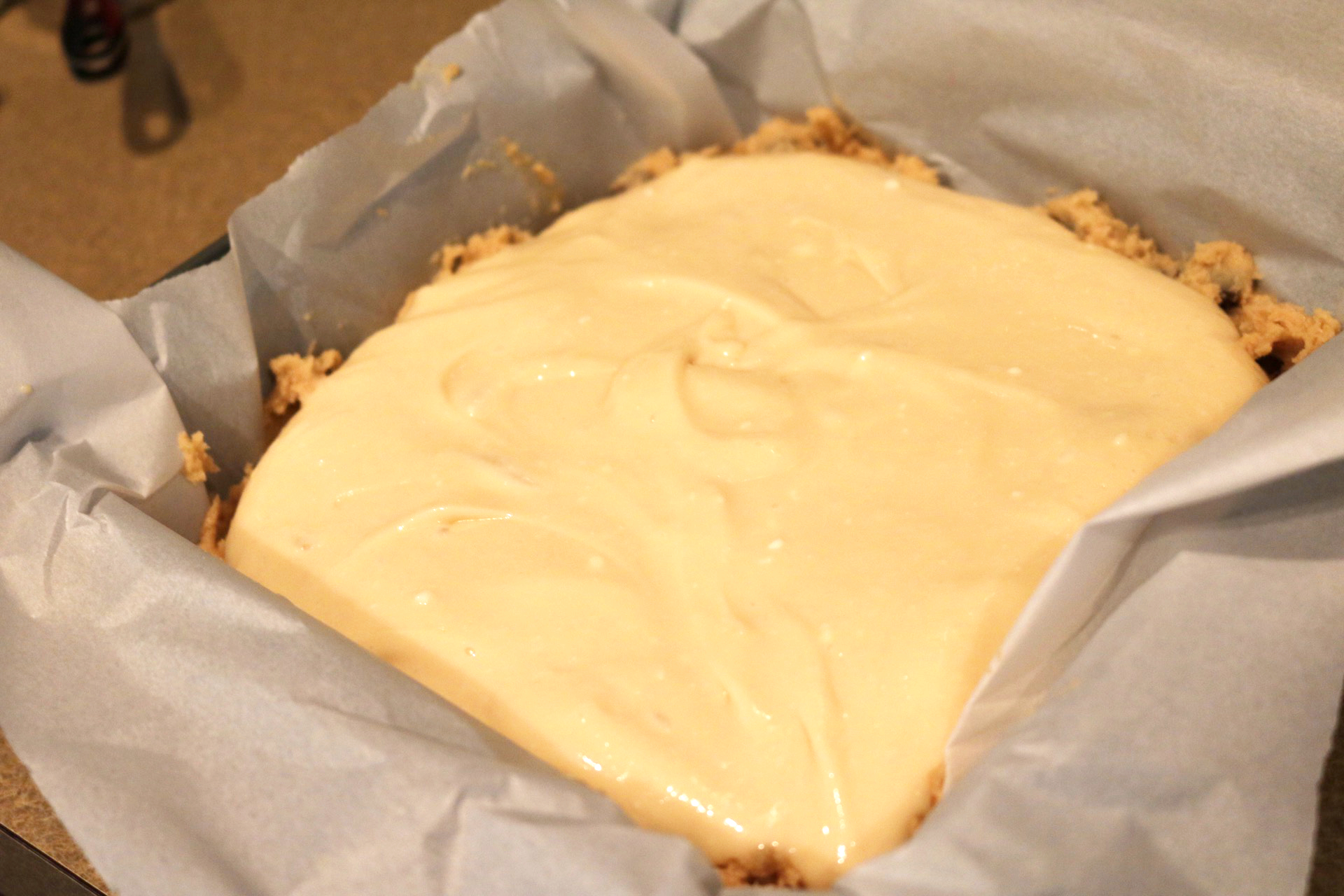 The cheesecake filling is just a little sweet and helps to balance each bite.  This is not your traditional cheesecake filling but the consistency is perfect for these bars.  Trust me this is a recipe you will love.
The Hubby loves these…
As I mentioned The Hubby is a huge fan of both chocolate chip cookies and cheesecake he LOVES these bars for sure.
I wanted to surprise him with a little treat and he was quite surprised for sure.  When he came in the house he immediately smelled chocolate chip cookies and got quite excited but then I told him there was cheesecake too.  He thought I made him two treats so when I explained that I took his 2 favorites and mashed them together he was so excited.
Unfortunately I had just taken them out of the oven and I could not cut them, they had to cool.  So I sent him off to the office and went on about doing laundry and the next thing I know he is back in the kitchen cutting a little corner off…but don't worry I caught him.  I moved them to the refrigerator and made him promise to be good.
MJ
16 bars
Chocolate Chip Cheesecake Bars
A creamy cheesecake bar paired with a favorite chocolate chip cookie recipe making this a match made in heaven
40 minCook Time
3 hrTotal Time
Ingredients
2 cups all-purpose flour
1/2 teaspoon baking soda
1 teaspoon salt
2/3 cup butter, room temperature
1/2 cup sugar
2/3 cup brown sugar
1 large egg
2 teaspoons vanilla extract
1 cup chocolate chips, semi sweet
1 cup chocolate chips, dark
For the Cheesecake Filling
8 ounces light cream cheese
1/4 cup sugar
1/4 cup brown sugar
1 large egg
1 teaspoon vanilla extract
Directions
Preheat oven to 350
Line a 9 inch square pan with parchment paper
In a bowl whisk together flour, baking soda and salt
Ion the bowl of a stand mixer cream together butter & sugars until light and fluffy, scraping down the sides as needed
Add in egg & vanilla, mixing until just combined
Slowly add in flour mixture, mixing until just combined
Stir in chocolate chips, and set aside
In another bowl whisk together cream cheese, sugars, egg and vanilla until smooth
Press 2/3 of the cookie dough into the prepared pan
Pour cheesecake mixture over dough
Crumble remaining cookie dough over cheesecake batter
Bake for 40 minutes, or until cheesecake is set and cookie dough has browned
Let cool to room temperature and then chill for at least 2 hours before slicing into bars
Serve & ENJOY!!
Notes
Each bar is 13 Smart Points
Nutritional Info
Calories 272 - Calories from Fat 126 - Total Fat 14 g - Saturated Fat 8.1 g - Monounsaturated Fat 3.2 g - Polyunsaturated Fat 0.4 g - Trans Fat 0 g - Cholesterol 41 g - Sodium 196 mg - Potassium 59 mg - Total Carbohydrate 36 g - Dietary Fiber 0 g - Sugars 25 g - Protein 3 g
Vitamin A 6 % - Vitamin C 0 % - Calcium 2 % - Iron 0 %
7.8.1.2
204
https://sparklesnsprouts.com/2016/08/02/cheesecake-in-bars-another-favorite/
All images are the property of Sparkles n Sprouts, to use image please contact the webmaster at michelle@sparklesnsprouts.com
Traditional or Not?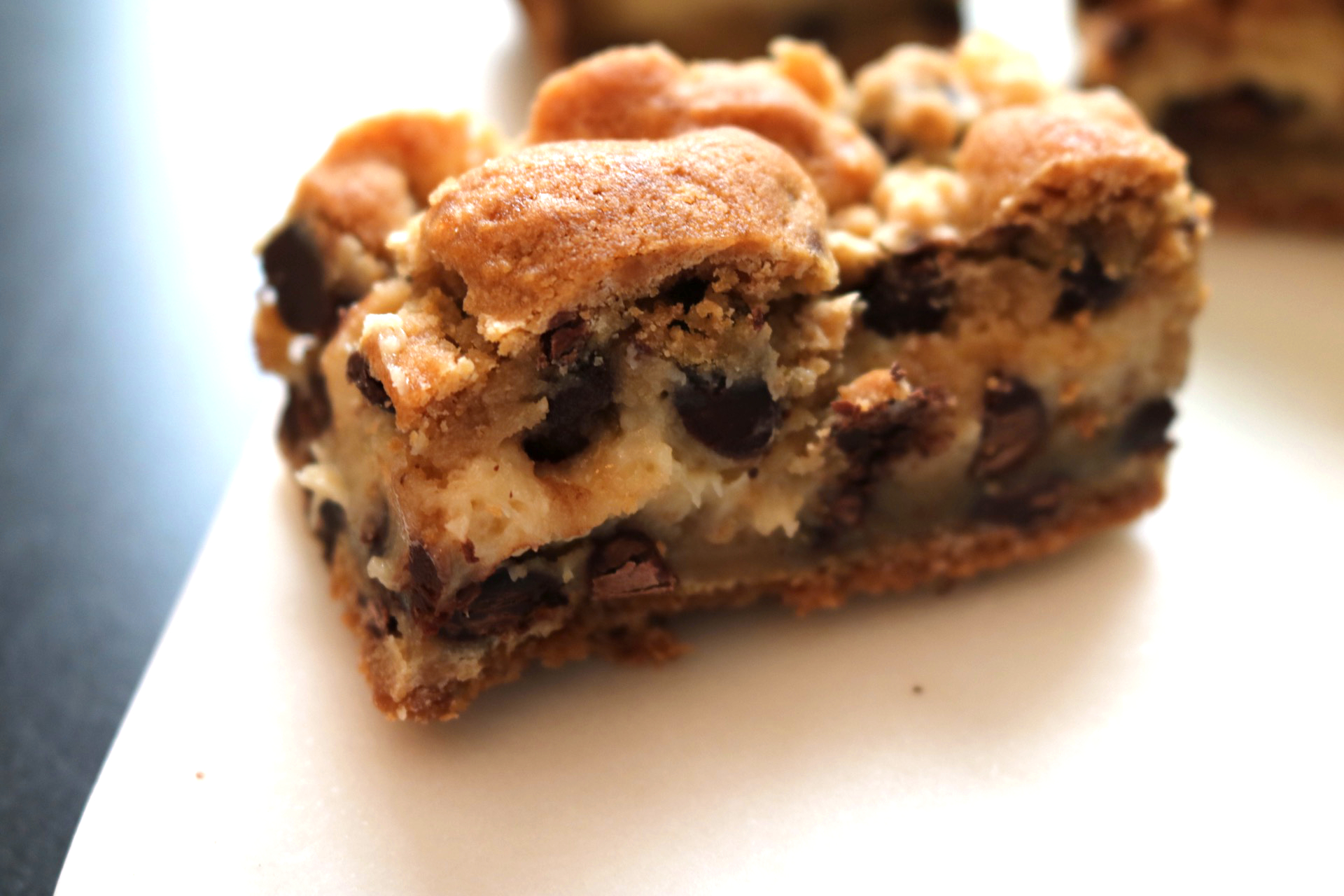 The Hubby is not a fan of nuts so I never add them to chocolate chip cookies, but if you wanted you could add in some chopped pecans or your favorite nut.  You could also add in some salted caramel to the cheesecake batter for a salted caramel cheesecake filling.  You could replace some of the chocolate chips with white chocolate to butterscotch chips for some extra fun.
Add in whatever will be perfect for you, and I know it will be delicious.  Even if it not so traditional.

Make today sparkle – MJ