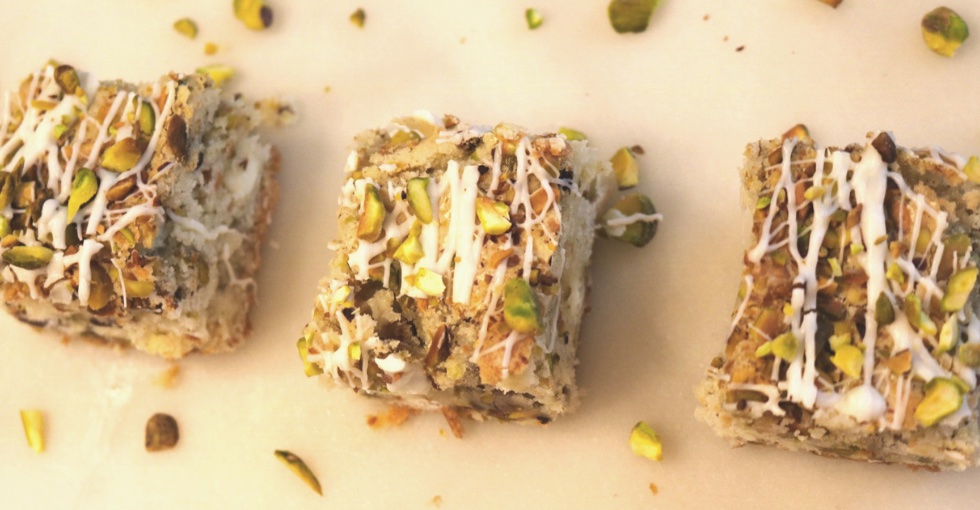 Gluten Free Pistachio Blondies
Pistachio Blondies are so, so good but when they are Gluten Free almost everyone can enjoy them making them even better!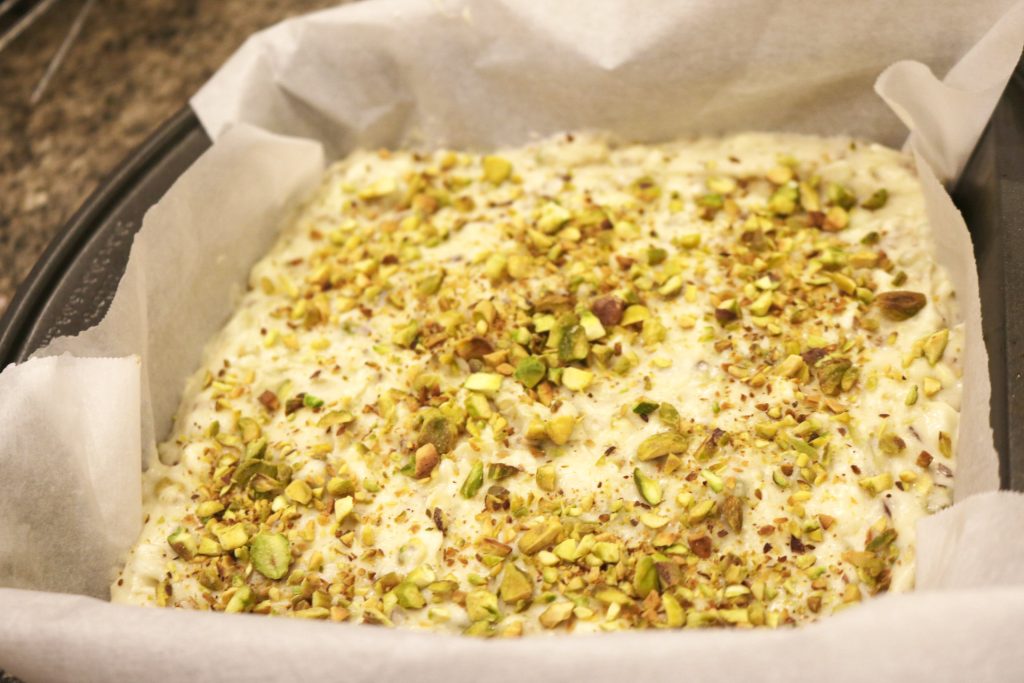 Hello (toasted) Pistachio
I am going to be fully transparent with you, it took me a couple of tries to get these blondies right. To get them to that perfect, slightly ooey gooey goodness.
As with most gluten free recipes, the blondies were a little too dry the first go around, and then the 2nd one wouldn't set up enough and then finally on the 3rd try we finally got there. These blondies have a beautiful golden crust, each bite is filled with tons of pistachios and hints of white chocolate, and then topped with even more of each.
To really take these blondies to the next level, I did toast the pistachios just to add that extra something, but you don't have too… that is up to you, but I highly recommend it.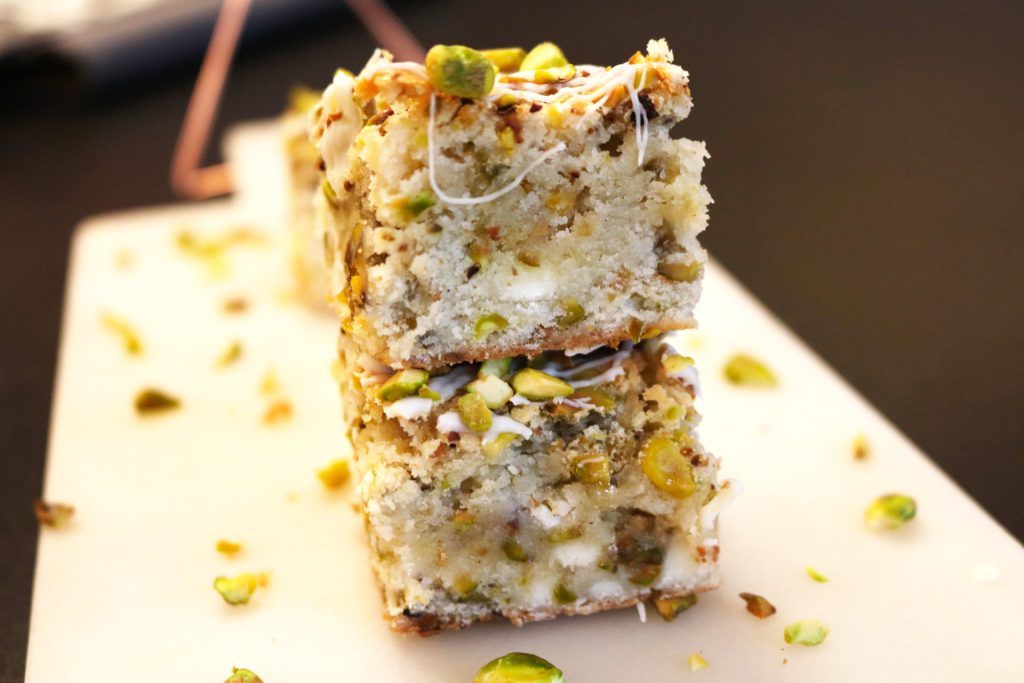 Hello White Chocolate
One of the classic combos in baking is white chocolate & pistachios, like my White Chocolate Pistachio Cookies. There is just something so perfect about the sweet white chocolate and the super nutty, slightly salty bite of the pistachio. Even more so in these blondies.
To make these blondies the perfect texture I reduced the amount of flour, and added in more pistachios to add the needed volume. In turn I added in a bit more white chocolate to help balance out the nuttiness. If white chocolate is not your jam, (yes I just said jam) that is ok, you can use semi sweet or dark chocolate. Personally I think a combo of all 3 would be amazing!!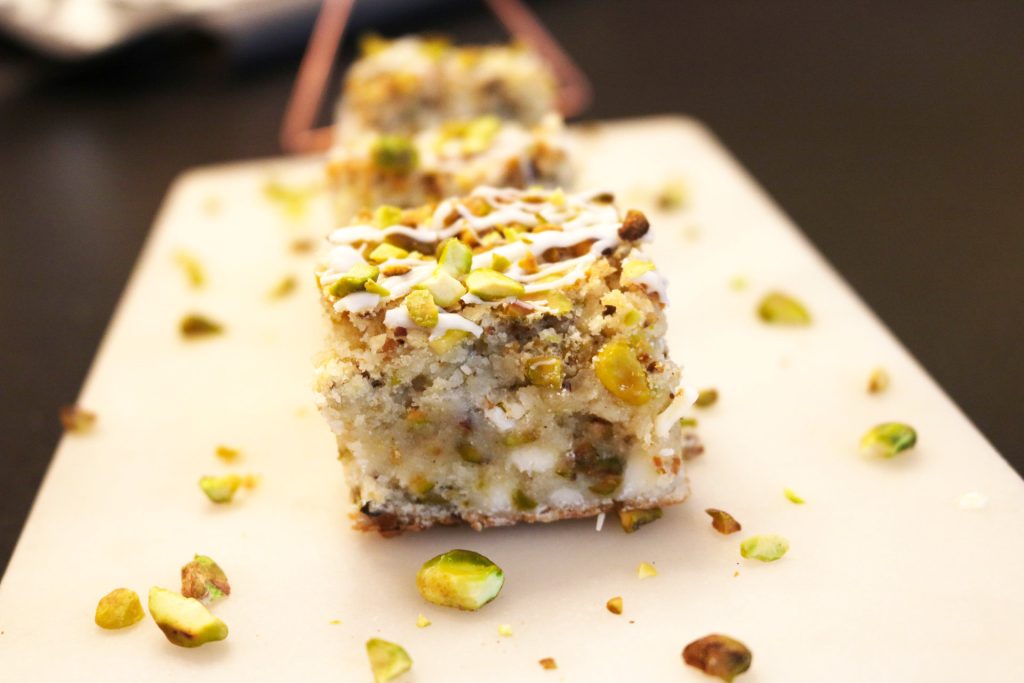 Let's talk flour
Real quick, my go to gluten free flour is this Bob's Red Mill Gluten Free 1 to 1 Flour. It truly bakes the most like all-purpose flour that I have found. I typically use it as a 1 to 1 ratio, and it works great.
PS…On Amazon, it is so much more affordable!
Chelle Chelle
16-20 squares
Gluten Free Pistachio Blondies
Gluten Free Pistachio Blondies give you everything you love about blondies but gluten free and loaded with pistachios and white chocolate in each bite!!
20 minPrep Time
25 minCook Time
1 hrTotal Time
Ingredients
1 1/2 cups pistachios, shelled & chopped, divided
1 1/4 cup butter (melted)
1 1/4 cup sugar
3 eggs
1 cup white chocolate, chopped
Toppings
White Chocolate, melted
Chopped Pistachios
Directions
Preheat oven to 350
Line a 9x9 pan with parchment paper, set aside
In a small saucepan toss chopped pistachios over medium heat until pistachios are fragrant and slightly browned, remove from heat before they burn, you can skip this step if you want
In a microwave safe bowl melt butter
In the bowl of a stand mixer whisk together sugar & eggs, until the volume has doubled and is pale in color, about 8-10 minutes
Add in vanilla bean and whisk until combined well, scraping down sides is needed
Place mixer on slow and drizzle in melted butter until well combined
Add in flour and mix until just combined
Using a rubber spatula fold in 1 1/4 cups pistachios and white chocolate until well distributed
Spoon batter into prepared pan and spread in an even layer
Sprinkle remaining pistachios over the top
Bake for 20-25 minutes or until center is just set and top is slightly browned
Remove and let cool for 30 15 minutes and then remove from pan & let cool completely
Once cooled melt 1/4-1/2 cup white chocolate chips and drizzle over blondies and top with additional chopped toasted pistachios
Notes
You can skip the toasting process if you would like, but I prefer them toasted
7.8.1.2
569
https://sparklesnsprouts.com/2022/03/14/gluten-free-pistachio-blondies/
All images are the property of Sparkles n Sprouts, to use image please contact the webmaster at michelle@sparklesnsprouts.com
Pin this now so you don't lose it!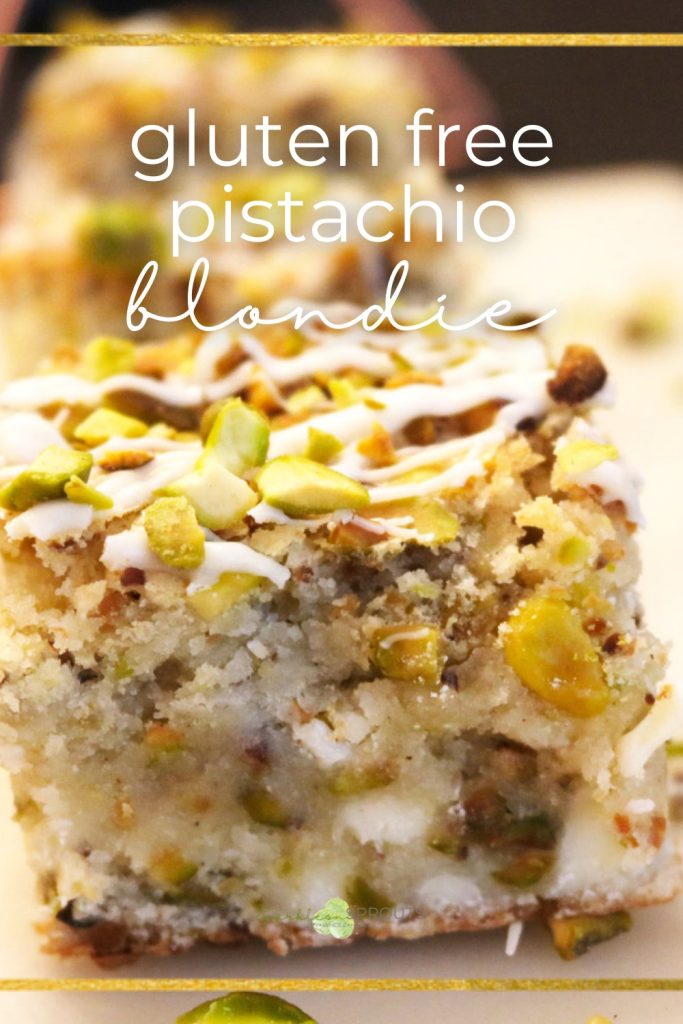 Follow us so you never miss a thing!