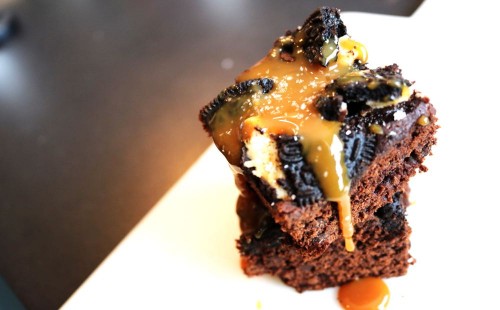 oreo + caramel + brownies = AMAZING!
Hello weekend!  I don't know about you but I am so glad that the weekend is finally here…and these brownies make me giggle with joy!!
In SE Texas it has been raining all week, causing devastating floods and some serious unrest…Starbucks was even closed one day…you know its bad when they close!  In all serious though some of my friends and neighbors have been hit really hard and are still being affected by the recent floods and I know your prayers would be greatly appreciated.  If you would like to help those who have been affected check out this link for more information. 
To celebrate the weekend and no rain in the forecast (for a few days) I think it is time to make brownies…but not just your ordinary brownies lets make some crazy good brownies loaded with oreo's & caramel…yes oreo's & caramel, we are celebrating aren't we?  
First we have to start with one of my favorite brownie recipes, it makes super fudgy brownies in no time and with some added chocolate goodness.  These brownies are delicious on their own but wait we aren't done yet. To take these brownies to the next level lets add some oreo's.  I love oreo cookies…and if they are in the house I am going to eat them up so I figured why not add them to another favorite making them AMAZING!  To finish it all off I drizzled them with my super easy salted caramel sauce to really make them something to remember. 
MJ
24 brownies
Oreo Caramel Brownies
This super indulgent brownie is loaded with chocolate, oreos and a sweet & salty caramel drizzle making each bite something to be remembered
20 minPrep Time
35 minCook Time
1 hr, 30 Total Time
Ingredients
3/4 cup cocoa powder
1/2 tsp baking soda
2/3 cup melted butter, divided
1/2 cup boiling water
1 cup sugar
1 cup brown sugar
2 eggs
1 1/2 cups flour
1 tsp vanilla
1/2 tsp salt
1 cup chocolate chips
16 oreo cookies, crushed
1/2 cup caramel sauce
2 tsp sea salt
Directions
Preheat oven to 350
Line a 9x13 pan with parchment paper (this will let you pull them out of the pan easily to cool completely)
In a large bowl combine cocoa powder, baking soda, 1/3 cup melted butter & water until smooth
Stir in sugars, eggs and remaining butter, until well combined
Add in flour & vanilla stirring until just combined
Stir in chocolate chips
Pour batter into prepared pan
Sprinkle with crushed ore's
Bake for 25-30 minutes or until brownies are just set
Remove and let cool for 10 minutes in the pan
Remove brownies from pan and let cool completely
Drizzle with caramel sauce and sprinkle with sea salt
Cut into squares
Serve & ENJOY!
Notes
Each brownie is 10 WW Smart Points
Nutritional Info
Calories 225 Calories from Fat 83 Total Fat 9.3g Saturated Fat 5.3g Trans Fat 0.3g Cholesterol 29mg Sodium 339mg Potassium 135mg Total Carbohydrates 35.2g Dietary Fiber 1.5g Sugars 20.6g Protein 2.8g Vitamin A 4% - Vitamin C 0% - Calcium 3% - Iron 7% Nutrition Grade F
7.8.1.2
28
https://sparklesnsprouts.com/2016/04/22/oreocaramelbrowniesamazing/
All images are the property of Sparkles n Sprouts, to use image please contact the webmaster at michelle@sparklesnsprouts.com
Not only did The Hubby and I love them but the nephew loved them too.  I have to admit I love being that fun aunt that brings sweet treats to my little guy  He loves really anything but it makes me smile from ear to ear when he asks me for a cookie…anytime he asks "Chelle Chelle cookie?" (that is my name he calls me) I just melt and will do pretty much anything for him including making him these brownies or anything else he would like, which is a win win for The Hubby (along with sis-in-law, honey and anyone else who is around).  Just FYI…I also make him veggies but sweets are my favorite and so much more fun…right?
The weekend is here, its time to relax, and celebrate with these loaded oreo caramel brownies…everyone will thank you!!
Make everyday sparkle – MJ