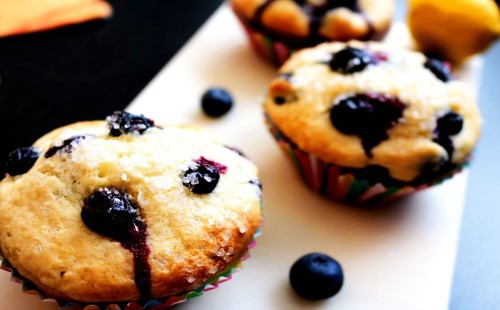 Welcoming the week with blueberry LOVE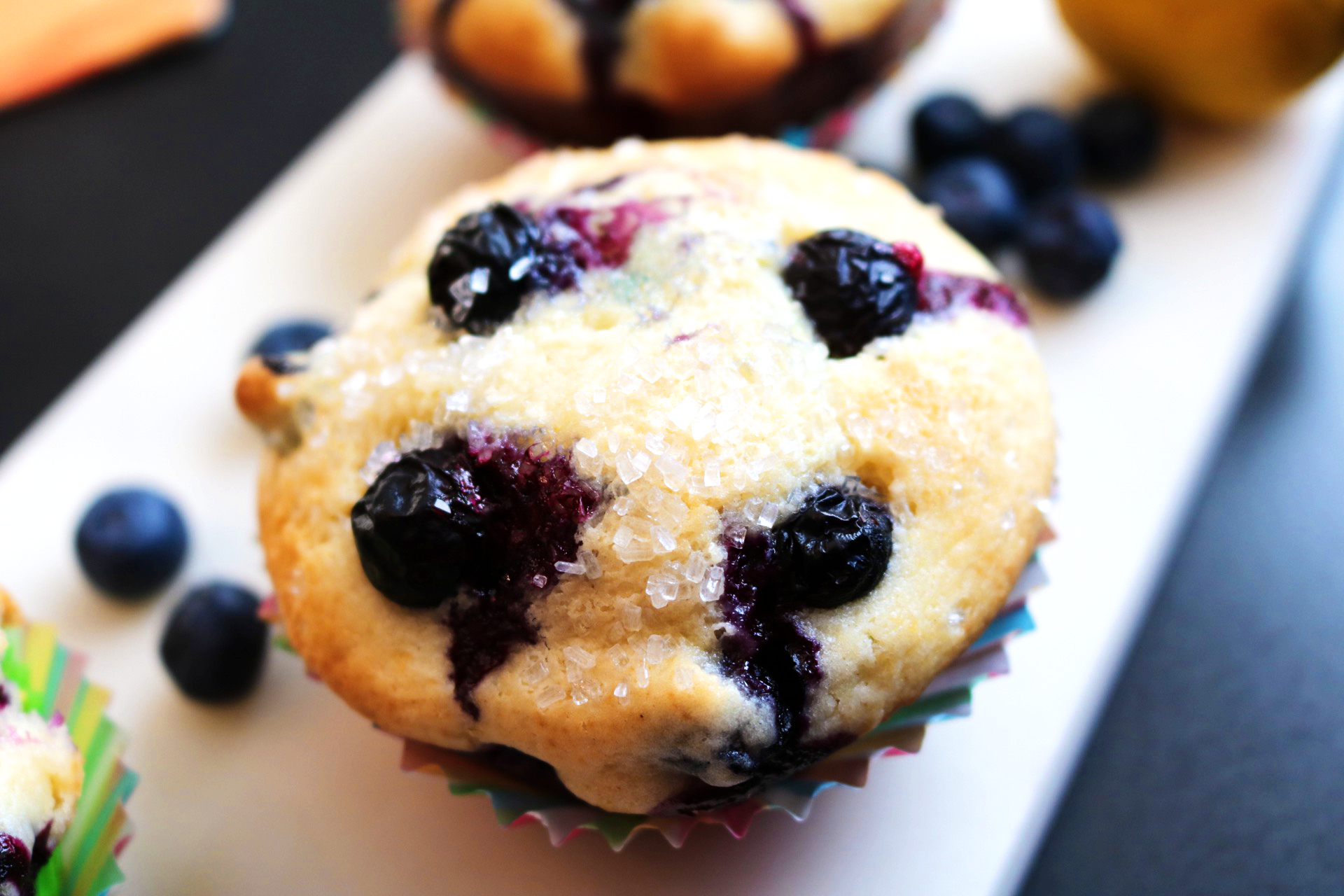 Hello Monday!  Oh my, where did the weekend go?  I don't know about you but I could use a long weekend.
Well since we are not going to get an extra day let's at least start the week off right with these muffins!
Lemon & Blueberry, yes please
First of all I love lemon and I love blueberries but I really love the two when they are put together.    I especially LOVE this combo in the summer.
The lemon is just so fresh and the berries add a sweet little burst, making these muffins AMAZING!!
Muffins make me smile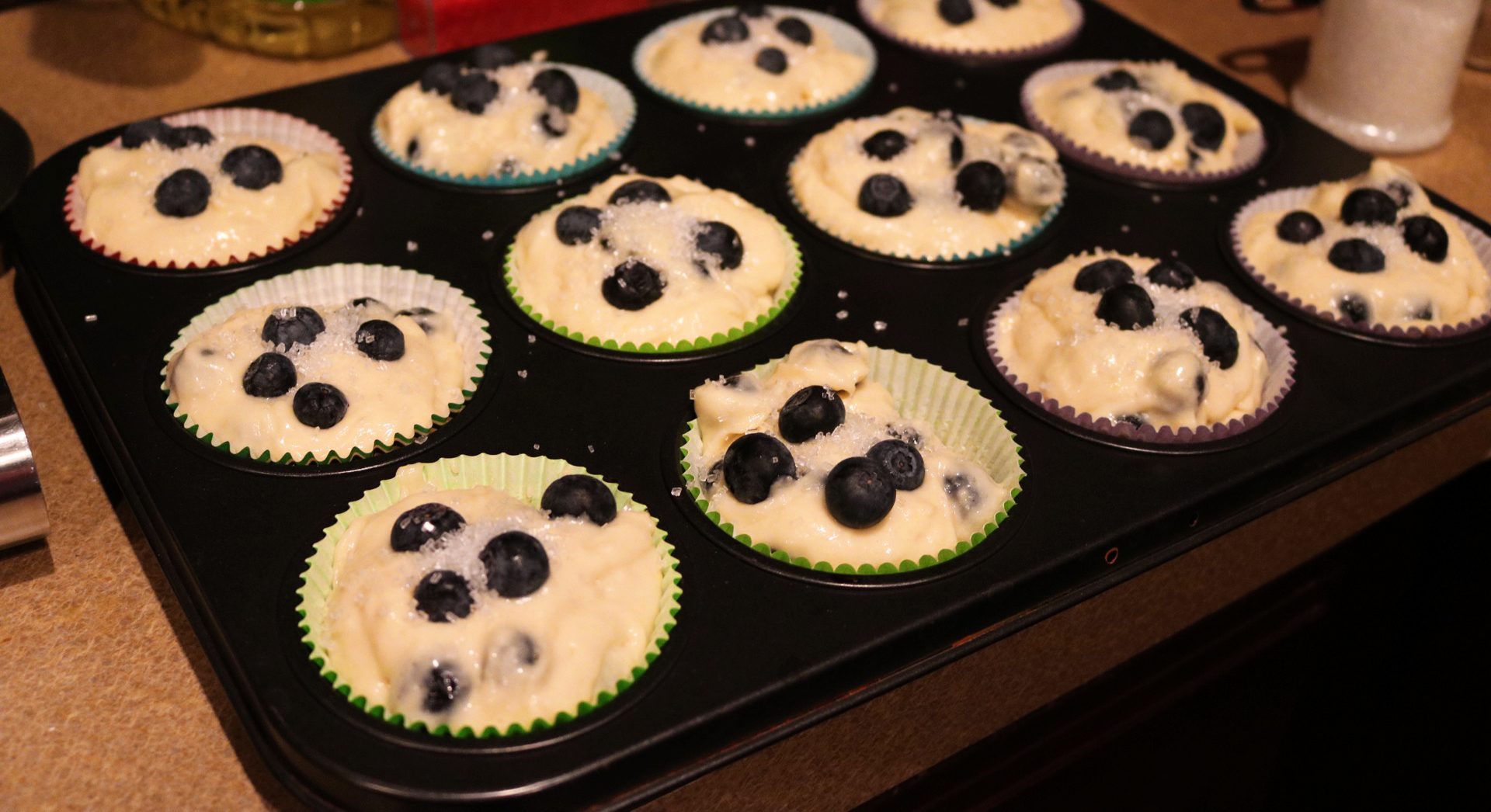 There is just something so fun about a muffin.  I love sweet & savory muffins but there is just something so familiar and comforting about a good blueberry muffin.
Growing up my mom would make the box blueberry muffins every once in a while, but once I my own kitchen I started experimenting with making muffins from scratch and immediately fell in love with making blueberry muffins.  There was just something so yummy about fresh them…I couldn't make enough of them.  For some added fun love, I throw a few extra berries on top.
Even now blueberry muffins are still my favorite muffins to make, especially updated with lemon…I can't help but smile from ear to ear each time I make them.
No lemons…that ok
So when I made these muffins The Hubby got super excited (he REALLY loves blueberry muffins) but when he saw the lemons on the counter he was not too happy.  He is REALLY not a fan of lemons.  I went ahead and made the lemon version and then made him a non lemon version and I have to say they were really good.
If you do not have lemons on hand, or just don't care for lemons, this recipe is still a good one for a good 'ole blueberry muffin that everyone is sure to LOVE!
It's muffin time….
MJ
16 muffins
Lemon Blueberry Muffin
Light and tender muffins with a perfect hint of lemon and blueberry in each bite.
15 minPrep Time
18 minCook Time
40 minTotal Time
Ingredients
2 tablespoons lemon zest
3/4 cup sugar
1/4 cup, packed brown sugar
4 tablespoons butter, softened
4 tablespoons canola oil
2 large eggs
1/2 cup buttermilk, lowfat
1/2 cup sour cream - light
3 tablespoons lemon juice
2 teaspoons vanilla extract
2 1/2 cups all-purpose flour
1 teaspoon baking powder
1/2 teaspoon baking soda
1 teaspoon salt
2 cups blueberries, fresh
4 tablespoons course sugar for topping
Directions
Preheat oven to 425
Line muffin tin with paper liners, or spray with nonstick spray
In the bowl of a stand mixer with a paddle attachment mix together lemon zest, sugar & brown sugar for 2-3 minutes
Add in butter & oil mixing until light and well incorporated, 3-4 minutes, scraping down the sides as needed
Add in each egg one at a time
In a bowl whisk together buttermilk, sour cream, lemon juice & vanilla extract until well combined
In a separate bowl whisk together flour, baking powder, baking soda & salt
Add in 1/3 of the flour mixture, mixing until just combined
Add in 1/2 of the buttermilk mixture, then the next 1/3 of the flour mixture, repeating with remaining ingredients, mixing until just combined after each addition
Carefully stir in 1 1/2 cups of the blueberries
Using a cookie scoop place batter into prepared muffin tins
Place remaining blueberries on top of the batter
Sprinkle sugar on top of the batter
Bake for 8 minutes and then reduce oven temperature to 400 and continue baking for another 8-10 minutes, or until muffins are lightly browned
Remove from oven and let cool in pans for 5 minutes, and then remove from pan and serve
ENJOY!!
Notes
Each muffin is 9 WW Smart Points
Nutritional Info
Calories 214 - Calories from Fat 72 - Total Fat 8 g - Saturated Fat 2.7 g - Monounsaturated Fat 3.5 g - Polyunsaturated Fat 1.3 g - Trans Fat 0 g - Cholesterol 38 g - Sodium 250 mg - Potassium 73 mg - Total Carbohydrate 31 g - Dietary Fiber 1 g - Sugars 15 g - Protein 3 g
Vitamin A 3 % - Vitamin C 7 % - Calcium 4 % - Iron 6 %
7.8.1.2
199
https://sparklesnsprouts.com/2016/07/31/lemon-blueberry-muffin/
All images are the property of Sparkles n Sprouts, to use image please contact the webmaster at michelle@sparklesnsprouts.com
It may be Monday, but these Lemon Blueberry Muffins will put a smile on your face for sure!

Make today sparkle – MJ