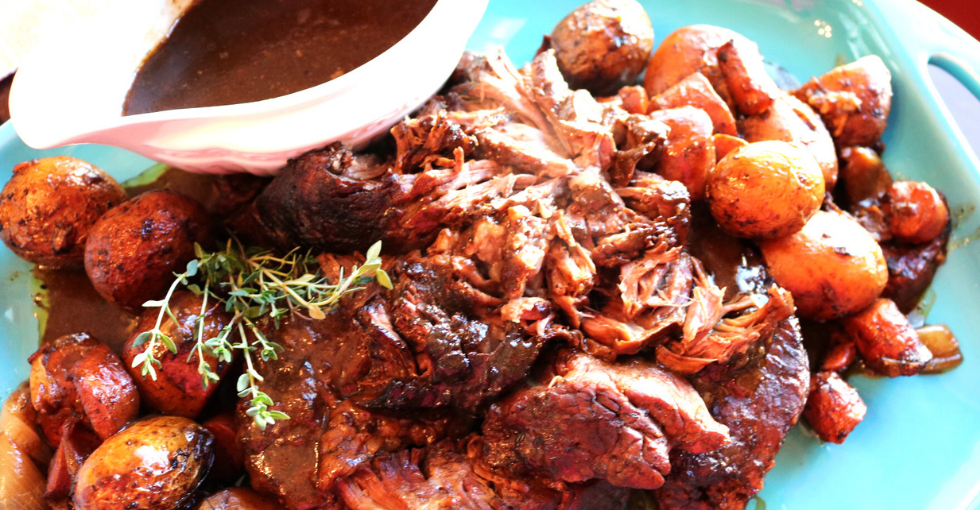 Sunday (or thursday or friday or monday) Pot Roast
Pot Roast is one of my most favorite Comfort foods. You know like cookies, casseroles or your favorite cake. Comfort food is all I am craving these days. I know I should be focusing on eating healthier and all that, but honestly all I want is food that warms my soul. Roast is one of my most favorite comfort foods and this roast is my MOST favorite.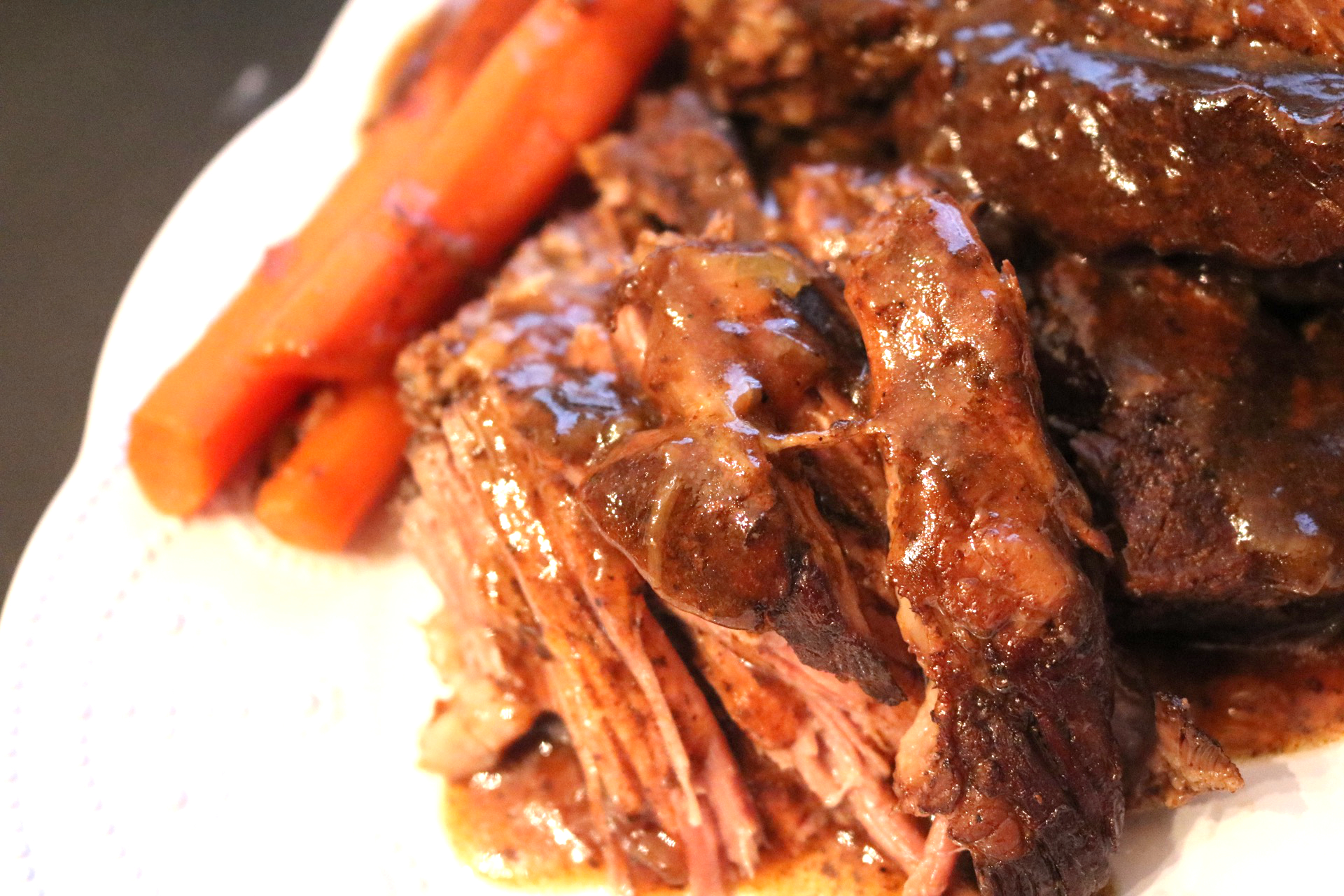 Fall Apart Pot Roast
To me the mark of a GREAT pot roast is if it falls apart. I mean is there anything better than a super tender pot roast that literally falls apart when you stick a fork into it? I don't think so.
Even better you will not believe just how easy it is to make! No really it is!!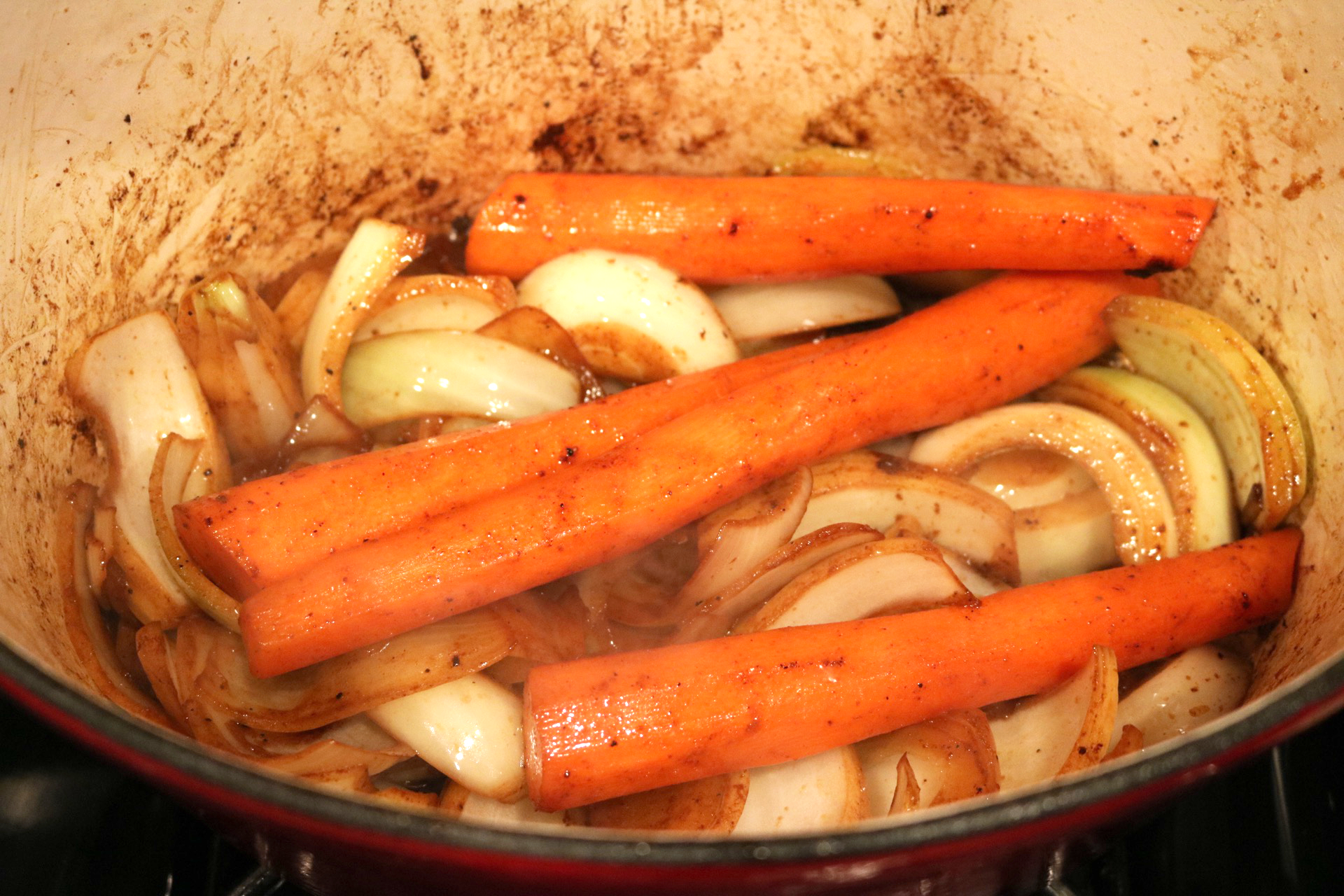 Oh the Veggies!
As in any traditional roast I am all about the veggies that cook with the roast. I just love how tender they get and oh the flavor… I MEAN COME ON!!!
For this roast I stayed super traditional with shallots (or onions), carrots & baby potatoes. I have also used fennel and parsnips. Really you can use most anything you have on hand that is hearty and can stand to be cooked a while.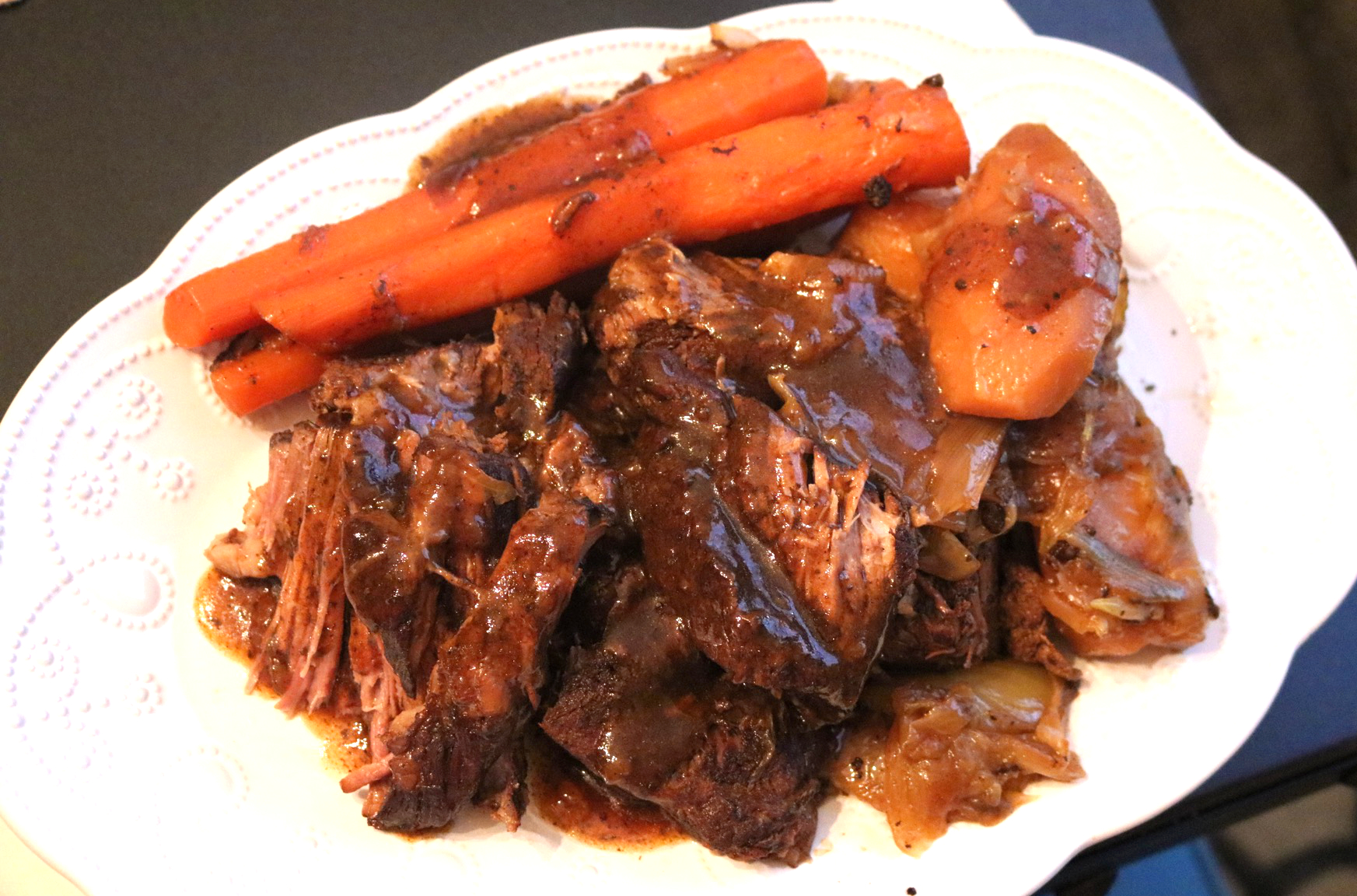 Let it Cook!
The key to a traditionally cookie roast is letting it cook for a while and not messing with it. Now I know how hard it is to just let it cook and look at it, but you honestly you just need to let it be.
There is just some extra magic that happens if you don't constantly open the dutch oven. In my experience it just makes the roast even more tender and more flavorful. You can do it… I have faith in you!!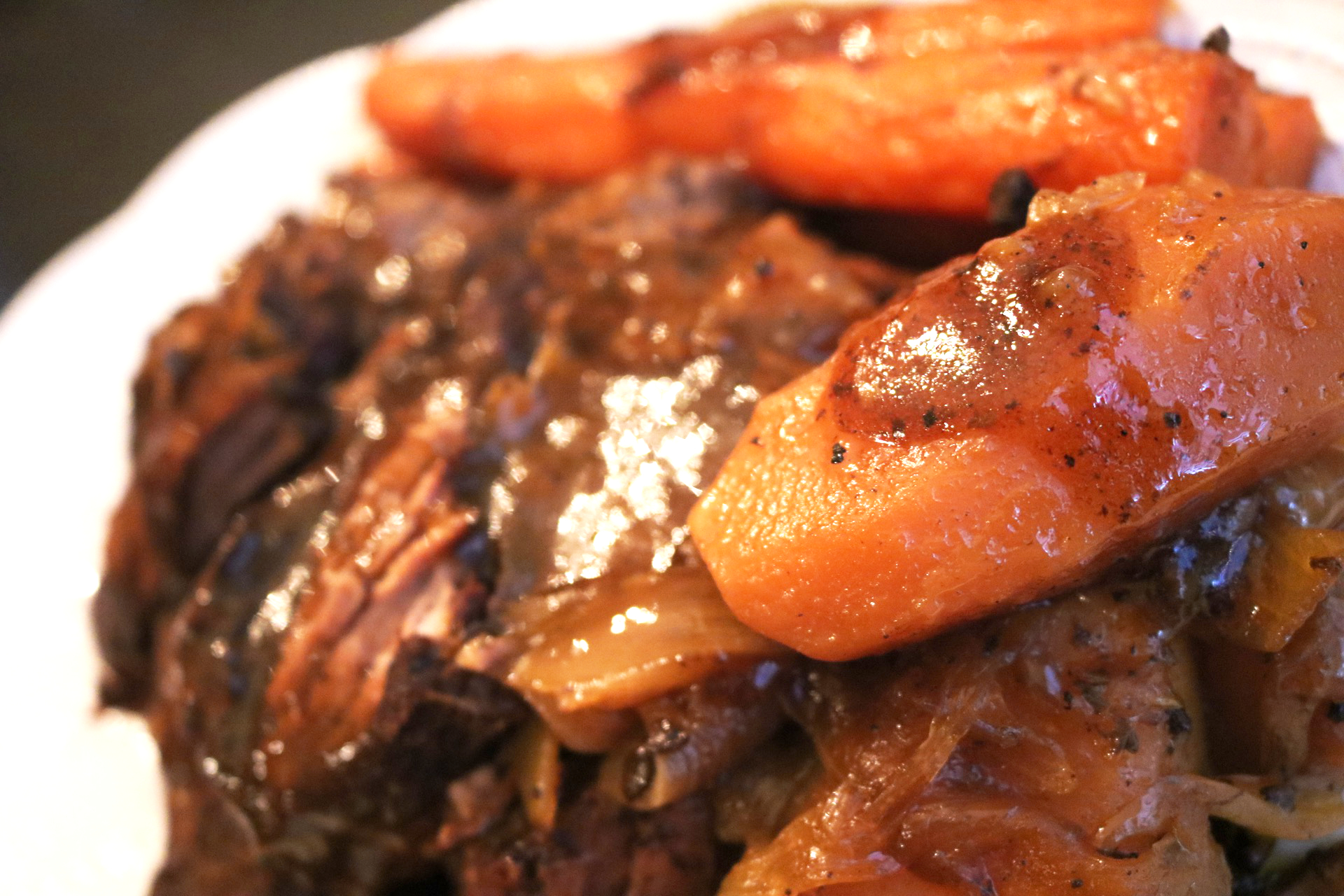 Oh the GRAVY!
Now for me one of the best parts of a roast is the gravy. This roast makes one of the best gravies I have ever had! The combo of the spices, herbs and wine with the stock really do work together to make a super flavorful gravy that is just perfection (in my humble opinion).
A little secret about me… I love to make an open faced roast beef sandwich on toasted sourdough the next day and smother it with this gravy…. MY MOUTH IS WATERING JUST THINKING ABOUT IT!!
You need this Pot Roast NOW!!
MJ
10 servings
Sunday Pot Roast
A traditional one pan pot roast with potatoes & carrots with a hint of thyme and rosemary with a rich gravy perfect for your next family or Holiday dinner
20 minPrep Time
4 hrCook Time
4 hr, 20 Total Time
Ingredients
3 lbs boneless beef chuck roast
1 tbsp salt
1 tbsp pepper
1 tbsp garlic powder
4 tbsp flour, divided
2 tbsp butter
2 tbsp extra virgin olive oil
1 lb carrots, peeled and cut in half
4 shallots, peeled & cut in half
5 garlic cloves, peeled and cut in half
1 tsp salt
1 cup dry red wine
3 cups beef stock, divided
4 sprigs fresh rosemary
4 sprigs fresh thyme
1 lb baby potatoes, I used multi-colored potatoes
Directions
Preheat oven to 300
Season pot roast with salt, pepper and garlic powder on all sides
Sprinkle 2 tbsp flour on all sides of the roast, set aside
In a large dutch oven heat butter and olive oil over medium-high heat
When hot carefully add in seasoned roast and brown on all sides, letting a crust form before turning to the next side, about 4-5 minutes per side
Once roast is all browned remove and set aside
To the dutch oven add in peeled carrots, shallots, garlic cloves & salt
Cook until soft, stirring often
Stir in red wine, making sure to scrape up all the browned bits on the bottom of the pan
Stir in 1 cup beef stock and 2 sprigs of rosemary and thyme
Bring to a boil
Place roast back into pot, moving veggies around as necessary
Place potatoes around roast
Pour in additional beef stock to come half way up the side of the roast
Place renaming rosemary & thyme sprigs on top of roast
Cover & bring back to a boil and then place into the oven
Cook for 3-4 hours, or until roast is falling apart with a fork, checking about 1/2 way through and adding in more beef stock if needed, you want there to be enough liquid that is always about 1/2 way up the side of the roast
When cooked remove roast from pot and place on a large serving platter
Using a slotted spoon remove veggies and place around the roast
Cover platter with foil to keep warm
In a small bowl combine remaining 2 tbsp flour with 1/2 cup beef stock until smooth
Heat remaining liquid over medium heat
Pour in flour mixture and bring to a boil, whisking often, until gravy begins to thicken
Taste and adjust seasoning as needed
Let mixture thicken to your desired consistency and then pour into a serving bowl
Serve over cooked roast
ENJOY!!
Notes
Each serving is 8 WW+ points:
Nutritional Info Calories 358 Calories from Fat 124 Total Fat 13.8g Saturated Fat 5.2g Trans Fat 0.0g Cholesterol 128mg Sodium 1072mg Potassium 783mg Total Carbohydrates 9.0g Dietary Fiber 1.5g Sugars 2.6g Protein 43.1g Vitamin A 153% - Vitamin C 6% - Calcium 3% - Iron 146% Nutrition Grade C+
7.8.1.2
126
https://sparklesnsprouts.com/2021/02/10/sunday-or-thursday-or-friday-or-monday-pot-roast/
All images are the property of Sparkles n Sprouts, to use image please contact the webmaster at michelle@sparklesnsprouts.com
Pin this now so you never lose it!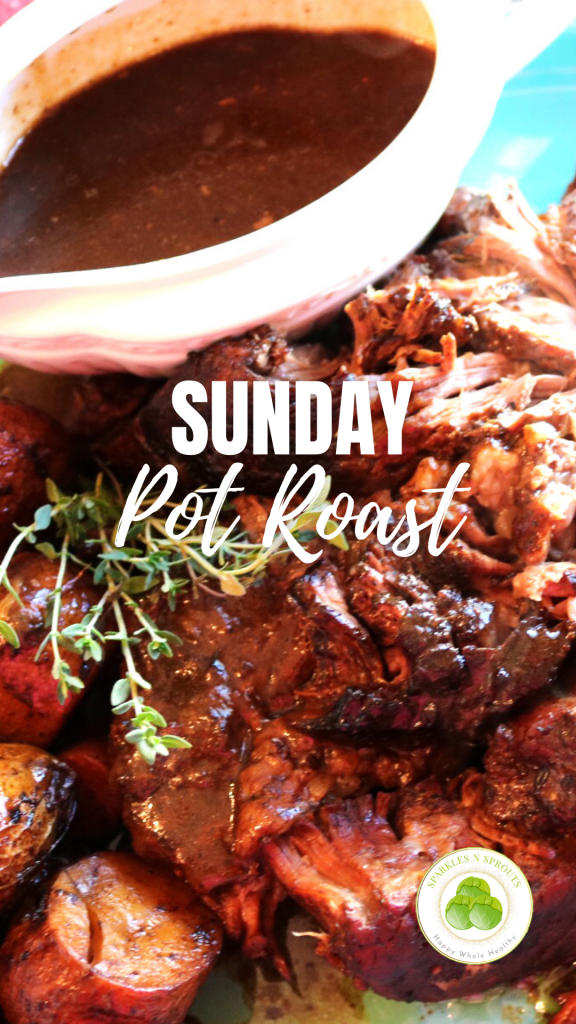 Follow us below so you never miss a thing!