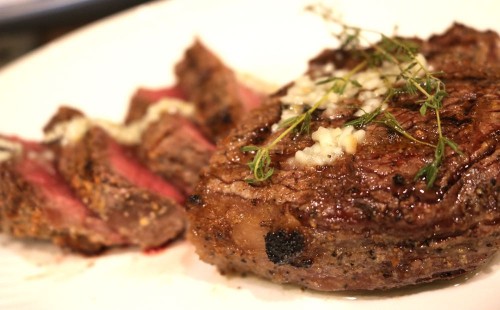 A steakhouse night at home in no time
It is no secret that I love going to a nice steakhouse for a wonderful dinner, but it is even better when you can everything you love at home. ANYTIME you want!!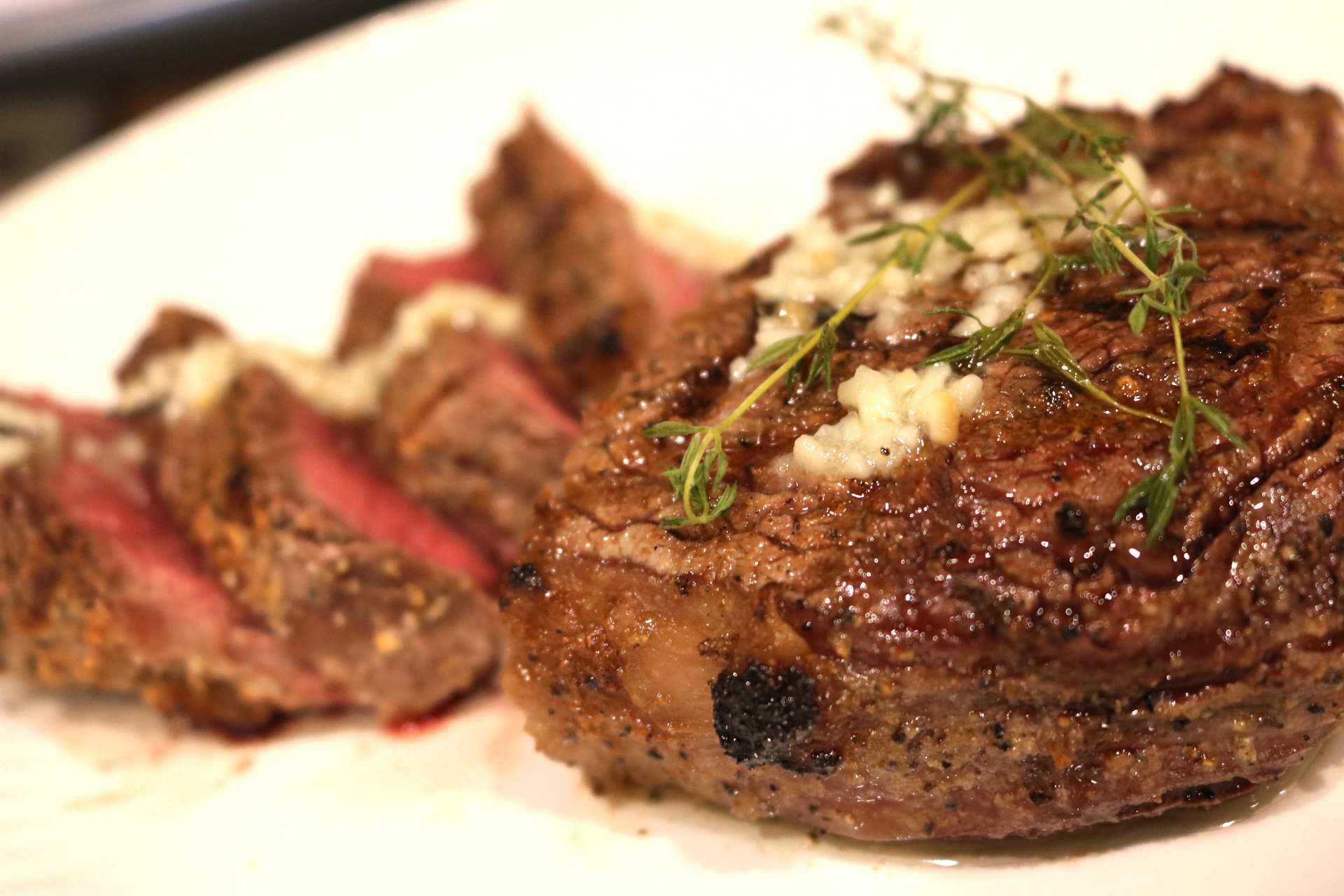 Bringing the steak home
To cook a nice steak dinner at home I like to go with a nice strip steak or a filet. I am a no bone steak kinda girl…but my rancher brother (& the other one too) is all about a bone in ribs eye. It is all up to you, just adjust cooking time as needed for thickness and desired doneness.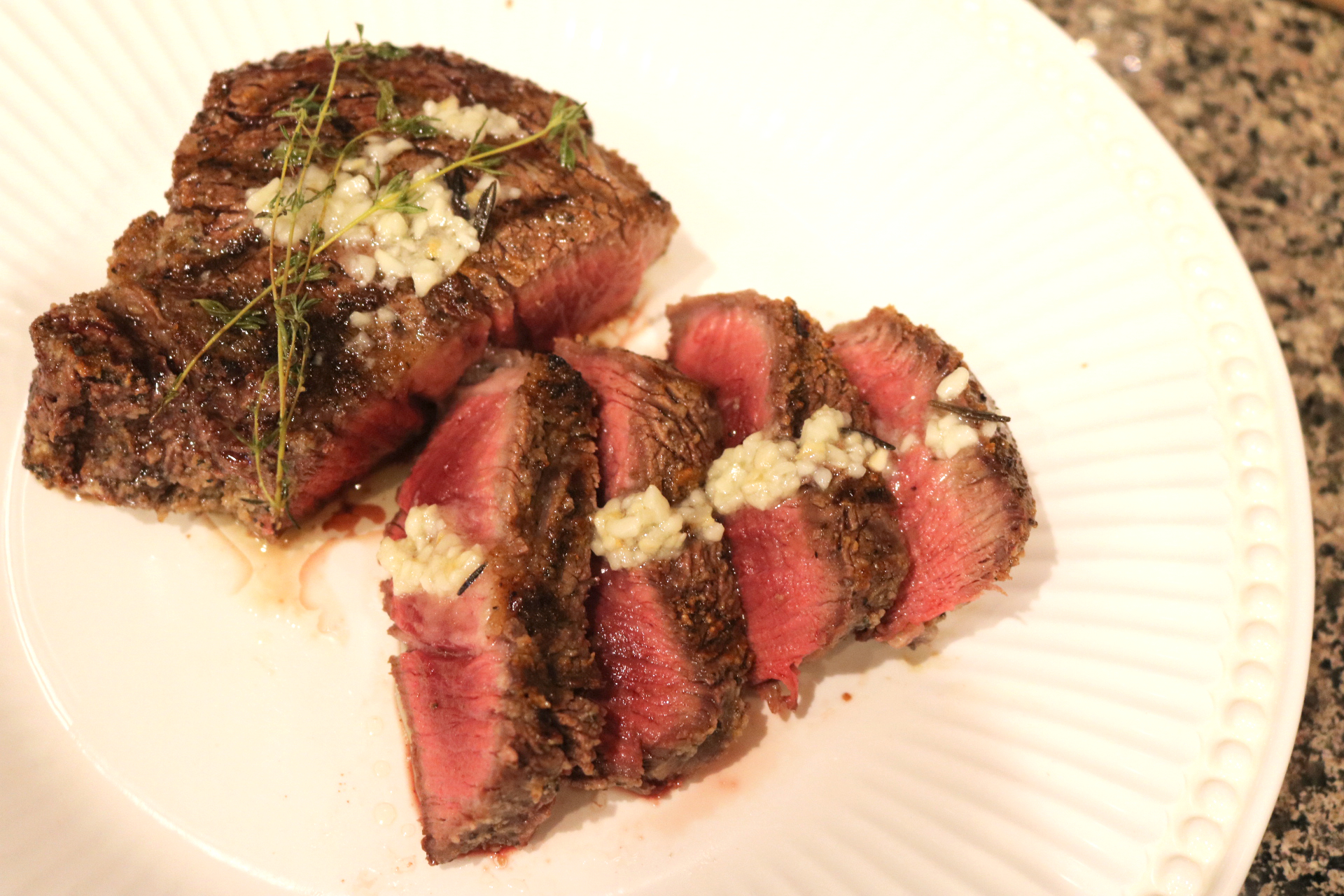 To be rare or not?
How do you like your steak cooked? For me I am a rare plus to medium rare kinda girl. I like it pink/red on the inside, but I know a lot of people are medium to medium well peeps so add an additional 2-3 minutes per side as needed.
To reach the perfect temp I always recommend a meat thermometer (like this one) to get it perfect each and every time. Just remember to take it off a little before your preferred temp because it will continue to cook as it rests.

Season everywhere…very well
For this steak I kept the seasoning fairly simple and then made sure it was all over the steak. When I say all over I mean all over…top, bottom, sides, ends…everywhere.
Not only is this going to add a ton of flavor but it is also going to produce a wonderful "crust" all over your steak as you sear it. This is honestly my favorite part of the steak…the little browned bits that form as it cooks.
Oh man, I am getting hungry.
It is time to heat up the grill…
Chelle Chelle
4 servings
Garlic Butter Steaks
A rich and decadent steakhouse steak all made at home. This is a perfect dinner for a weeknight treat or your next dinner party. Trust me this is a must make!
20 minPrep Time
25 minCook Time
50 minTotal Time
Ingredients
1 1/2 pounds extra lean NY Strip or your favorite cut, cut into 4-6 oz portions
1 tablespoon salt
3 teaspoons black pepper
2 teaspoons garlic powder
1 teaspoon onion powder
1 teaspoon basil, dried
Garlic Butter
4 tablespoons butter
4 cloves garlic, minced
1 teaspoon salt
1 teaspoon black pepper
8-10 fresh thyme sprigs
Directions
Remove steaks from refrigerator and let sit at room temperature for 10 minutes to let the chill come off
Preheat gas grill, or light charcoal grill, with one side hotter than the other
In a small bowl combine salt, pepper, garlic powder, onion powder and dried basil
Sprinkle over steaks on both sides, and on all ends
Gently rub into steaks
Place onto grill and sear on first side for 3-4 minutes and then flip, searing for another 2-3 minutes
Move steaks to cooler side of grill to continue cooking until desired doneness is reached, using a meat thermometer to ensure correct temperature, keeping in mind steaks will continue to cook another 5-10 degrees as they rest
When steaks are done remove to a clean plate and let rest while you make garlic butter
In a cast iron skillet, or a large heavy bottom skillet, melt butter over medium high heat
Stir in garlic, salt, pepper and 4 thyme sprigs
Let butter cook for 2-3 minutes and then add steaks into skillet
Flip steaks to coat in garlic butter and then serve Immediately with remaining garlic butter and fresh thyme
ENJOY!
Notes
You can cook steaks inside in the same skillet before you make the garlic butter.
7.8.1.2
337
https://sparklesnsprouts.com/2017/06/06/garlic-butter-steaks/
All images are the property of Sparkles n Sprouts, to use image please contact the webmaster at michelle@sparklesnsprouts.com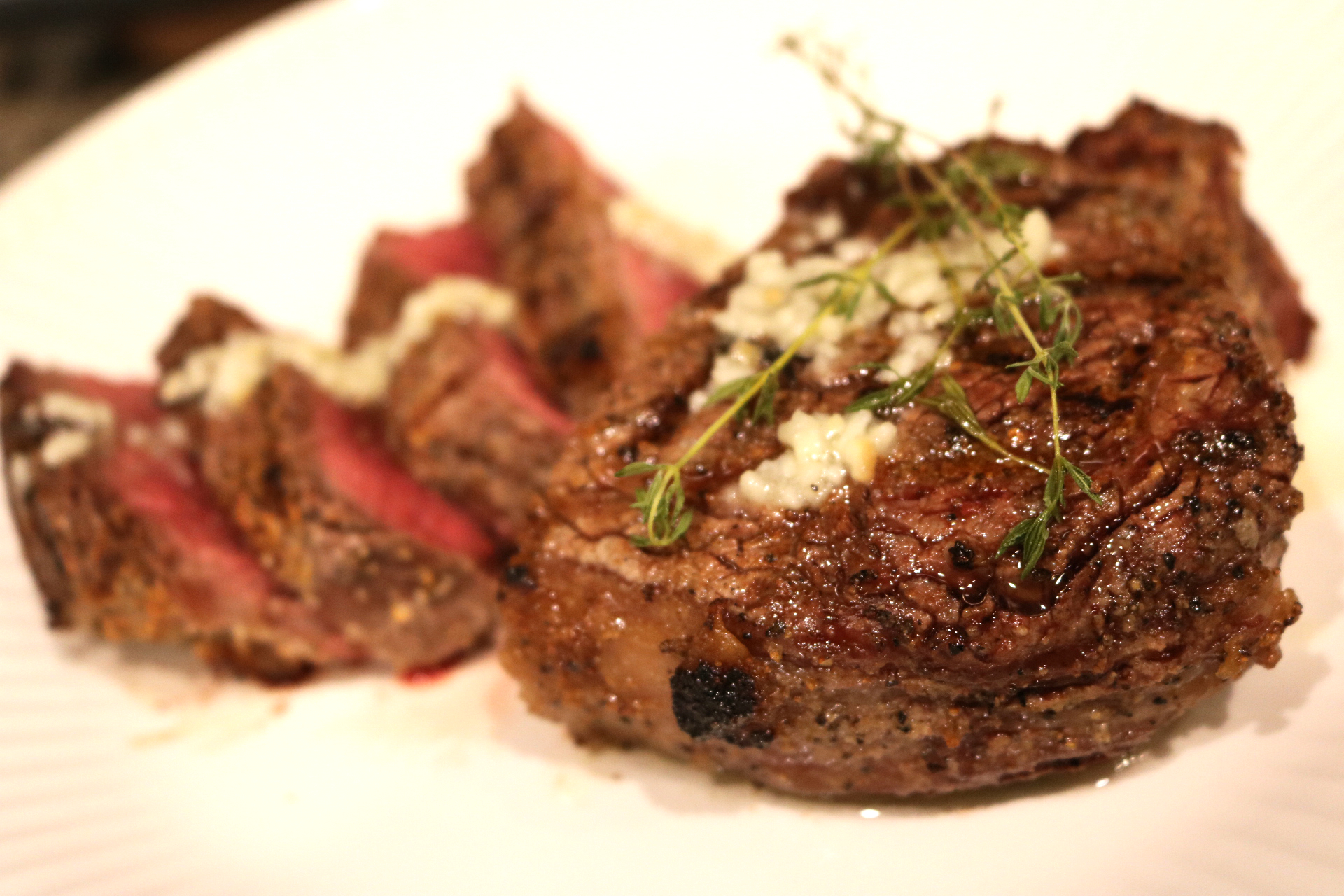 We can't forget about the butter
One of our favorite steak houses here in Houston is the Taste of Texas. Not only is their meat of the highest quality but their salad bar, sides, desserts and drinks are all top notch. On top of everything else the owners are some of the most genuine and down to earth people I have ever known. Just a quick FYI…you can order steaks from them among a ton of other fun stuff. If you are ever in Houston you have to check them out….it is worth it I promise.
One of my favorite parts of a steak at The Taste (of Texas) is the garlic butter you can have on it. It comes out on a sizzling hot cow plate (check out the website to see what I'm talking about) and it is AMAZING. Well I don't have a sizzling cow plate but I did make my own garlic butter to slather, yes I said slather, all over this amazing steak.
Let me tell you it was worth every extra calorie…yes EVERY single one. Just try it…go ahead you know you want too.
Don't forget to let me know what you think!!!