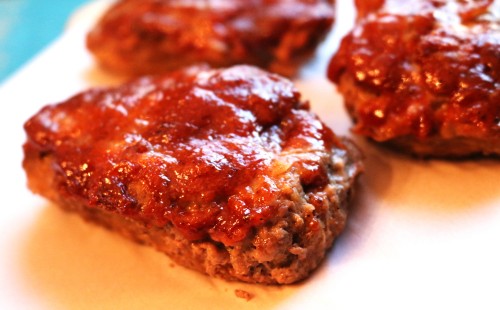 cute, mini & skinny meatloaf
I have been craving comfort food lately.  You know what I am talking about a cheesy hamburger macaroni bake, or maybe some loaded mashed potatoes  or even better how about a salisbury steak with a rich gravy…boy oh boy I could get myself in trouble with all those for sure.  As much as I would love to have any of those delicious dinners I decided to take a little different route…I wanted to make one of The Hubby's favorite comfort foods but with it lightened-up a bit but still delicious and everything he loves about the original and then my mini skinny meatloaf was created.  
The Hubby's mom made meatloaf a lot for him and his brother when they were growing up and my mom never made it so over the last 10 years I have learned the art of meatloaf, and really what about it we both liked and how to make it into one that we both LOVE.  First off the meatloaf has to be tender, not tough like when the meat is over worked.  Secondly I like some veggies in my meatloaf, something to give it a little body. Thirdly I like a combo of meat, I just think it adds to the texture and tenderness.  Lastly there has to be a topping of some sort, and for The Hubby and I we like it a little sweet and a little spicy to give it a little extra kick.  
To make our loved meatloaf skinny I decided to focus on our 4 must haves and I knew we would have a winner lightned-up meatloaf that we would both love.  For the veggies I went with some traditional ones like onions, and garlic but I also added in some chopped bell peppers and grated carrots, both of which add great flavor and body to the meatloaf.  For the combo of meats I went with extra lean ground beef and lean ground turkey and honestly it was just as delicious and just as tender as the not so skinny combo of ground pork and ground beef.  To keep everything tender I made sure to not over mix the meats, just mixing them enough to make sure everything is well distributed and combined well and then topped them with a tangy, sweet & spicy glaze.  Then to make them even better I divided them into 8 little mini loaves, not only are they super cute but it is also great for portion control and also perfect for the leftover sandwich that I know you are already dreaming about.    
MJ
8 servings
Mini Skinny Meatloaf
Tender mini meatloaves that are topped with a sweet glaze that comes together in no time without all the guilt of a more traditional meatloaf
10 minPrep Time
20 minCook Time
40 minTotal Time
Ingredients
2 tsp extra virgin olive oil
1 onion, chopped
1 cup bell peppers chopped
2 carrots, grated
3 garlic cloves, minced
1 lb 93% lean ground beef
1 lb 97% lean ground turkey
1 egg
3/4 cup breadcrumbs
1 tbsp Worcestershire sauce
2 tsp salt
2 tsp pepper
2 tsp chili powder
Glaze:
1/2 cup ketchup
2 tsp spicy mustard
1 tbsp worcestershire sauce
1 tbsp brown sugar
2 tsp pepper
2 tsp garlic powder
Directions
Preheat oven to 350
Spray a mini loaf pan with nonstick spray, or you can use a muffin tin, or a baking sheet
In a medium skillet heat olive oil over medium heat
Add in onion, bell peppers & carrots, cook for 4-5 minutes, until veggies are starting to soften
Stir in garlic and cook for an additional 2 minutes, stirring often to keep garlic from burning
Remove and let cool while you combine everything else
In a large bowl combine ground beef, ground turkey, egg, breadcrumbs, worcestershire sauce, salt, pepper & chili powder until just combined
Add in softened veggies, mixing until just combined (I used my hands to mix it evenly)
Divide evenly into the mini loaf wells (or cupcakes, or make into 8 mini leaves by hand)
In a small bowl combine all the ingredients for the glaze and stir until just combined
Spread evenly over each mini meatloaf
Bake for 20 minutes or until just cooked through
Remove and serve immediately
ENJOY!
Notes
Each mini meatloaf is 6 WW Smart Points:
Nutritional info Calories 240 Calories from Fat 67 Total Fat 7.4g Saturated Fat 2.4g Trans Fat 0.0g Cholesterol 88mg Sodium 985mg Potassium 287mg Total Carbohydrates 16.2g Dietary Fiber 1.4g Sugars 6.8g Protein 29.2g Vitamin A 7% - Vitamin C 7% - Calcium 5% - Iron 13% Nutrition Grade B+
7.8.1.2
82
https://sparklesnsprouts.com/2016/02/25/skinny-mini-meatloaf/
All images are the property of Sparkles n Sprouts, to use image please contact the webmaster at michelle@sparklesnsprouts.com
If you do not have a mini loaf pan but want one (I use mine for mini bread loaves and mini pound cakes) you can find the one I have here.
Trust me this skinny version of a classic dish is just as good as the not so skinny version…it has become my go to recipe for one of The Hubby's must haves.
Make everyday sparkle – MJ