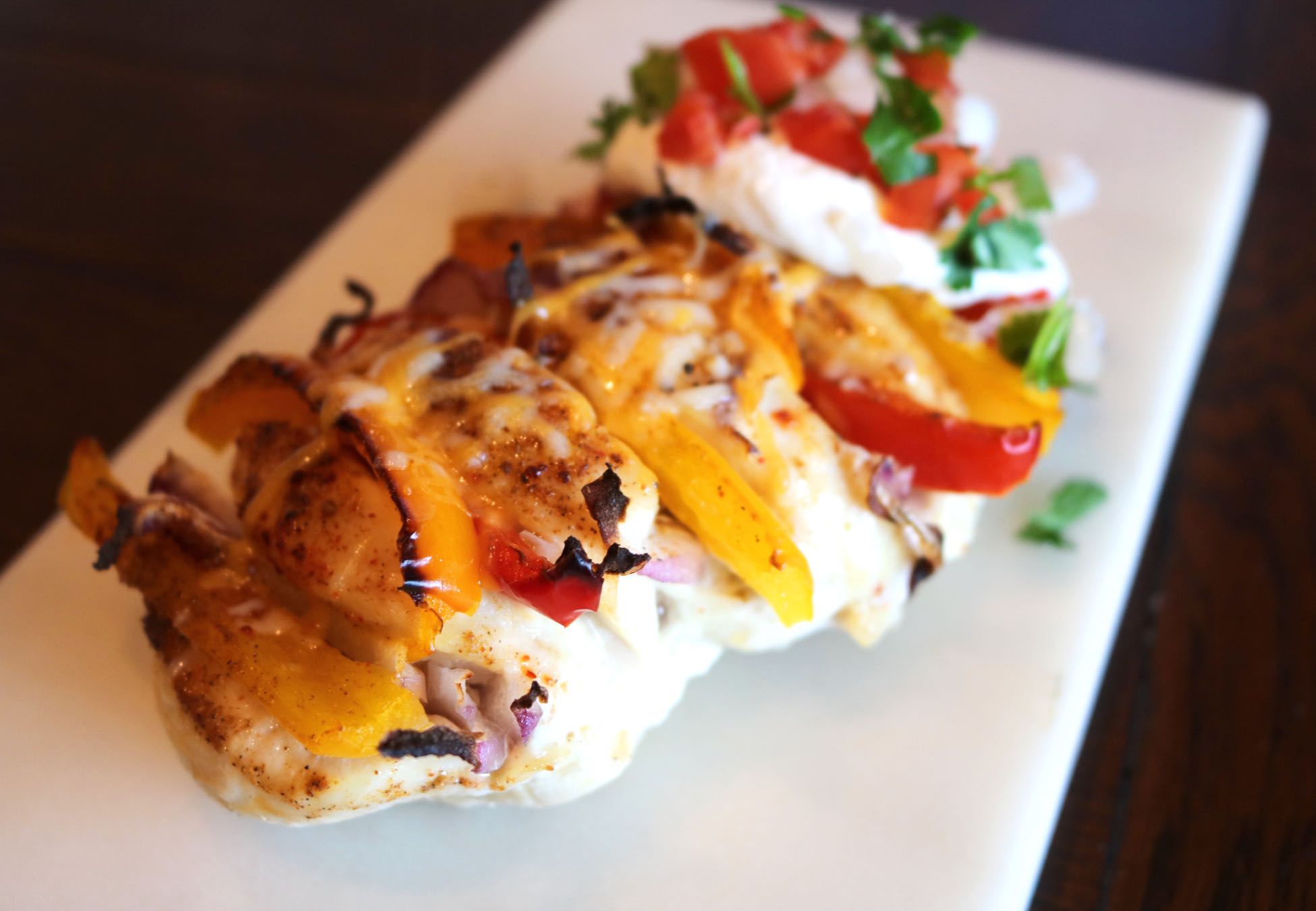 A whole new way to Fajita
I could literally have a fajita, of some sort, for every singe meal. Yes for breakfast, lunch and dinner and maybe even a snack. As much as I love fajitas, sometimes I just don't want to take the time to fix them…well that is until now.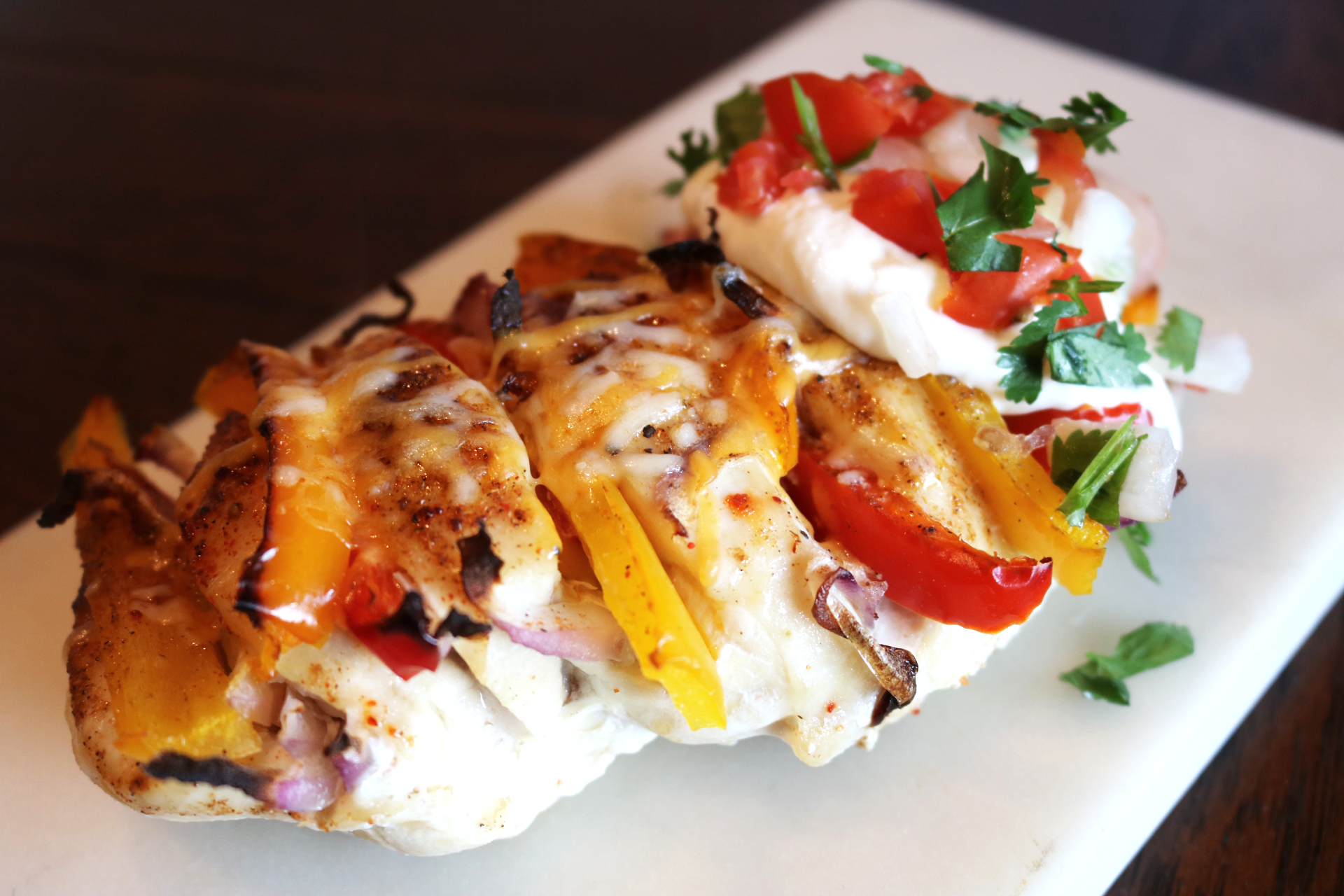 Peppers and Onion…OH YEAH!
One of my favorite parts of any fajitas are the peppers and onions. I just love the little charred bits and the hint of sweetness and a little spice in each bite.
Even better they add a ton of flavor to the meat, in this case chicken, which makes them a must have in all my fajita dishes.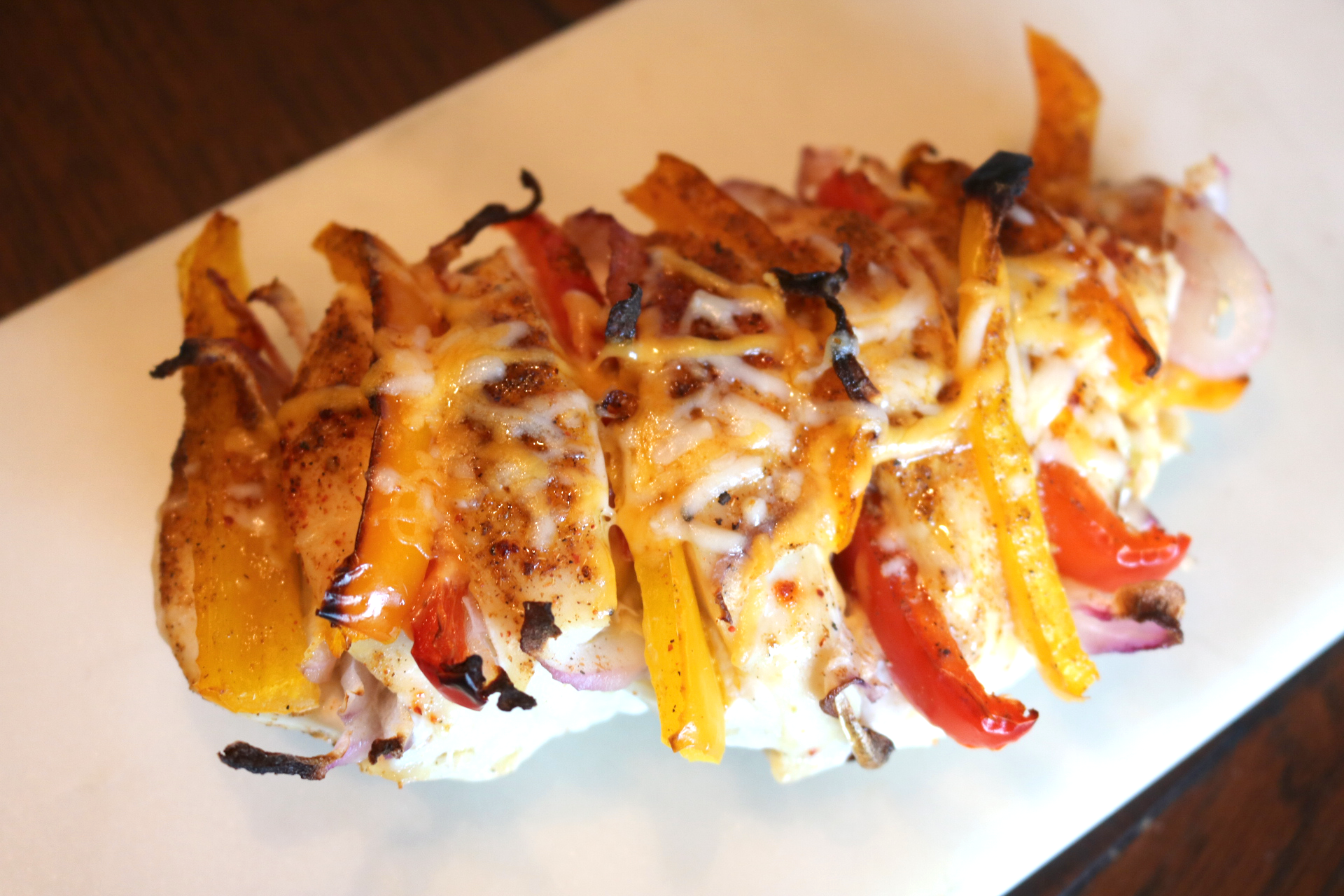 Careful with the knife
The trick to make this chicken so good is to cut slits into the chicken, but just 2/3 of the way through, making sure to not cut it all the way through so it will stay together.
The trick to making each slice perfect is to use a super sharp knife and to work slowly. I have learned from personal experience if you cut to fast you generally cut right through the chicken breast, and that is no bueno.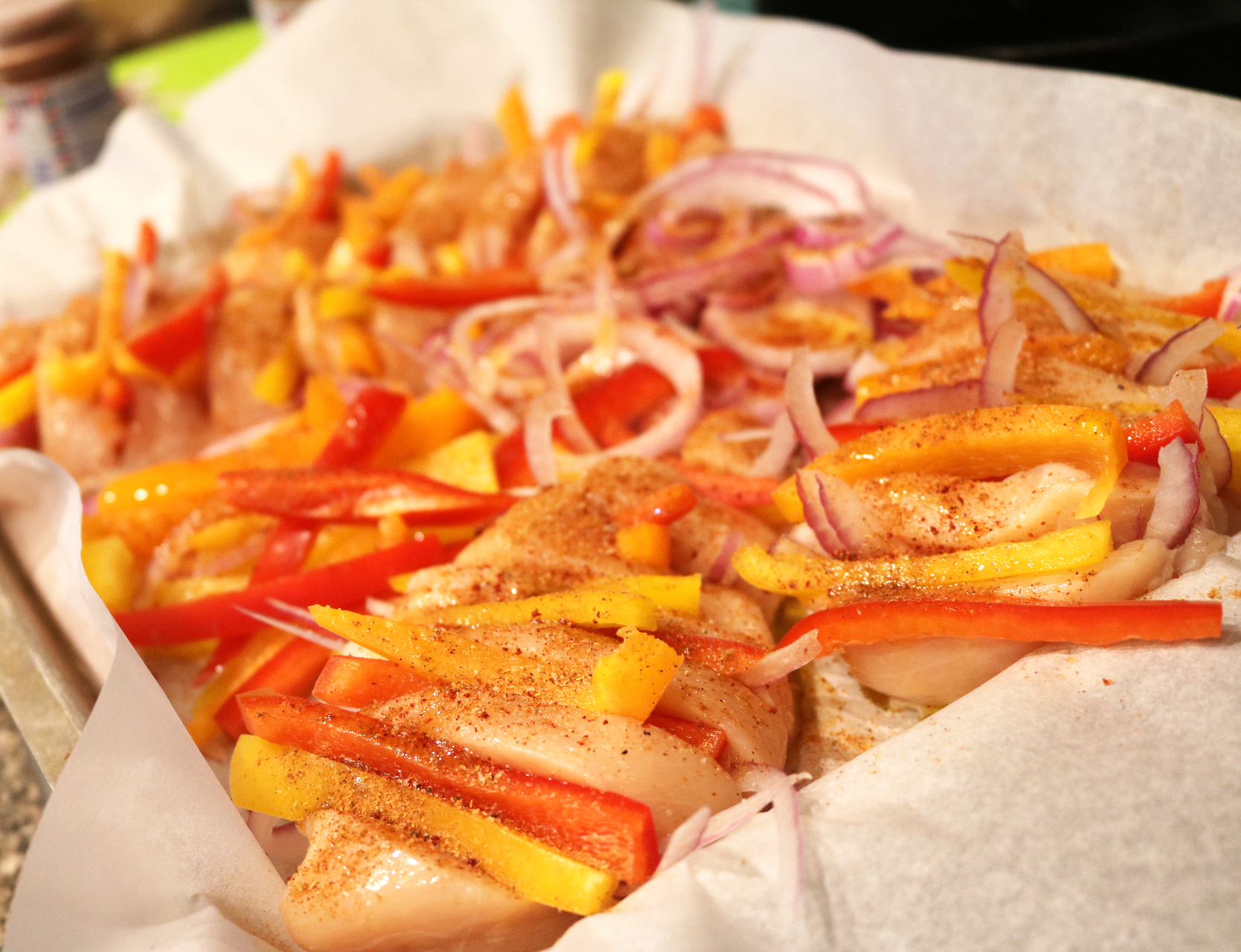 The prep is as fun as the meal itself
Once you get the chicken carefully prepared the fun really begins. You get to start stuffing it. Now I used red & orange peppers with some purple onion. If you wanted though you could use green peppers, sweet onions, roasted peppers, or a combo of all of the above. Be creative and have some fun with it.
After the chicken is stuffed I sprinkled all the sensing over the chicken and veggies. It helps to add so much flavor to everything as it roasts.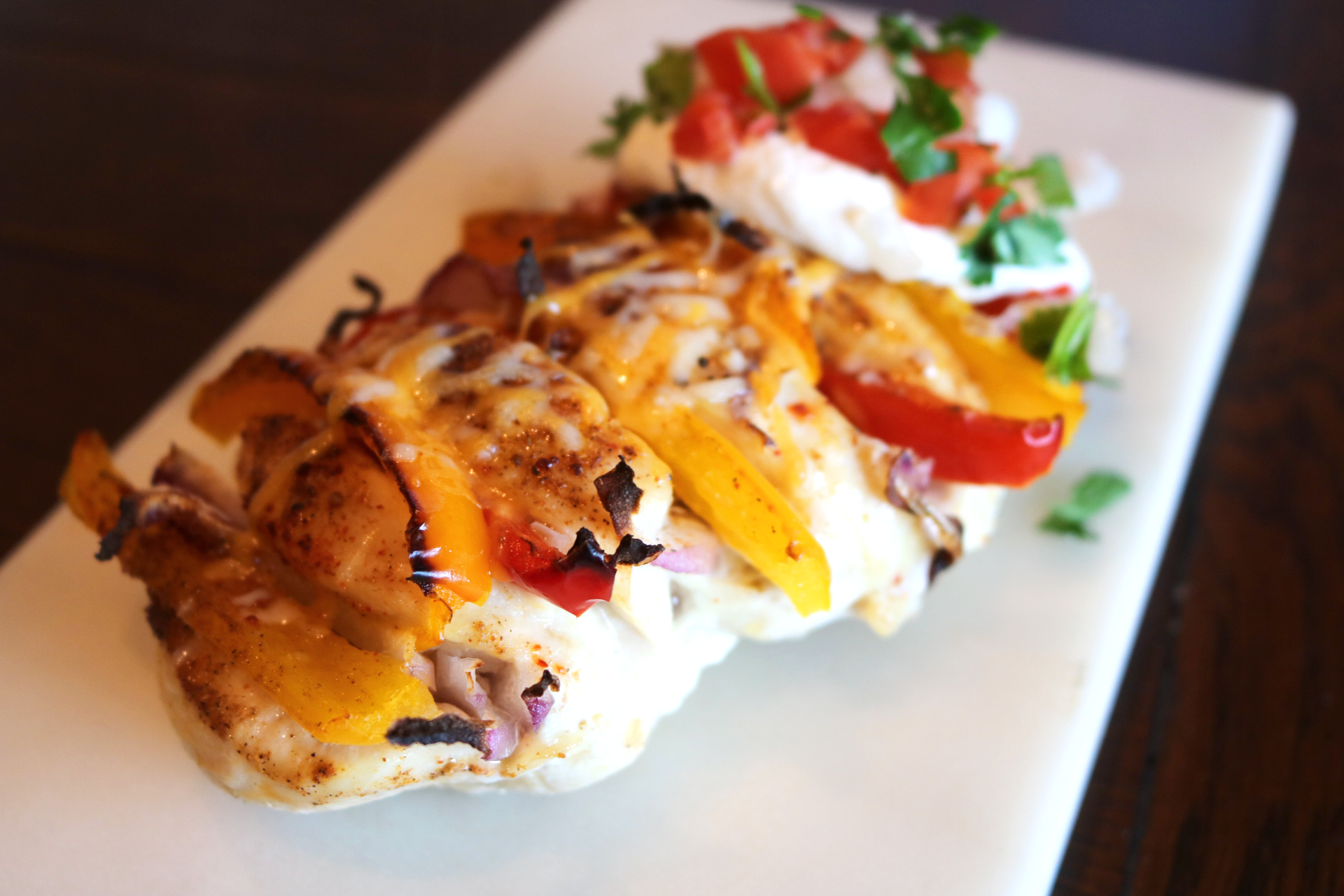 Dinner is almost done
Chelle Chelle
4 servings
Hasselback Fajita Chicken
A fun, filling and low carb chicken dish that is busting with all your favorite fajita flavors but without a lot of the work
15 minPrep Time
30 minCook Time
45 minTotal Time
Ingredients
4 - 6 ounce boneless, skinless chicken breasts
1-2 teaspoons extra virgin olive oil
1 small red bell pepper, sliced
1 small orange bell pepper, sliced
1 small yellow bell pepper, sliced
1 small purple onion, sliced
3 tablespoons taco seasoning
1 tablespoon chili powder
2 teaspoons salt
1/4 cup shredded mexican blend cheese
1 lime, juiced
Optional Toppings
Pico de Gallo
Sour Cream
Fresh Cilantro, chopped
Directions
Preheat oven to 350
Line a rimmed baking sheet with parchment paper or foil
Trim chicken breast of all excess fat, and pat dry placing onto prepared pan
Using a sharp knife slice into the chicken about 3/4 of the way through, making sure to not cut all the way through, about 1/2 inch a part from one end to the other end of the chicken breast
Rub chicken with olive oil
Place slices of onion and peppers into each slit in chicken, continuing until all slits are filled with vegetables (I had some peppers left over)
Place all remaining vegetables onto prepared pan as well
In a small bowl combine taco seasoning, chili powder and salt
Sprinkle over chicken and remaining vegetables
Place into oven and bake for 20-25 minutes, or until chicken is cooked through and veggies have begun to brown
Remove from oven and sprinkle with cheese
Place back into oven and cook for another 3-4 minutes or until cheese is melted
Remove and top with any additional toppings you prefer
ENJOY!!
Notes
Each chicken breast has 6 net Carbs as based on the Carb Manager App
ou can use whatever combo of peppers and onions you prefer, or even add in some jalapeño slices if you would like to add some heat.
Serve with your favorite rice and beans for a fun fajita inspired dinner.
7.8.1.2
351
https://sparklesnsprouts.com/2017/06/20/a-whole-new-way-to-fajita/
All images are the property of Sparkles n Sprouts, to use image please contact the webmaster at michelle@sparklesnsprouts.com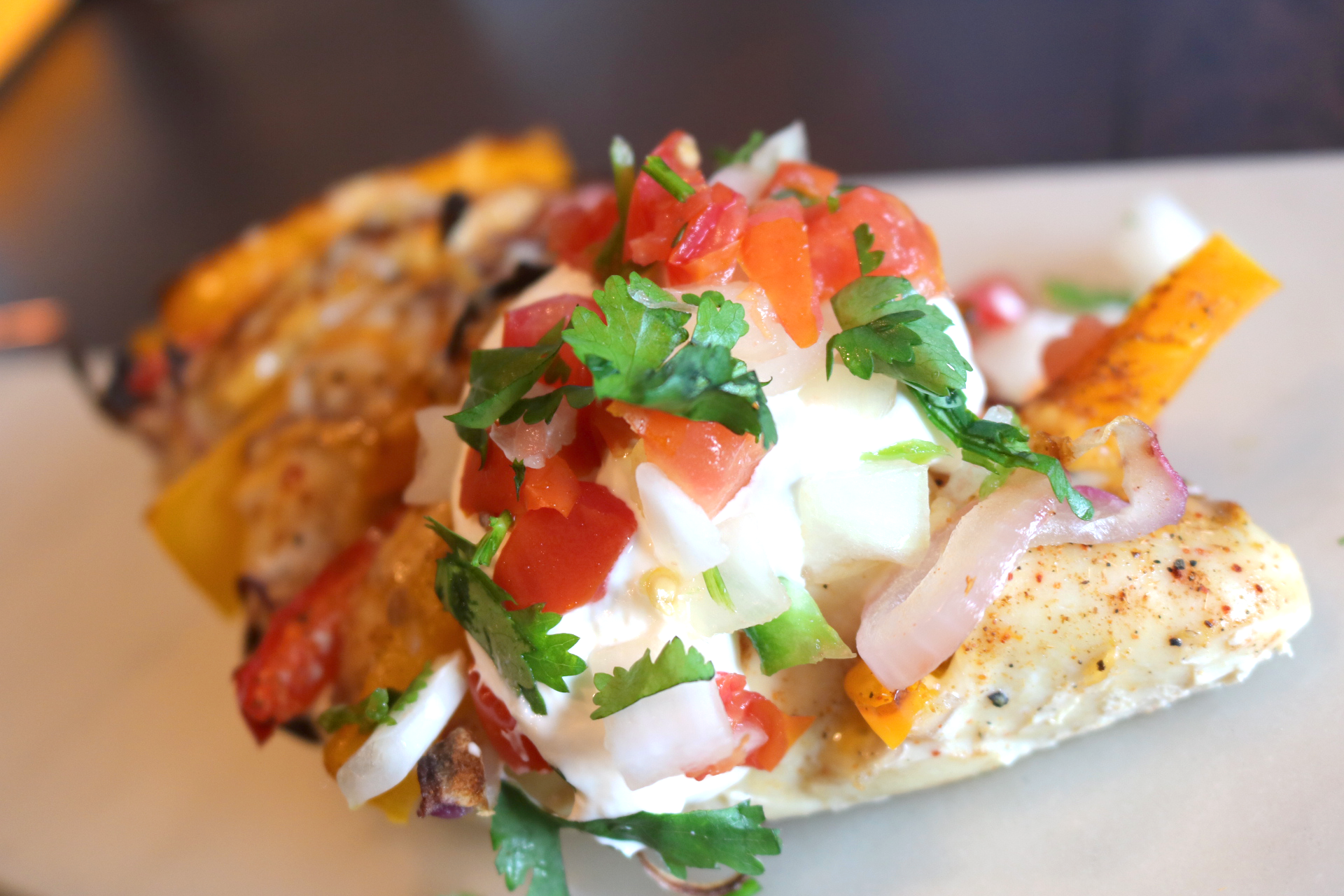 Serving it up
To serve this chicken I top it with a little sour cream, pico and fresh cilantro…just like I do my tortillas, but this time no tortilla needed.
Not only do you get all the best fajita flavors but you get it all in a low carb, healthier version, making this a recipe everyone can love.
This will definately become part of my Taco (Fajita) Tuesday routine…it is so, so yummy!!
Let me know what you think!!