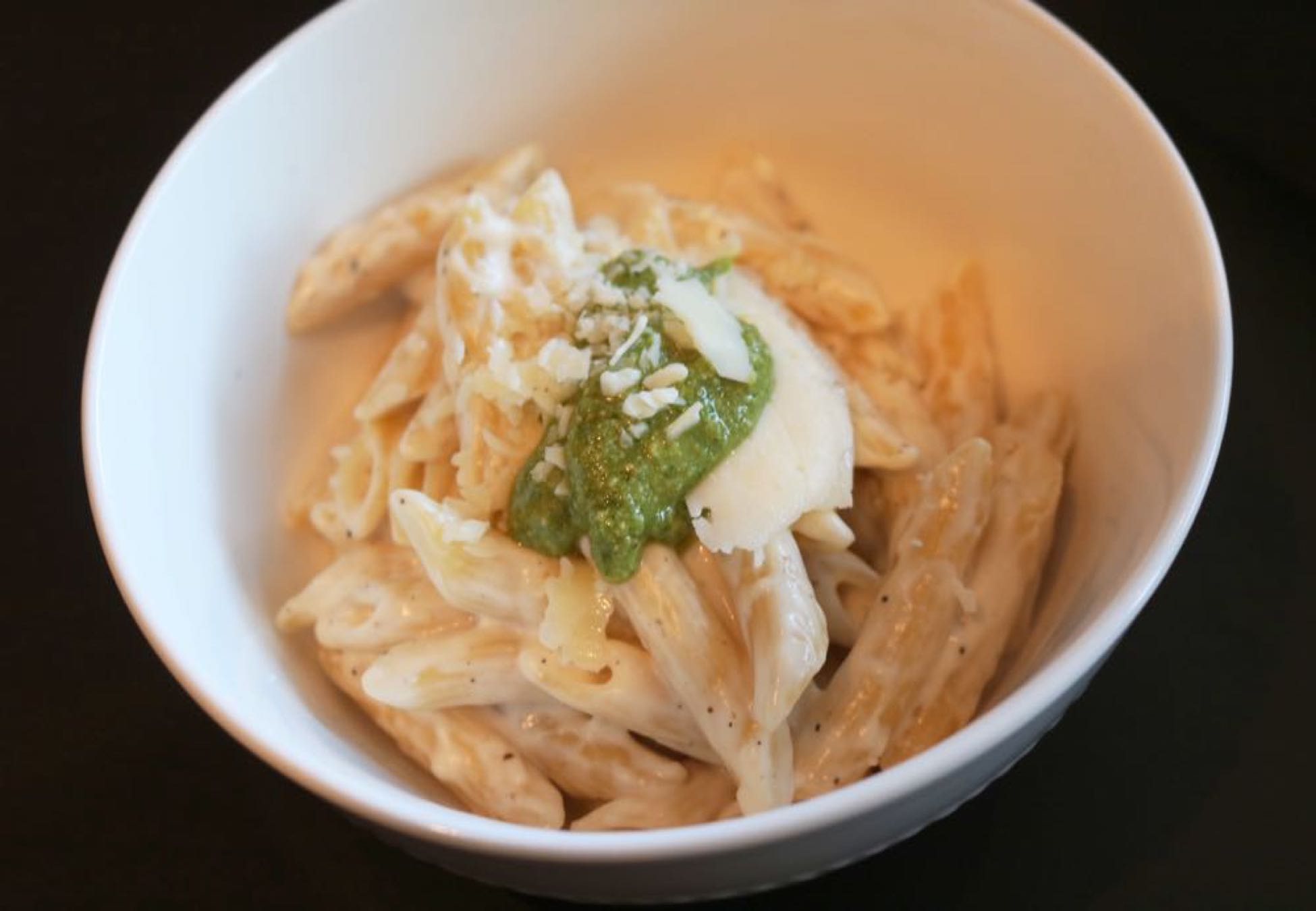 I love food…that is no secret. I love everything from tacos to osso bucco to chili and BBQ (I do live in Texas). One thing I am always in the mood for though is pasta and if it is cheesy pasta that is even better.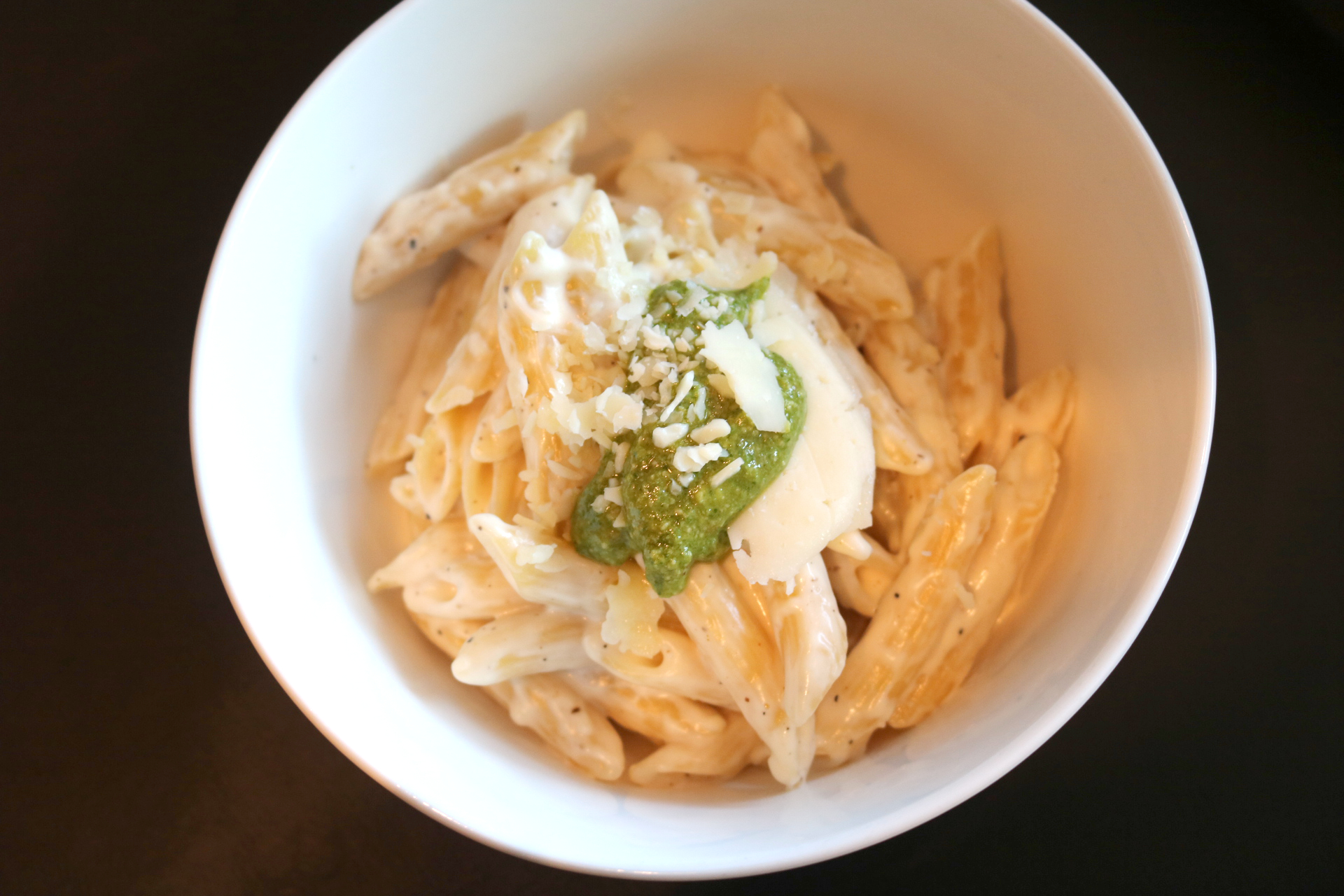 Branching out a bit…
A few weeks a go I was with my mom and we went to one of our favorite lunch places, Cafe Express. Normally I get their roasted vegetable tart but that day I really wanted pasta so I went with their pasta alfredo.
I really loved it as it was a little different than my mortal go to alfredo. It has some pesto drizzled in it and some roasted walnuts…both if which was a nice surprise.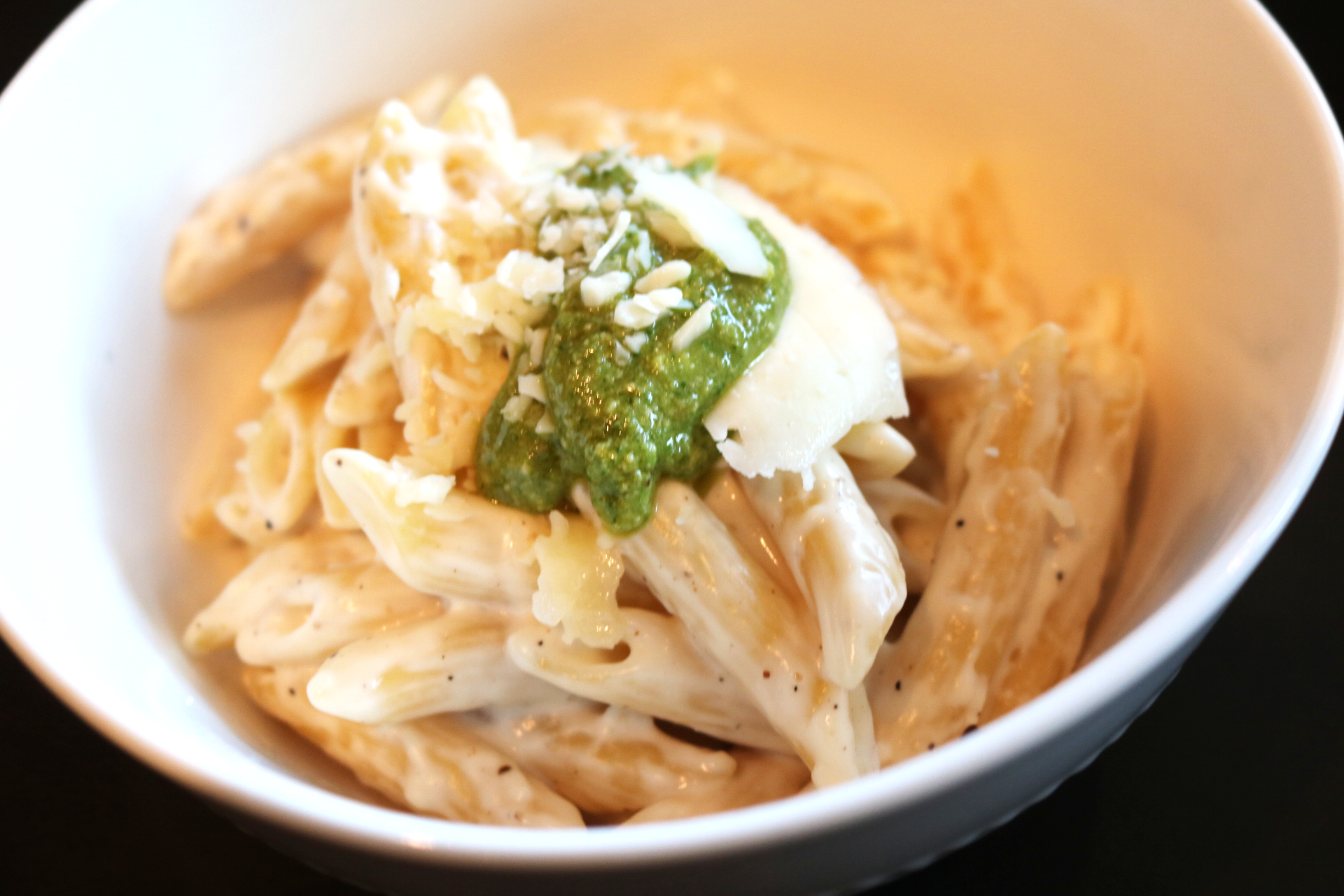 Bring on some cheesy yummy
I am a big, big fan of alfredo's. I grew up eating and then making my mom's alfredo but lately I have been experimenting with some different recipes and this one pan recipe is a new favorite for sure.
To make this alfredo a little something special I used cream cheese, parmesan cheese and the surprise addition of goat cheese. Yes…goat cheese. OK, I know some of you are ready to move on now…but just hang with me.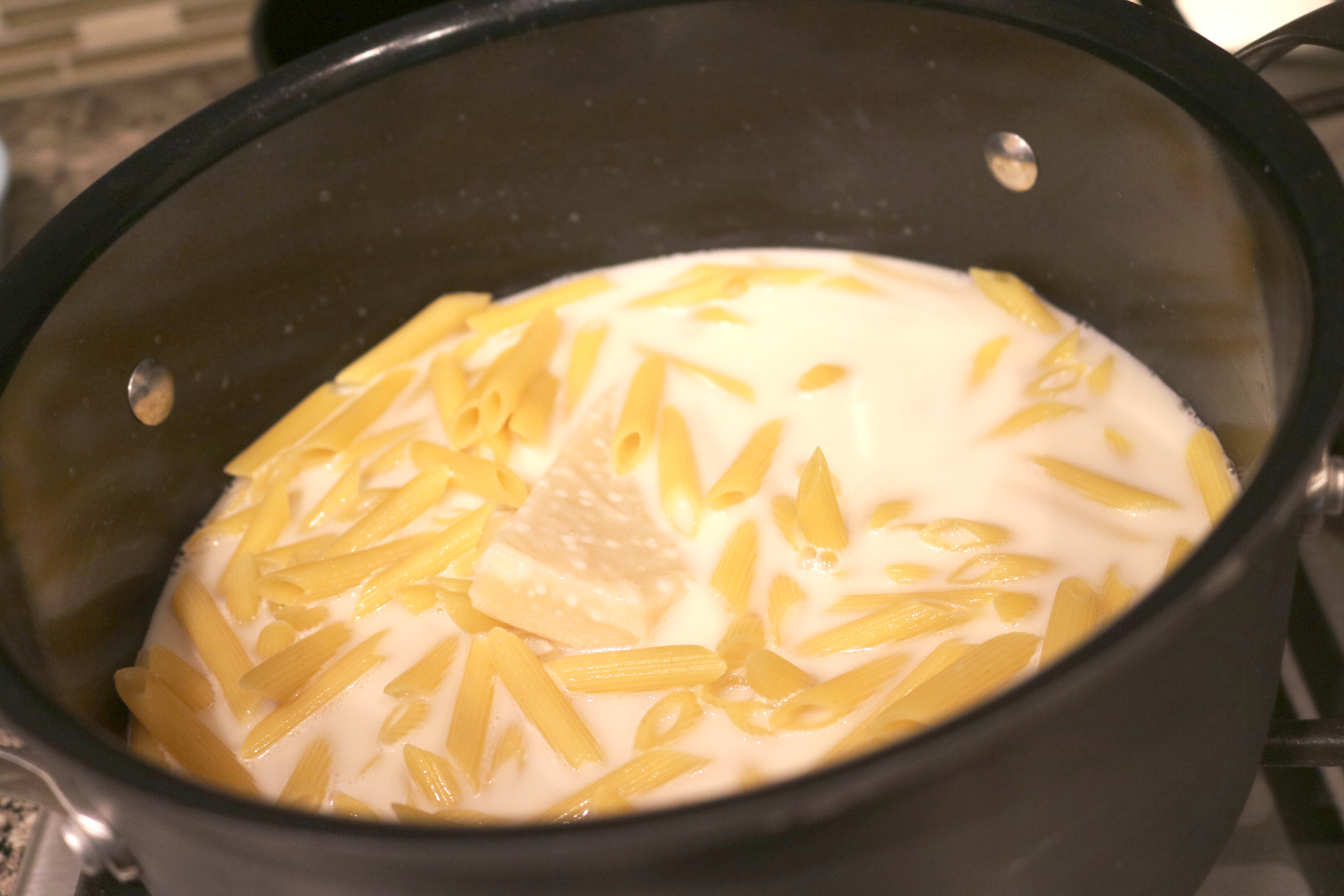 It starts with a rind
When I added everything into the pot, for this one pot pasta, I had a new addition…a parmesan cheese rind. For me I can find rinds in the deli section of my grocery store. There will be 3 or 4 in a container for $5.00 or less making it an affordable addition to all your pasta dishes or some soups.
I cook the pasta in chicken stock, half & half and the parmesan rind. This helps to build the flavor from the very beginning. Once the pasta is cooked through and tender I remove the rind before I add in the creamy cheeses to make this a super cheesy pasta dish.
One pot and done
Chelle Chelle
8 servings
One Pot Cheesy Pasta
A rich and creamy one pot pasta dish that is done in less than 30 minutes making it a perfect pasta for any busy weeknight
5 minPrep Time
25 minCook Time
30 minTotal Time
Ingredients
3 cups chicken stock
2 cup half and half (or whole milk & heavy cream)
3 cloves garlic minced
Parmesan rind (optional)
16 ounces uncooked pasta, I used penne
4 ounces cream cheese (reduced fat works well)
3 ounces goat cheese
1/4 cup shredded parmesan
Salt & Pepper to taste
Optional Toppings
Shaved Parmesan
Pesto
Crumbled Goat Cheese
Directions
In a large stock pot bring chicken stock, half & half, garlic and parmesan rind (if using) to a boil
Stir in pasta and bring liquid back to a boil
Reduce to a simmer, cover and let cook for 12-15 minutes or until pasta is tender, stirring often
Once pasta is tender remove parmesan rind
Stir in cream cheese, goat cheese and parmesan cheese until well combined
If too thick add in a little half & half as needed, if too loose cook down more until desired thickness is reached
Taste and add in salt & pepper as needed
Serve immediately
Top with any toppings you prefer, I love a little dot of pesto and some shaved parmesan
Notes
Serve with your favorite roasted chicken, grilled steak or on it's own...it is AMAZING!
7.8.1.2
341
https://sparklesnsprouts.com/2017/06/15/one-pot-of-cheesy-yummy/
All images are the property of Sparkles n Sprouts, to use image please contact the webmaster at michelle@sparklesnsprouts.com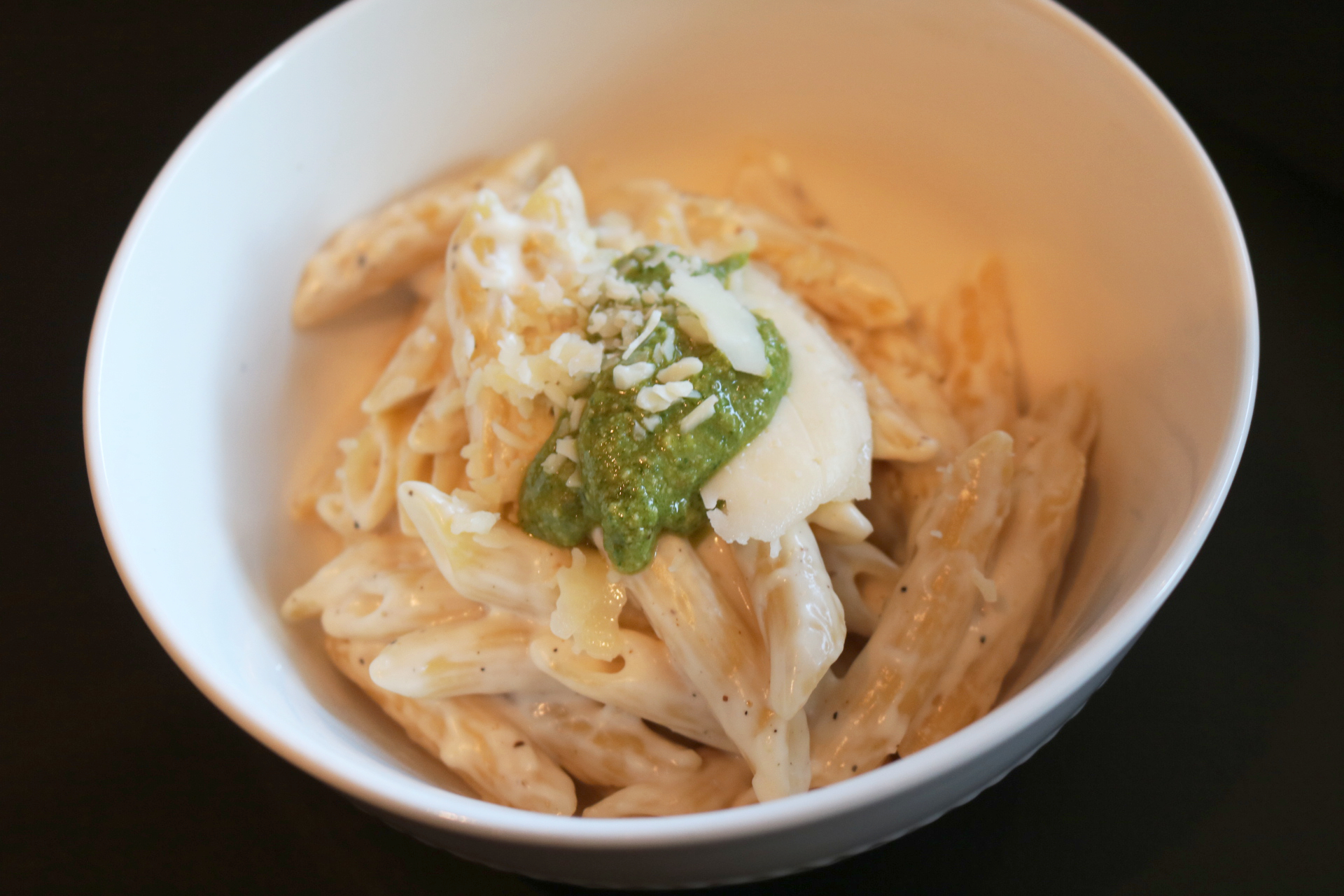 A little extra fun on top
I loved the pesto so much from Cafe Express that I went ahead and added some to my bowl of pasta with some extra shaved parmesan. It added a delicious bit if brightness that really completed the dish for me.
You could also top it with some grilled chicken or shrimp, or serve along your favorite grilled steak. Really it is yummy with almost anything.

Just give it a try
OK…I know some of you are still questioning the goat cheese part of this recipe, and I understand. I urge you though just try it. It will not taste like a goat cheese pasta, it just adds a little body and tang to the dish to make it something you just can't get enough of.
Trust me you will LOVE this recipe and make it over and over again.
PS…I didn't tell anyone there was goat cheese in it and no one even knew, they just knew they loved it.