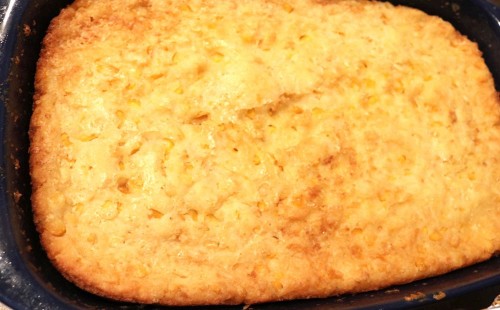 Mom Dibert's Corn Casserole
The sis-in-Law's mom, Cathleen is an amazing cook.  Everything I have had from her has been so, so good.   She is very well known for her pies, but she is also known for this corn casserole.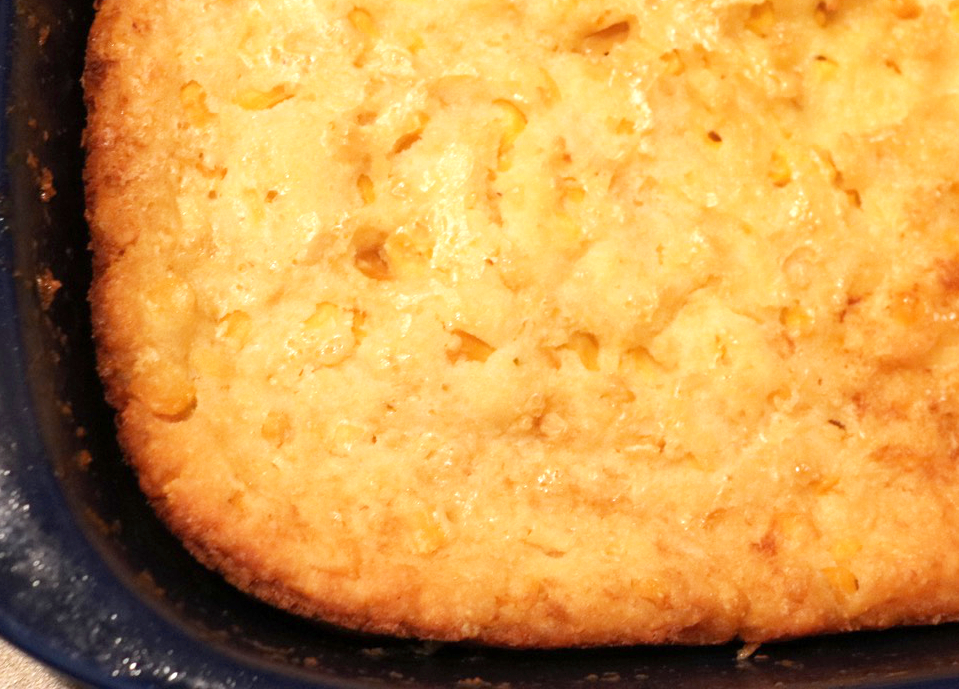 Bring on the corn
When Cathleen said she wanted to bring this casserole to our Early Thanksgiving Pot Luck Dinner I was so excited.  I personally LOVE corn casserole, and my brother had told me how good her was so I couldn't wait to try it.   A few days before though she told me she wasn't sure if she could make it as they were having new floors installed and she didn't think she would be able to get into the kitchen.  Well, let me just say I was pretty disappointed.  I really wanted to try it…but I decided to make the the slow cooker creamed corn instead of pouting.  Truth be told I might have pouted a little, but I tried to move on.
As much as I love creamed corn, I was still sad that there wasn't going to be a corn casserole…and then Cathleen walked through the door, with the Corn Casserole.   I cannot tell you how happy I was.

Lesson learned
As excited as I was to try it, I only got a couple of pics of the casserole still in the baking dish before we started serving.  I had planned on taking a few more pics, to help show the texture of it, but that didn't happen.
Evidently I was not the only one excited about the corn casserole.  By the time I made it through the line almost ALL of the casserole was GONE!
I'm telling you that is how good it is.   Next time I am going to get my serving first, and then everyone else can fend for themselves.
Mix it up…
Mom DIbert
8 servings
Mom Dibert's Corn Casserole
A super tender and flavorful corn casserole that is for sure going to be a hit on all your Holiday tables
20 minPrep Time
45 minCook Time
1 hr, 15 Total Time
Ingredients
1/2 cup butter
1 - 17 oz can whole kernel corn
1 - 17 oz can, cream style corn
1 package Jiffy (or Krusteaz brand) Corn Muffin Mix (8.5-ounce)
1 cup sour cream
2 large eggs
Directions
Preheat oven to 350
Add melted butter (or melt butter in dish) to a 1 1/2 quart casserole dish
In a large bowl stir together corn, cream corn and muffin mix
In a small bowl whisk together sour cream and eggs until combined
Stir into cornbread mixture, until just combined
**Add in salt & pepper if you wish
Pour batter into casserole dish over melted butter, do not stir to combine
Bake for 45 minutes
Let cool for 10 minutes before serving
ENJOY!!
Notes
Each serving is 9 WW Smart Points
Nutritional Info
Calories 248 - Calories from Fat 117 - Total Fat 13 g - Saturated Fat 5.7 g - Monounsaturated Fat 4.3 g - Polyunsaturated Fat 0.6 g - Trans Fat 0 g - Cholesterol 63 g - Sodium 453 mg - Potassium 159 mg - Total Carbohydrate 29 g - Dietary Fiber 1 g - Sugars 2 g - Protein 4 g Vitamin A 8 % - Vitamin C 7 % - Calcium 3 % - Iron 0 %
7.8.1.2
274
https://sparklesnsprouts.com/2016/11/14/mom-diberts-corn-casserole/
All images are the property of Sparkles n Sprouts, to use image please contact the webmaster at michelle@sparklesnsprouts.com
This casserole is perfect for the Holidays but it really is a must have year round.  It comes together super quick and is a perfect treat for any family dinner.  This is going to become a staple in our kitchen for sure (that way I can have much as I want).
This is a must make for Thanksgiving (and the week after and the one after that) for sure!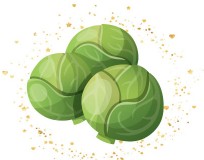 Make today (& Thanksgiving) Sparkle – MJ