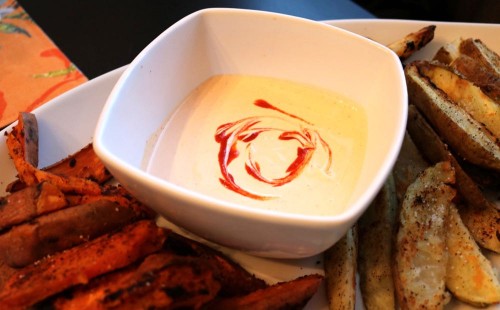 The more spicy… the more better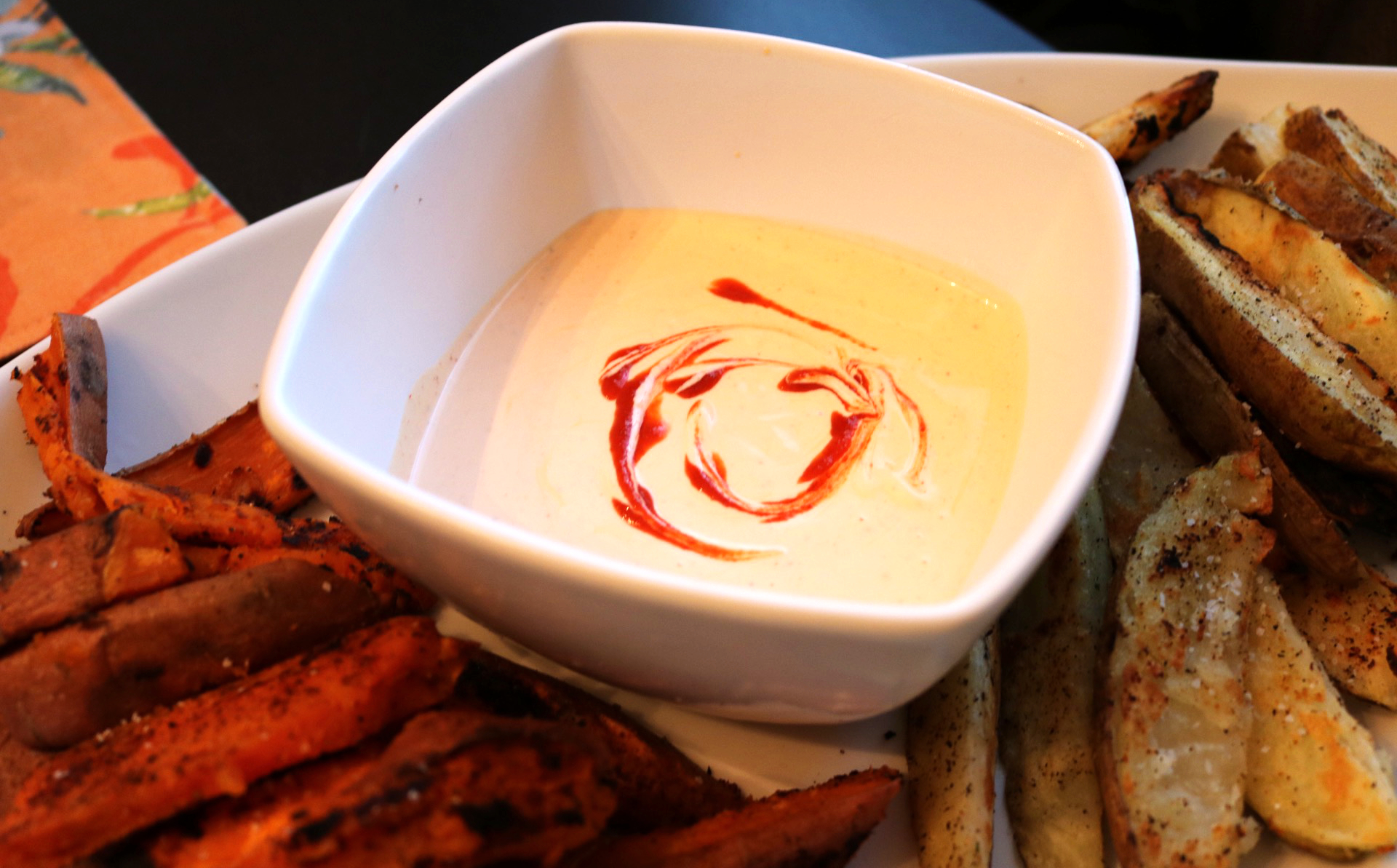 Are you a sauce person?  I am a HUGE sauce person.    I like sauces on everything from pasta to  dessert, but with fries is a must.
Sauce, why?
Ok, I understand that not everyone is a fan of sauce with their fries, but I urge you to just try it.
There is just something so yummy about a creamy sauce paired with a crispy fry (like these grilled ones).  It just that makes the experience so much better.
Spicing things up
For fries I like a spicy sauce.  You could use jalapeño peppers, green chilies or black pepper but for this time around I used sriracha.  Lately I have become quite the fan of this spicy little condiment. It has just enough spice but it can get spicier the more you use.
The combo is everything
A lot of fry sauces in the south are mayonnaise based but for this sauce I wanted to lighten it up a bit so I started with sour cream.  I used a light sour cream with just a little bit of mayo giving the sauce a richness and extra creaminess without a ton of extra fat…also making this perfect for a lot of other options.
To add some extra flavor I mixed in some worcestershire sauce, seasoning and then the sriracha.  The beauty of sriracha is you can add in as little or as much as you want to give it the perfect level of spice.    The Hubby is not a huge spice person so I went a little light but it still had a great little zing that made this something to remember for sure.
MJ
8 servings
Creamy Sriracha Sauce
This spicy dipping sauce is perfect for fries, chips, veggies or anything else you want to dip
5 minPrep Time
10 minTotal Time
Ingredients
1 cup light sour cream
2 tablespoons mayonnaise
1 teaspoon Worcestershire sauce
2 teaspoons salt
1 teaspoon black pepper
1 teaspoon garlic powder
1- 2 dashes Sriracha, to desired heat
Directions
In a bowl whisk together all the ingredients except for the sriracha sauce
Add in sriracha sauce to desired level of heat
Store in the refrigerator until ready to serve
ENJOY!!
Notes
Each serving (about 2 tbsp) is 3 WW Smart Points
Nutritional Info
Calories 69 - Calories from Fat 54 - Total Fat 6 g - Saturated Fat 3.2 g - Monounsaturated Fat 0.3 g - Polyunsaturated Fat 0.7 g - Trans Fat 0 g - Cholesterol 15 g - Sodium 632 mg - Potassium 7 mg - Total Carbohydrate 2 g - Dietary Fiber 0 g - Sugars 1 g - Protein 1 g
Vitamin A 0 % - Vitamin C 0 % - Calcium 0 % - Iron 0 %
7.8.1.2
181
https://sparklesnsprouts.com/2016/08/04/spicy-fry-sauce/
All images are the property of Sparkles n Sprouts, to use image please contact the webmaster at michelle@sparklesnsprouts.com
Not just for fries
This sauce is not only great for fries but there are so many other options.   You could use this sauce on a burger, sausage, on a salad or a grilled chicken.  The options are so many I usually keep some of this in my fridge all the time…you never know when you will need to spice it up a bit.