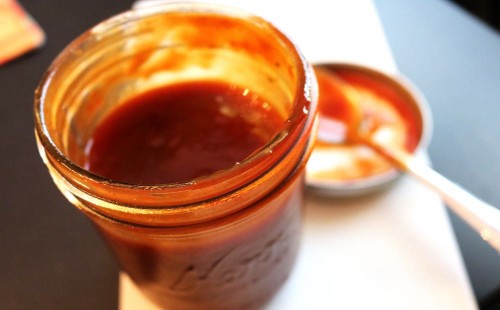 Sweet & Spicy = AMAZNG BBQ Sauce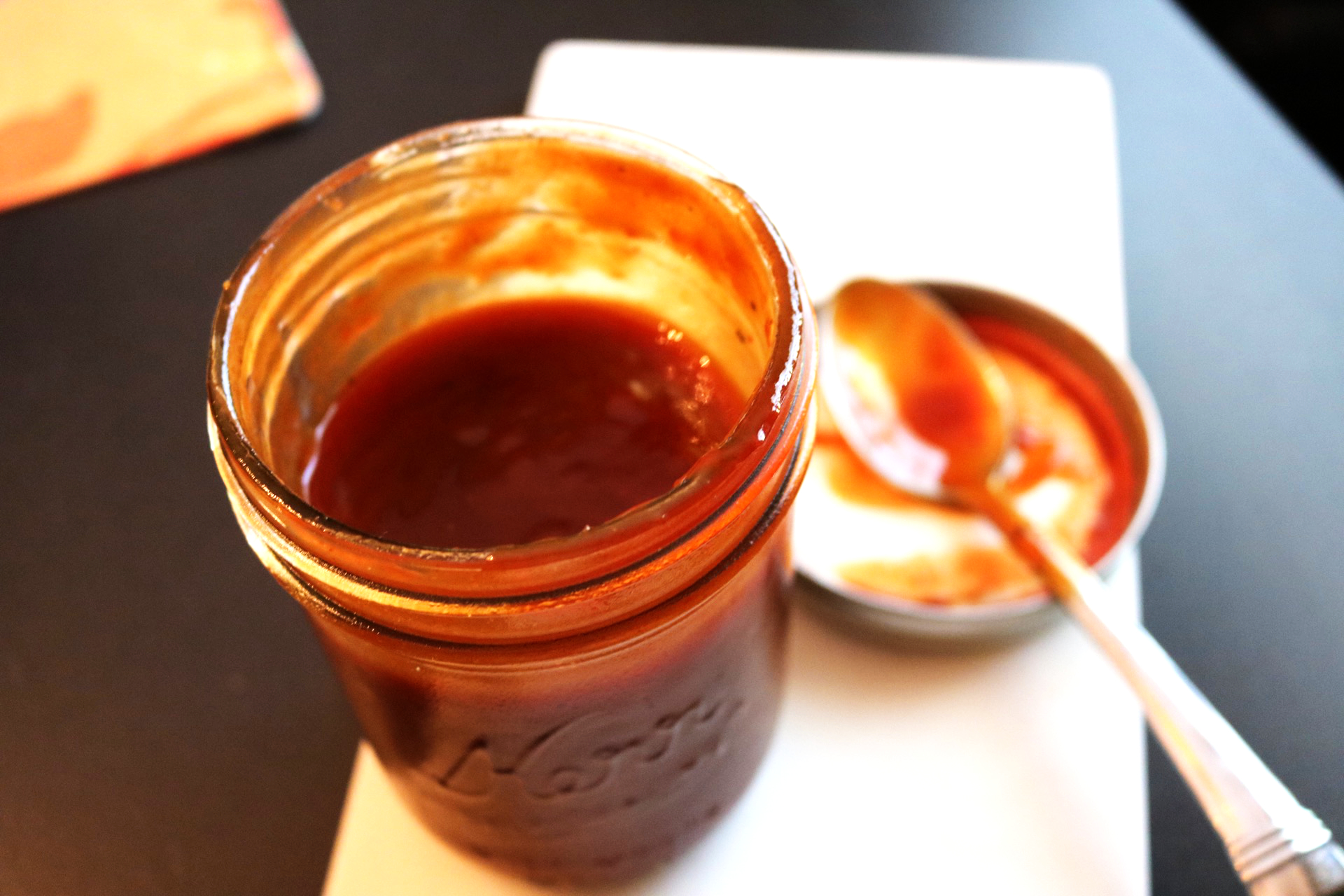 I have a secret dream. One that I have never told anyone…EVER! I dream of winning a BBQ sauce competition.
Really?
Yes, for reals. I have a recurring dream (or maybe its a nightmare) that I win a BBQ sauce competition at the Houston Rodeo. After having that dream for so long, I now have a desire to make BBQ sauce. I know it sounds weird…and let's be honest I am a little different, but any chance I get to make my own BBQ sauce I jump on it.
Fancy or Simple?
Well I have done both. A simple BBQ Sauce and a Peach BBQ sauce (that would be the fancy version) that I love for summer BBQ's.
I love both fancy and more simple, and I still have several I want to make but this latest version is a little of both.
a little sweet….& a little spicy
The story of me…I am a little sweet with a little spice mixed in when needed. In my opinion this is a must have balance in my BBQ sauce and life. So what makes this sauce so special? There is a perfect combo of sweet from molasses & brown sugar then a little spice thrown in with Sriracha and some chili powder.
This combo works perfectly with all your favorite BBQ meats such as chicken, pork chops or ribs. It would also be great on grilled salmon…ooohhhh that sounds so good. Hope The Hubby wants to grill tonight. Now don't get nervous it is not too spicy, and you can adjust the heat with how much Sriracha you add in to don't add in.
I also love this sauce because it is all HOMEMADE!! Don't get me wrong I love some bottled sauces out there, but it is nice to know everything that is in a sauce. It is also super nice to be able to make it perfect for the family…I as a matter of fact made 2 batches, one more spicy than the other for the lovers of both.
You can do this…
MJ
16 servings
Sweet & Spicy BBQ Sauce
A sweet & spicy BBQ sauce that is perfect for all your summer grilling fun!
PTH5MPrep Time
PTH12MCook Time
17 minTotal Time
Ingredients
1 1/2 cups Ketchup
1/2 cup packed brown sugar
1/3 cup molasses
1/2 cup water
2 tablespoons Worcestershire sauce
2 tablespoons apple cider vinegar
1 tablespoon chili powder
2 teaspoons garlic powder
2 teaspoons salt
2 teaspoons black pepper
1 teaspoon Paprika
1-2 teaspoons Sriracha (as desired)
Directions
In a large saucepan whisk together all the ingredients
Bring mixture to a boil over medium high heat, stirring often
Once mixture is boiling reduce heat to medium low and let cook until desired consistency is reached, about 8-10 minutes
Whisk often as it can thicken quickly
Use immediately or store in the refrigerator until ready to serve
ENJOY!
Notes
Each serving (about 2 tbsp) is 4 WW Smart Points
Nutritional Info Calories 72 - Calories from Fat 0 - Total Fat 0 g - Saturated Fat 0 g - Monounsaturated Fat 0 g - Polyunsaturated Fat 0.1 g - Trans Fat 0 g - Cholesterol 0 g - Sodium 576 mg - Potassium 229 mg - Total Carbohydrate 18 g - Dietary Fiber 0 g - Sugars 15 g - Protein 0 g Vitamin A 8 % - Vitamin C 5 % - Calcium 3 % - Iron 0 %
7.8.1.2
175
https://sparklesnsprouts.com/2016/07/14/homemade-bbq-sauce/
All images are the property of Sparkles n Sprouts, to use image please contact the webmaster at michelle@sparklesnsprouts.com
Make this weekend something super fun with this homemade BBQ sauce…get the kids involved and have fun with it!!