Fries without any frying…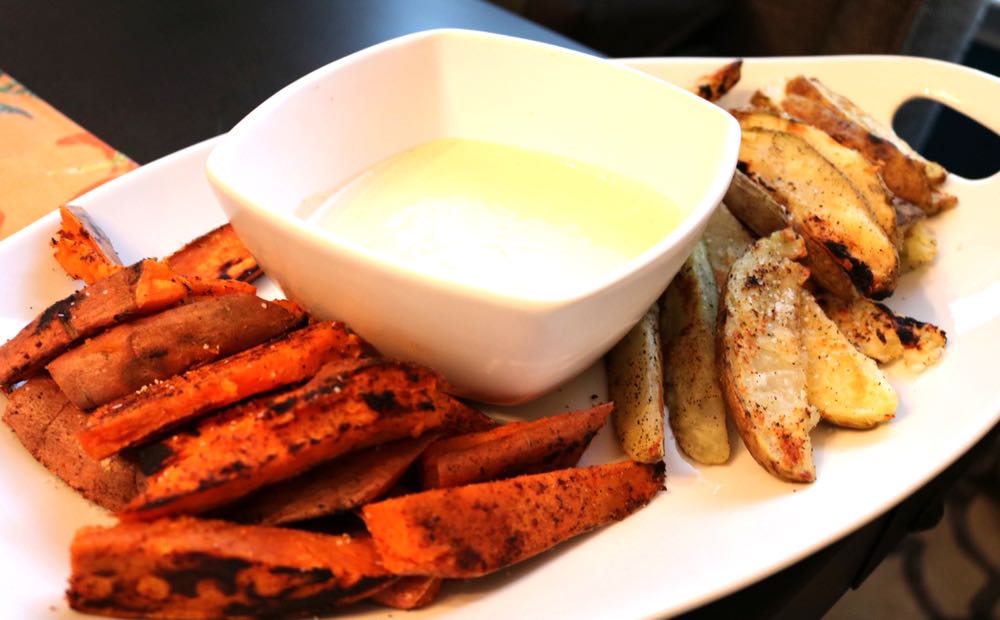 yep…you read that right.  I give you fries all done with any frying, even better they are primarily done on the grill.
Fries any way, anytime…
I love potatoes any way you give them to me, but I really, really love fries.  I mean is there anything better then a hot batch of fast food fries?  Maybe the non-fast food version…but still fries.
I am that girl that will actually crave them, and The Hubby is that amazing guy who will actually go get them when I want them…he is so awesome.
As much as I love fries I am not picky about the variety of fry…I love the original version and I LOVE the sweet potato version as well.  If a restaurant offers both I am a happy, happy girl.
Get the grill going…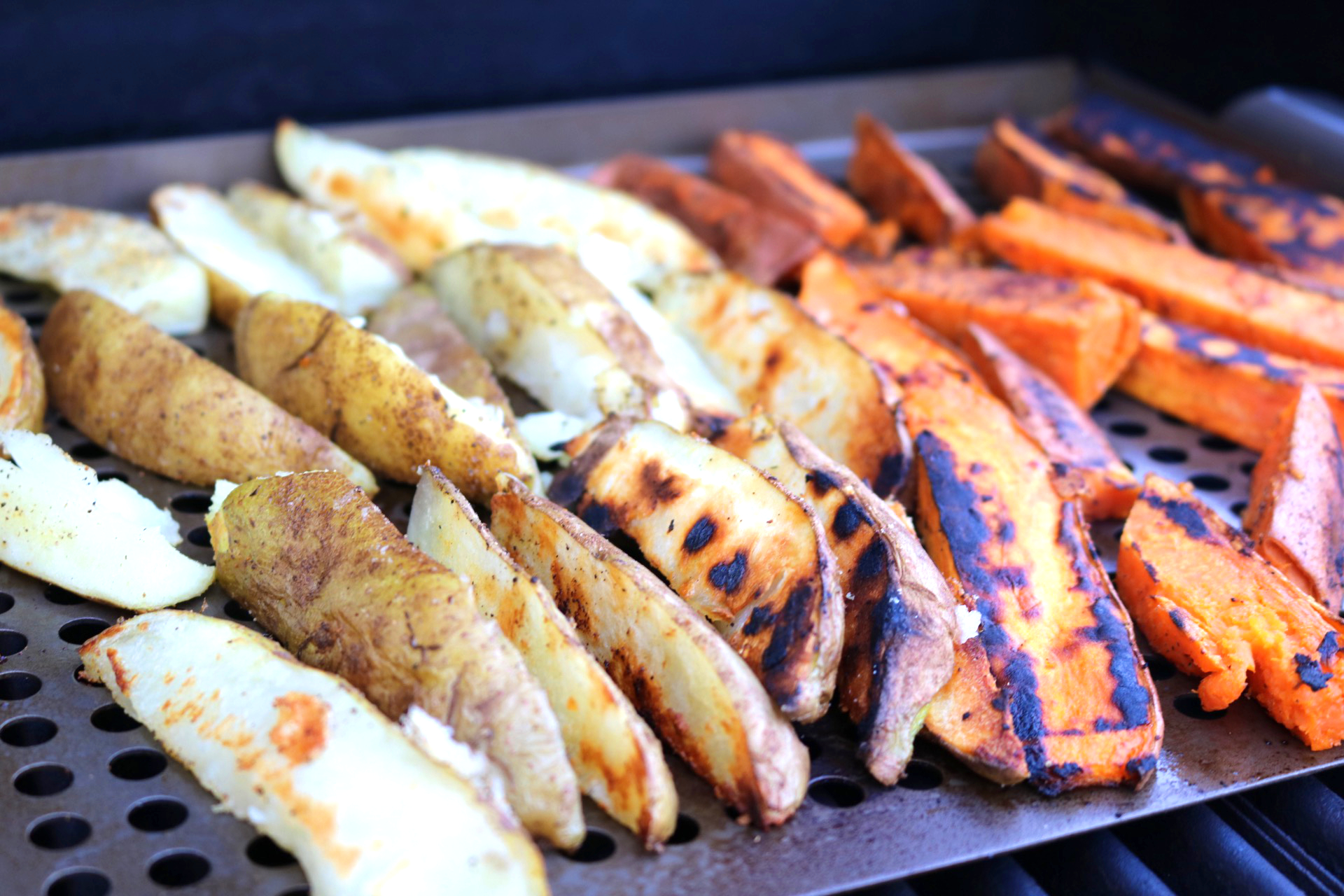 As I mentioned above I love fries, but in the summer I LOVE grilled fries.  There is just something so delicious about a charred fry paired with your favorite grilled dish (such as this BBQ chicken, or these burgers).
For our latest grilled fry adventure I went with both russet potatoes and sweet potatoes.  The Hubby is a more traditional fry guy, so I wanted to make sure we had a little for him and a little (more) for me.
After a quick microwave, to just cook them a little, these potatoes are ready to cut into wedges, season a little and then get to grilling.  For these fries I kept the seasoning simple…but feel free to customize your seasoning blend as you like.
On the grill let the fries get a little char before flipping, the extra flavor really takes them to the next level.
Once they are done serve them immediately for the best results.
MJ & The Hubby
8 servings
Grilled Fries
Grilled fries that are loaded with tons of flavor and made perfect with a little smoke from the grill. These are great for your next cook out.
5 minPrep Time
15 minCook Time
20 minTotal Time
Ingredients
4 large potatoes of your choice - I used 2 russet potatoes and 2 sweet potatoes
2 teaspoons olive oil spray
3 teaspoons salt
2 teaspoons black pepper
1 teaspoon chili powder
1 teaspoon garlic powder
Directions
Preheat grill to medium heat
Line baking sheet with parchment paper
Wash & pat dry potatoes
Wrap each in a damp paper towel
Microwave on high, in 2 minute intervals (about 6 total for russet, and 4-5 for sweet potatoes), until you can press into the potato when squeezed, but make sure it is still a little firm, you will be cutting them into wedges
Remove potatoes from microwave and when they cool enough to handle cut each potato into 8-10 wedges
Lay wedges onto prepared pan
Spray with olive oil spray, or drizzle with olive oil, gently tossing to make sure each side is coated well
Sprinkle salt, pepper, chili powder and garlic powder over wedges, tossing again to make sure each are coated with seasoning
Place directly onto grill, or onto grill pan, and cook for 4-5 minutes per side, or until potatoes are lightly charred and tender
Remove and serve
ENJOY!!
Notes
Each serving is 5 WW Smart Points
Nutritional Info
Calories 172 - Calories from Fat 9 - Total Fat 1 g - Saturated Fat 0.2 g - Monounsaturated Fat 0.9 g - Polyunsaturated Fat 0.2 g - Trans Fat 0 g - Cholesterol 0 g - Sodium 887 mg - Potassium 1017 mg - Total Carbohydrate 37 g - Dietary Fiber 5 g - Sugars 1 g - Protein 3 g
Vitamin A 4 % - Vitamin C 52 % - Calcium 3 % - Iron 6 %
7.8.1.2
180
https://sparklesnsprouts.com/2016/08/04/grilled-fries/
All images are the property of Sparkles n Sprouts, to use image please contact the webmaster at michelle@sparklesnsprouts.com
I love sauces with my fries and served these with a spicy sauce, but they are also great on their own.  I think The Hubby needs to grill some of these up tonight.  It just seems like that kinda day.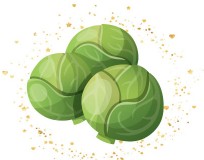 Make today sparkle – MJ