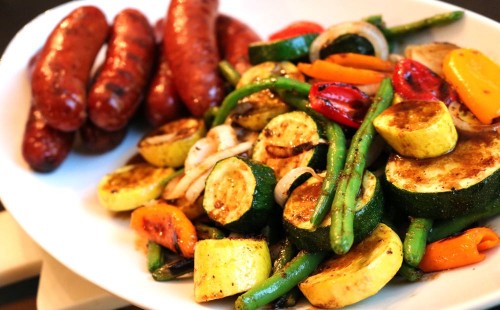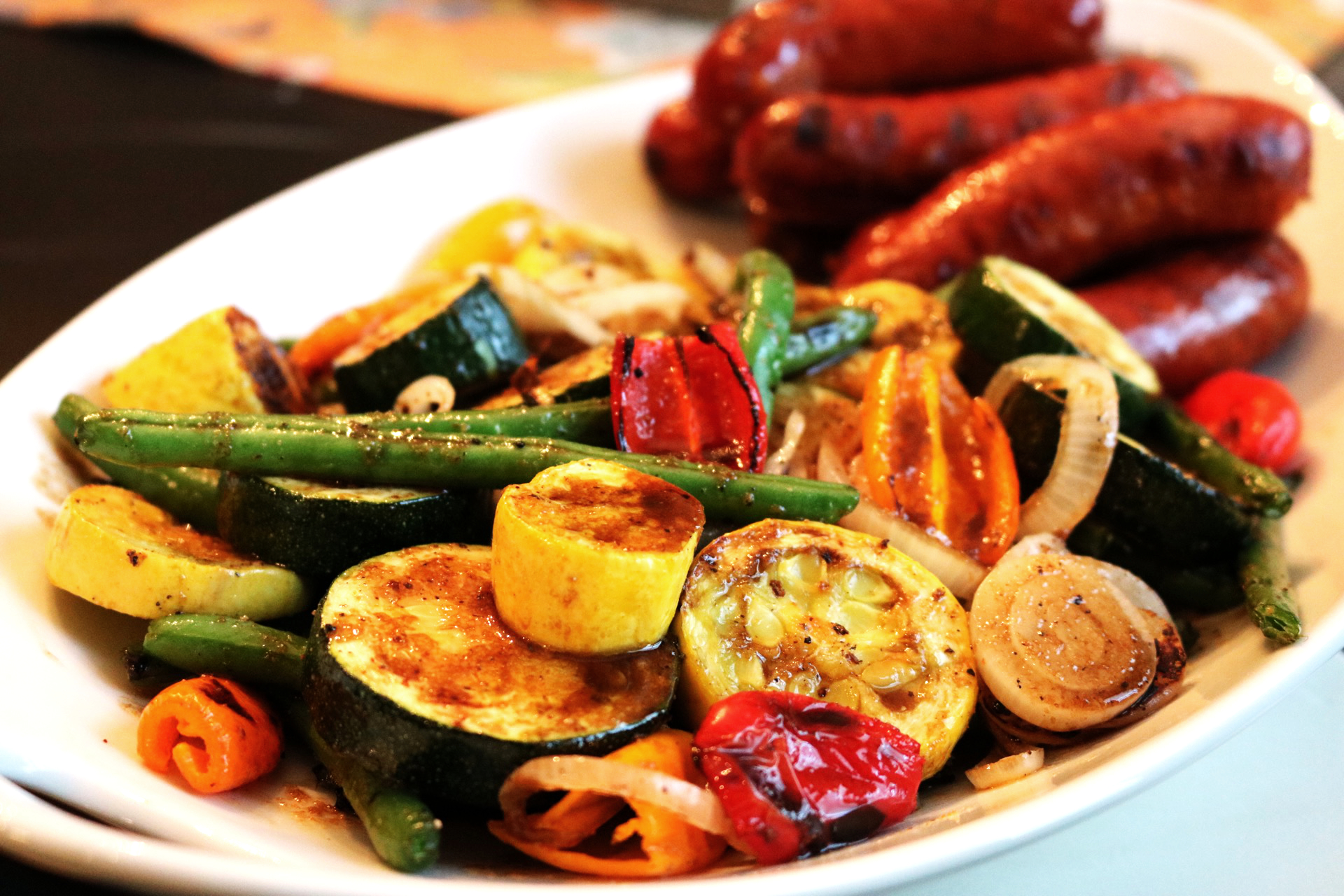 What are your plans this weekend?  Are you taking a little time away?  Hanging out with friends and family?  Are you grilling?  In my house we will be grilling for sure…and who knows what else.
Whats on the grill?
Are you doing burgers (like these sliders)?   How about those fries I posted yesterday?  Maybe some BBQ chicken or fish?  The possibilities are really endless, including the beginning of a delicious dessert like these grilled pineapples.
This last week The Hubby branched out a bit and threw some veggies and sausage links on the grill…and it was AMAZING!!
Sausage?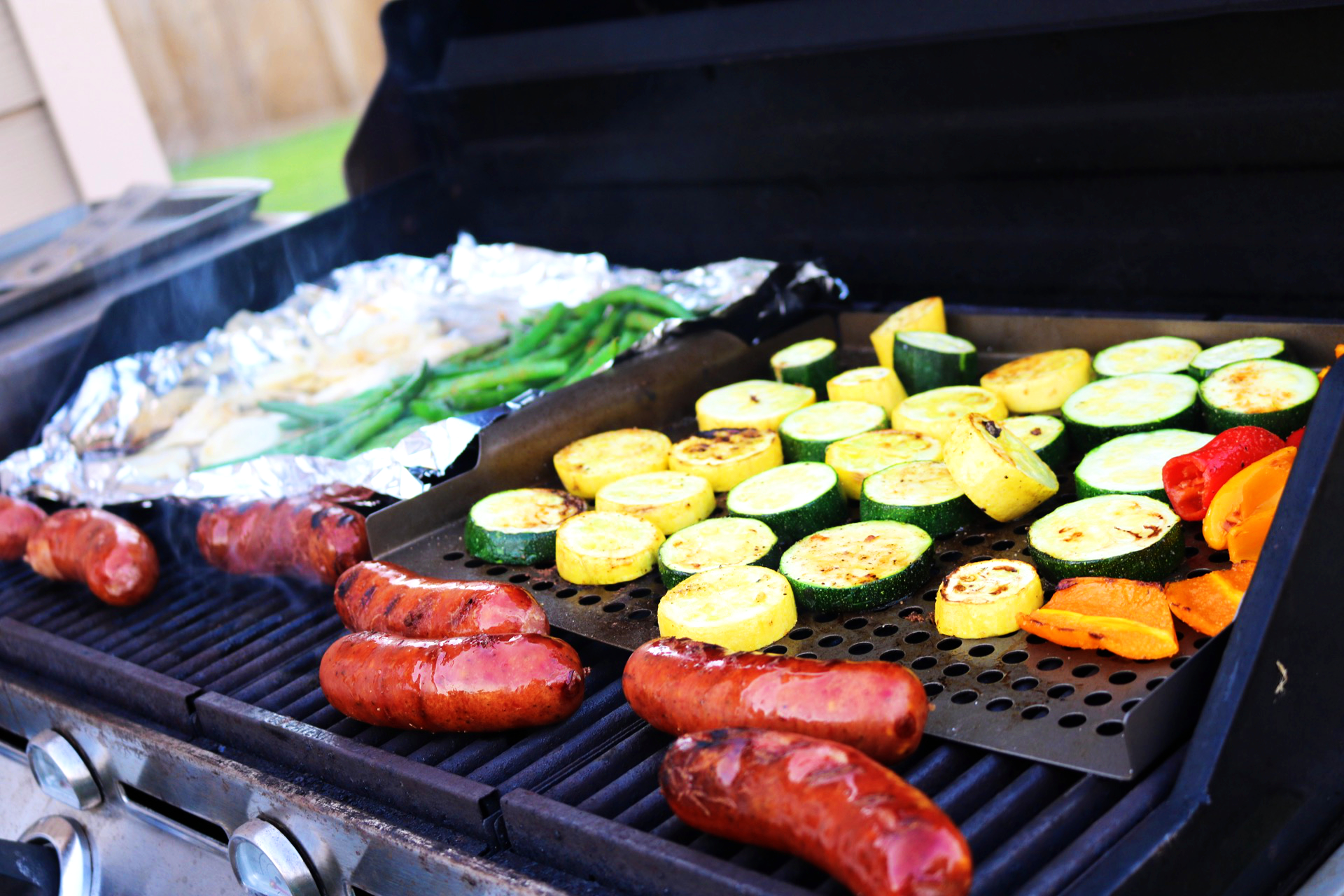 The Hubby and I love Costco.  We get everything from meat to veggies to peanut butter filled pretzels (we love those) and of course paper towels and toilet paper.  But one of our latest finds were sausage links.  They have all different varieties but our favorites are the garlic and cheddar ones.
The Hubby and I both love sausage links, but we wanted to make them a little lighter, so we decided to grill them up (my favorite way to make them) with some delicious veggies.
It's really about the veggies
I love the summer when all the produce is so fresh, and I used a ton of them to make this dish.  First up I used summer squash and zucchini…I love both so much, especially grilled.  Next came some peppers (red, yellow & orange) then some onions and green beans.
The beauty of this dish though is that you can use really any variety of veggies you would like.  Asparagus would be great, eggplant is great grilled or maybe some leeks or cabbage (I LOVE IT GRILLED).  Seriously you can really grill almost any veggie.
If you can run to the farmers market tomorrow morning and pick out the freshest veggies you can find and throw some of them on the grill …. you will be so glad you did.
Grill away…
MJ & The Hubby
6 servings
Grilled Veggies and Sausage
A light but hearty quick summer dish loaded with tons of flavor and veggies (just tell the kids)...even better it is all done on the grill keeping your house nice and cool.
10 minPrep Time
20 minCook Time
30 minTotal Time
Ingredients
6 Italian sausage, sweet or hot, links
1 onion, sliced
2 large green, red, yellow or orange peppers, sliced
2 large zucchini, cut into 1 inch slices
2 large yellow summer squash, cut into i inch slices
1/2 pound fresh Green Beans, trimmed
2 teaspoons salt
1 teaspoon black pepper
1 teaspoon garlic powder
1/4 cup extra virgin olive oil
3 tablespoons balsamic vinegar
1 tablespoon honey
1 lime, zest and juice
1 teaspoon chili powder
1 teaspoon salt
1 teaspoon black pepper
Directions
Preheat grill to medium high heat
On large trays or grill pans, lay out all the sliced veggies
In a small bowl combine salt, pepper and garlic powder
Sprinkle seasoning over veggies
Place veggies onto grill with grill pans, on foil over the grates or directly onto the grates - just make sure your veggies don't fall through the grates
Place sausages onto grill
Cook veggies for 3-4 minutes per side, and then flip
Cook sausages for 4-5 minutes per side and then flip
While everything is cooking the grill prepare the sauce
In a large bowl whisk together olive oil, balsamic vinegar, honey, lime juice & zest, chili powder, salt & pepper, until well combined
Taste and adjust seasoning as needed
When veggies are crisp tender (charred on the outside and warm, but still crispy on the inside) and the sausages are warmed through place everything onto a large serving platter
Drizzle balsamic sauce over veggies and sausages, reserving 1/3 for the table
Serve & ENJOY!!
Notes
Each serving (1 sausage link & veggies)
Nutritional Info
Calories 287 - Calories from Fat 144 - Total Fat 16 g - Saturated Fat 4.1 g - Monounsaturated Fat 9.8 g - Polyunsaturated Fat 1.6 g - Trans Fat 0 g - Cholesterol 25 g - Sodium 1661 mg - Potassium 876 mg - Total Carbohydrate 19 g - Dietary Fiber 4 g - Sugars 10 g - Protein 17 g
Vitamin A 15 % - Vitamin C 142 % - Calcium 7 % - Iron 11 %
7.8.1.2
192
https://sparklesnsprouts.com/2016/08/05/grilled-veggies-sausage/
All images are the property of Sparkles n Sprouts, to use image please contact the webmaster at michelle@sparklesnsprouts.com
Don't heat up the house this weekend…instead let the grill do all the work.  Even if you do not have sausages, use some chicken or pork with the veggies…trust me it will be so, so good.
Plus with all the veggies it kinda feel healthy (just don't tell the kids).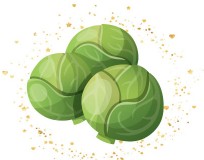 Remember to make today sparkle – MJ