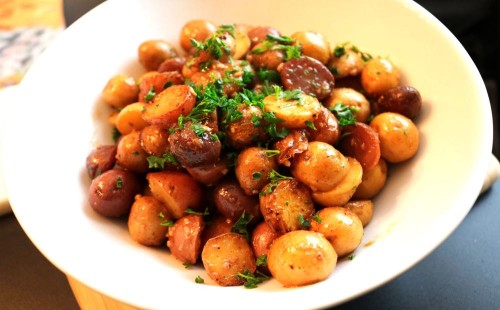 potatoes without the oven…YES I promise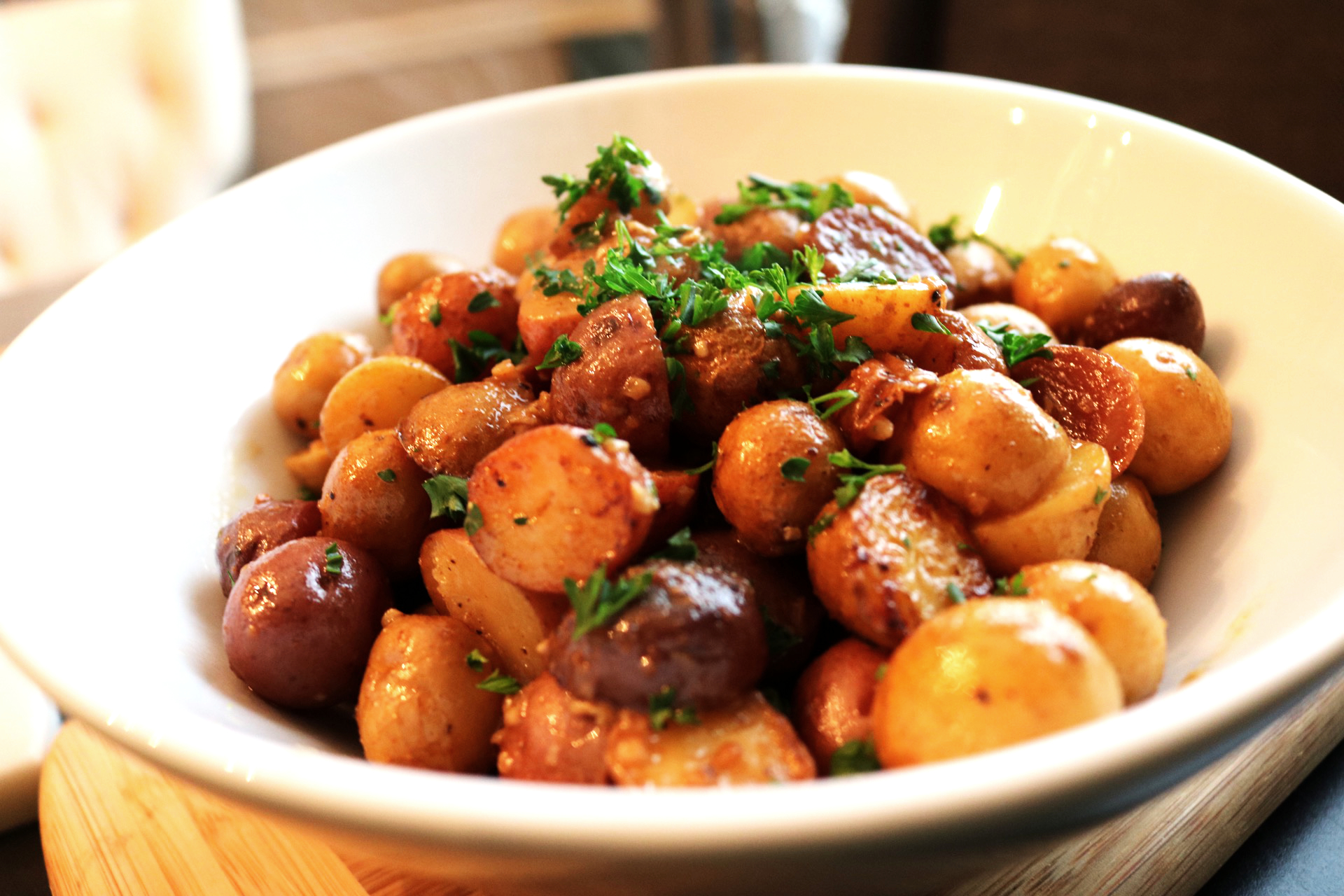 I just can't stand turning on the oven in the summer.  It is just too hot here in Texas.  I mean the heat index today was like 110 degrees or something crazy like that.  Thank you Jesus that I work inside!!
Even though it is summer…
Even though it is summer The Hubby still wants his meat and potato dinners.  I am a fan of meat and potatoes, but it is so hot outside.  Can you hear the whine in my voice?  Yes, I am whining.  Since it is so hot outside I just can't stand turning on my oven, especially to bake a potato…so it is time for the slow cooker to do its magic.
Lets talk potatoes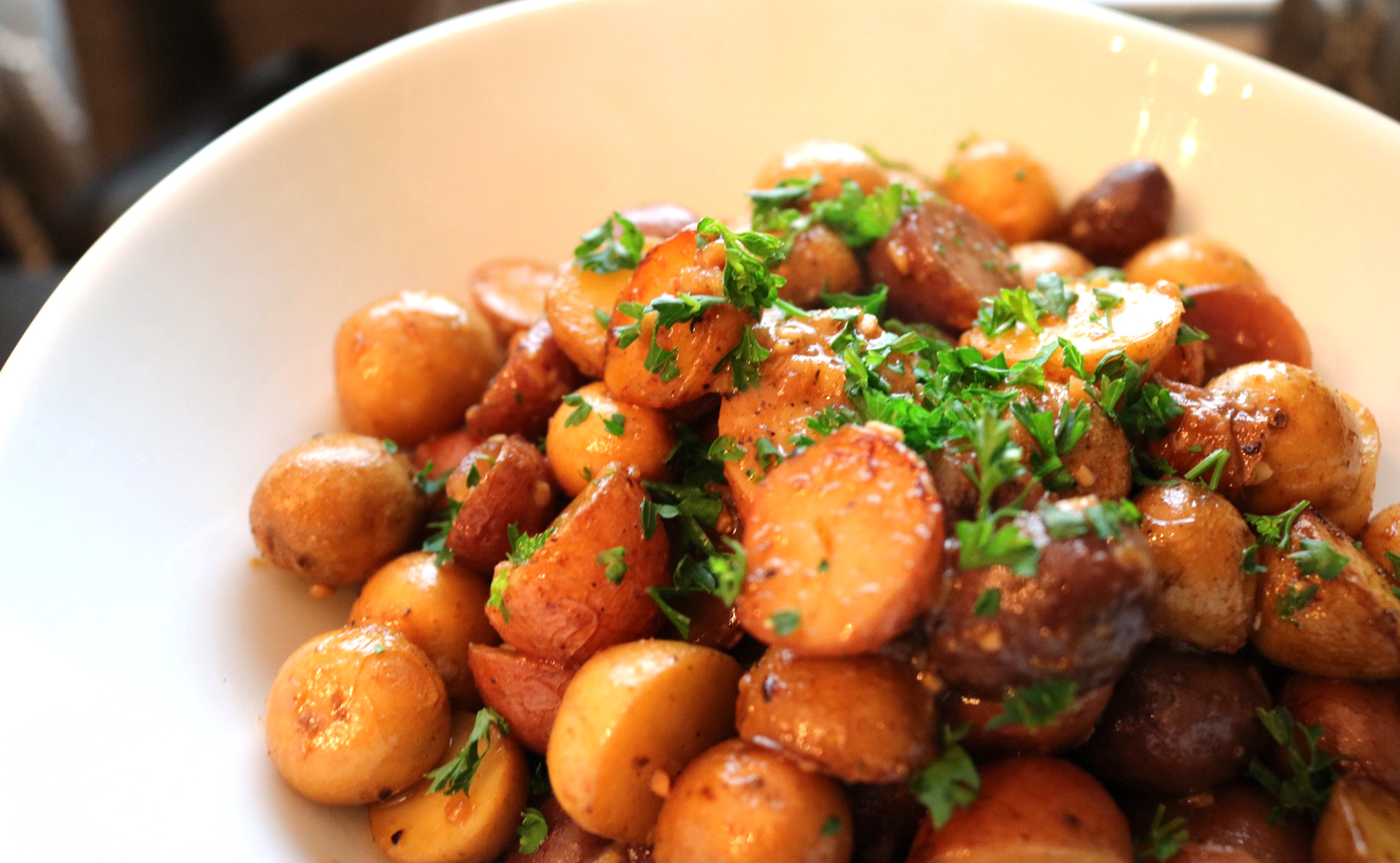 I love going to the grocery store and looking through all the different potatoes that there are.  There is the good ole' russet potato and the tender yukon golds.  There is your basic red potato and some fingerling potatoes for some extra fun, but one of my favorites is the combo bag of red, yukon and purple potatoes.
Yes you read that right, purple potatoes.  I LOVE THEM!  They are more firm then the yukon gold but more tender than a red potato making them a perfect addition to your next potato dish.  I love being them in the combo bags as that way we get a little bit of everything.
I use this combo for almost all my potato recipes, like one of my favorite potato salads…but they are also perfect for this slow cooker recipe.  Not only are they delicious but they also add some great color and texture to this delicious dish.  I could go on and on about them, but I will move on (for now).
Break out the slow cooker…
MJ
6 servings
Slow Cooker Garlic Potatoes
Slow cooker potatoes that are loaded with tons of flavor and perfect for a busy weeknight side...especially with something grilled!!
PTH10MPrep Time
PT4HMCook Time
4 hr, 10 Total Time
Ingredients
2 pounds new potatoes (I used an assortment of red, white & purple potatoes)
1 tablespoon olive oil, extra virgin
2 tablespoons butter
4 cloves garlic minced
2 teaspoons salt
2 teaspoons black pepper
1 teaspoon chili powder
1 tablespoon fresh parsley, chopped (optional)
Directions
Spray a large slow cooker with nonstick spray
Cut potatoes into bite size pieces and place into slow cooker
Add in remaining ingredients to the slow cooker and stir to combine everything until potatoes are evenly coated
Cover slow cooker and cook on low for 4-6 hours, or on high for 2-3 hours, or until potatoes are tender
Stir potatoes every hour or so
Place potatoes into a serving dish and top with fresh chopped parsley, if using
Serve & ENJOY!
Notes
Each serving is 6 WW Smart Points
Nutritional Info
Calories 177 - Calories from Fat 54 - Total Fat 6 g - Saturated Fat 2.3 g - Monounsaturated Fat 3.3 g - Polyunsaturated Fat 0.5 g - Trans Fat 0 g - Cholesterol 10 g - Sodium 814 mg - Potassium 649 mg - Total Carbohydrate 28 g - Dietary Fiber 2 g - Sugars 0 g - Protein 3 g Vitamin A 5 % - Vitamin C 50 % - Calcium 3 % - Iron 6 %
7.8.1.2
171
https://sparklesnsprouts.com/2016/07/20/slow-cooker-garlic-potatoes/
All images are the property of Sparkles n Sprouts, to use image please contact the webmaster at michelle@sparklesnsprouts.com
Some fun with seasoning
I wanted to keep the seasoning simple so the potatoes could really shine through so with just a little garlic, sat, pepper & chili powder it was all done.  If you want to amp it up a little you could add in some cayenne pepper, cumin, or some herbs.
For the herbs if you are going to use dried you can add them at the beginning for fresh herbs stir in at the end, just before serving.  I garnished with a little chopped parsley, but some dill, thyme, cilantro or basil would be YUMMY!!  Go ahead and use whatever you have growing in your herb garden or found at the farmers market.
Even though it is summer you can still enjoy your meat and potatoes…without heating up the house.  Heat the grill and let the slow cooker take care of the rest.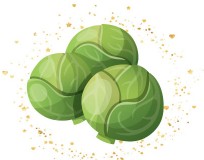 Remember to make today sparkle – MJ