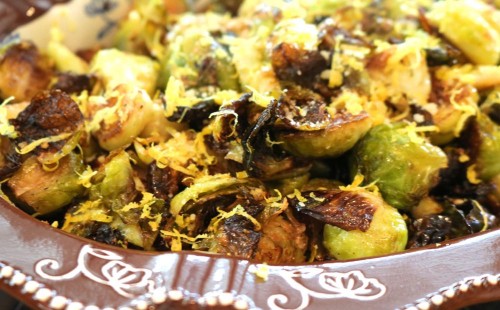 Spring Brussels Sprouts everyone will LOVE
I can't believe Easter has already come and gone and that we are more than half way through April. That means warmer temps, longer days & humidity in my part of the world. It also means it is time to celebrate all spring flavors and one of my favorite is lemon.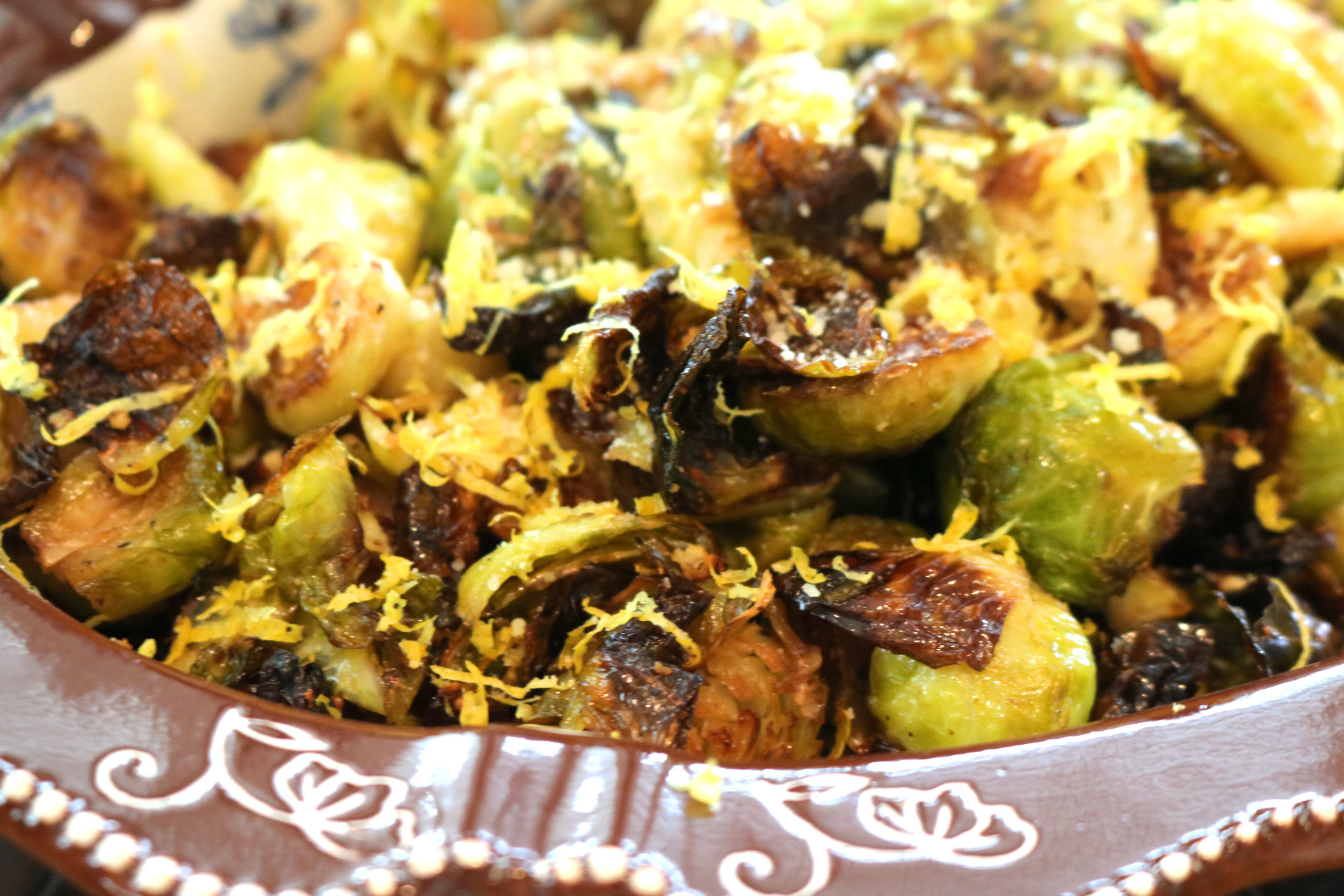 & Some Brussels Sprouts Too
Not only do I love lemons in the Spring but I really love them with Brussels Sprouts….especially these roasted ones with a little parmesan cheese. The char from the outside skins on the sprouts really pairs well with the brightness and tang from the lemon juice and zest.
I also think it is really pretty with the bright green sprouts…but you know it is super yummy too.
Some family fun
This past weekend was all about Celebrating Easter and my niece and nephew had a blast hunting for their eggs. You can see they made quite the haul. It was so fun watching them get so excited…it made me feel like a kids all over again.
As much fun as the egg hunt was the lunch that followed was even better. We had an amazing ham, au gratin potatoes, deviled eggs and these Lemon Parmesan Brussels Sprouts. They were quite the hit, even with the kids.
Even the non-brussels sprout fans were fans of these.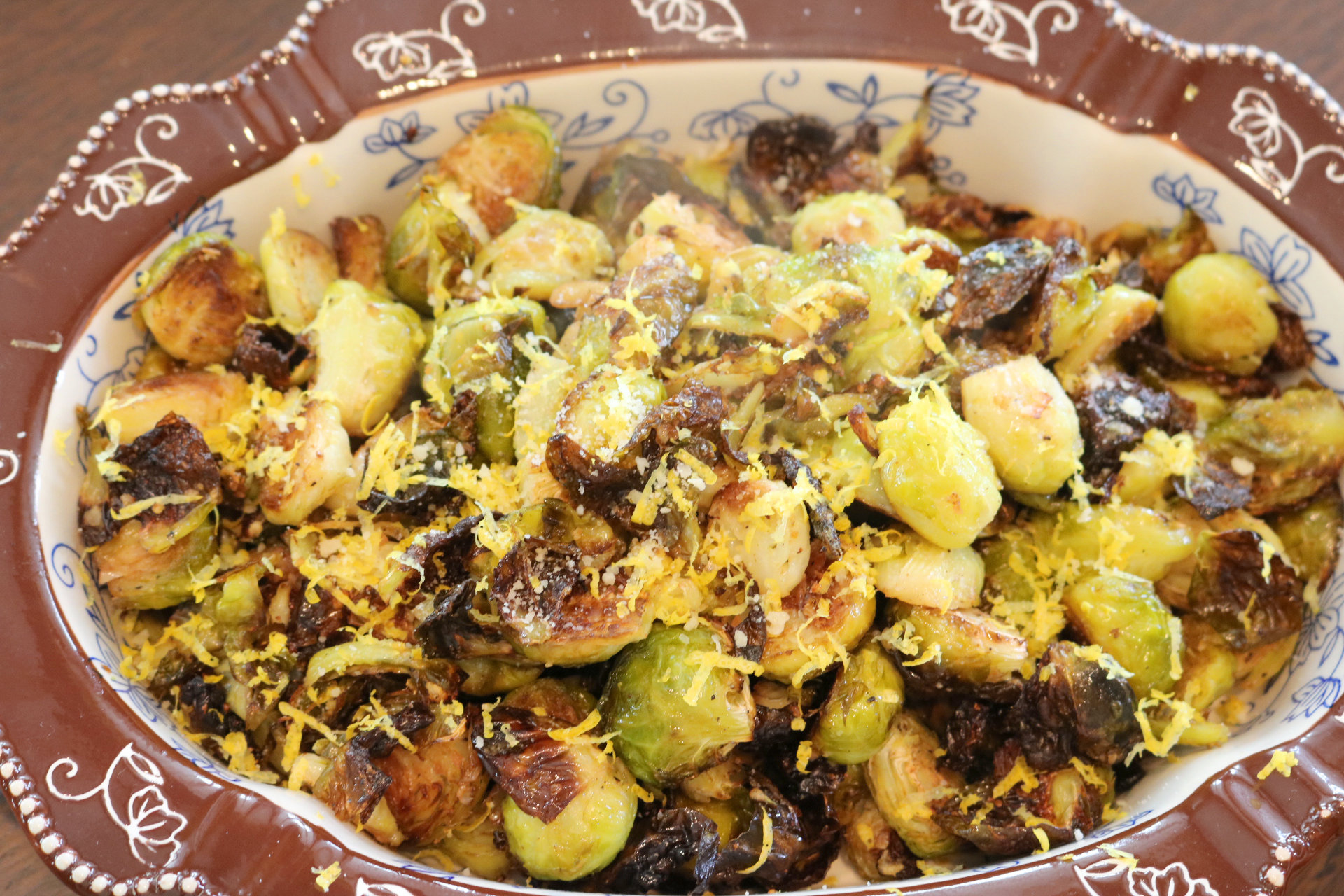 Get the zester out
Chelle Chelle
6 servings
Lemon Parmesan Brussel Sprouts
Brussel Sprouts taken to the next level with fresh lemon juice, lemon zest and parmesan cheese...trust me these are AMAZING!!
10 minPrep Time
45 minCook Time
1 hrTotal Time
Ingredients
2 pounds Brussel sprouts
1 tablespoon extra virgin olive oil
2 teaspoons salt
2 teaspoons black pepper
1 teaspoon garlic powder
2 lemons, juiced & zested
3 tablespoons grated parmesan cheese, divided
Directions
Preheat oven to 425
Line a rimmed baking sheet with parchment paper
Trim sprouts and cut into half, or quarters depending on size, and place onto prepared pan
Drizzle olive oil over brussels sprouts
Sprinkle salt, pepper and garlic powderer sprouts
Toss to make sure everything is evenly coated
Place into oven and toast for 30-35 minutes or until sprouts are browned, tossing once or twice
Once they are just about done, drizzle lemon juice and half of the lemon zest and 2 tablespoons of cheese over sprouts
Roast for another 5-10 minutes or until sprouts are done
Remove and place into serving bowl
Top with remaining lemon zest & cheese
ENJOY!
Notes
Each serving is 3 WW Smart Points
Nutritional Info
Calories 88 - Calories from Fat 27 - Total Fat 3 g - Saturated Fat 0.8 g - Monounsaturated Fat 1.9 g - Polyunsaturated Fat 0.4 g - Trans Fat 0 g - Cholesterol 2 g - Sodium 843 mg - Potassium 493 mg - Total Carbohydrate 12 g - Dietary Fiber 4 g - Sugars 3 g - Protein 5 g
Vitamin A 18 % - Vitamin C 178 % - Calcium 8 % - Iron 6 %
7.8.1.2
322
https://sparklesnsprouts.com/2017/04/20/spring-sprouts/
All images are the property of Sparkles n Sprouts, to use image please contact the webmaster at michelle@sparklesnsprouts.com

Jazz em up even more
If you wanted to add a little something more you could always throw in some cooked bacon or drizzle with a nice lemon vinaigrette.
Not a fan of parmesan…no worries. You don't have to use any cheese, they are great with or without.
Trust me these will be your go to Brussels Sprouts all Spring & Summer long!!