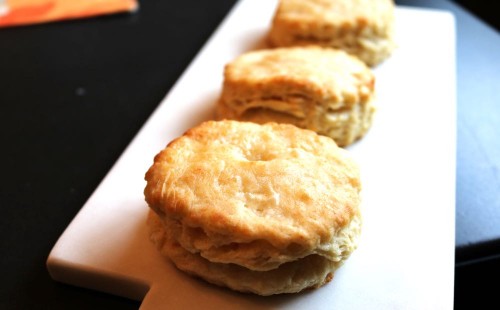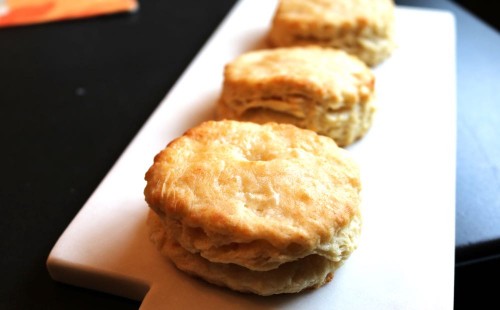 If it were up to The Hubby it would always be biscuit time.  I honestly think he would have biscuits at every meal if I made them…unfortunately for him I rarely make them so when I do it is quite the BIG DEAL!
I decided a while ago that since The Hubby loves them so much maybe it should become his job to make them. I mean he could make the biscuits when I was making dinner or the gravy (if it were breakfast…or dinner…WOW I really want gravy now).
Anyway back to the biscuits…I was showing The Hubby several recipes I have gathered over the years and he settled on this one…he said he thought it sounded the best.  So off he went to biscuit making.  Now I did step in at one point and added in the pepper (my grandmother did this and I just love it) and I also decreased the sugar from 2 tablespoons to just 1…The Hubby doesn't love a sweet biscuit and I don't really either, so I knew this would be a good choice for him….plus I was going to be putting my homemade roasted strawberry jam on the biscuits so they were going to sweet enough.  Other than those changes The Hubby did it all, and look how good they came out!! 
The were light and airy while still have a great bite that only a great biscuit has.  I have to say I was very impressed with his biscuit making skills and will for sure be putting them to the test again (very soon).
MJ & The Hubby
12 biscuits

Easy Homemade Biscuits

Light and fluffy biscuits that come together in no time and with such ease you will be making these all the time

15 minPrep Time

11 minCook Time

30 minTotal Time

Ingredients

2 cups flour

1 tbsp sugar

1 tbsp baking powder

1 tsp salt

1 tsp pepper

1/2 cup butter

3/4 cup cold buttermilk

Directions

Preheat oven to 450

Line a baking sheet with parchment paper

In a large bowl whisk together flour, sugar, baking powder, salt & pepper

Cut butter into flour mixture with a pastry cutter, or two knives, until butter is about the size of peas

Pour in buttermilk, stirring until dough forms a ball

Roll dough onto lightly floured surface and using your fingers shape into a rectangle

Cut dough into thirds and stack on top of each other

Press dough into another rectangle and once again cut dough into thirds and stack on top of each other

Roll out once again until dough is 3/4 inch thick

Using a biscuit cutter cut out 9 biscuits and then reform dough and cut out 2-3 more biscuits

Place biscuits onto prepared pan

Bake for 10-12 minutes or until biscuits are browned on top

Remove and serve

ENJOY!!

Notes

Each biscuit is 6 WW Smart Points:

Nutritional Info

Calories 155 - Calories from Fat 72 - Total Fat 8.0g - Saturated Fat 5.0g - Cholesterol 21mg - Sodium 266mg - Potassium 176mg - Total Carbohydrates 18.4g - Dietary Fiber 0.6g - Sugars 1.8g - Protein 2.8g Vitamin A 5% - Vitamin C 0% - Calcium 8% - Iron 6% Nutrition Grade C-

7.8.1.2

158

https://sparklesnsprouts.com/2016/06/03/biscuits/

All images are the property of Sparkles n Sprouts, to use image please contact the webmaster at michelle@sparklesnsprouts.com
Now I know some of you may think that biscuits are only for breakfast but I have to say I love biscuits for dinner.  They just feel so comforting and homey just like it always did at my MeeMaw's house…just something so warm and good!!
Don't let the ideas of homemade biscuits scare you…trust me these biscuits are so, so good and so, so easy to make that anyone can do it…I promise!!
Remember make everyday sparkle – MJ