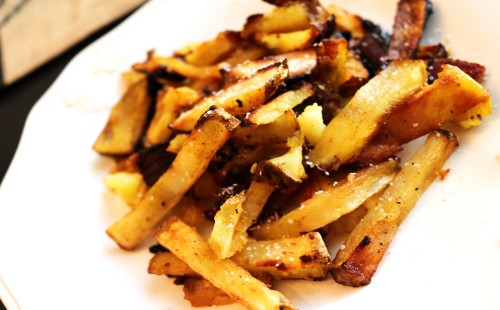 trust me you can have these fries…
FRY TIME!  Trust me this is one of my favorite phrases…there is just something so great about FRIES!!  For me it doesn't matter if I am having them with burgers, grilled chicken or on their own I just LOVE FRIES!!  The only problem with fries is they are just not good for you, as much as I love them I only get them every once in a while…unless I make my skinny fries!
Yes you read that right…skinny fries.  Now potatoes by them selves are not terrible for you…they get bad when you fry them in oil or cover them in cream and cheese (oh man, au gratin potatoes sound so good!) so all I had to do was create a baked fry that was crispy and yummy like the traditional fried version.
MJ
6 servings
Skinny French Fries
Tender baked fries that are full of flavor, just as good as your favorite fried fries, but with a lot less guilt
10 minPrep Time
40 minCook Time
1 hrTotal Time
Ingredients
2 lbs russet potatoes
2 tbsp extra virgin olive oil
1 tbsp salt
1 tbsp pepper
1 tbsp garlic powder
2 tsp chili powder
Directions
Preheat oven to 425
Line a large rimmed baking sheet withs several layers of foil
Spray with nonstick spray, set aside
Wash & pat dry each potato
Cut potatoes into 1/2" disks
Cut each disk into sticks, about 1/4" thick
Place fries onto prepared pan
Drizzle with olive oil, tossing to coat evenly
Sprinkle with salt, pepper, garlic powder and chili powder
Toss once again to coat potatoes evenly
Bake for 20 minutes, then flip potatoes
Continue baking for another 20 minutes, tossing once more, or until potatoes are cooked through and browned
Serve & ENJOY!
Notes
Each serving (about 1/4 cup) is 5 WW Smart Points: Nutritional Info Calories 154 Calories from Fat 45 Total Fat 5.0g Saturated Fat 0.8g Cholesterol 0mg Sodium 1181mg Potassium 661mg Total Carbohydrates 25.9g Dietary Fiber 4.3g Sugars 2.1g Protein 3.0g Vitamin A 5% - Vitamin C 51% - Calcium 2% - Iron 7% Nutrition Grade A-
7.8.1.2
77
https://sparklesnsprouts.com/2016/03/03/homemade-fries/
All images are the property of Sparkles n Sprouts, to use image please contact the webmaster at michelle@sparklesnsprouts.com
First up is to cut the potatoes into little sticks like your favorite fries.  The Hubby likes more of a wedge, but I like them super thin, so we compromised with a medium thick fry.  After that comes the good stuff…all the seasoning.  Now the beauty of these fries is that you can adjust the seasoning as you like, for us I kept it pretty simple with salt, pepper, garlic powder and chili powder, but you could add in some herbs (dried or fresh), cumin, a little brown sugar, or some paprika.  Really any combo you prefer would be great, just make sure you season them well…potatoes can really over power seasoning if you don't use enough.  To cook them I like to cook at a high temp, on a baking rack flipping often to keep them cooking evenly and allowing them to crisp up as well.  I just can't say enough just how good they are!
Go ahead and enjoy some fry time without all the guilt…trust me they are so, so good!
Happy (half) Baked Life – MJ