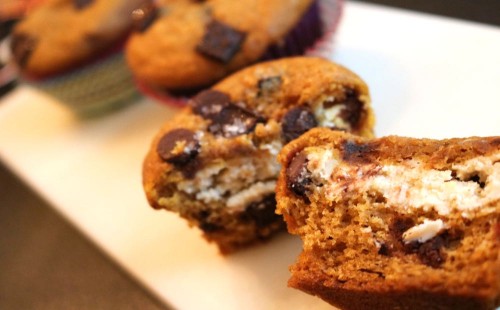 Hello Fall…you know what that means…it is PUMPKIN time!! I have to say the beginning of Fall is one of my favorite times of the year.  Bring on the pumpkins, yummy foods and cooler weather!!
A match made in pumpkin heaven…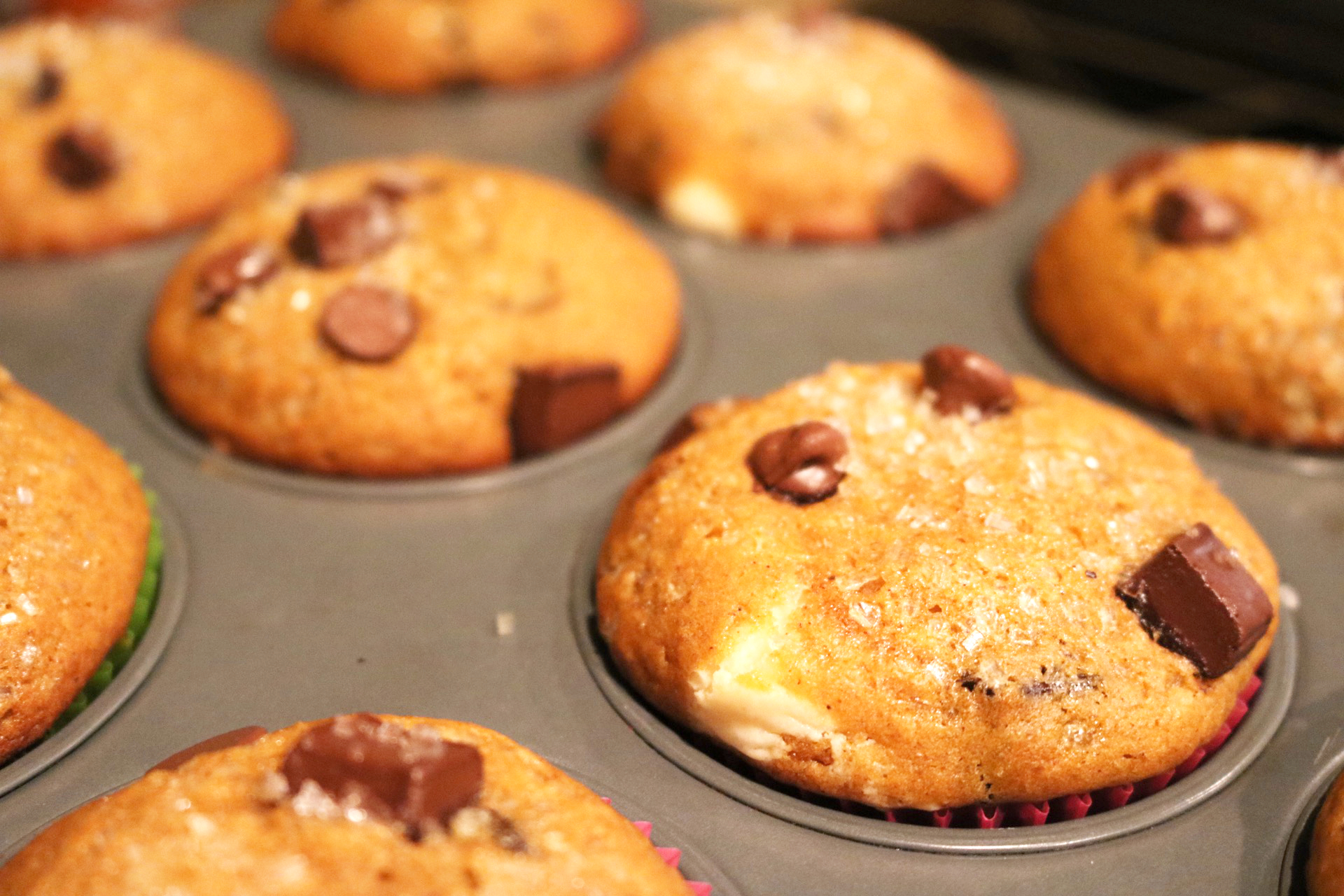 Over the next few months you will see pumpkin recipes everywhere, for everything so I thought why not start with the first meal of the day…MUFFINS (I mean breakfast)!  I love pumpkin bread for sure but pumpkin muffins are my favorite.  They are even better when loaded with cream cheese and chocolate.
If you frequent starbucks (like I do) I am sure you have seen their pumpkin bread, cookies, scones and muffins.  They are really good but none of them have chocolate in them.  In my opinion pumpkin and chocolate are a match made in heaven  and these muffins are that and even more.
Layer it up…

To make these muffins super decadent they are loaded with 2 types of chocolate and a delicious cheesecake filling in the center.  To make sure each bite is perfect I start with a cookie scoop of pumpkin batter into the bottom each muffin liner.  Then comes the cheesecake mixture and then more pumpkin…and wait we are not done yet.  I sprinkle more chocolate chips on top with some decorative sugar…just for some extra yummy.
By adding the cheesecake mixture to the middle of the muffin it cooks up evenly and is a perfect little surprise when you bite into this delicious muffin.  If cream cheese goodness if not your thing you can definitely bake these muffins up with it….but really why would you?
Get the oven preheating…
MJ
15 muffins
Pumpkin Chocolate Chip Cheesecake Muffins
Decadent pumpkin muffins with a cheesecake filling and chocolate chips in each bite
20 minPrep Time
20 minCook Time
40 minTotal Time
Ingredients
Cheesecake Filling
8 ounces light cream cheese
3 tablespoons granulated sugar
1 large egg yolk
2 teaspoons vanilla extract
Muffins
1 3/4 cups all-purpose flour
1 teaspoon baking powder
1 teaspoon baking soda
1/2 teaspoon salt
1 tablespoon pumpkin pie spice
3/4 cup brown sugar
2 large eggs
1 cup canned pumpkin (not pumpkin pie mix)
1/2 cup oil, canola or vegetable
1/3 cup fat free milk
2 teaspoons vanilla extract
1/2 semisweet chocolate chips
1/2 cup dark chocolate chips (or semisweet)
Optional Toppings
Chocolate Chips
Decorative Sugar
Directions
Preheat oven to 425
Line muffin tins with 15 liners, or spray with nonstick spray, set aside
In the bowl of a stand mixer, or a large mixing bowl, cream together cream cheese and sugar until smooth
Add in egg yolk and vanilla, mixing until smooth, set aside
In a large bowl whisk together flour, baking powder, baking soda, salt & pumpkin pie spice
In a separate bowl whisk together brown sugar, eggs, pumpkin, oil, milk & vanilla until well combined
Pour pumpkin mixture into flour mixture and stir until just combined
Stir in chocolate chips, until just combined
Using a small cookie scoop, place 1 scoop (or 1 tablespoon) of muffin batter into each muffin liner
Spoon 1 tablespoon cheesecake filling on top of muffin batter
Place 1 more scoop (or 1 tablespoon) of muffin batter over the cheesecake filling
Sprinkle with additional chocolate chips and sugar (if using)
Place in oven and bake for 5 minutes, then reduce oven temperature (keeping muffins in the oven) to 350 and continue baking for another 12-15 minutes, or until starting to brown
Remove from oven and let cool for 5 minutes
Serve and ENJOY!!
Notes
Each muffin is 13 WW Smart Points
Nutritional Info
Calories 306 - Calories from Fat 153 - Total Fat 17 g - Saturated Fat 6.6 g - Monounsaturated Fat 6.2 g - Polyunsaturated Fat 3.8 g - Trans Fat 0 g - Cholesterol 58 g - Sodium 249 mg - Potassium 169 mg - Total Carbohydrate 34 g - Dietary Fiber 1 g - Sugars 20 g - Protein 4 g Vitamin A 56 % - Vitamin C 0 % - Calcium 7 % - Iron 6 %
7.8.1.2
249
https://sparklesnsprouts.com/2016/09/22/pumpkin-muffins/
All images are the property of Sparkles n Sprouts, to use image please contact the webmaster at michelle@sparklesnsprouts.com
This is just the beginning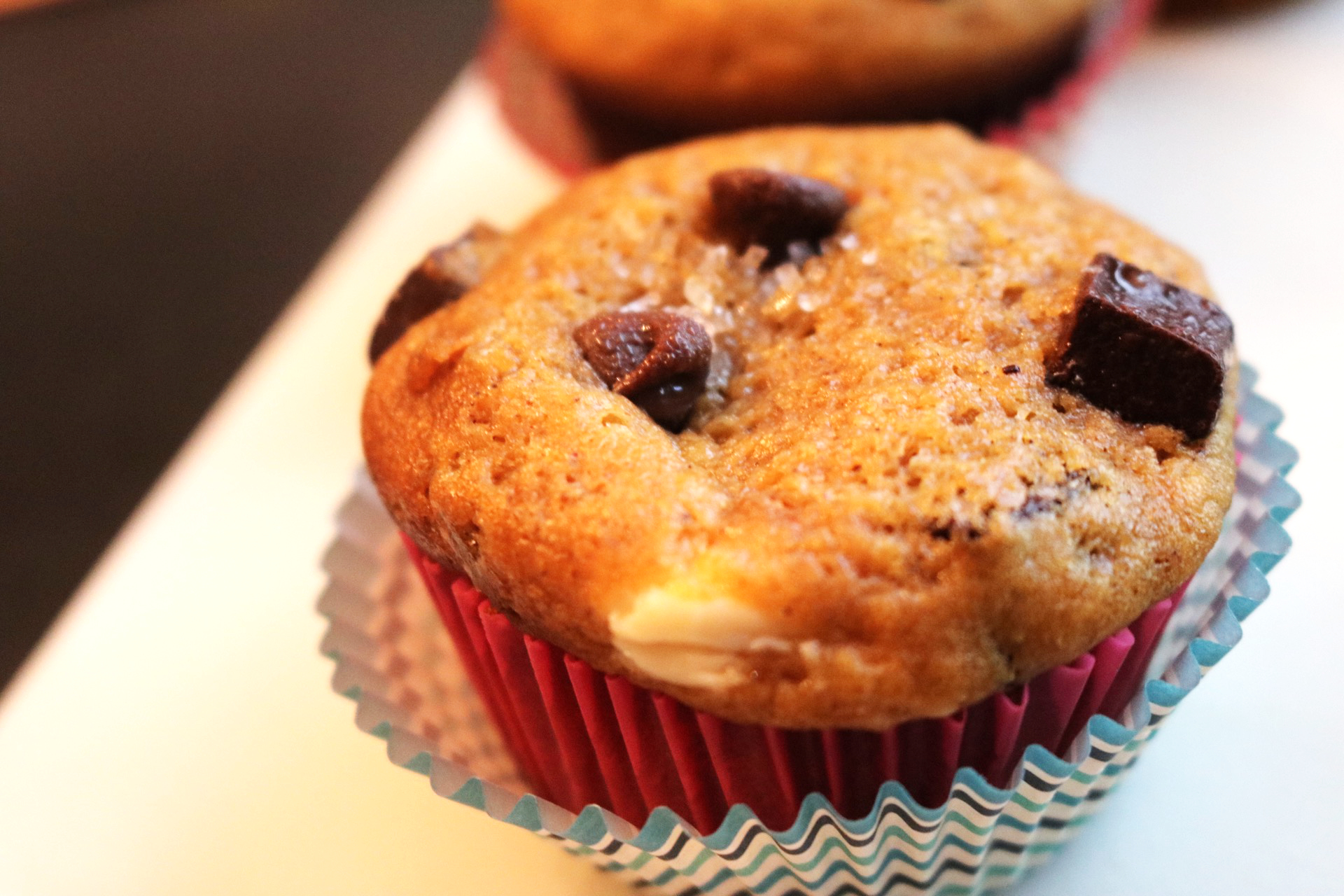 Fall has just started so trust me there will be many more pumpkin recipes coming your way.  If you have any requests let me know.

Happy Fall and remember to let it sparkle!!  MJ