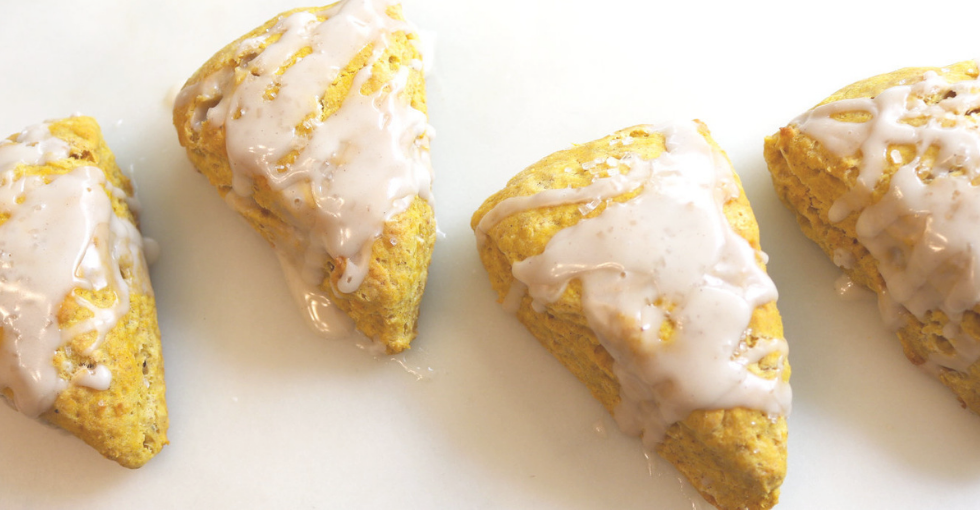 You need a Pumpkin Maple Scone in your life right now! LIKE NOW!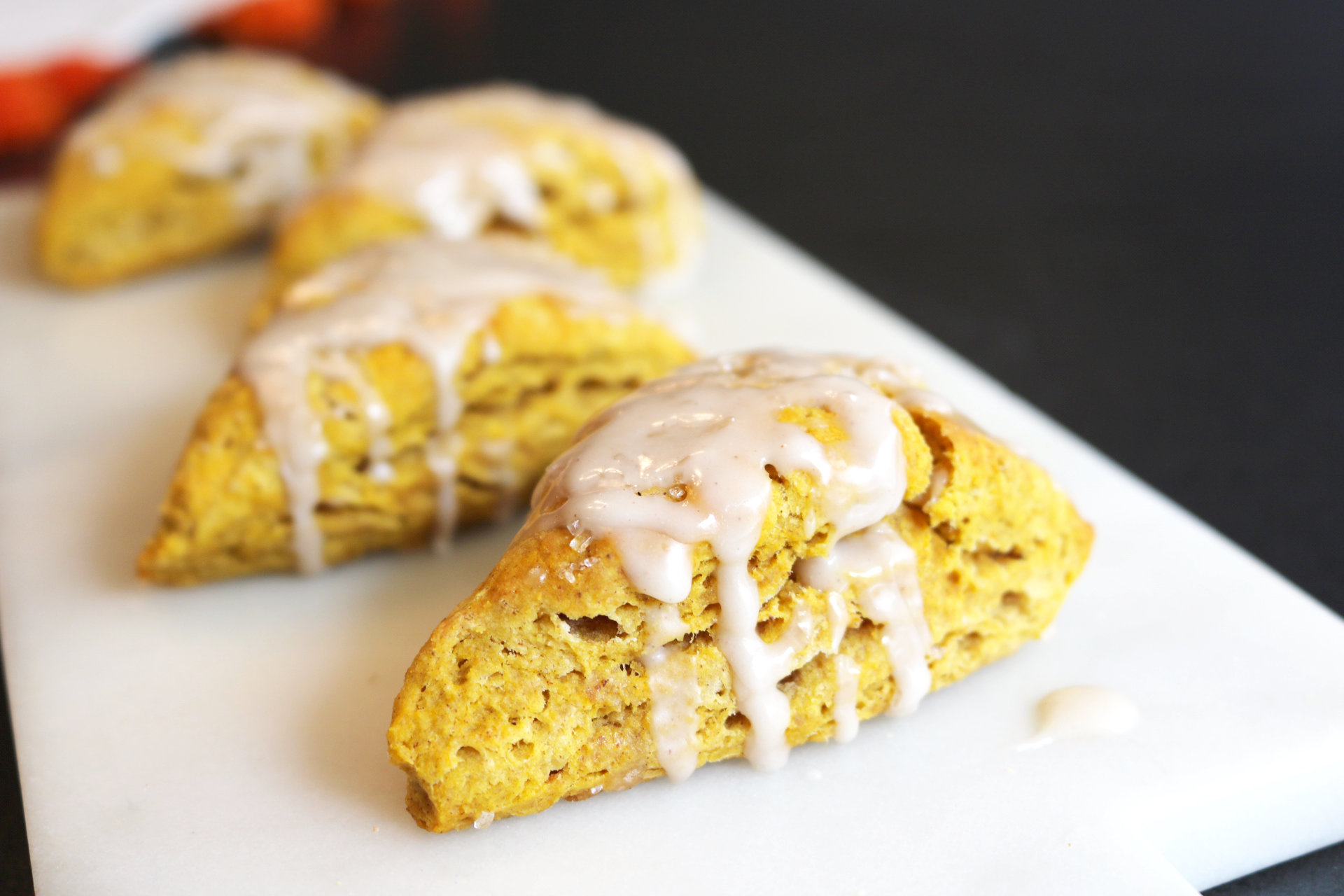 Scone Time!
I am a scone girl for sure. I just love how they are the perfect cross between a biscuit, cookie and muffin all in one cut little triangle of yumminess. For me a good scone is not too sweet, not too dry and light, not too heavy.
If you have had very many scones there is a chance you have come across a tough scone here and there, and for that I am so sorry. It can definately damper your opinion of these delicious little brunch treats, but I hope you will give them another chance. These scones are tender, loaded with flavor and perfect for this Fall!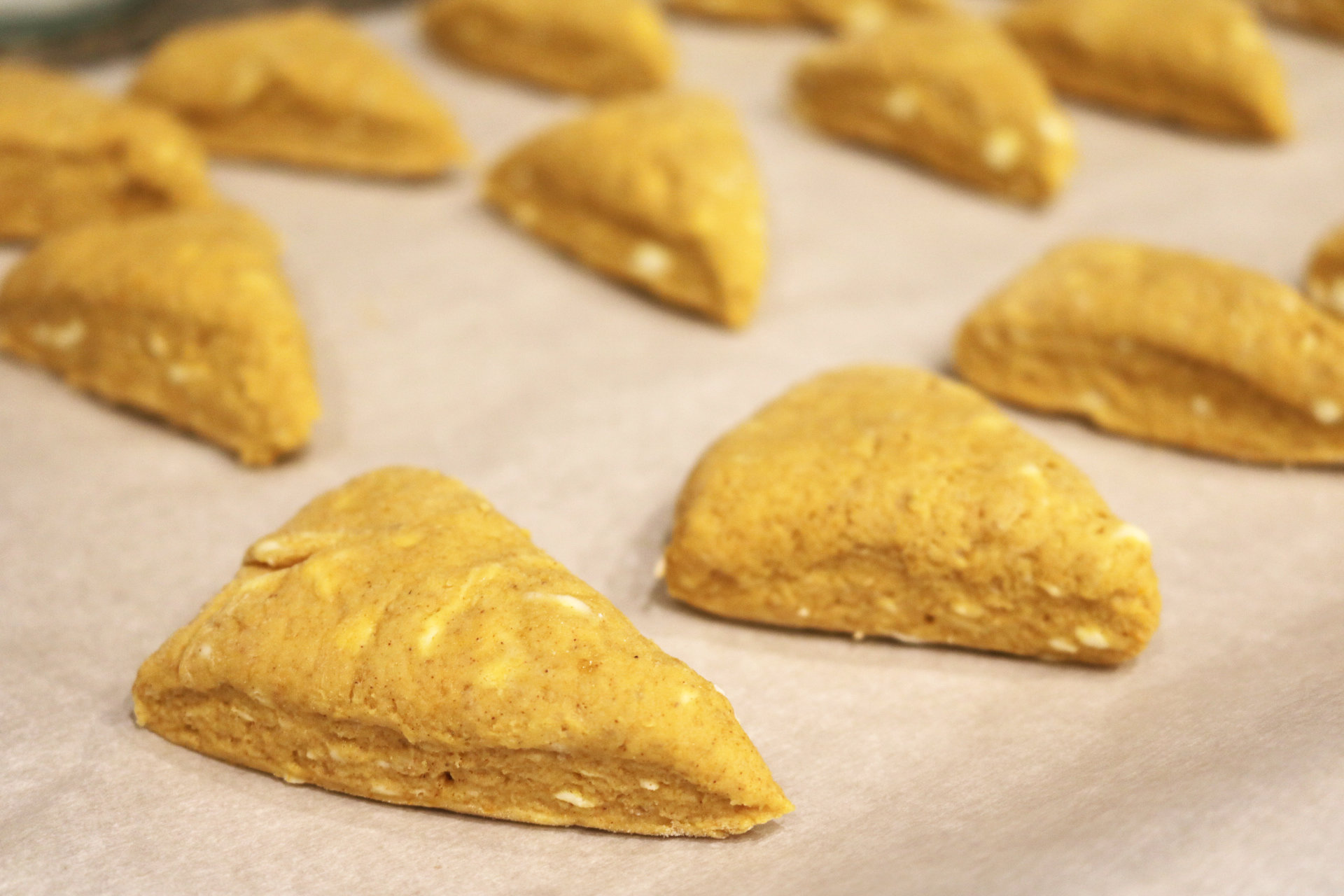 Don't Over Mix!
As with most pastry recipes it is imperative to not over mix the dough. When you cut in the butter I like to see bits of butter still in the dough as this will help create a light, airy scone, not a super dense one.
As you can see in the pics you can see just how light these turned out, all those delicious air pockets… so good. PS they also hold some of the icing as you pour it over, making those bites just a little extra yummy.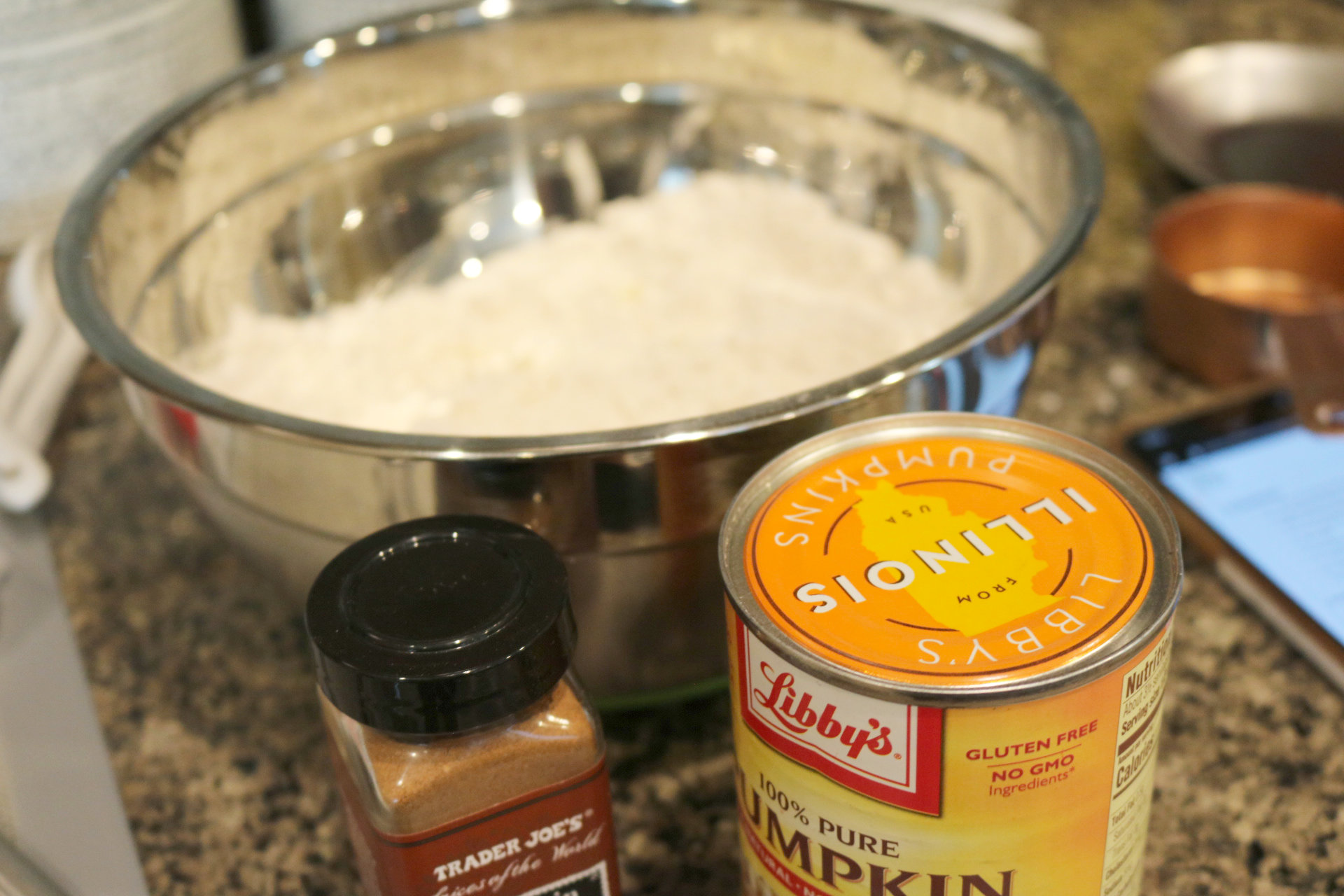 Spicing it up!
As you know I am all about anything pumpkin and these scones definately bring the pumpkin in each bite. Not only in there pumpkin puree in the dough but there is also a good amount of pumpkin pie spice. I prefer the Trader Joes Pumpkin Pie Spice (which you can order here if you are not close to a Trader Joes). I like the balance of the spices it has, without being too bitter.
If you have another on hand feel free to use it, I have found I may have to use more cinnamon with other brands to give it a little extra oomph.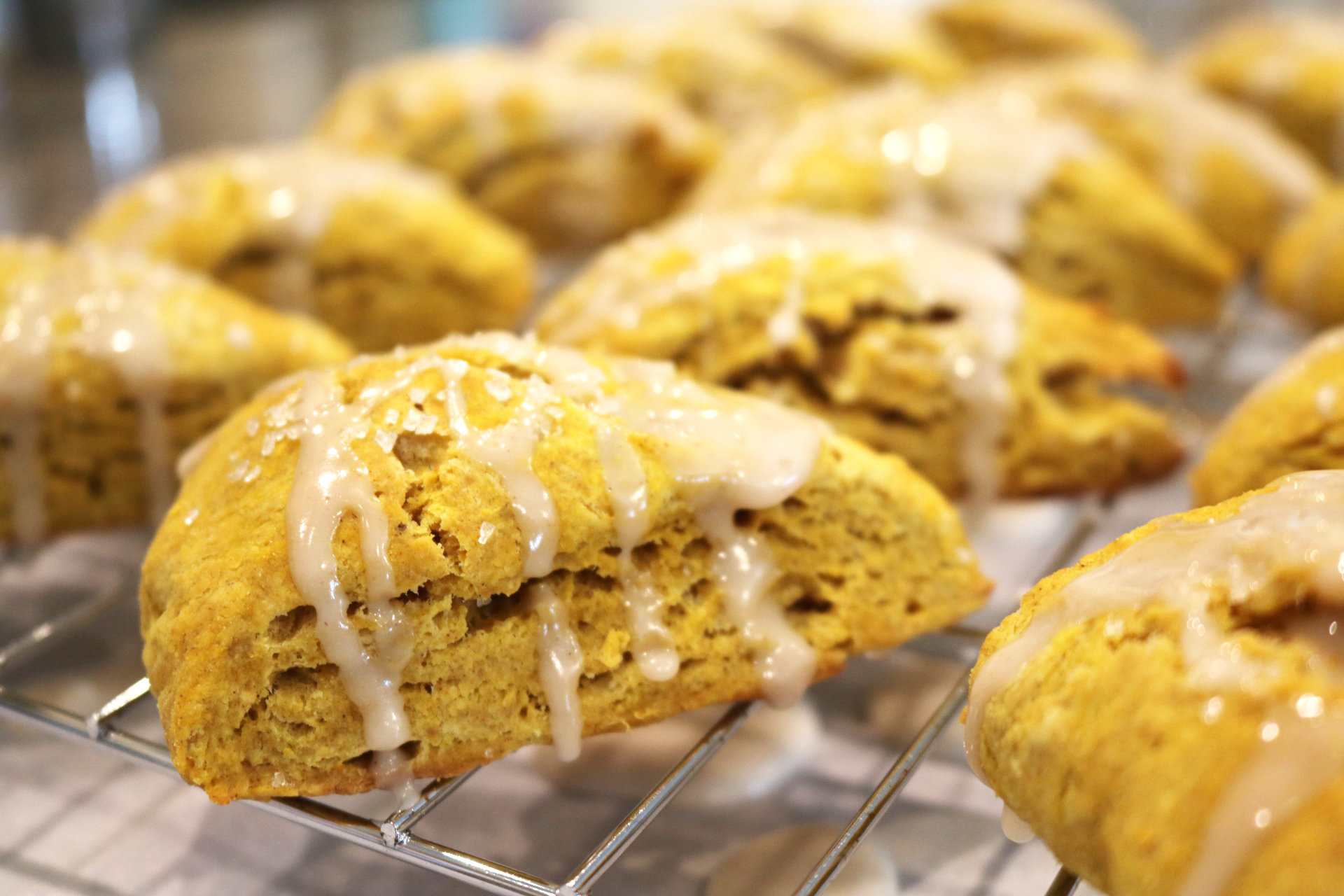 It's all about the drizzle on the scone!
To really make these something special I made a maple, vanilla bean glaze to go on top. If you do not have vanilla bean paste on hand, like this one, it is ok you can use vanilla extract and it will be still be OH SO GOOD!
The scone itself is not too sweet, the glaze is where you get the sweet from. I actually took some of these to a friend of mine and their daughter said it needed more icing so I added more drizzle before I gave the rest to my new neighbors. To be honest she was right, there can never be too much drizzle.
SO go ahead and get your drizzle on!!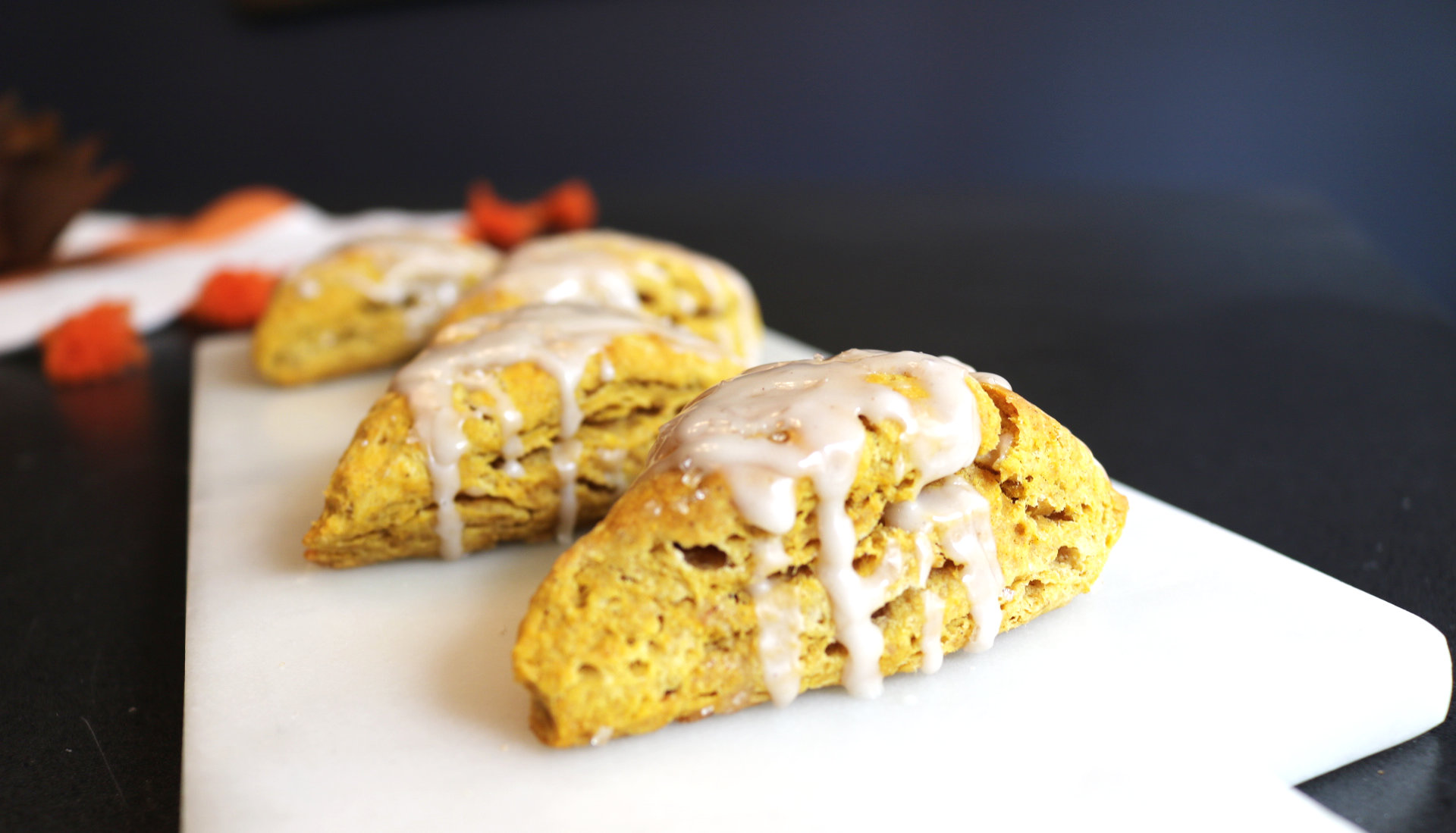 Scone Time!
Chelle Chelle
12 scones
Pumpkin Maple Scones
The perfect Fall scone loaded with tons of flavor and a sweet maple glaze that everyone will love.
20 minPrep Time
14 minCook Time
45 minTotal Time
Ingredients
Scone Dough
2 1/2 cups flour
1/4 cup brown sugar
1 tablespoon baking powder
1 teaspoon salt
1/2 cup butter
3/4 cup canned pumpkin puree (not pumpkin pie mix)
1/2 cup half & half (or milk)
Course sugar (optional)
Maple Vanilla Glaze
1 cup powder sugar
2-3 tablespoons Maple Syrup
1-2 teaspoons hot water (as needed)
Directions
Preheat oven to 425
Line a baking sheet with parchment paper
In a large bowl whisk together flour, brown sugar, baking powder, pumpkin pie spice & salt
Using a pastry cutter, or 2 knives, cut in butter until mixture is crumbly but pieces of butter are still visible
Stir in pumpkin and half & half until just combined
Spread some flour on a dry flat surface (I like to use a silicon baking mat for ease)
Place dough onto floured surface and knead 10-12 times are until no flour streaks remain and dough comes together, it might be a bit sticky, add more flour to surface to keep it from sticking if needed
Divide dough in half
Form each half into a 6-8 inch circle
Cut each circle in half and then each half into thirds, creating 6 scones out of each circle
Place onto prepared pan
Sprinkle with course sugar, if using (I like the extra crunch it gives but it is not necessary)
Bake for 12-15 minutes or until they are slightly brown, making sure to not over bake
Let cool on pan for 5 minutes and then move to a cooling rack with parchment paper below it
In a small bowl whisk together all the glaze ingredients until smooth, adding in more water if needed to reach desired consistency
Drizzle over warm (not hot) scones and let cool completely so glaze sets
Serve and ENJOY!
Notes
Add in nuts if so desired or top with pumpkin seeds for extra crunch
7.8.1.2
553
https://sparklesnsprouts.com/2021/09/12/pumpkin-maple-scone/
All images are the property of Sparkles n Sprouts, to use image please contact the webmaster at michelle@sparklesnsprouts.com
Pin this now so you don't lose the recipe!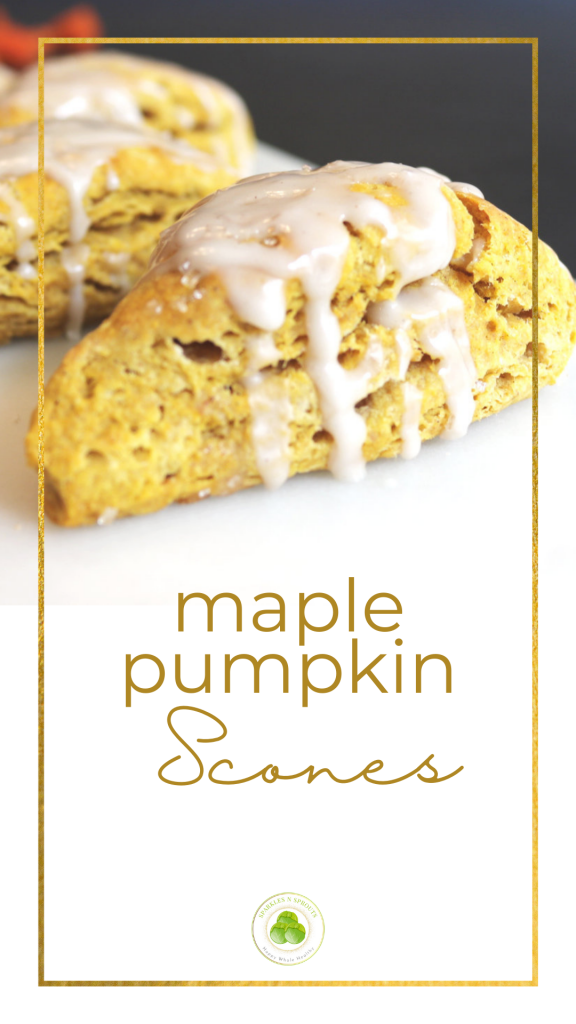 Follow us so you never miss a thing!