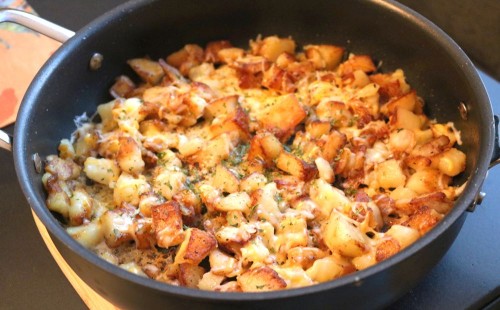 Busy weeks mean quick dinners are a must and this one pan cheesy potato dish is a perfect side.  Yep cheesy potatoes all made in one pan, and done in less time than it takes to bake some chicken.

Lets talk potatoes
Do you walk into the potato area of your grocery store and your head starts spinning at all the options?  I know mine has before.  Which one works best for baking, for roasting for pan frying?
I found this chart not too long ago and I think it is so helpful when deciding which potato you should choose.  Potatoes are not just for baking anymore, but some potatoes are not great grilled or roasted.  This chart will help you find the best options for all your recipes.

Building the flavor…
I love one pan dishes…don't you?  It is so nice to come home from a  busy day and all you have to do is take the meat out of the slow cooker (like these slow cooker pork chops) and then whip up a quick side that everyone is going to love.
The key to one pan dishes is to build flavor in each step and this dish starts with onions.  I let them get really browned and then I add in the garlic, letting it cook until I can smell it.  This will give the potatoes a great base of flavor.
After the onions and garlic have softened the potatoes go in with all the great seasonings.  Another key to this dish is to season and then season again. Potatoes really sick up seasoning and you may need a little more then you think.  For this dish I kept it pretty simple with salt, pepper and chili powder but you could change it up to make it perfect for your family.  You could add in some cumin, dried herbs, season salt…really whatever you would like.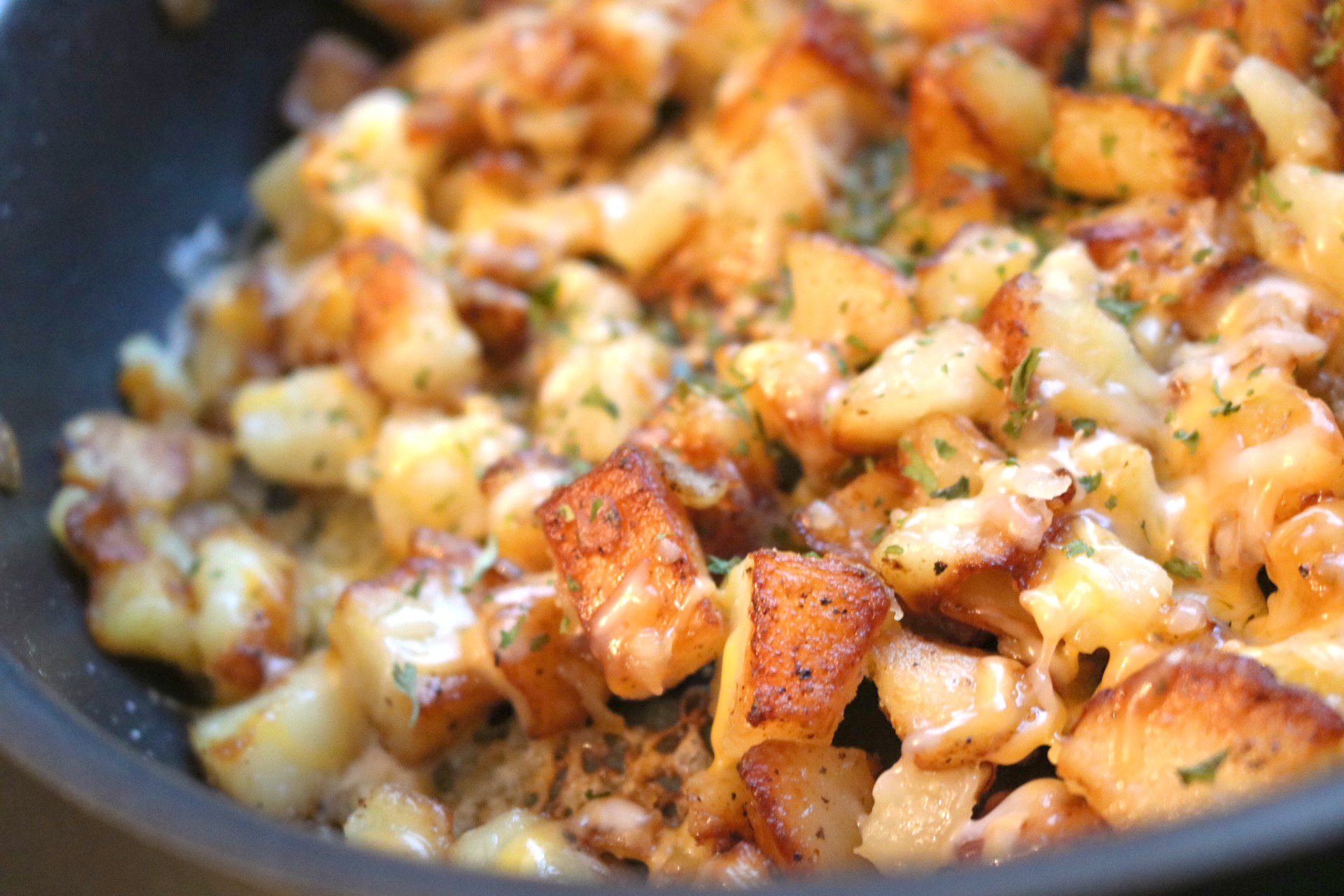 Crispy & Cheesy
Once you add the potatoes to the pan you have to find some patience.  I don't know about you but sometimes my patience leave me in the kitchen, especially when something smells as good as they potatoes do, but you have to have some for this dish to be great.
The key is to let the potatoes sit and get a nice crust on the first side.  This will give you the bit of crisp that makes these potatoes so good.  Once they are browned and crispy on the first side you can flip them and continue cooking until they are tender.  The smaller you chopped them in the beginning the less time they will take to cook.
Once they are tender and golden brown you sprinkle on the cheese and let it melt and then you are ready to dig in.
Serve with chives, fresh parsley, bacon, sour cream or on their own…just know you will probably not have any leftovers.  They are so, so good!
Bring on the cheesy goodness….
MJ
8 servings
Cheesy Skillet Potatoes
Crispy skillet potatoes seasoned to perfection and topped with cheese making them a perfect side everyone is sure to love
10 minPrep Time
30 minCook Time
45 minTotal Time
Ingredients
4-6 potatoes (I used white potatoes...see chart for additional options for pan frying)
2 tablespoons vegetable oil, divided
1 large onion, chopped
3 cloves garlic minced
2 teaspoons salt
2 teaspoons black pepper
1 teaspoon chili powder
1 cup, shredded Mexican Blend or Cheddar Cheese
1 tablespoon parsley or chives, chopped
Optional Toppings:
Sour cream
Bacon
Green onions
Directions
Wash and scrub potatoes, pat dry with paper towel and cut into 1/2 inch cubes, set aside
In a large skillet heat 1 tablespoon oil over medium high heat
Add in onion and cooker 3-4 minutes, or until they begin to soften
Stir in garlic and cook for another minutes, stirring often
Add in remaining oil and stir in potatoes
Sprinkle salt, pepper and chili powder over potatoes and cook for 15-20 minutes, stirring often until potatoes are tender and browned
Sprinkle cheese over potatoes and cook until cheese is melted
Top with parsley or chives
Serve & ENJOY!!
Notes
Each serving is 8 WW Smart Points
Nutritional Info
Calories 242 - Calories from Fat 72 - Total Fat 8 g - Saturated Fat 3.4 g - Monounsaturated Fat 2.8 g - Polyunsaturated Fat 1.8 g - Trans Fat 0 g - Cholesterol 14 g - Sodium 684 mg - Potassium 837 mg - Total Carbohydrate 35 g - Dietary Fiber 4 g - Sugars 2 g - Protein 7 g
Vitamin A 6 % - Vitamin C 63 % - Calcium 13 % - Iron 6 %
7.8.1.2
255
https://sparklesnsprouts.com/2016/11/05/one-pan-cheesy-goodness/
All images are the property of Sparkles n Sprouts, to use image please contact the webmaster at michelle@sparklesnsprouts.com
Don't let the business of the week to keep you out of the kitchen…trust me you can still have a delicious dinner in no time.  The family will be LOVE you for it.

Make today sparkle – MJ