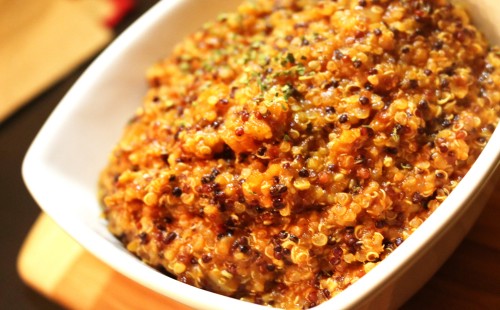 Quinoa is a favorite with me.  I always try to find ways to get it into the menu at least once a week.  I mean not only is quinoa super "in" right now, but it is also loaded with tons of good stuff for you.  I mean it is naturally gluten free, it is packed with protein and it is considered a superfood…I mean anything that is a superfood has to be AMAZING!  I just love the word superfood…it kinda makes me feel like I have some superpowers.
I have used quinoa in several ways such as this quinoa enchilada casserole or this quinoa chili (yes I put quinoa in chili…it was AMAZING!) or these amazing quinoa broccoli bites.  Quinoa really has become on of my favorite healthier ingredients and I love using it in almost anything.
MJ
4 servings
Spanish Quinoa
Taking a favorite mexican inspired side dish and making it a little healthier without anyone knowing...trust me this is a quinoa dish everyone is sure to love
5 minPrep Time
25 minCook Time
30 minTotal Time
Ingredients
1 cup quinoa
1 tsp extra virgin olive oil
1 onion, chopped finely
2 garlic cloves, minced
1 tsp salt
1 tsp pepper
1 tsp cumin
1 tbsp chili powder
1 tso dried cilantro
1 cup tomato sauce, divided
1 1/2 cups chicken stock
Directions
Rinse quinoa under cold water in a fine mesh strainer and let sit for a few minutes to dry out
In a medium saucepan heat olive oil over medium heat
Add in onion and cook until softened, about 4-5 minutes
Add in garlic and cook for an additional 1-2 minutes or until fragrant
Stir in rinsed quinoa and cook for about 3-4 minutes, stirring often to let quinoa toast a little and to keep garlic from burning
Stir in salt, pepper, cumin, chili powder, cilantro, 1/2 cup tomato sauce & chicken stock
Bring to a boil
Reduce heat to a simmer and cover pot
Let cook for 20-25 minutes or until liquid is absorbed and quinoa is tender
Stir in remaining tomato sauce and let cook for an additional 2 minutes or until quinoa is thick and tomato sauce is combined
Taste and adjust seasoning as needed
Serve immediately with fresh cilantro if desired
ENJOY!
Notes
Each serving (about 1 cup) is 6 WW Smart Points:
Nutritional Info Calories 207 Calories from Fat 41 Total Fat 4.6g Saturated Fat 0.6g Cholesterol 0mg Sodium 1212mg Potassium 546mg Total Carbohydrates 35.5g Dietary Fiber 5.4g Sugars 4.2g Protein 7.8g Vitamin A 16% - Vitamin C 13% Calcium 6% - Iron 19% Nutrition Grade A
7.8.1.2
79
https://sparklesnsprouts.com/2016/03/01/mexican-quinoa/
All images are the property of Sparkles n Sprouts, to use image please contact the webmaster at michelle@sparklesnsprouts.com
If you have spent much time here in Half Baked Land you know that I love mexican food, but sometimes it can be not so healthy so I have been on a quest to find some healthier options for Taco night or to go with my favorite enchiladas to where I don't feel quite so guilty after indulging a little.  Now rice in general is not too bad for you but why not make it great for you, while still enjoying all the great flavors of your favorite side.  When you combine quinoa with tomato sauce and all the amazing spices it really does transform into a delicious side that is perfect for your favorite mexican dishes.  Even better this is a great way to get quinoa on the menu without the kids (or even some adults) knowing.  
You can also use this quinoa dish with your favorite baked fish or as a side for cajun lime chicken…it reheats great so make a big batch and you can have it for another meal later in the week.  However you decide to use it, trust me you will LOVE it and maybe even gain some superpowers in the process.  
Make everyday sparkle – MJ