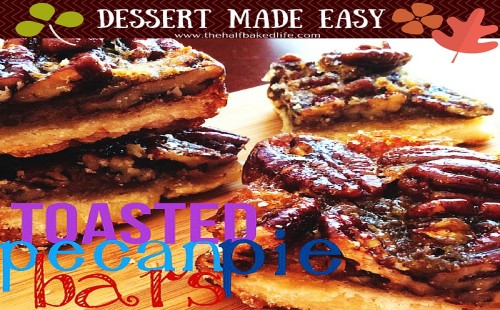 Dessert made easy (as pecan pie)
** Making pie can be so intimidating but with these bars are the best of a favorite pie without all the pie crust and intimation factor…love desserts like this!!
Growing up my sweet MeeMaw made the best pecan pie.  The crust was flaky and buttery while the filling was sweet and gooey…the only problem was I could not stand the pecans.  Being the best MeeMaw in the world she started making us kids a pecan pie without the pecans each time she would make a normal pecan pie.  It was so good and so perfect without those pesky pecans messing everything up. 
Well as I grew up I started to appreciate the pecan more and more, and now I actually love them.   Recently I was at a local store and they had pecans so I grabbed a big bag and started dreaming about all the things I could do with them…and pecan pie bars were on the top of my list.  I love these bars because they have a buttery shortbread crust with a ooey, gooey filling and pecans on top, but not just plain 'ole pecans I decided to toast them first. I know my MeeMaw would love these!!
MJ
24 servings
Toasted Pecan Pie Bars
These bars take pecan pie to the next level with toasted pecans on top and a buttery shortbread crust
15 minPrep Time
45 minCook Time
1 hrTotal Time
Ingredients
For the Shortbread Crust:
1 cup butter, softened
2 cups flour
1/2 cup powder sugar
For the Filling:
1 cup pecan halves
3 eggs
1/2 cup brown sugar
1 cup light corn syrup
1/2 tsp salt
2 tsp vanilla
1/4 cup butter, melted
Directions
Preheat oven to 350
Line a 9x13 pan with parchment paper, set aside
Make the crust:
In the bowl of a stand mixer combine butter, flour and powder sugar until well combined
Spread shortbread into bottom of the prepared pan, using your fingers to get it even
Bake for 15 minutes
To make the filling:
Line a small rimmed baking sheet with parchment paper
Spread pecan halves onto pan, place in oven while crust is baking, and bake for 10 minutes or until pecans are fragrant, making sure they do not burn, remove and set aside
In a medium bowl whisk together eggs and brown sugar until well combined
Add in corn syrup, salt, vanilla and melted butter, whisking until well combined
Stir in toasted pecans
Pour filling over baked crust
Return to oven and bake for another 25-30 minutes, or until the center is set
Remove from oven and let cool for at least 1 hour before cutting
Store in refrigerator if not serving the same day
ENJOY!!
Notes
Each square is 5 WW+ points:
Nutritional Info Calories 194 Calories from Fat 124 Total Fat 13.8g Saturated Fat 4.9g Cholesterol 31mg Sodium 83mg Potassium 58mg Total Carbohydrates 16.9g Dietary Fiber 1.2g Sugars 6.3g Protein 2.3g Vitamin A 4% - Vitamin C 0% - Calcium 1% - Iron 4% Nutrition Grade D
7.8.1.2
133
https://sparklesnsprouts.com/2015/11/19/pecan-pie-bars-2/
All images are the property of Sparkles n Sprouts, to use image please contact the webmaster at michelle@sparklesnsprouts.com
I love toasted nuts of any kind really, but I especially love toasted pecans.  I have toasted them on the stovetop and in the oven both, they both work great, it just depends on what you feel most comfortable with.  Just make sure that you keep an eye on them as you are toasting them so they don't burn.
These bars are perfect for any get together you may have coming up, I recently made them for a Premier Jewelry Party for my mother-in-law and they were a huge hit.  I also plan to make these for Thanksgiving this year as well, I know pecan pie may be the more traditional route but trust me once you taste these bars you might just change your mind.
Get nutty with these Toasted Pecan Pie Bars…trust me they will become a favorite for sure!!
Make everyday sparkle – MJ