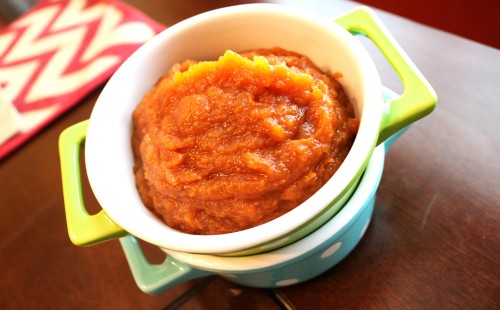 a little punkin butter fun
OK it is no secret that I LOVE pumpkin anything and everything…I love pumpkin pie, pumpkin muffins, pumpkin cookies, pumpkin pasta, but I especially LOVE pumpkin butter.
My obsession with pumpkin butter started several years ago on a quick trip to Williams Sonoma to pick-up some kitchen towels (they are he only towels I use) and I was asked to try their pumpkin butter. I, of course, agreed immediately and gobbled up (yes it was like a gobble…it was pumpkin people) and I was instantly in love. It was so pumpkiny (that is is a word in my world) with a perfect hint of spice and then the bite of pecans making it even more perfect. So for years I have been making my trek to williams sonoma each year to buy jars and jars of this amazing punkin treat until this year. This year I decided was the year I was going to make my own punkin butter.
I decided the easiest way to whip up this delicious treat would be with the slow cooker and after adding a few ingredients (and a few more to finish it out) I had all of a sudden created a delicious rich and creamy pumpkin spread that is sweet with a little hint of spice in each bite…I did leave out the pecan though as The Hubby is not a fan if this little nut.
I use this amazing little treat to spread on anything and everything but my favorite is on fresh baked biscuits or spread on some pound cake that has maybe been toasted or fried up in a skillet with some melted butter…yes I just said extra butter…trust me you need to try it….you will be so happy you did.
MJ
32 servings
Slow Cooke Pumpkin Butter
Pumpkin butter made in a slow cooker, bringing all the best Fall has to offer into this delicious spread
5 minPrep Time
3 hrCook Time
3 hr, 5 Total Time
Ingredients
4 cups pumpkin puree
1 cup sugar
2 cups brown sugar
1 tbsp pumpkin pie spice
1 tsp salt
1 tsp pepper
3 tbsp maple syrup
Directions
Combine pumpkin puree, sugars, pumpkin pie spice, salt & pepper until smooth in a slow cooker
Cook on low for 2-3 hours, stirring every 30 minutes, to keep mixture from burning
When mixture is thickened and cooked down some stir in maple syrup and place into glass jars to let cool completely
Serve & ENJOY on EVERYTHING!!!
Notes
Each serving (about 2 Tbsp) is 2 WW+ points:
Nutritional Info Calories 74 Calories from Fat 1 Total Fat 0.1g Cholesterol 0mg Sodium 4mg Potassium 80mg Total Carbohydrates 19.0g Dietary Fiber 0.9g Sugars 17.2g Protein 0.4g Vitamin A 95% Vitamin C 2% Calcium 2% Iron 3% Nutrition Grade A
7.8.1.2
132
https://sparklesnsprouts.com/2015/11/21/pumpkin-butter/
All images are the property of Sparkles n Sprouts, to use image please contact the webmaster at michelle@sparklesnsprouts.com
Ok sorry back to the pumpkin butter…so my secret ingredient is a little black pepper. Ok now I know you are probably thinking she has really lost her mind but just go with it for a second. The added bite from the pepper really helps cut through the very sweet spread and helps to create a very balanced spread that is both sweet and spicy.
This pumpkin butter is not only perfect for Thanksgiving week (and yes it is most definitely a must have for Thanksgiving) but this is also AMAZING for any other day of the year…it is just that good!
Make everyday sparkle – MJ