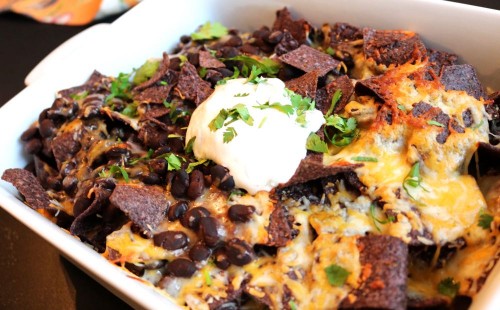 I LOVE NACHOS!  There you go, I admit it.  They are one of my favorite items to order and make when I am craving tex-mex.
Now a nacho is not just a nacho, there are tons of varieties of nachos you can have but this one is a favorite for sure.
meat or NO meat?
Now if you were to ask The Hubby he would say meat, and his choice would be seasoned ground beef.  Honey (my mom) would say meat, and her choice would be beef fajita meat.  My nephew is a no meat kinda toddler, and me…well I am up for any of the above.
One of my favorite ways to use leftover steak is to make nachos with it.  I cut the meat into thin strips and then lay it on top of the individual chips and then top it with cheese and broil it in the oven.  Sometimes I might add some refried beans, or mashed up black beans.  You can also use leftover chicken breasts or ground taco meat the same way.
That's one of the best things about nachos you can make them however you want!
baked not broiled?
Baked, really?  Yes, most of the time I do broil my nachos, but I got inspired one day when watching The Chew.  Carla Hall was doing baked nachos.  They were cheesy, layered goodness and all made in the oven…and that got me thinking.  I could bring together all my favorites, and my families favorites, for a delicious baked nacho appetizer for a family dinner I had coming up.
layering it all up…
To make these nachos perfect for the whole family I decided to use a combo of cheeses.  Half cheddar cheese, half monkery jack cheese was on the menu this time.  You could use pepper jack for a little extra kick , or a mexican blend for a perfect blend of melty cheese.
Now on the chew Carla did use any beans (at least I don't remember any) but for my family I wanted to for sure.  I decided on black beans.  I am a HUGE fan of black beans.  I feel that add a bit of creaminess and richness without all the added calories of refried beans.  And even better all you have to do is drain & rinse them, then throw them onto the chips….can it get any easier?
You could use refried beans if you would like or not use any…again you can make nachos any way you want.
break out the chips & cheese…
MJ (adapted from The Chew)
8 servings

Baked Nachos

Quick, easy and delicious nachos...a perfect way to celebrate the weekend and SUMMER!!

5 minPrep Time

15 minCook Time

25 minTotal Time

Ingredients

1 bag (7-1/2 oz) tortilla chips

1 can (15 oz) black beans, drained and rinsed

1 cup, shredded cheddar cheese

1 cup, shredded monterey jack cheese

Directions

Preheat oven to 400

Spray a 9x13 pan with nonstick spray

Spread half of the chips on the bottom of the pan

Spoon 1/2 of the beans over the chips

Sprinkle 1/2 of the cheese over beans

Repeat with remaining chips, beans and cheese

Cover with aluminum foil and place into over for 5-10 minutes, or until cheese is melted

Remove foil and let bake for 5 more minutes or until cheese is starting to brown

Remove and let sit for 5 minutes

Top with Cilantro Lime Cream, sour cream or ay additional toppings you prefer

ENJOY!!

Notes

Each serving is 10 WW Smart Points

Nutritional Info

Calories 284 - Calories from Fat 144 - Total Fat 16 g - Saturated Fat 7.3 g - Monounsaturated Fat 6.8 g - Polyunsaturated Fat 1.2 g - Trans Fat 0 g - Cholesterol 29 g - Sodium 488 mg - Potassium 80 mg - Total Carbohydrate 24 g - Dietary Fiber 4 g - Sugars 0 g - Protein 11 g Vitamin A 6 % - Vitamin C 0 % - Calcium 24 % - Iron 0 %

7.8.1.2

168

https://sparklesnsprouts.com/2016/07/08/baked-nachos/

All images are the property of Sparkles n Sprouts, to use image please contact the webmaster at michelle@sparklesnsprouts.com
chips make the nachos…
Now you can use whatever chips you prefer but I used blue corn chips.  These are hands down my favorite tortilla chips for sure.  They get super crispy when you broil or bake them and they hold together even under the weight of all the melty cheese and beans!
Make this weekend something special with these super easy, but CRAZY delicious baked nachos.  They can come together in no time and are a perfect treat, even better make them exactly how you want so they are perfect for your family!

Make today (& this weekend) sparkle with these baked nachos – MJ