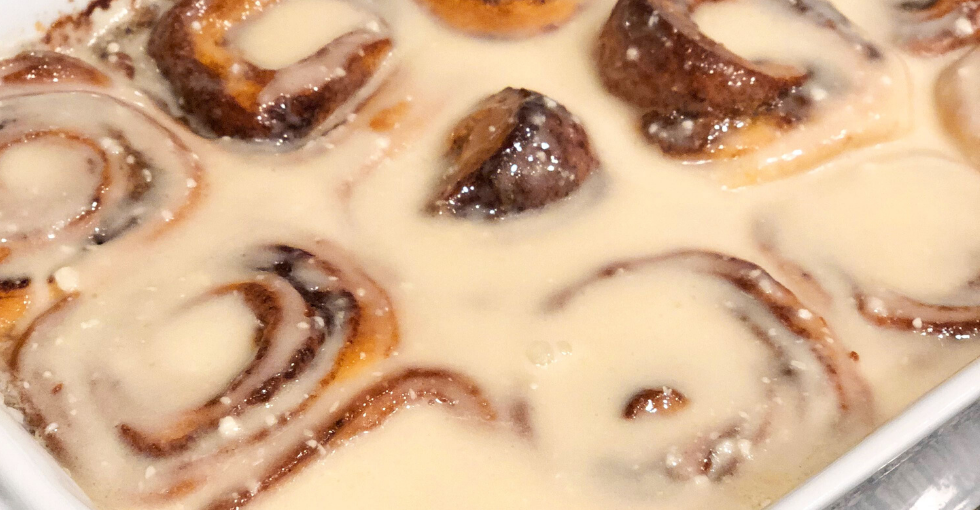 Christmas is just around the corner and I think I am going to have to make these again. Don't be scared…you can do this.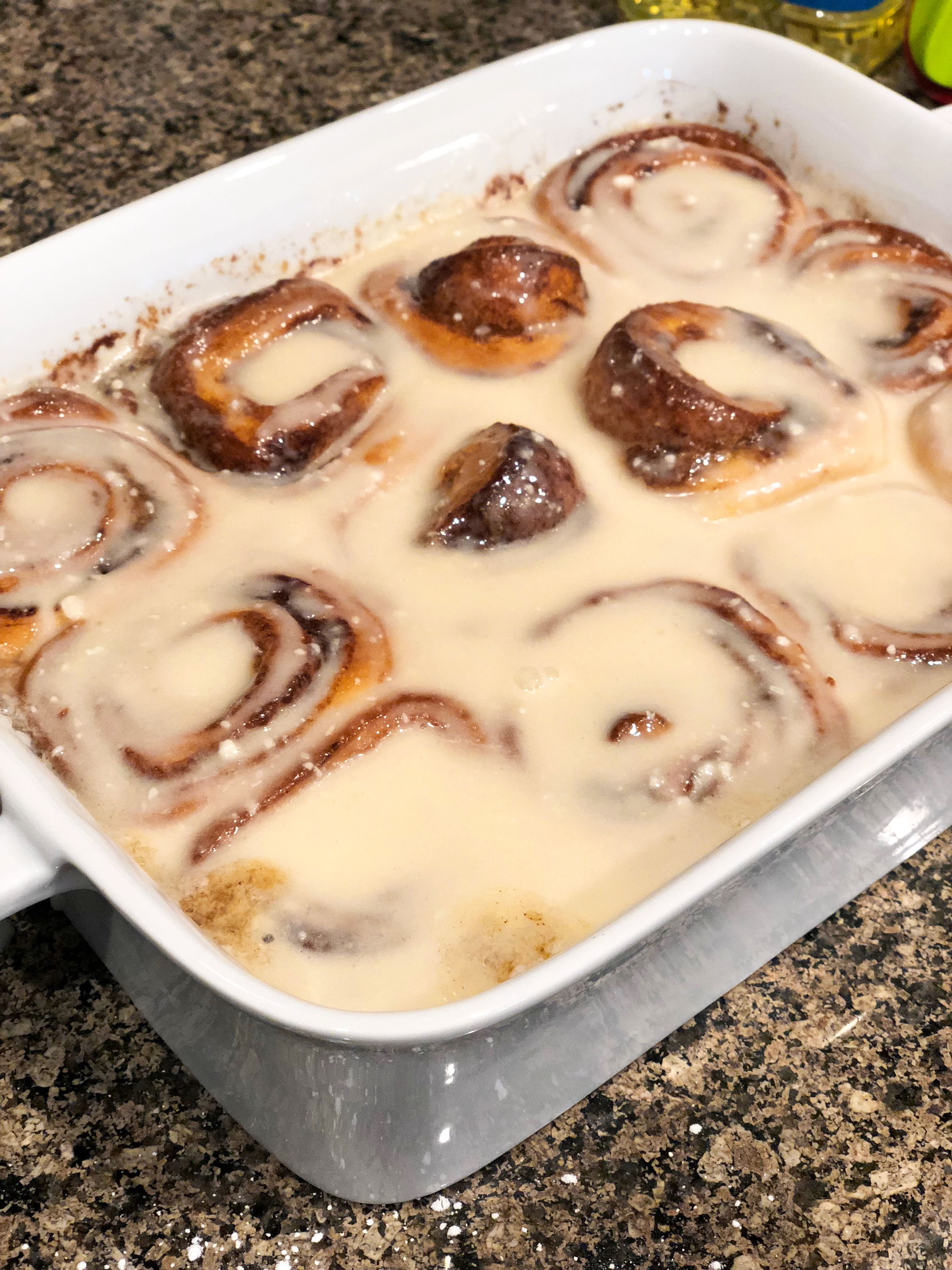 It is all about Christmas patience
Homemade cinnamon rolls are 1000% better than the canned version, but beware you have to plan ahead. You need several hours (I started the process the night before) to let the dough proof and get ready to roll up into rolls.
SO what is proofing you ask? Proofing is when you let the dough rise. For this dough we are wanting it to rise, or proof, quite a bit. The goal is at least double from its original size.
Where do you proof? Anywhere that is a little warm. A lot of ovens have a proofing setting or you can place it in the laundry room with the dryer on. Anywhere that is not super cool.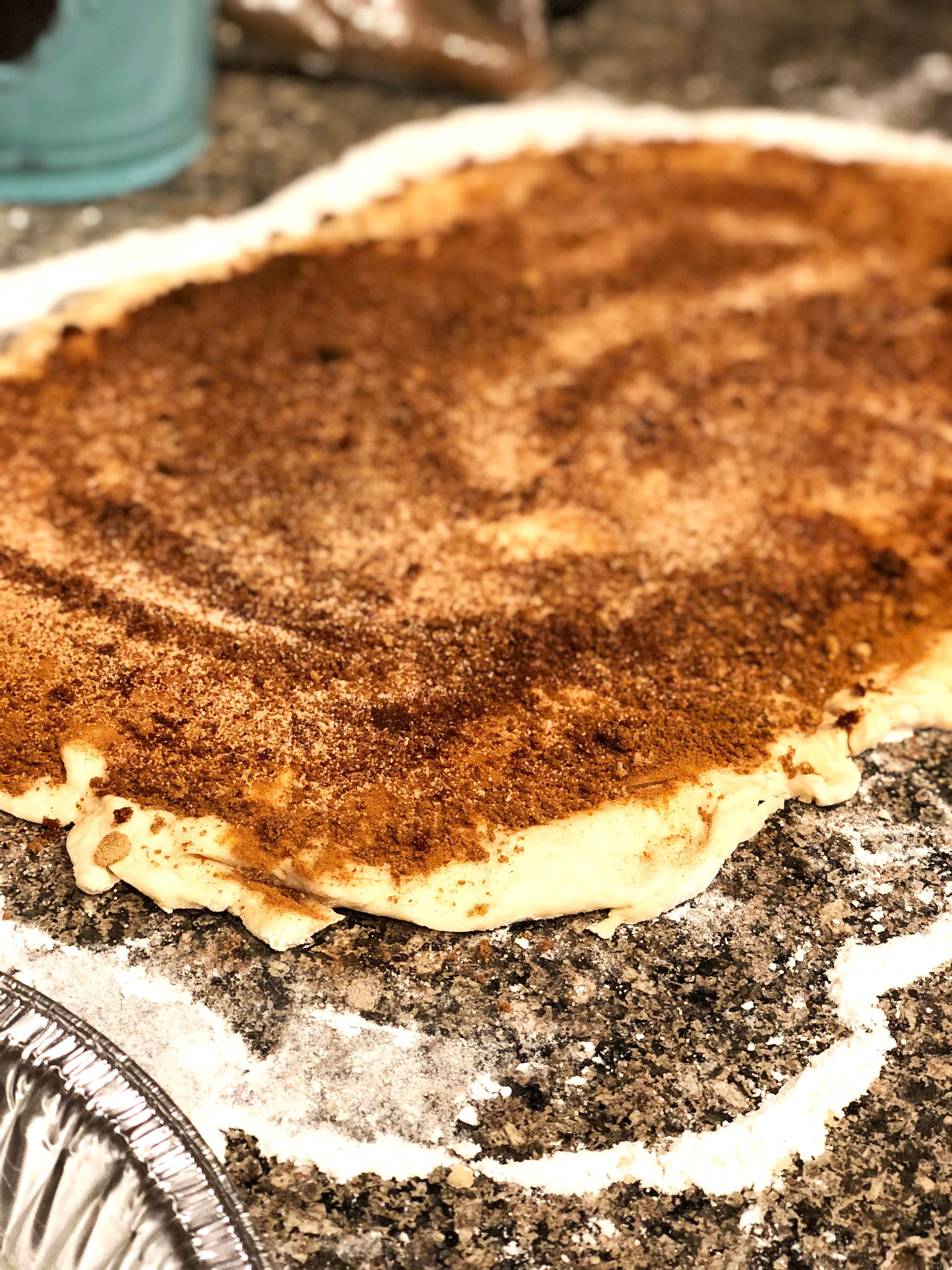 Roll it thin…as thin as you can
The trick to making these cinnamon rolls not only delicious but also pretty is to roll the dough as thin as you can. When you roll it thin not only does it make a larger rectangle (giving you more rolls) but it also gives you more space for the the super yummy filling.
Trust me the more better, sugar and cinnamon you can get into the rolls the better they will be…trust me they are AMAZING!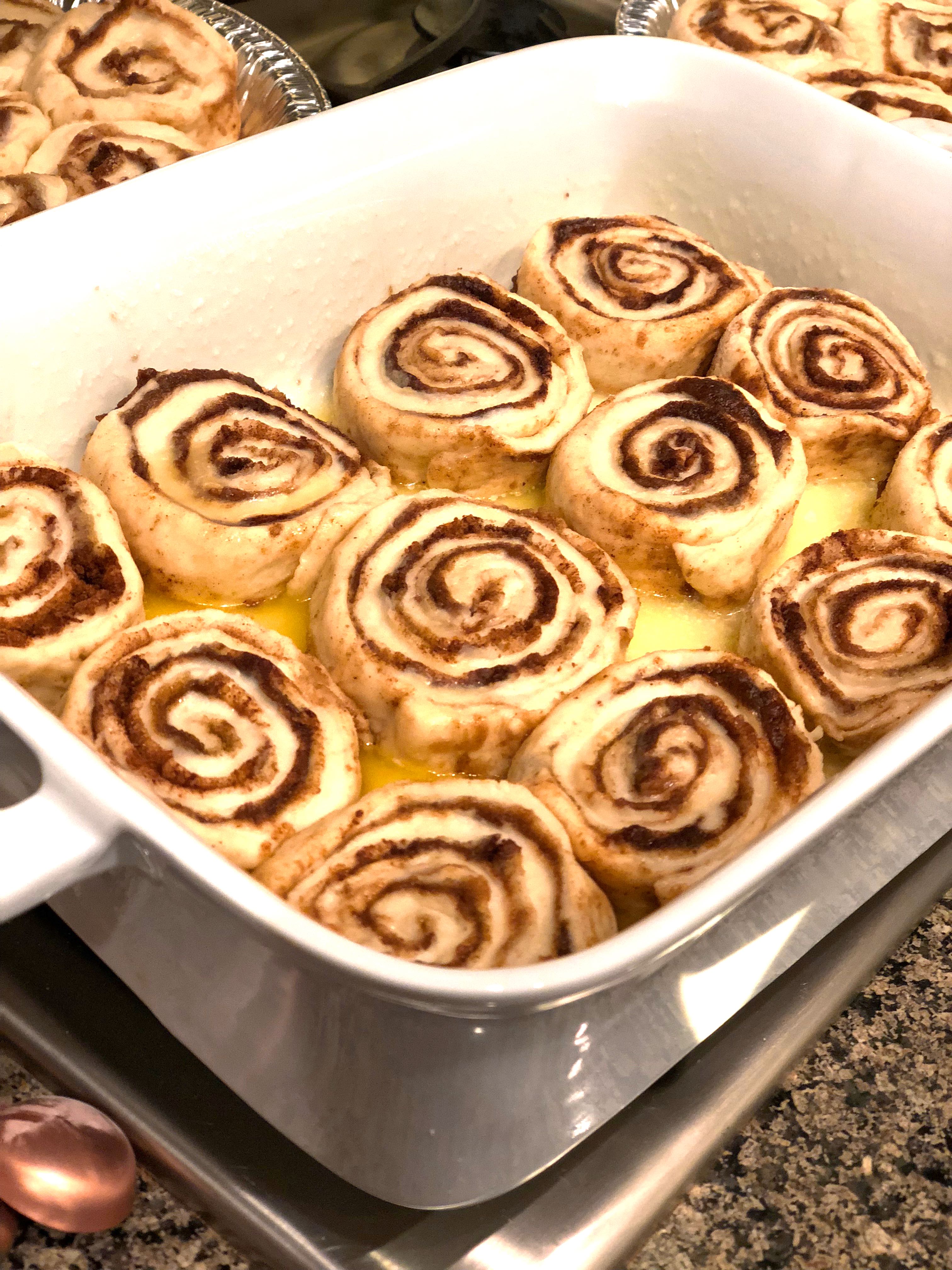 They are pretty too…
When you roll them up the swirl that is formed with all the yummy filling makes these some of the best looking cinnamon rolls I have ever seen. I try to roll them as tight as I can so there can be as many layers as possible.
The more layers the more yummy goodness there is to be had.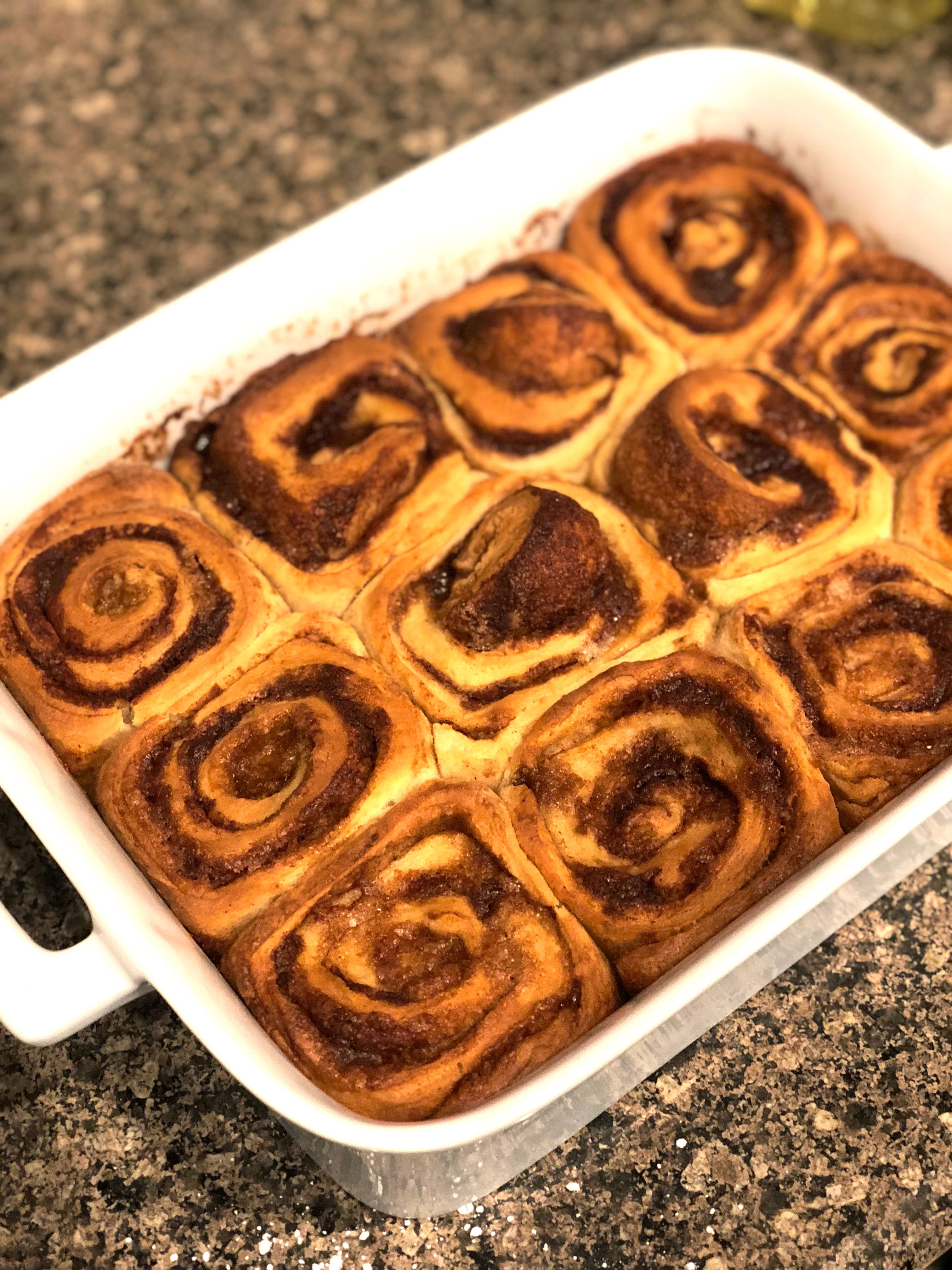 Break out the yeast, flour and cinnamon
Chelle Chelle (adapted from The Pioneer Woman
40-45 rolls
Homemade Cinnamon Rolls
Rich, gooey gooey, cinnamon rolls that are a perfect way to start any morning
3 hrPrep Time
16 minCook Time
3 hr, 16 Total Time
Ingredients
Dough
1 quart Whole Milk
1 cup Vegetable Oil
1 cup Sugar
1-2 teaspoons vanilla bean paste )or vanilla extract)
2 packages Dry Active Yeast (.25 ounce packets)
8 cups All-Purpose Flour (plus 1 cup reserved for later use)
1 heaping teaspoon Baking Powder
1 teaspoon Baking Soda
1 Tablespoon salt
Filling
1 1/2 - 2 cups melted Butter (plus 1/4 cup more for baking)
1 1/2 cups Sugar
1/2 - 3/4 cups Brown Sugar
Cinnamon to taste
Frosting
1 bag Powder Sugar
4 Tablespoons Cream Cheese
2 teaspoons maple syrup
1/2- 3/4 cup Whole Milk
1/2 cup melted Butter
1/2 cup warm coffee
Pinch of Salt
Directions
In a medium sauce pan heat milk, oil, sugar & vanilla over medium heat to just below a boil, stirring often
Remove from heat and let cool for 30-45 minutes
Once cooled, but still warm, sprinkle yeast over the top of the milk mixture
Let stand for 1 minute
Stir in 8 cups of flour, stirring until just combined
Cover with a clean kitchen towel and place in a fairly warm place
Let rest for 1 hour, or until dough has doubled in size
Once ready add in baking powder, baking soda & salt, stirring until combined
Place into a new clean bowl, cover with towel and place into refrigerator for at least 1 hour, but up to 3 days
Preheat oven to 375
Sprinkle flour onto a large flat surface
Place 1/2 of the dough onto surface
Roll into a large rectangle until dough is about 1/4 inch thick, or thinner if possible
Pour 3/4 - 1 cup melted butter over dough
Spinkle 3/4 cups sugar and 1/4 cup brown sugar over butter
Sprinkle cinnamon over the top, as heavily as you prefer
Starting with the side furthest from you begin to roll the dough as tightly as you can into a long log
The filling will spill out some, but trust me thats ok, that just means it is going to be extra yummy
When rolled up pinch the seam together
Cut into 1/2 inch slices (each log should give you 20-24 rolls)
Spread some additional melted butter into the pans (i used 4 small aluminum pie plates and 1 large casserole dish for all the rolls)
Cinnamon rolls into prepared pans (small pie pans hold 6-8 rolls) making sure to not over crowd
Set aside, covered with a clean towel, and let rest for 20-30 minutes
Repeat with remaining dough
When ready to bake remove towel and bake for 15-18 minutes, or until rolls are golden brown, making sure to not over bake
Remove and drizzle with frosting immediately
As the rolls are baking make the frosting
In the bowl of a stand mixer, or in a large bowl, slowly cream together powder sugar, cream cheese, maple syrup, milk, butter, coffee and salt until well combined
Taste and add in more sugar, maple syrup or milk as needed until desired consistency and taste is reached
Spread over rolls as soon as they come out of the oven
ENJOY!!
Notes
You can add in pecans or walnuts to the filling if you would like
7.8.1.2
395
https://sparklesnsprouts.com/2019/12/10/a-christmas-tradition/
All images are the property of Sparkles n Sprouts, to use image please contact the webmaster at michelle@sparklesnsprouts.com
The icing….
Now I know the icing is not your normal powder sugar recipe, there are a few additions to make this icing really something special. The addition of some maple syrup, cream cheese and coffee really takes these cinnamon rolls to the next level.
Trust me these will become your favorite morning treat. I have already been asked to make them for all the birthdays and holidays for next year. They really are that good!
PIN THIS NOW!