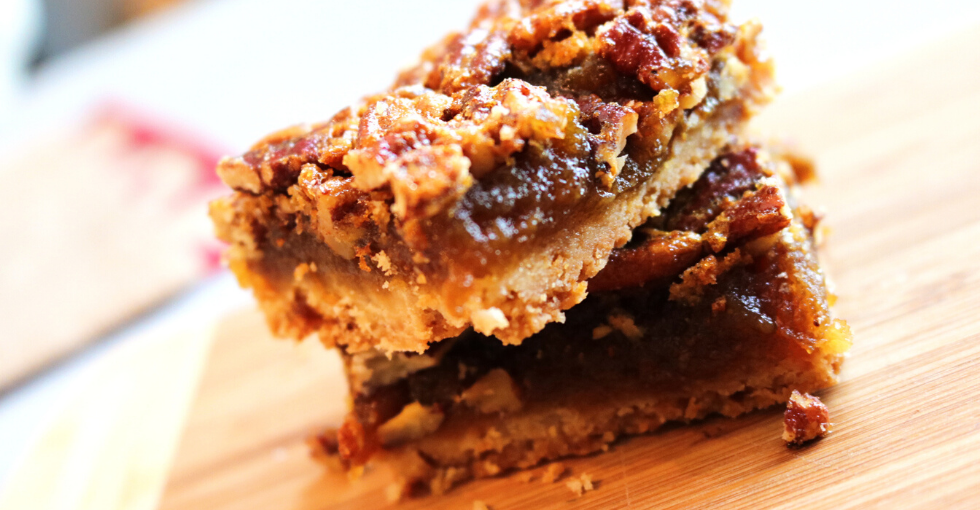 Toasted Pecan Bars are the ONLY Bar you need…
Toasted Pecan Pie Bars are seriously the ONLY bars you ever need to make. They are loaded with TONS of toasted pecans, a super gooey center and shortbread type crust that will make you smile. Trust me these need to be on your Holiday dessert table.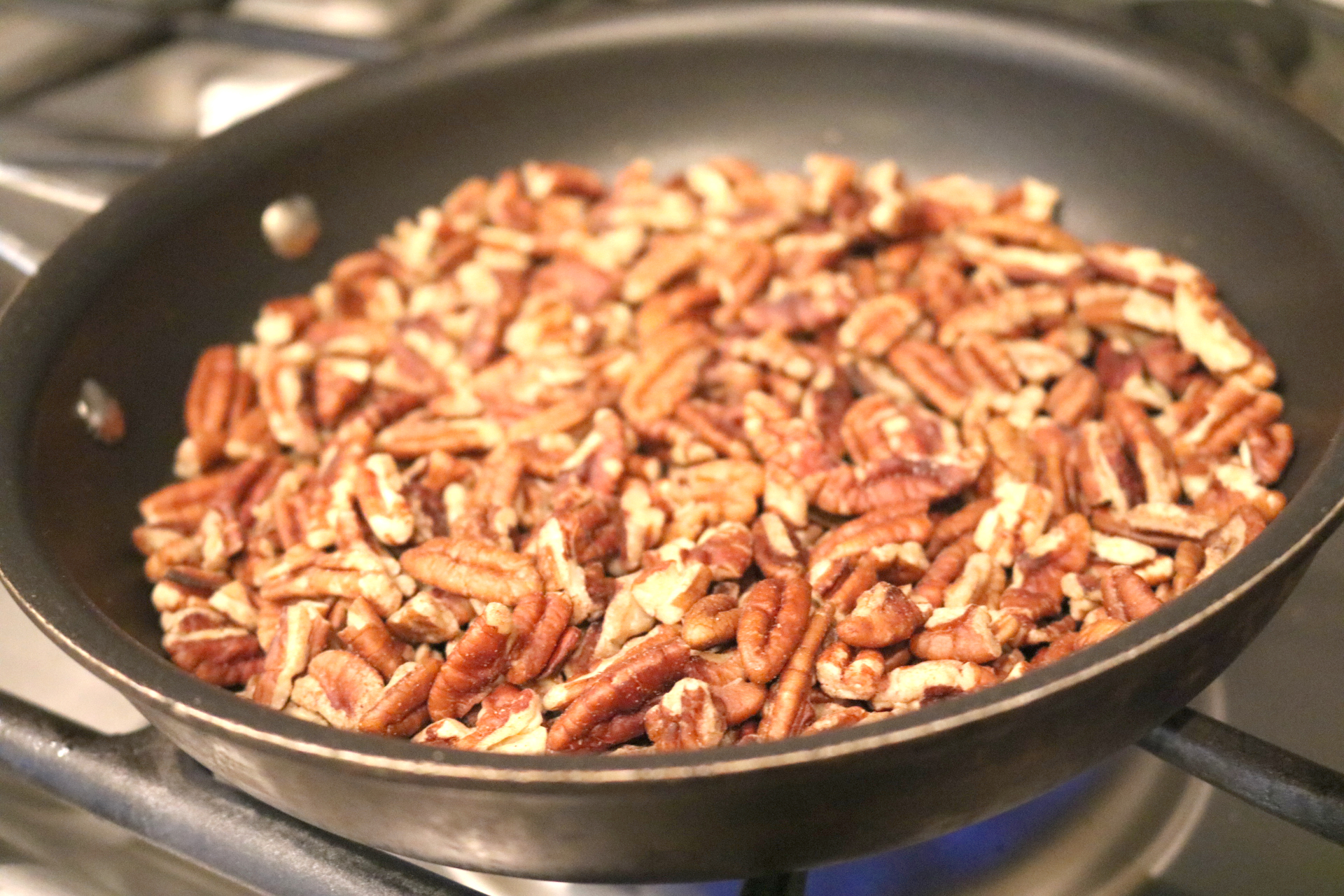 Toasting is KEY!
For me the key to these toasted pecan bars is toasting the pecans. There is just something so delicious about a toasted nut, in particular pecans. I love the extra depth of flavor it brings to a dish, especially when they are the star of the show.
I toast mine on the stovetop…if you wanted to toast them in the oven you could, just really watch them so they do not burn. To toast in the oven just spread them onto a sheet pan and place into a 375 degree oven and let them roast about 5-8 minutes, tossing them every couple to ensure they do not burn.
Oh the Filling (& Crust)
My favorite part of aa pecan pie is the filling. My MeeMaw and Mom would make me a pecan pie with no pecans for my birthdays and holidays…that is how much I love the filling. There is just something so wonderful about that ooey gooey filling that makes me so happy. The filling for the bars is very similar to a traditional pie filling, only it has a little additional flour in it to help firm it up a bit. The key is to not over bake the bars, the filling should jiggle a little.
The crust is a buttery shortbread crust that I AM IN LOVE WITH! It is a wonderful partner in crime to the filling. I also love this crust as it holds up well to be picked up and handled, more so than a traditional pie crust would.
MAKE THIS NOW!
MJ
30 bars
Pecan Pie Bars
Pecan Pie bars that are filled with a delicious filling and topped with toasty pecans with a shortbread crust...a perfect afternoon snack or Valentines treat
15 minPrep Time
1 hrCook Time
3 hrTotal Time
Ingredients
Shortbread Layer:
1 3/4 cup flour
1/2 cup sugar
3/4 cup butter, chilled & cut into cubes
Pecan Pie Layer:
3/4 cup brown sugar
1/3 cup flour
4 eggs
1 tbsp vanilla
1 tsp salt
1 1/2 cups corn syrup
Pecans:
2 cups chopped pecans
Directions
Preheat oven to 350
Line a 9x13 pan with parchment paper
In a medium bowl whisk together flour & sugar
Using your fingers, a pastry cutter, or a food processor cut butter into mixture until butter is size of peas and mixture is well combined
Press into the bottom of the prepared in an even layer
Bake for 20 minutes, or until edges just begin to brown
While crust is baking prepare pie layer
In a large bowl whisk together brown sugar and flour
Whisk in the eggs, vanilla, salt & corn syrup until mixture is well combined and no lumps remain
Let mixture stand for 10-15 minutes, allowing mixture to thicken
In a large skillet add in pecans and toast over medium high heat until pecans are fragrant and slightly browned
When shortbread is done, stir pecans into corn syrup mixture and pour onto shortbread
Place back into oven and cook for an additional 40-50 minutes or until edges are set but the center jiggles a little, like jelly
Let cool at room temperature for 30-45 minutes and then chill in the refrigerator for several hours or overnight before cutting
To cut use a serrated knife and saw through the top layer and then gently press down through the bar to cut completely
Serve & ENJOY!
Notes
Each bar is 6 WW+ points:
Nutritional Info Calories 202 Calories from Fat 94 Total Fat 10.5g Saturated Fat 3.6g Cholesterol 34mg Sodium 120mg Potassium 54mg Total Carbohydrates 26.4g Dietary Fiber 1.0g Sugars 11.3g Protein 2.5g Vitamin A 3% - Vitamin C 0% - Calcium 1% - Iron 4% Nutrition Grade D
7.8.1.2
106
https://sparklesnsprouts.com/2019/12/19/toasted-pecan-bars-are-the-only-bar-you-need/
All images are the property of Sparkles n Sprouts, to use image please contact the webmaster at michelle@sparklesnsprouts.com
Pin this NOW so you don't lose it