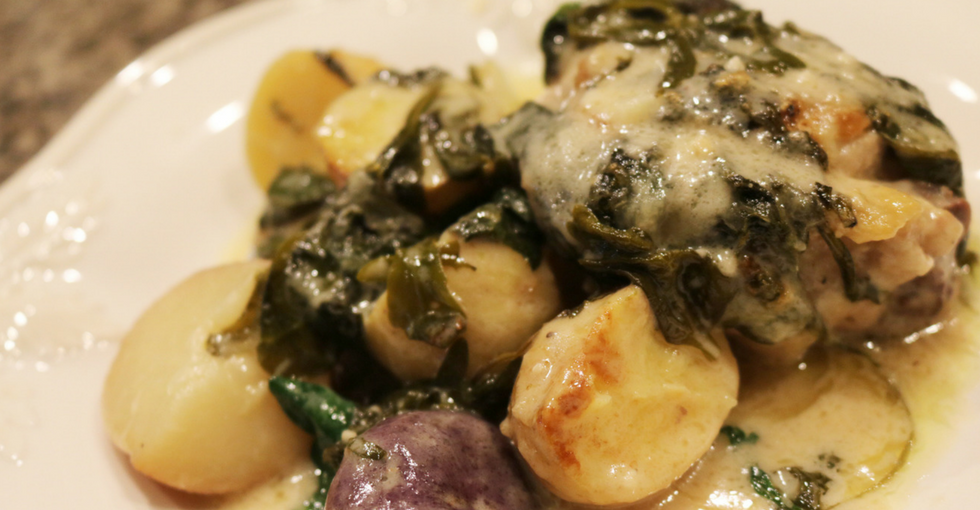 Creamy Garlic Chicken & Potato Bake
Happy Garlic Day! To celebrate I waned to share one of our new favorites…Creamy Garlic Chicken & Potato Bake. It is loaded with tons of flavor and comes together pretty quick too.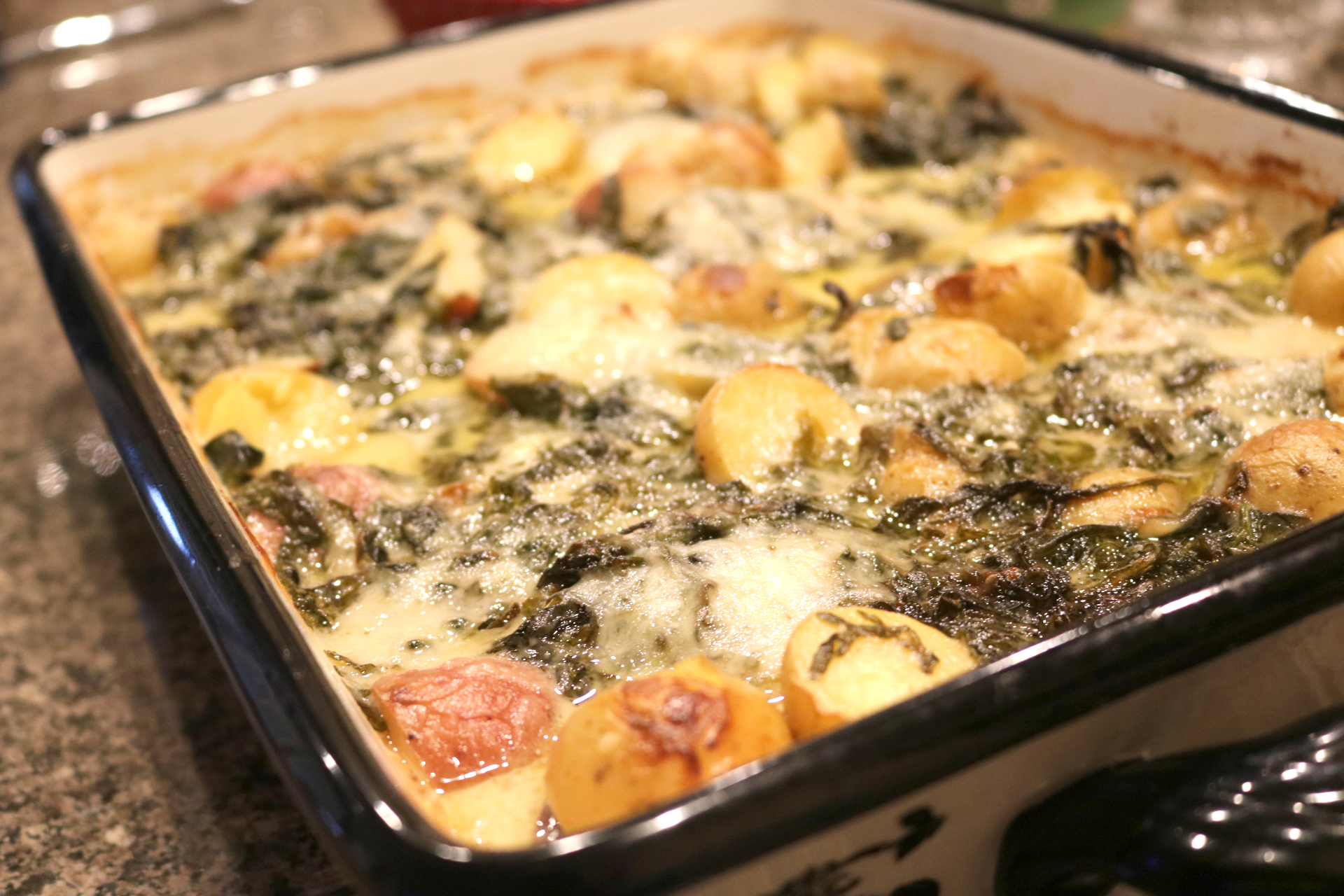 It just makes me happy…
I love a dinner that can all be prepared in a couple of pans and it is loaded with a ton of flavor. This dish is all that and more. It has super juicy chicken, tender potatoes and a little spinach (you know so it is healthy) and a rich garlic cream sauce making it SOOOOO good.
It really does have everything you need for a hearty dinner all in one pan.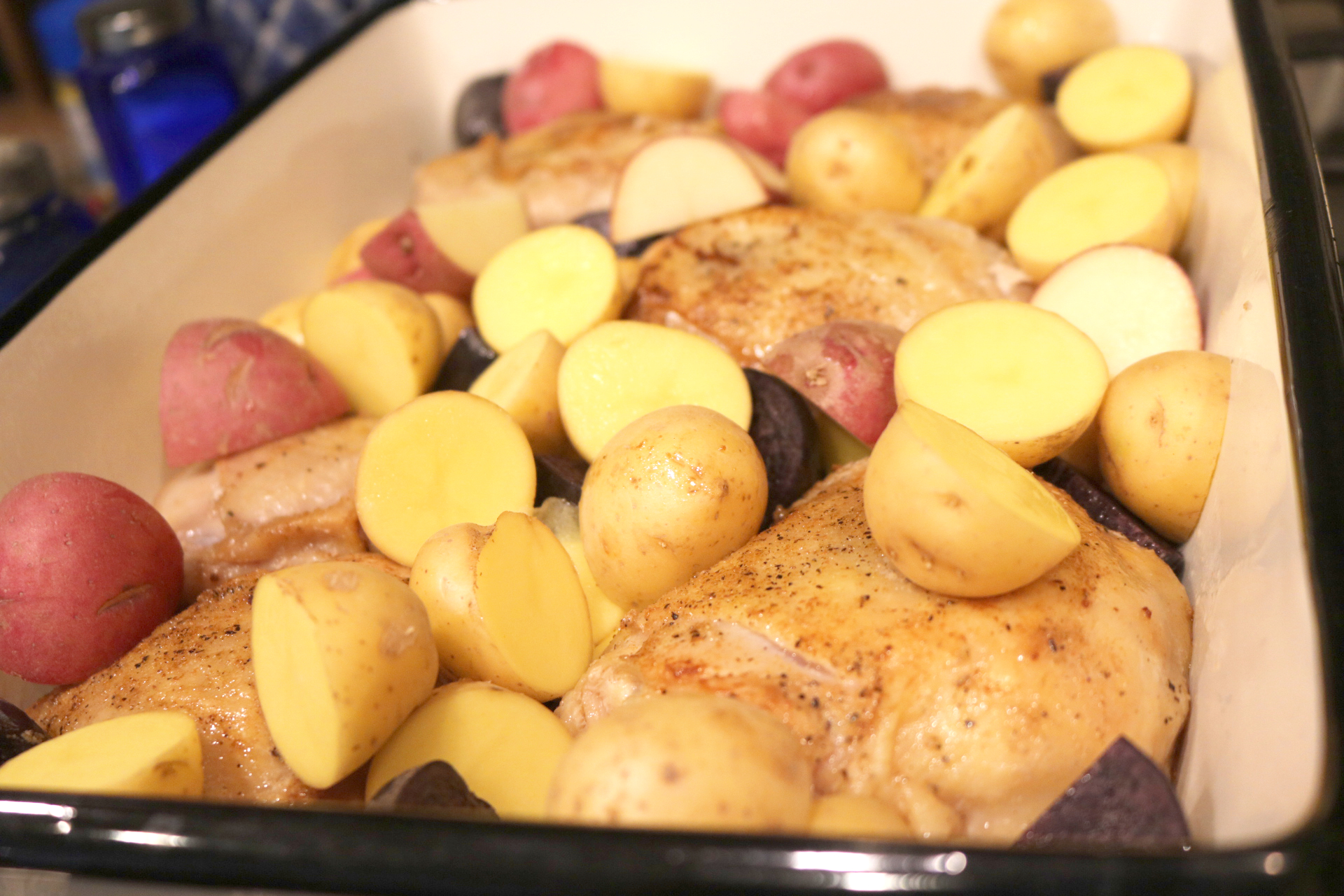 The Chicken … and the Potatoes
This time around I went with chicken thighs. I also chose to use skin on and bone in thighs. If you wanted to use boneless, skinless thighs or chicken breasts you could for sure.
If using boneless and skinless make sure to season a little more just to ensure there is enough. The skin and bones really add a ton of flavor as it cooks.
For the potatoes I went with a bag of the triple-color potatoes. I personally love a purple potato being thrown into the mix. Not only are they delicious but they are also just so pretty. You can use whatever variety you prefer…there are so many options.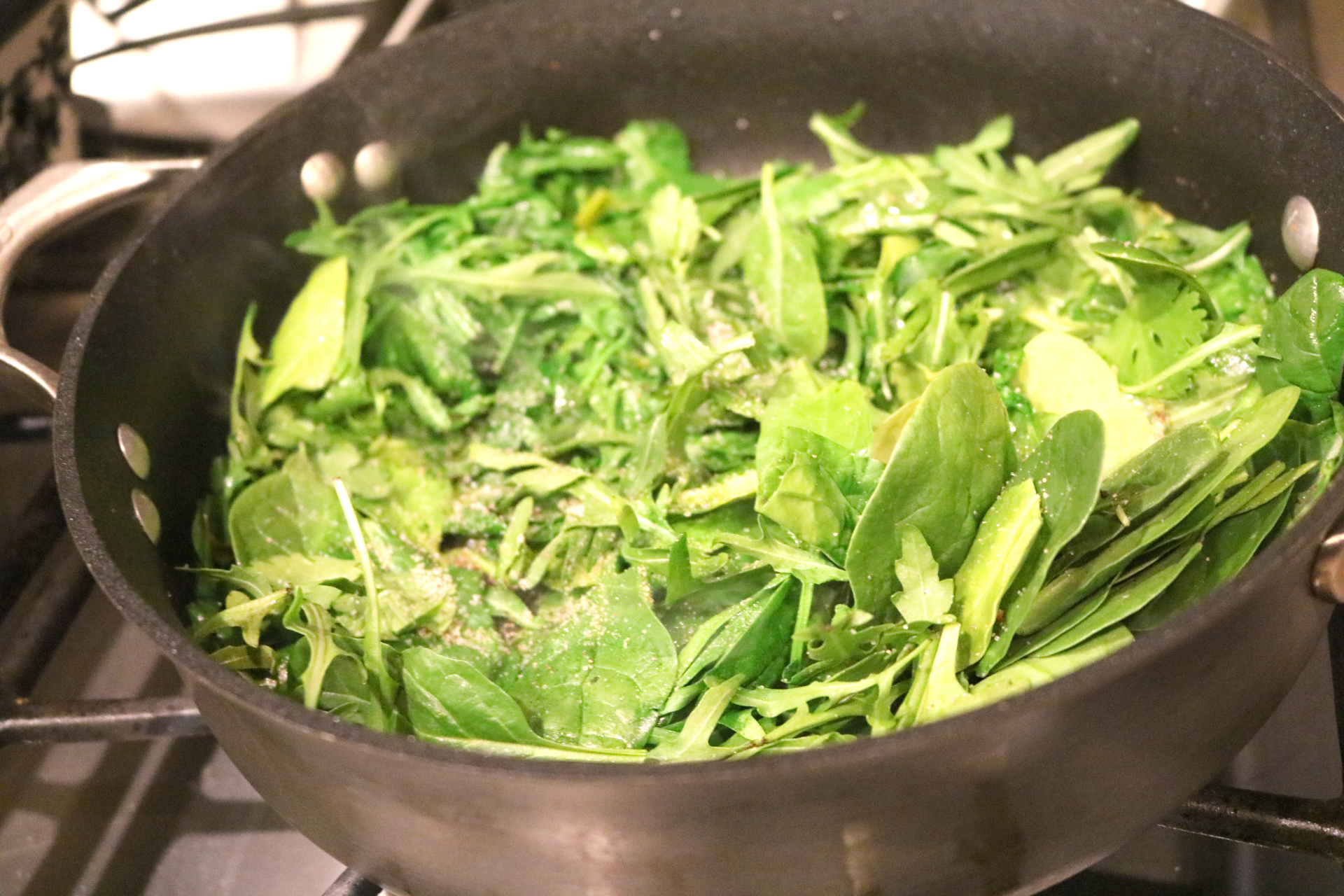 The Green Stuff
To make the dish "healthy", and yes I am using that very loosely, I added in some green stuff. I went with a combo of spinach and arugula and it was perfect. It was a little bitter, but it also had a little bite to it.
If you wanted to use all spinach you could. You could also throw in some kale if you wanted. Don't worry I won't tell anyone.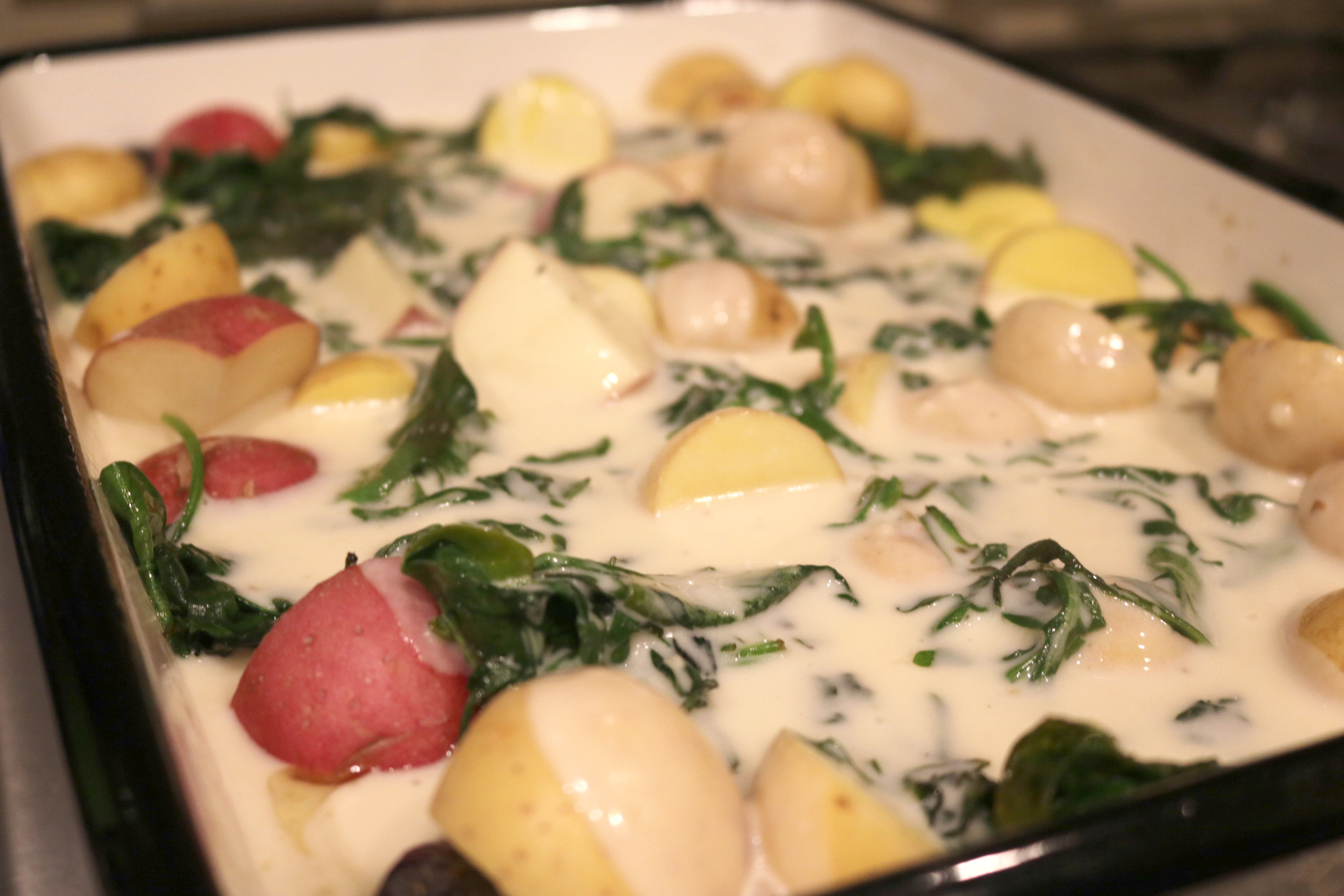 The Sauce…OH the Sauce
The garlic cream sauce is really what makes this whole dish come together. It is loaded with garlic, which I love. It is also rich and creamy and bakes down so nicely, all the while giving the chicken and potatoes a TON of flavor.
I used heavy cream but half & half would also work.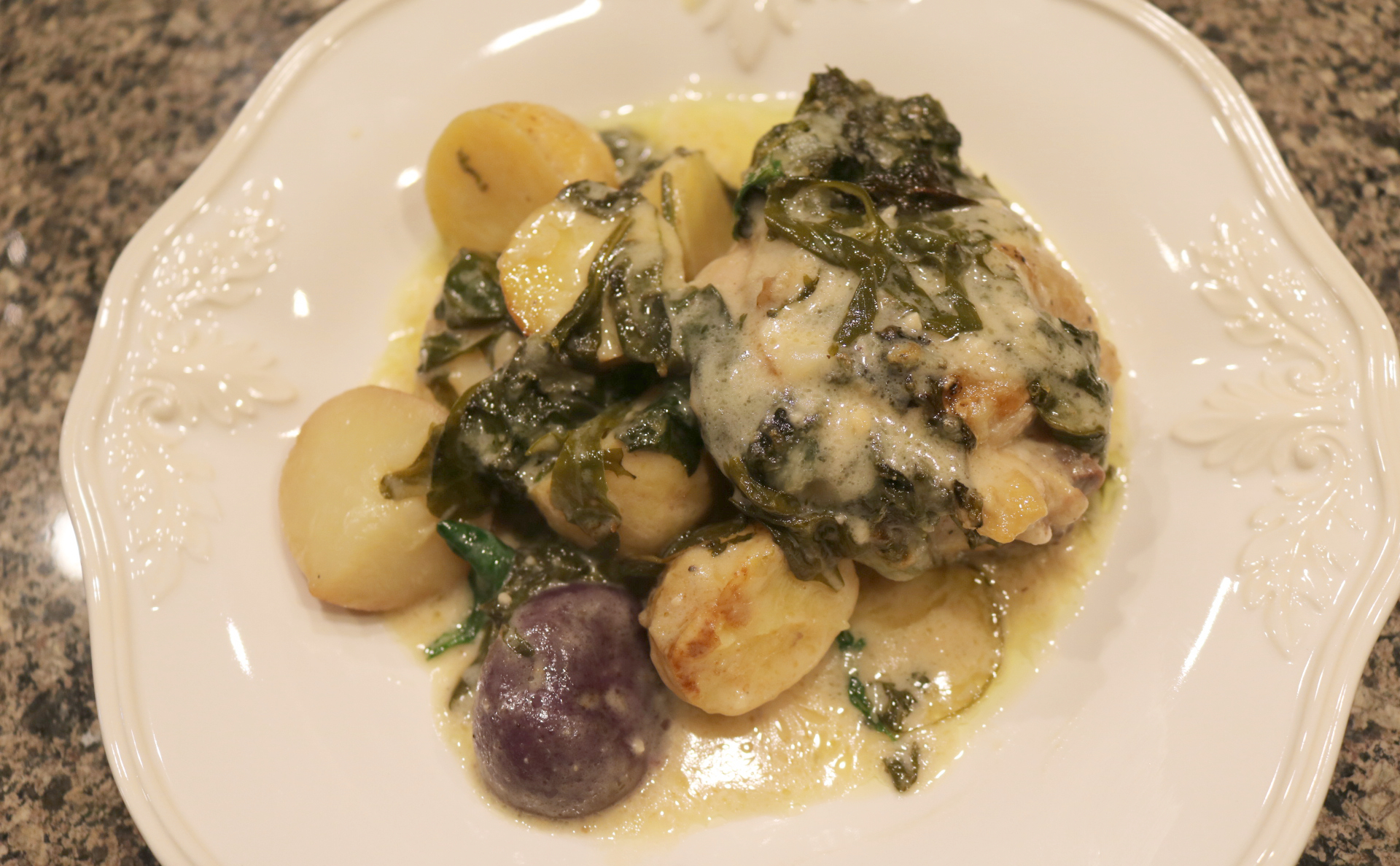 It is so GOOD
Chelle Chelle
4-6 servings
Creamy Garlic Chicken & Potato Bake
A rich and creamy chicken and potato bake that everyone is sure to love.
20 minPrep Time
45 minCook Time
1 hr, 10 Total Time
Ingredients
1 1/2 lbs new potatoes, washed & cut in half
pinch of salt
pinch of pepper
2 lbs chicken thighs (I used skin on, bone-in but you can use skinless, boneless)
2 teaspoons salt
2 teaspoons pepper
1 teaspoon garlic powder
2 tablespoons butter
1 tablespoon extra virgin olive oil
2 garlic cloves, minced
2 cups spinach or spinach blend (I used spinach & arugula mix)
Big pinch teaspoon salt
Pinch pepper
Garlic Sauce
2 tablespoons butter
2 tablespoons flour
3 garlic cloves, minced
1 1/2 cups chicken stock
1/2 cup heavy cream (or half & half)
1 cup grated parmesan
1/4 cups shredded mozarella
Directions
Preheat oven to 400
Spray a 9x13 pan with nonstick spray, set aside
Wash, dry and cut potatoes in half
Lay in a single layer and sprinkle with a pinch of salt & pepper
Pay dry chicken thighs and sprinkle both sides with salt, pepper and garlic powder
In a large skillet heat butter and olive oil over medium high heat
Brown chicken thighs, 3-4 minutes on each side, working in batches as needed
Place browned thighs into prepared pan
Once chicken is browned add in garlic and spinach, salt & pepper to the same skillet
Stirring often cook until spinach just begins to wilt, remove from heat
Place potatoes around chicken
Top chicken and potatoes with spinach
Make the sauce in the same skillet
Melt butter over medium heat
Add in flour, cooking for 2-3 minutes, whisking constantly
Add in garlic, cooking for 1-2 minutes, or until garlic becomes fragrant
Stir in chicken stock, stirring often until sauce begins to thicken
Stir in cream and parmesan, stirring until sauce is thick and creamy
Taste and adjust seasoning as needed
Pour sauce over chicken and spinach
Cover pan with foil and bake for 25 minutes
Remove foil and sprinkle mozzarella over top and continue coking or another 15-20 minutes or until potatoes are tender and cheese is melted
Let sit for 5-10 minutes before serving
ENJOY!
Notes
You can leave the spinach out if you like You can use russet potatoes if you would like
7.8.1.2
422
https://sparklesnsprouts.com/2018/04/19/creamy-garlic-chicken-bake/
All images are the property of Sparkles n Sprouts, to use image please contact the webmaster at michelle@sparklesnsprouts.com

Other Options
You could add in some sun dried tomatoes if you wanted with the chicken and potatoes. You could also add in some onions, or bell peppers even if you wanted.
Instead of parmesan and mozzarella you could use gruyere, swiss or italian blend.
The possibilities are endless. Feel free to make it your own…just make sure to let me know what you did so I can try it!