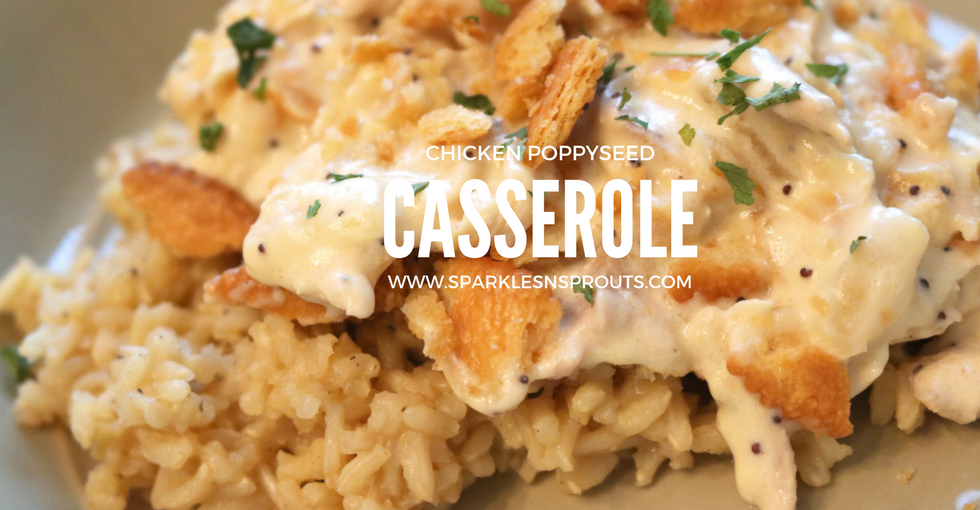 There is one dish my Mammaw would always make for us when we go visit her…Poppyseed Chicken Casserole and I LOVED it!! Now I get to make it for her (with a few changes here and there)!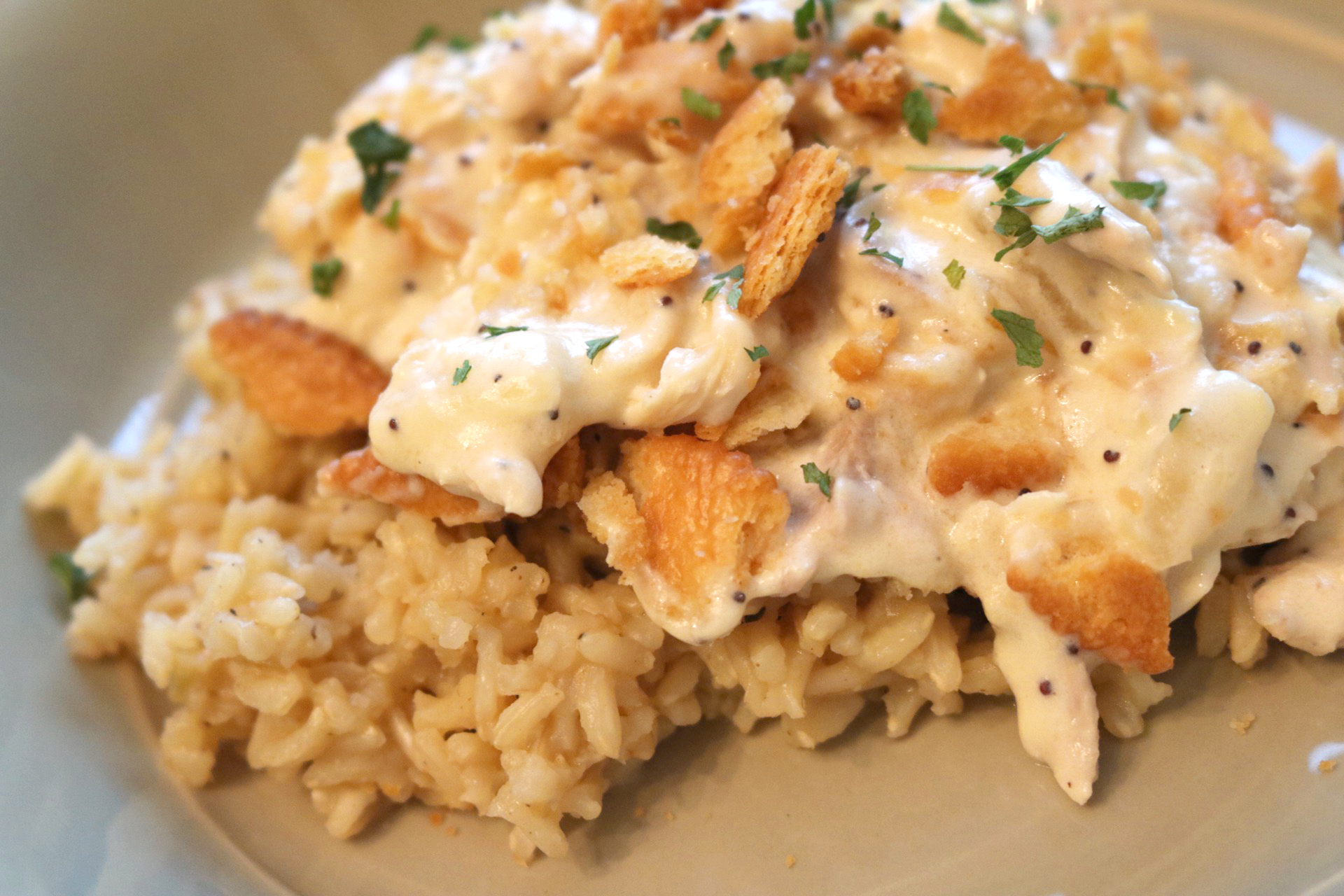 All from scratch
So my Mammaw was a good cook but she tended to use a lot of canned stuffs to make her dinners….you know like canned cream of chicken and canned chicken. It was easy and quick, which she loved.
For me though I prefer to make my recipes from scratch but don't worry it is still easy…I promise.
The base of this casserole traditionally is cream of chicken soup, it is what makes it so rich and creamy, so we have to start there. I love all the flavors cream of chicken offers so I started with onion and garlic to help add some of that same flavor to our base. Next comes the roux…don't be scared it really is so easy. It comes together really quick with some flour, chicken stock, milk, poppyseed and some seasonings and before you know it you have a rich & creamy "cream of chicken" sauce ready for your casserole.
Once the sauce is nice and thick, you combine it with the chicken and sour cream and voila you have poppyseed chicken casserole.
A quick note about the chicken…I use rotisserie chicken but you can use grilled chicken, roasted chicken, boiled chicken or canned chicken. Use what you have on hand.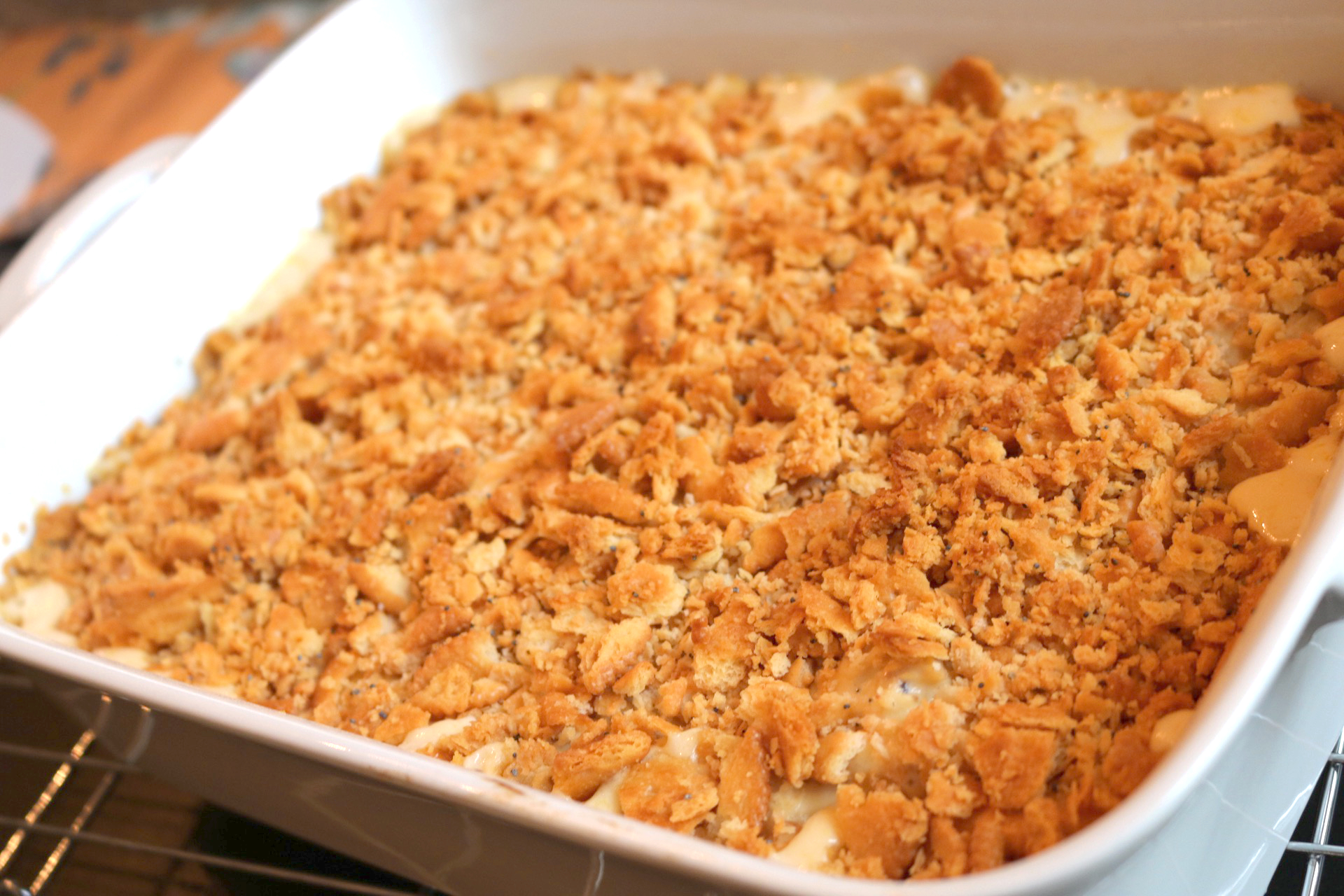 The Topping – My Favorite Part
But wait we are not done yet…the best part is to come…the crunchy topping.
Now some recipes call for breadcrumbs, but we have always used ritz crackers combined with butter…yes you read that right. Crushed buttery ritz crackers combined with butter…can it get any better?
This was always my favorite part to help with as a kid…I would always get to crush the ritz crackers. My Mammaw would put the crackers into a gallon size resealable bag and then let me use my hands or a rolling pin to crush them up. I just thought that was the most fun thing in the whole world.
After they were basically pulverized they would go into a bowl and then I got to very carefully combine them with the butter…and maybe steal a few bites here and there….just maybe. You know you want to steal a bite too.
OK….lets make it
MJ
12 servings
Poppyseed Chicken Casserole
A creamy chicken casserole loaded with tons of flavor and made completely from scratch, no cans needed.
15 minPrep Time
30 minCook Time
1 minTotal Time
Ingredients
2 tablespoons butter
1 tablespoon extra virgin olive oil
1 medium onion, chopped
3 garlic cloves, minced
3 tablespoons all-purpose flour
1 1/2 cups chicken stock, low salted
1/2 cup milk
2 teaspoons salt
2 teaspoons black pepper
1-2 tablespoons poppyseed
2 cups rotisserie chicken, deboned and broken into chunks
1 cup light sour cream
2 tablespoons butter, melted
1 sleeve ritz crackers (about 35 crackers), crushed
2 teaspoons salt
2 teaspoons black pepper
Directions
Preheat oven to 350
Spray a large casserole dish with nonstick spray, set aside
In a large skillet heat butter and olive oil over medium heat
Add in chopped onion and cook until it begins to soften, about 4-5 minutes
Stir in garlic and cook for an additional 1-2 minutes, or until garlic is very fragrant
Stir in flour and cook for 2-3 minutes, allowing roux to form and begin to brown
Whisk in chicken stock, milk, salt, pepper and poppyseed bringing mixture to a boil, stirring often until thickened
Remove from heat and stir in chicken and sour cream until smooth
Pour chicken mixture into prepared casserole dish
In a small bowl combine remaining butter and crushed crackers
Sprinkle over chicken mixture
Bake for 30-35 minutes, or until sauce is bubbly and crackers are browned
Remove from oven and let stand for 10-15 minutes before serving
ENJOY!!
Notes
Each serving is 6 WW Smart Points
Nutritional Info
Calories 157 - Calories from Fat 99 - Total Fat 11 g - Saturated Fat 4.7 g - Monounsaturated Fat 4.4 g - Polyunsaturated Fat 0.6 g - Trans Fat 0 g - Cholesterol 25 g - Sodium 523 mg - Potassium 60 mg - Total Carbohydrate 10 g - Dietary Fiber 0 g - Sugars 2 g - Protein 4 g Vitamin A 3 % - Vitamin C 0 % - Calcium 3 % - Iron 0 %
7.8.1.2
214
https://sparklesnsprouts.com/2017/05/22/a-poppy-good-time/
All images are the property of Sparkles n Sprouts, to use image please contact the webmaster at michelle@sparklesnsprouts.com

Serving it up…
I like to serve it with cooked rice, that is how my Mammaw always served it. You could just eat it on its own, but I prefer it with rice.
One more thing, if you have you any leftovers (I say if loosely) it is even better the next day.
I think I am going to have to make this again tonight…now I am hungry for it all again!
Let me know what you think!!