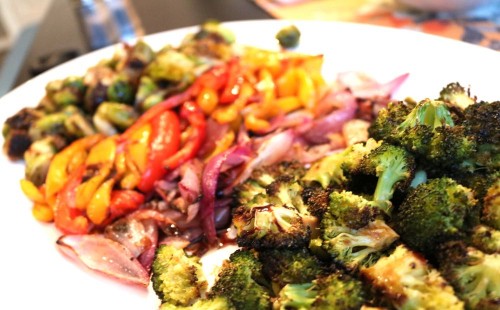 get excited…it's vegetable time
Is it hard sometimes to get excited about vegetables? I know it is for me at time. I mean lets be real…can vegetables really be all that exciting?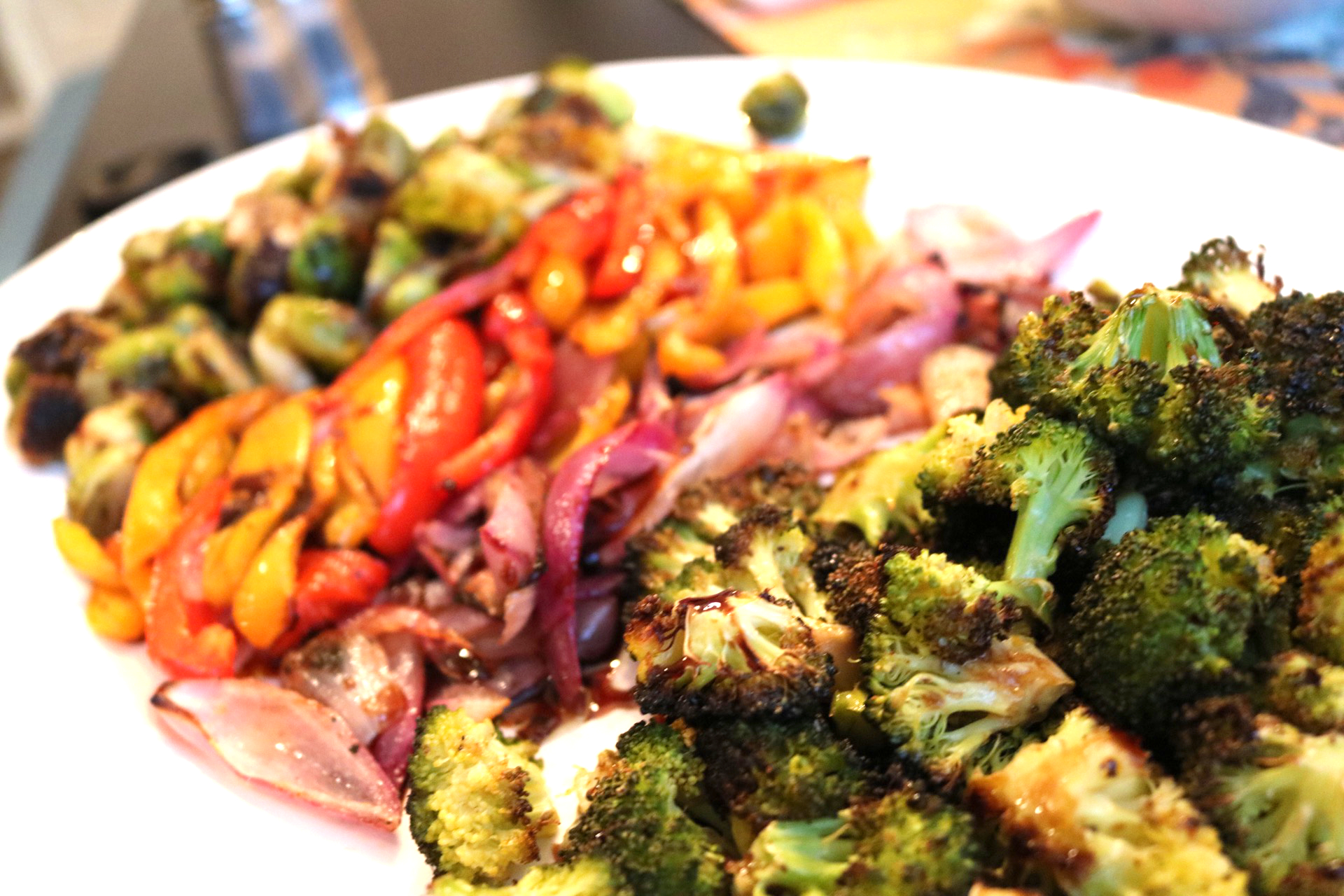 YES they can be…
and you won't believe how easy it can be.
Now first, things first…lets talk about what veggies to choose.
When I made this dish the first time we were having some sweet friends over for dinner and we had never had them over before. I wasn't 100% sure what they preferred so I went a little crazy and picked quite the assortment.
When I went to the store I just couldn't pick they all looked so good. I just had to have broccoli, onion, peppers (red & yellow) and brussel sprouts. Yes, you read that right I used all those veggies and packed them into one side dish and it was SOOOO GOOD!

It's all in the drizzle
Now roasting veggies is delicious all on their own, but when you drizzle them a with a sweet & sticky glaze they become something so much more. There is just something so special about a balsamic glaze. Don't worry it is super easy and you can get it whipped up in no time.
So to start with you need balsamic vinegar. There is not one in particular that I like over another, I usually buy a mid range priced version. You want it to be good enough to eat on a salad as the flavor will only intensify as it reduces.
After the balsamic comes something sweet. My preference is brown sugar or molasses, for this drizzle I went with brown sugar, but either works great. This particular drizzle is not overly sweet, I wanted to keep a little bite to the drizzle. You could also add in some chili powder to give it a little heat if you wanted.
After you combined everything you just let it cook. And you keep letting it cook. And then you let it cook some more. Yes, you let it cook until it is reduced down until it looks like syrup. That is when it is perfect.
Bring on the Veggies
MJ
6 servings
Balsamic Roasted Vegetables
Roasted veggies seasoned to perfection and topped with a sweet and tangy drizzle making each bite something to remember
15 minPrep Time
30 minCook Time
45 minTotal Time
Ingredients
2 lbs Brussels sprouts, trimmed & cut in half
3 large bell peppers, I used red, orange & yellow, sliced into strips
1 large Onion, sliced
2 bunches broccoli, cut into florets
3 tablespoons olive oil
2 teaspoons salt
2 teaspoons black pepper
1 teaspoon garlic powder
1/4 cup balsamic vinegar
3 tablespoons brown sugar
Directions
Preheat oven to 425
Line 2 baking sheets with parchment paper
Place trimmed sprouts on one baking sheet
Place all other veggies onto second baking sheet
Drizzle 1 tablespoon of olive oil over sprouts, and the remaining 2 tablespoons over the remaining veggies
In a small bowl combine salt, pepper and garlic powder
Sprinkle over all veggies
Toss to coat all veggies
Place sprouts into oven and let cook for 10 minutes, toss and place back into oven
Place second pan of veggies into oven with sprouts after 10 minutes and cook both for 20 minutes
Toss once again and check for doneness
While veggies are cooking whisk balsamic vinegar and sugar together in a small saucepan
Bring mixture to a boil and let cook down until mixture has thickened and reduced by half
Place veggies on platter
Drizzle balsamic sauce over veggies
Serve & ENJOY!!
Notes
Each serving is 7 WW Smart Points
Nutritional Info
Calories 196 - Calories from Fat 63 - Total Fat 7 g - Saturated Fat 1.1 g - Monounsaturated Fat 5 g - Polyunsaturated Fat 0.9 g - Trans Fat 0 g - Cholesterol 0 g - Sodium 861 mg - Potassium 1082 mg - Total Carbohydrate 29 g - Dietary Fiber 9 g - Sugars 11 g - Protein 8 g
Vitamin A 42 % - Vitamin C 497 % - Calcium 14 % - Iron 17 %
7.8.1.2
206
https://sparklesnsprouts.com/2017/05/21/vegetable/
All images are the property of Sparkles n Sprouts, to use image please contact the webmaster at michelle@sparklesnsprouts.com

Drizzle Away…
Once the veggies are roasted and the sauce is reduced it is time to drizzle away. For this dinner I kept all the veggies separated (remember I didn't know what they liked) but you could combine everything together and then drizzle away. However you choose to do it…it will be AMAZING!!
This is my go to roasted veggie side and I hope it will become yours as well.