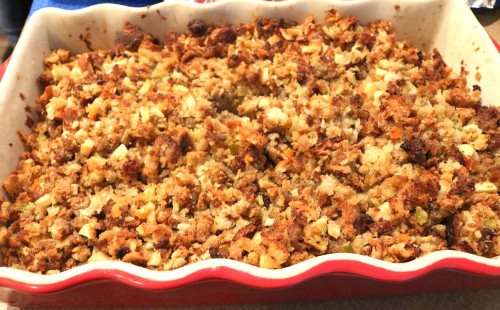 Are you a stuffing or dressing person? Are you a cornbread or bread dressing person? We are cornbread people here. Well I am here to tell you I have another option for all my die hard cornbread dressing friends. Trust me it is AMAZING!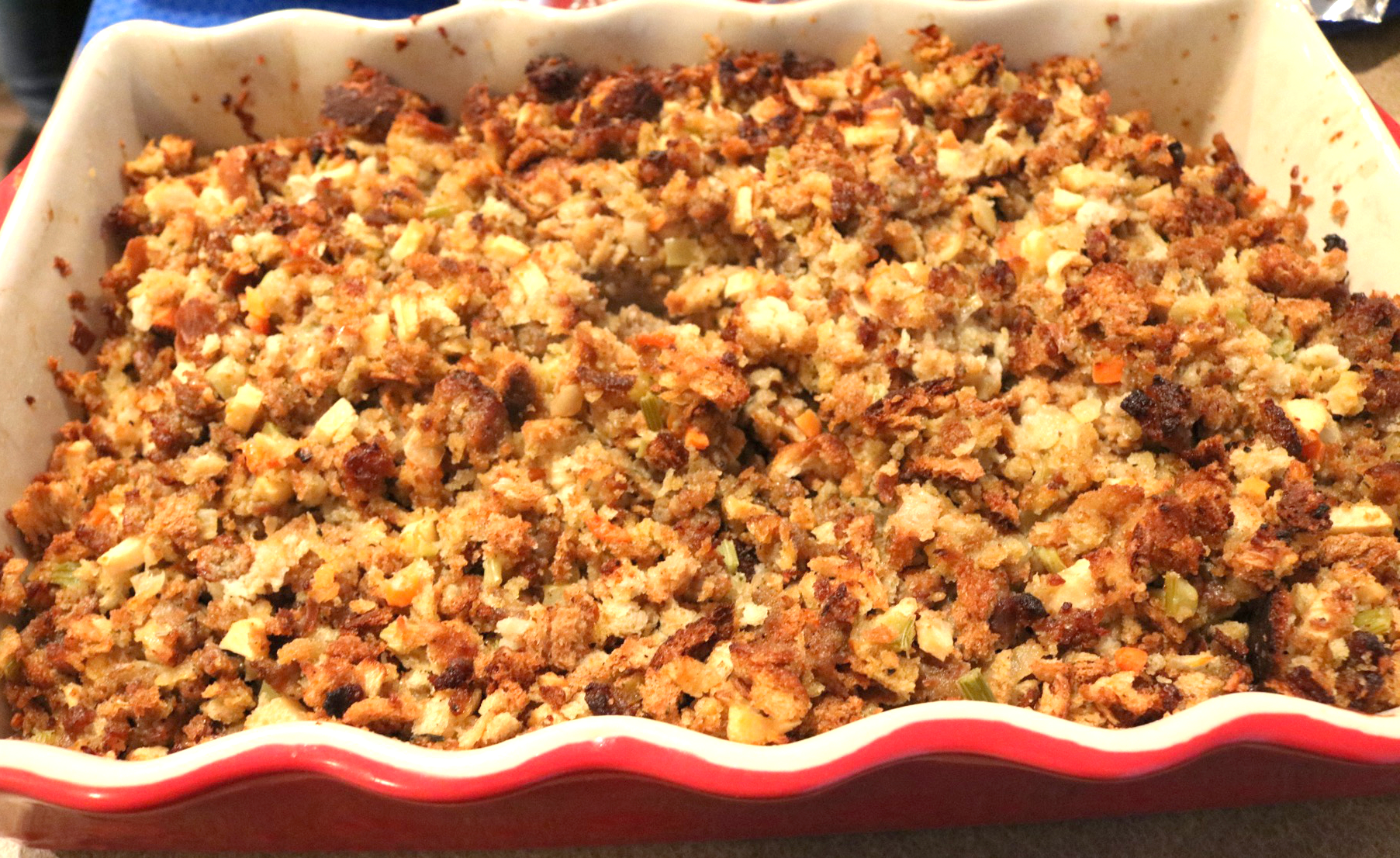 An apple a day…
The old saying goes "an apple a day will keep the Dr away". This delicious side may not keep the Dr away but it will make you feel VERY good. If you would have asked me a month ago if I would put apple in my dressing I would have said NO WAY, but it has changed.
Our sweet friend Andrea said she wanted to make the dressing for our Early Pot Luck Thanksgiving Dinner. Everything I have ever had of hers has been amazing, so I knew her version of this traditional side would be as well. She did not disappoint and actually surprised all of us a little.
Now I have to tell you when I first heard there was apple in the dressing and it was not cornbread based I was a little nervous…this was all new to me. As I was setting everything out for the buffet I got a little taste and a huge smile came across my face…it was so, so good. Want to know a little secret? I may have put some aside just to be sure I had some leftover, you know for my leftover turkey sandwich (but don't tell anyone).

And there was sausage too!
Not only were there apples in the dressing but there was sausage as well. Now I am a huge fan of sausage in dressing, but when you pair it with the apples it is taken to another level!! Andrea used sage sausage which worked perfectly with all the other flavors, but if you want to use just regular pork sausage you can.
She also browned the sausage in butter to begin with (you know how much I love my butter) and then in the same skillet cooked the veggies with more butter. It is just flavors on top of flavors giving this dressing a ton of richness that makes it so, so good.
Make this NOW
Andrea (one of the sweetest ladies I know)
12 servings
Sausage & Apple Dressing
A perfect dressing for your Holiday table. It is savory from the sausage and butter with a hot of sweet from the apple, making this a perfectly balanced dish that everyone will love.
20 minPrep Time
1 hrCook Time
1 hr, 20 Total Time
Ingredients
1 package (14.5 oz bag) Herb Seasoned Stuffing, Pepperidge Farms
8 tablespoons butter, divided
1 pound Sage sausage (Jimmy Dean is a favorite of the author)
1/2 cups onion, chopped
1/2 cup celery, chopped
1/2 cup carrot, chopped
2 apples, cored & chopped (The author used 1 golden and 1 red delicious)
1/2 teaspoon salt
3 cups Chicken broth
2 large eggs
Directions
Preheat oven to 325 degrees
Put the stuffing cubes in a large bowl, set aside
Butter (or spray) a 3-quart casserole dish, set aside
In a large skillet, melt 2 tablespoons of butter over medium-high heat
Add the sausage and break up with a wooden spoon, cooking until it just cooked through, making sure it does not dry out, about 5 minutes
Add the sausage and pan drippings to the stuffing cubes
Melt another 4 tablespoons butter in the same skillet
Add in the onion, celery, carrot, apple and salt, cooking until the vegetables are soft
Add the broth and bring to a boil
Pour the vegetable mixture over the stuffing cubes and toss until combined and cubes are moistened
In a small bowl beat the eggs and stir into stuffing mixture
Spoon the dressing in the prepared pan , pressing it down as need
Cook uncovered until the top forms a crust, about 40 minutes
Drizzle remaining 2 tablespoons butter (melt it in the microwave), or you can turkey drippings over the top Cook for an additional 20 minutes
Remove and let stand for 10 minutes before serving
ENJOY!!!
Notes
Each serving is 10 WW Smart Points
Nutritional Info
Calories 283 - Calories from Fat 153 - Total Fat 17 g - Saturated Fat 7 g - Monounsaturated Fat 7.2 g - Polyunsaturated Fat 1.3 g - Trans Fat 0 g - Cholesterol 75 g - Sodium 754 mg - Potassium 95 mg - Total Carbohydrate 23 g - Dietary Fiber 0 g - Sugars 2 g - Protein 8 g
Vitamin A 4 % - Vitamin C 2 % - Calcium 1 % - Iron 11 %
7.8.1.2
273
https://sparklesnsprouts.com/2017/11/20/sausage-apple-dressing/
All images are the property of Sparkles n Sprouts, to use image please contact the webmaster at michelle@sparklesnsprouts.com
Thank you Andrea (& Woody)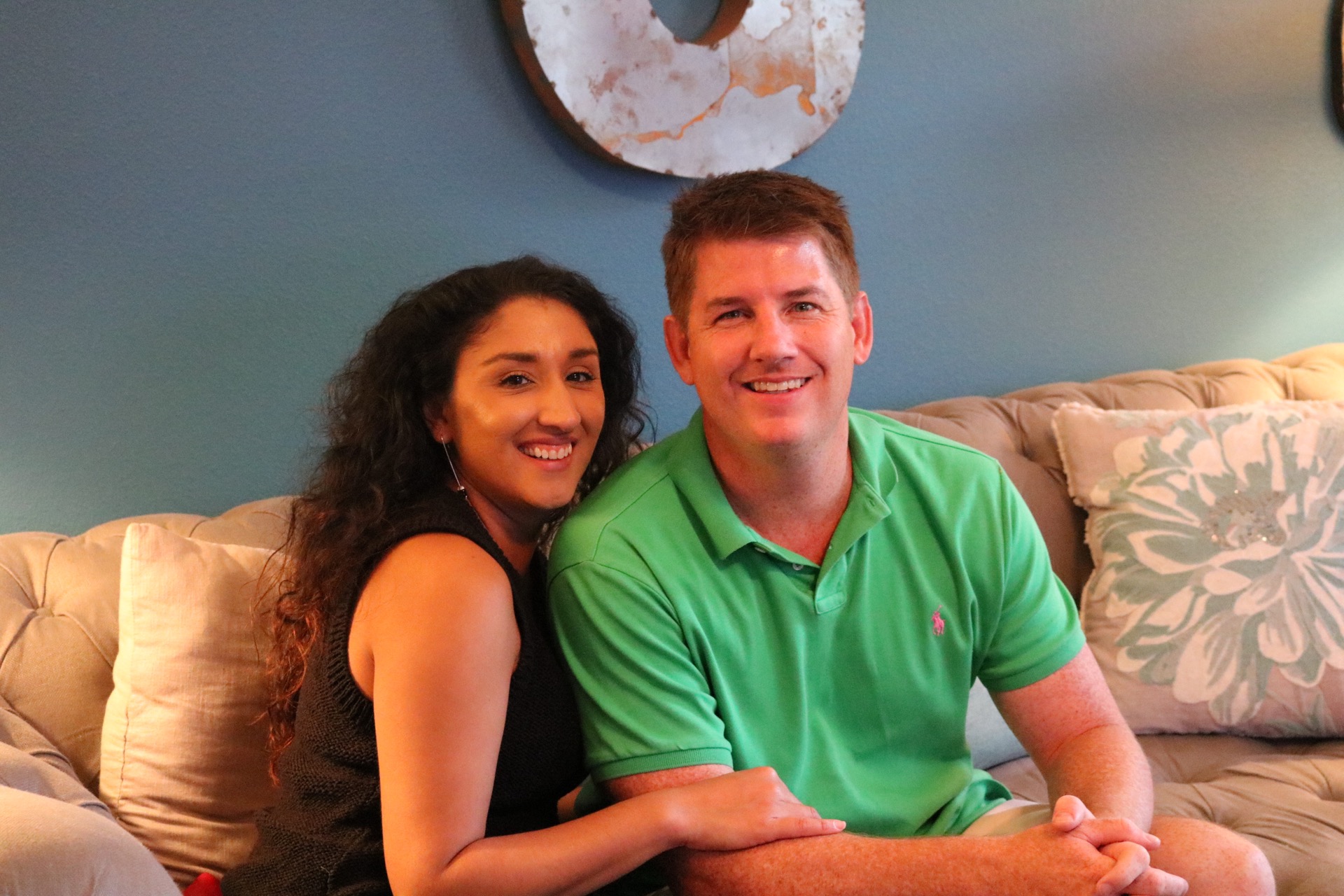 This beautiful lady is the one who created this amazing Sausage & Apple Dressing. I feel so blessed to have her in our lives. She is as beautiful on the inside as she is on the outside.
Not only did she bring the dressing but she also gave me the casserole dish it was cooked in as a hostess gift…I just love that so much. I am definately going to be doing that in the future.
Even better the casserole dish was red…and I love red. It was perfect!!
Thanksgiving is almost here
I can't believe Thanksgiving is less than two weeks away. It is time to get your menu ready, get the bird bought and start thinking about centerpieces and all that fun stuff. Whatever you do make sure this Sausage & Apple Dressing is on the menu…you will be so glad it is.
PS…Dont forget to save a little aside so you can have the perfect turkey sandwich later that night!