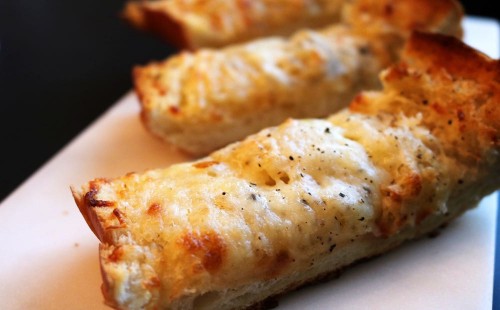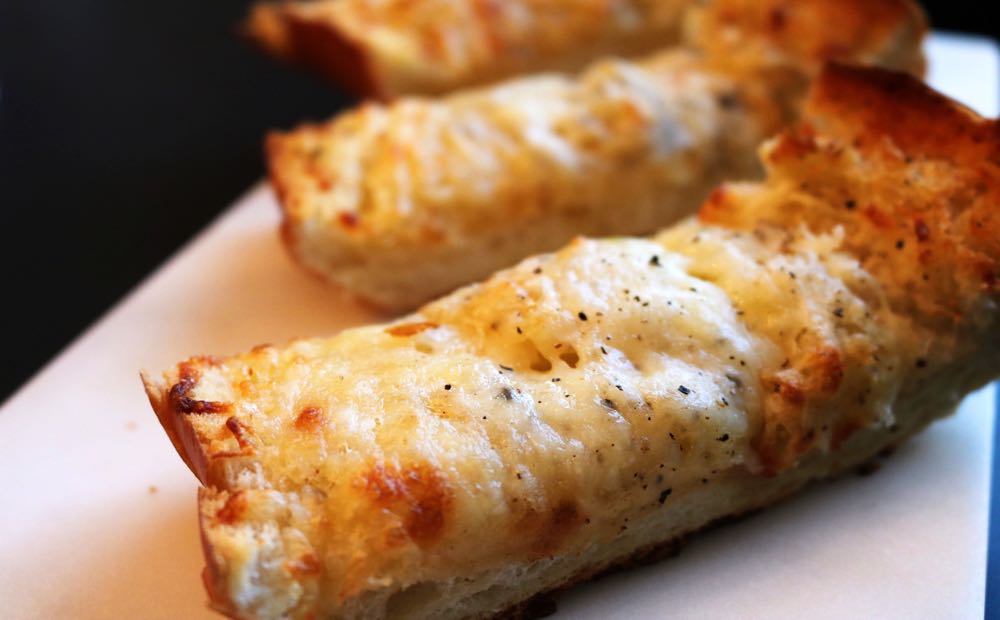 For me, one of the best parts of eating Italian food out is the bread.  My favorite is the crusty bread, slathered in butter with mealy cheese everywhere.  
There is one small local Italian restaurant that inspired this bread that makes everything homemade.  Their pasta is homemade, their sauce is homemade, their desserts are homemade and their bread is homemade.
It's all about the butter…
Butter is what makes this bread so, so good.  I use real unsalted butter (I typically only have unsalted butter in my refrigerator), not the fake stuff but real butter.  To make it easy to spread I melt the butter.  The melted butter seeps into the all the nooks and crannies of the bread, and lets be honest there is just something special about real butter.
Real butter adds a richness and also helps make a crust as it bakes…which makes for an even better bite.
Now lets talk about seasoning…
The sis-in-law was the first to introduce me to the wonderful world of salting and peppering my buttered bread.  The first time I saw her do this I thought she was a little crazy but she loved it.  Being that The sis-in-law is rarely wrong on her food choices (she did introduce me to brussels sprouts) I decided to give this salt & peppered bread a try.  Not only is it so, so good but it is made even better when toasted.  To amp up this bread a little more I added in garlic powder and parsley flakes along with salt & pepper making this a bread to remember for sure.  Next time I might add in some dried basil or Italian seasoning just for some added yumminess.
MJ
16 servings

Cheesy Garlic Bread

A buttery & cheesy bread that is perfect for your next pasta night!!

10 minPrep Time

20 minCook Time

30 minTotal Time

Ingredients

1 loaf french bread

1/2 cup butter, melted

2 teaspoons salt

2 teaspoons black pepper

1 tablespoon garlic powder

2 teaspoons parsley flakes

1 cup, shredded Italian blend cheese

Directions

Preheat oven to 425

Line a rimmed baking sheet with foil

Slice french bread, lengthwise and place cut side up on the baking sheet

Brush butter onto french bread

In a small bowl mix together salt, pepper, garlic powder and parsley flakes

Sprinkle evenly over bread

Place into oven and let bake for 15-20 minutes or until edges are browned

Sprinkle cheese over bread and return to oven for another 5-7 minutes, or until cheese is melted and browned

Remove and cut into slices

Serve & ENJOY!!

Notes

Each serving (1 slice) is 5 WW Smart Points:

Nutritional Info

Calories 145 - Calories from Fat 72 - Total Fat 8 g - Saturated Fat 4.5 g - Monounsaturated Fat 3.3 g - Polyunsaturated Fat 0.4 g - Trans Fat 0 g - Cholesterol 22 g - Sodium 516 mg - Potassium 45 mg - Total Carbohydrate 12 g - Dietary Fiber 0 g - Sugars 0 g - Protein 3 g Vitamin A 5 % - Vitamin C 0 % - Calcium 7 % - Iron 0 %

7.8.1.2

157

https://sparklesnsprouts.com/2016/06/16/cheesy-garlic-bread/

All images are the property of Sparkles n Sprouts, to use image please contact the webmaster at michelle@sparklesnsprouts.com
Now onto the cheese…
Any cheese you prefer could be used for this bread.   Straight mozzarella would be delicious, or you could throw in some parmesan for a little extra bite.  Asiago cheese, or another Italian cheese that you love would be great, this time I went with an Italian blend cheese.  I like to use this cheese blend for almost all my pasta casseroles.  It is melty, yummy cheesy goodness all made easy in a premixed package…I love how easy it is!!  No hand shredding needed…I love that!!
Make sure to watch it!
To make this bread crusty but still soft and tender I bake it twice.  First I get the butter & spices baked into the bread and the edges a little crunchy…then I add in the cheese.  Once the cheese goes on make sure you watch it or it can burn.  
Trust me I speak from experience… I have burned my fair share of bread, but I have learned that if you watch it it will come out perfect each and every time. 
Whether you are having baked pasta (like this recipe) or a simple roasted chicken this bread will be a great addition that everyone will love.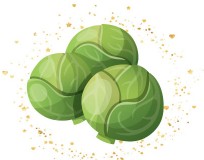 Remember to make today sparkle!!  MJ