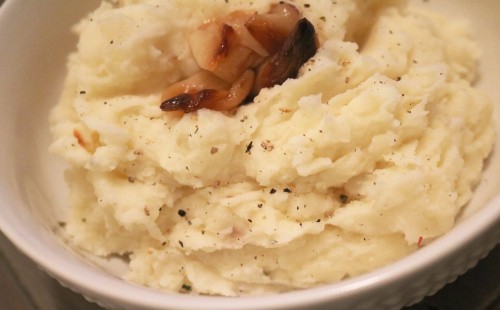 I could eat these everyday
I think if I could only eat one thing for the rest if my life it might just be mashed potatoes. I LOVE THEM that much, especially this new mashed potato recipe. Roasted Garlic Mashed Potatoes. They are loaded with tons a flavor, they are rich and creamy.

It's a family thing
My MeeMaw LOVED mashed potatoes. I mean she LOVED, LOVED them. She loved them so much she always said she wanted to be buried in them. She was not buried in them, but she did really love them. Her mashed potatoes were very classic with a little sour cream added in for a little extra something, and now I have taken to the next level.
Being that MeeMaw taught me a ton about cooking, it is no surprise that I am also a BIG LOVER of mashed taters.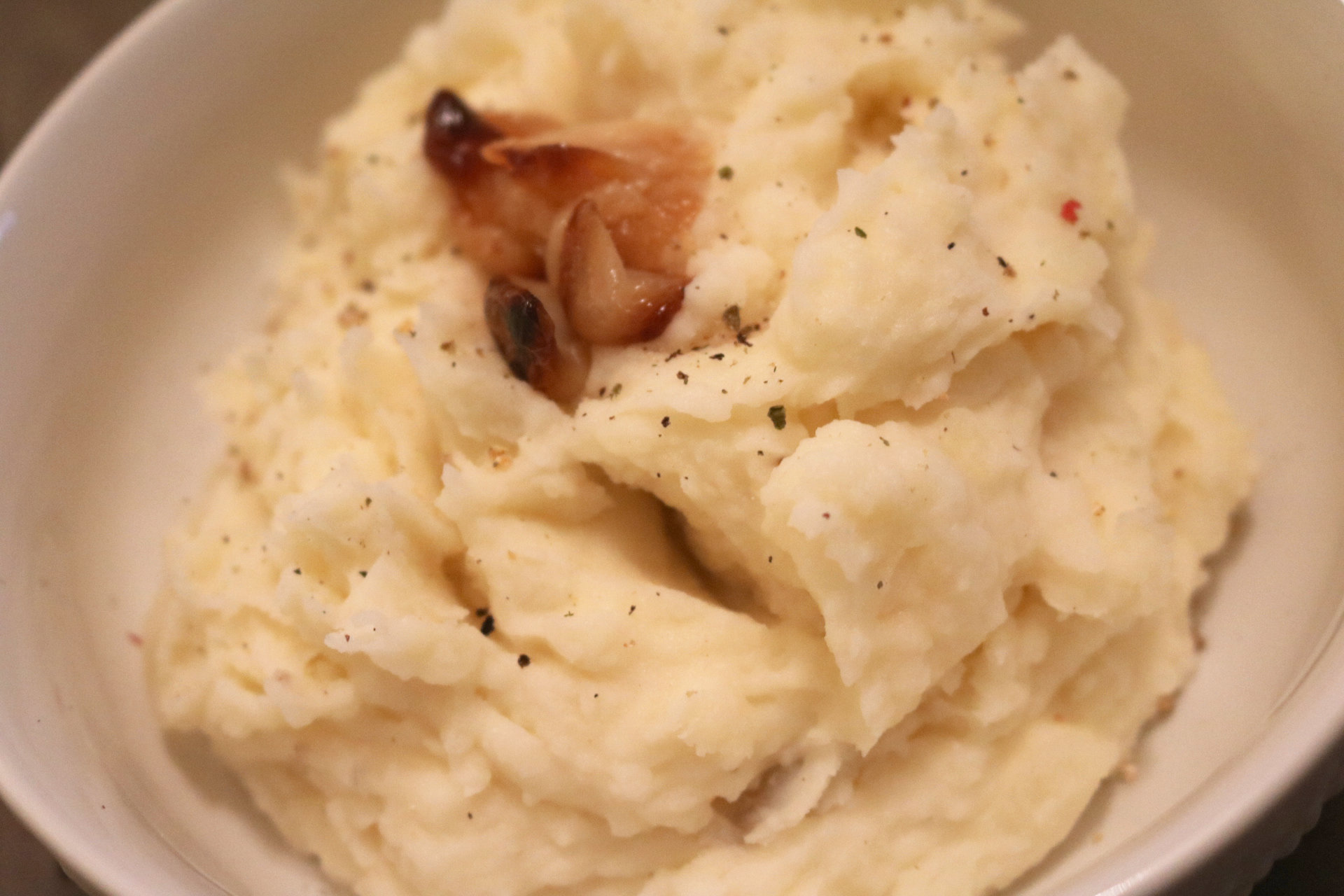 A little something extra
To take the traditional mashed potato to the next level I added in Roasted Garlic. Yes you read that right…roasted garlic, not just minced garlic. The Roasted Garlic adds a layer of flavor that is a little sweet with a hint of garlic goodness.
OK I know the idea of sweet in your mashed potatoes may not sound so good and it is AMAZING. Don't worry though it is a very subtle sweet that really plays well with the sour cream. A little sweet and a little tang to make the perfect bite.

Do I have to roast the garlic?
The short answer is YES you have to roast the garlic. I mean technically you do not have to roast it but trust me you want too. I know the idea of roasting garlic may not be your idea of fun, but I think once you see just how easy it is you might get kinda excited.
All you have to do is follow this super simple recipe and then enjoy the goodness. Trust me you will always have this roasted garlic on hand and use it for everything, at least I do.
It sounds like a mashed tater kinda night
MJ
6 servings
Roasted Garlic Mashed Potatoes
Rich and creamy mashed potatoes with little bits of roasted garlic each bite, making these mashed potatoes something to remember
15 minPrep Time
30 minCook Time
45 minTotal Time
Ingredients
2 1/2 pounds russet potatoes
1 tablespoon salt, divided
8 cloves Roasted Garlic
2-3 teaspoons black pepper
1 cup Sour Cream (you can use light if you would like)
4 tablespoons butter, cut into cubes
Directions
Fill a large stock pot half way with cold water
Peel and cut potatoes into 1 inch pieces and place into water
Add in 1/2 tablespoon of salt into water with potatoes
Place stock pot over medium heat and cook for 15-18 minutes, or until potatoes are fork tender
Drain potatoes and return to stock pot
Add in remaining salt, roasted garlic cloves, pepper (to taste), sour cream and butter
Using a potato masher combine all the ingredients until poatatoes are smooth and everything is combined well
Taste and adjust seasoning as needed
Serve and ENJOY!
Notes
Each serving is 11 WW Smart Points
Nutritional Info
Calories 313 - Calories from Fat 81 - Total Fat 9 g - Saturated Fat 5 g - Monounsaturated Fat 1.6 g - Polyunsaturated Fat 0.3 g - Trans Fat 0 g - Cholesterol 25 g - Sodium 1223 mg - Potassium 1226 mg - Total Carbohydrate 52 g - Dietary Fiber 6 g - Sugars 3 g - Protein 7 g
Vitamin A 3 % - Vitamin C 95 % - Calcium 5 % - Iron 11 %
7.8.1.2
312
https://sparklesnsprouts.com/2017/11/20/i-could-eat-these-everyday/
All images are the property of Sparkles n Sprouts, to use image please contact the webmaster at michelle@sparklesnsprouts.com
The perfect side
Mashed Potatoes are a perfect side in my book for almost any dinner and these Roasted Garlic Mashed Potatoes are a delicious side for dinner tonight.
You can whip them up in no time and treat your family to a treat they will not forget anytime soon. Trust me just try them.
Oh yeah one more thing, these will be my go to potatoes for all my Holiday tables and YES they are that good.
Pin this now so you don't lose it!