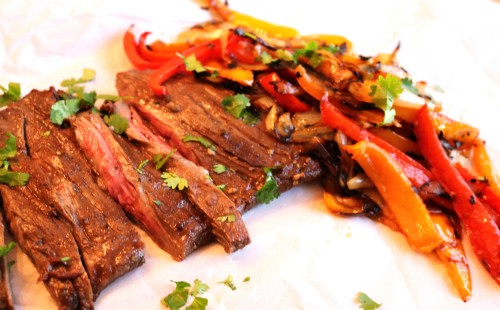 stay in for this favorite…fajitas
The Hubby has started cross fit in the last couple of months…yes I said The Hubby is doing cross fit.  Now just to be clear, I am not doing cross fit The Hubby is doing cross fit and I am so, so proud of him.  He has been so committed and goes at 6:00 AM, 3 days a week and in turn I have been trying to feed him a little better (with a  few indulgences here and there).
One of the things The Hubby has been really craving and needing is protein and I think he could eat grilled meat 6 times a day, and especially fajitas.  He has been getting them for lunch, dinner and even made a fajita omelette one morning.  So being that The Hubby is all about the fajitas I decided it was time to make them at home.
One of his favorite fajitas is from a local place called Lupe Tortillas.  Their fajitas have a great lime flavor with just a hint of spice….so off I went to recreate these amazing fajitas.  
To start with I wanted to make sure to have some yummy veggies to go with the meat…not only does this save on some calories as you can fill the tortilla with lots of veggies and a little meat but I also love the flavor it gives to the dish as a whole.  For this go around I went with onions and peppers, but just onions would work great, or onions and mushrooms would also be yummy.
After the veggies came the marinade…oh the marinade.  I think I could drink this marinade.  First there is quite a bit lime juice…I love lime juice and it is a must in this marinade.  Then comes a bunch of other yummies…olive oil, chili powder, cilantro, cumin, garlic & Worcestershire sauce (and a couple of other things too)…making this a marinade so, so good for fajitas and really anything else you want to use it for.  Again, I love it so much I would drink it if I could (I mean before the meat went into it, of course).  
PS…I also marinade the veggies because I just love the marinade that much!
After everyone had time to chill in the marinade everything went on the grill to get nice and charred and cooked to perfection…feel free to cook your meat longer…The Hubby and I like it pink but they would still be delicious medium well.  I also loved how the veggies really got intensified from being on the grill while keeping their vibrant color making them not only delicious but pretty as well.
MJ
8 Servings
Serves about 1/4 lb meat with veggies
0
Grilled Beef Fajitas
Delicious grilled fajitas that will rival your favorite Mexican restaurant for sure!
2 hrPrep Time
20 minCook Time
2 hr, 40 Total Time
Ingredients
2 lbs flank steak
1/4 cup extra virgin olive oil
1 cups fresh cilantro, chopped
3 tbsp Worcestershire sauce
3/4 - 1 cup fresh lime juice
4 garlic cloves, minced
1 tbsp cumin
1 tbsp chili powder
1 tsp salt
1 tsp pepper
1 tsp sugar
1/2 tsp red pepper flakes
2 onions, sliced
1 red bell pepper, sliced into strips
1 orange bell pepper, sliced into strips
1 yellow bell pepper, sliced into strips
1 lime, tested & juiced
Directions
Trim flank steak of any visible fat
Place flank steak into a casserole dish large enough for the steak to lay flat (or cut the steak to fit the dish you have)
In a medium bowl combine olive oil, worcestershire sauce, lime juice, garlic, cumin, chili powder, salt, pepper, sugar & red pepper flakes until well combined
Pour half of the marinade over the beef, flipping beef to coat well
Place sliced onions & bell peppers into another dish and pour remaining marinade over veggies, tossing to coat evenly
Cover both dishes and place into the refrigerator to marinate for at least 2 hours, or overnight if possible
When ready to cook preheat grill to medium high heat
Place steak onto grill and cook until cooked to desired doneness, flipping once
For the veggies heat a skillet on the grill, or on the stove, and cook veggies until just tender, and just starting to char
When ready to serve drizzle lime juice of remaining lime over & slice steak into thin strips
Sprinkle lime zest over cooked veggies
Serve with tortillas, sour cream, fresh cilantro, cojita cheese, shredded cheese, avocado slices, guacamole or any other toppings you prefer
ENJOY!!
Notes
Each serving (about 1/4 lb) is 8 WW Smart Points
Nutritional Info
Calories 315 Calories from Fat 146 Total Fat 16.2g Saturated Fat 4.9g Trans Fat 0.0g Cholesterol 62mg Sodium 430mg Potassium 561mg Total Carbohydrates 8.5g Dietary Fiber 2.1g Sugars 4.8g Protein 32.7g Vitamin A 35% - Vitamin C 100% - Calcium 4% - Iron 17% Nutrition Grade B+
7.8.1.2
31
https://sparklesnsprouts.com/2016/04/19/stay-in-for-this-favorite/
All images are the property of Sparkles n Sprouts, to use image please contact the webmaster at michelle@sparklesnsprouts.com
To serve fold everything into a tortilla with all your favorite toppings, or eat it with just some beans or rice…or for a low carb option throw it onto a salad for a light but very satisfying dinner.
 Don't go out to dinner bring your favorite Mexican dish home with these delicious grilled fajitas!  
Make everyday sparkle – MJ