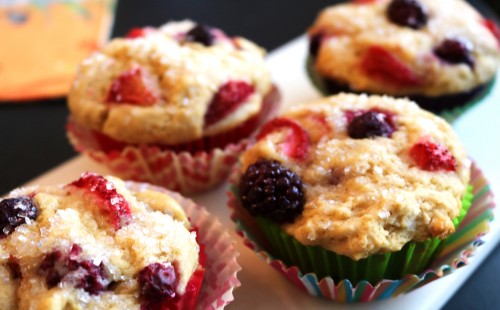 a berry muffin morning is a Spring must
Spring is in full swing in my part of the world and I cannot get enough of all the yummy that comes with Spring.  Every time I walk into the produce area of my local grocery stores and farmers markets I am overwhelmed by all the beautiful veggies & fruits.  I am especially in love with all the berry goodness!!
There are raspberries, blueberries, blackberries and strawberries EVERYWHERE and they look so, so good.  I love all the berry varieties but when I was in the grocery store not too long ago they had a combo of strawberries, blackberries and blueberries that were almost screaming my name (ok they were in my head, but that is for another day and another story) and I couldn't help but grab them up and before I ate them all I decided to make them into delicious muffins.
These muffins are not only super tender, fluffy and moist but they are loaded with tons of berry goodness in each bite.  Not only are there tons of muffins but there is also a hint of spice…now I used pumpkin pie spice because I just love the combo of all the spices together, but you could use just cinnamon if you wanted.  
Now lets talk about milk for a second… I used buttermilk but any milk choice will work.  I prefer buttermilk in almost all my muffins as I just think it adds tons of moistness and just a hint of tang that makes the muffins just that much more interesting…but I especially love it in these muffins.  The berries add a good deal of sweetness and the buttermilk is a great balance to that, but if you don't have any hand feel free to use any mil choice you prefer or make your won buttermilk by adding a tsp of vinegar to the cup of milk and let it sit for 5 minutes…and voila you have buttermilk!!  
MJ
16 muffins
Berrylicious Muffins
Tender, light and moist muffins loaded with tons of berries making them a perfect morning treat or afternoon snack
15 minPrep Time
18 minCook Time
40 minTotal Time
Ingredients
3 cups AP flour
4 tsp baking powder
1 tsp salt
1/2 tsp pumpkin pie spice or cinnamon
2 eggs
1/4 cup sugar
3/4 cup brown sugar
1 cup low fat buttermilk (or any milk of your choice)
1/2 cup vegetable oil (or canola oil)
2 tsp vanilla
2 cups chopped berries (I used blueberries, blackberries & strawberries), divided
Directions
Preheat oven to 425
Line muffins tin with liners (you will need 16 total), or spray with nonstick spray, set aside
In a large bowl whisk together flour, baking powder, salt & pumpkin pie spice
In a medium bowl whisk together eggs, sugars, buttermilk, oil & vanilla until well combined, it should be light yellow
Add in wet ingredients to the dry ingredients, mixing until just combined and still a little lumpy, making sure to not over mix
Gently stir in 1 1/2 cups of berries to the thick batter, trying to keep all the berry pieces in tact
Using a cookie scoop or large spoon divide batter among muffin pan, filling each full
Bake at 425 for 5 minutes, then with the muffins still in the oven reduce temperature to 375 and bake for an additional 13-15 minutes, or until muffins are set
Remove and let stand for 5 minutes before serving
ENJOY!
**Store in airtight container in the refrigerator for up to 5 days, you can heat each muffin for 10-15 seconds in the microwave before serving
Notes
Each muffin is 8 WW Smart Points
Nutritional Info
Calories 210 Calories from Fat 70 Total Fat 7.8g Saturated Fat 1.6g Trans Fat 0.0g Cholesterol 21mg Sodium 175mg Potassium 215mg Total Carbohydrates 31.3g Dietary Fiber 1.3g Sugars 11.9g Protein 3.8g Vitamin A 1% - Vitamin C 7% - Calcium 9% - Iron 8% Nutrition Grade C
7.8.1.2
32
https://sparklesnsprouts.com/2016/04/18/berrylicious-mornings-are-a-spring-must/
All images are the property of Sparkles n Sprouts, to use image please contact the webmaster at michelle@sparklesnsprouts.com
Now over the years I have made other treats with berries such as strawberry bread or these blueberry muffins but I have to tell you these muffins are one of my favorite berry breakfast treats.  
Celebrate Spring with these berrylicious treats!!
Make everyday sparkle – MJ