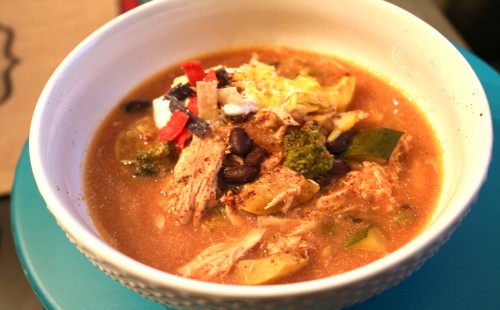 taking chicken soup to the next level
Chicken soup is a childhood memory that is one of my favorites for sure.  Growing up we had several versions that would show up every once in a while.  Sometimes it was chicken and rice, or chicken and noodles and when we went to my MeeMaws it was chicken n dumplings…and now we have Mexican chicken soup.  
Don't get me wrong I love all the traditional chicken soup's out there but I wanted to change it up a bit, while adding in a little kick and some extra veggies along the way…plus it was all made in the slow cooker making it a perfect weeknight dinner without a lot of fuss (I love those kind of meals).
The chicken with the traditional southwestern spices is the base for this soup and then when you add in all the veggies and some black beans it becomes a very full bodied soup that is full of flavor, with tons of good for you yummy stuff all at the same time.  For this soup I used zucchini, squash and broccoli (that is what I had on hand) but a lot of other veggies would work great…you could us bell peppers, spinach (added towards the end of the cooking time), jalapeño peppers even eggplant…almost any combo would work.  I also threw in some green chilies for that extra kick, you could leave them out if using jalapeño peppers…or use both for a super kicky soup.
So The Hubby was a little apprehensive when I first described the soup to him.  He loves my traditional chicken enchilada soup and anytime I mention that something might be healthier he doesn't seem to excited.  All that changed (like it normally does) when he came home and the house smelled AMAZING!!  
MJ
8 servings
Slow Cooker Mexican Chicken Soup
A delicious soup loaded with tons of veggies and all your favorite southwestern flavors
5 minPrep Time
8 hrCook Time
8 hr, 5 Total Time
Ingredients
1 lb boneless, skinless chicken breast
1 tsp salt
1 tsp pepper
1 tsp chili powder
1 onion, chopped
1 zucchini, chopped
1 squash, chopped
1 cup broccoli, chopped
15 oz canned black beans, drained
8 oz tomato sauce
4 oz green chilies
1 tbsp chili powder
2 tsp cumin powder
1 tsp salt
1 tsp pepper
4 cups Chicken Stock
Optional Toppings:
Reduced fat sour cream
Reduced fat shredded cheese
Tortilla chips
Additional chili powder
Directions
Place chicken breasts into the bottom of the slow cooker
Sprinkle chicken with salt, pepper and chili powder
Add in remaining ingredients in the order listed
Cook on low for 7-8 hours
Remove chicken to a plate and shred chicken breasts and return back to soup in the crock pot
Let continue cooking for an additional 30-45 minutes or until ready to serve
Top with any additional toppings you desire (just make sure to add in the extra calories, or points, if tracking)
Serve & ENJOY!
Notes
Each serving (about 1 1/2 cups-2 cups) is 9 WW Smart Points:
Nutritional Info Calories 355 Calories from Fat 36 Total Fat 4.0g Trans Fat 0.0g Cholesterol 49mg Sodium 1110mg Potassium 1511mg Total Carbohydrates 49.3g Dietary Fiber 14.0g Sugars 9.7g Protein 33.8g Vitamin A 110% - Vitamin C 44% - Calcium 11% - Iron 30% Nutrition Grade A
7.8.1.2
107
https://sparklesnsprouts.com/2016/01/19/slow-cooker-mexican-chicken-soup/
All images are the property of Sparkles n Sprouts, to use image please contact the webmaster at michelle@sparklesnsprouts.com
That is one thing I love so much about slow cookers…the house always smells so good when you are cooking in one.  I use this slow cooker, I love the size and also the keep closed lid which works great when I am taking a dish for a family dinner or to our small group.  Just make sure to use a big enough one that you can fit all your yummy veggies in there as it cooks.
Take a traditional favorite into something new and exciting with a fun kick that everyone is sure to love.
Happy (half) Baked Life – MJ