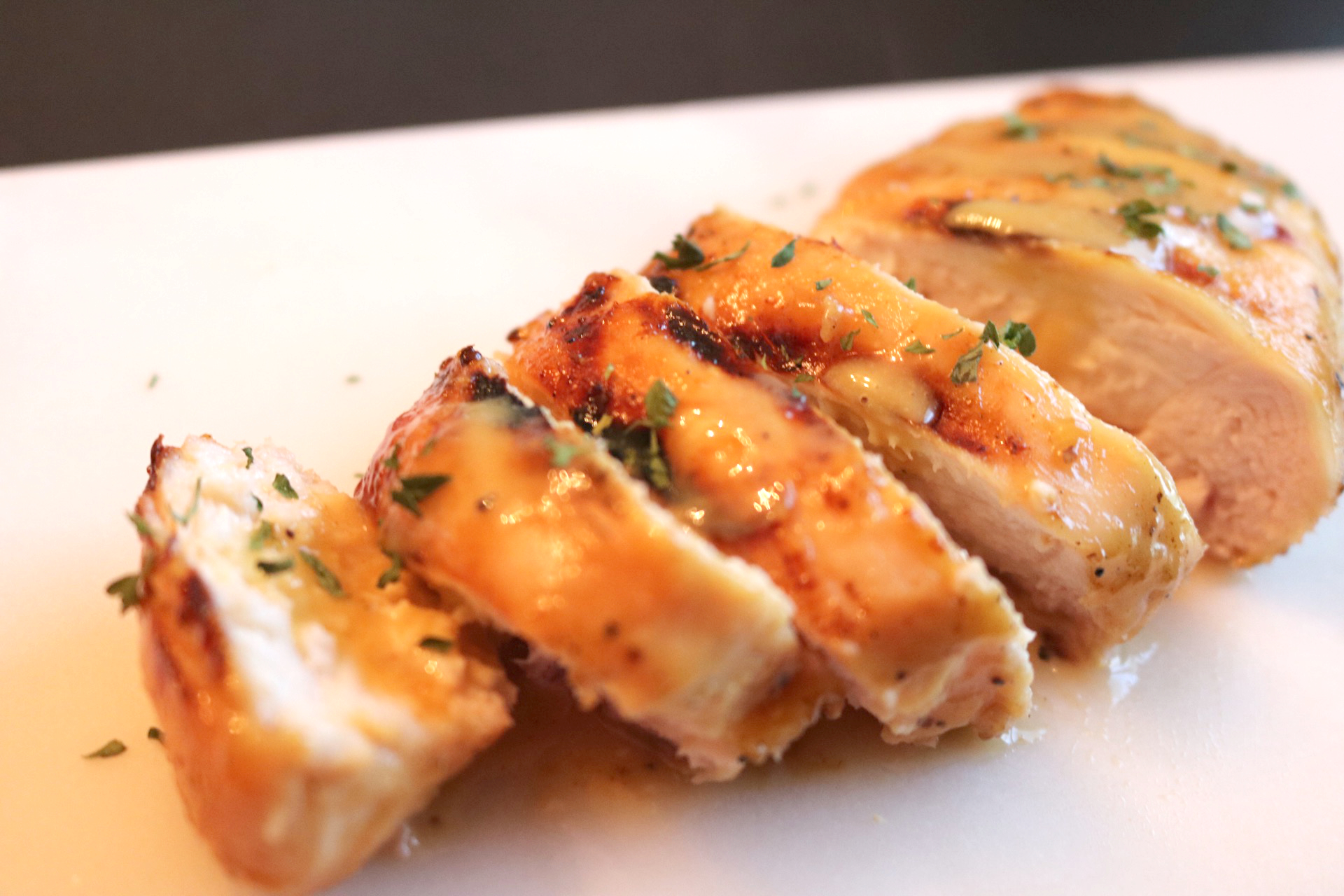 grilling in the winter (I live in Texas)
One of the best parts of living in SE Texas is that we can grill out year round. It was in the 30's last week and now we are in the 60's. Tomorrow will be in the 70's. Gotta love Texas!!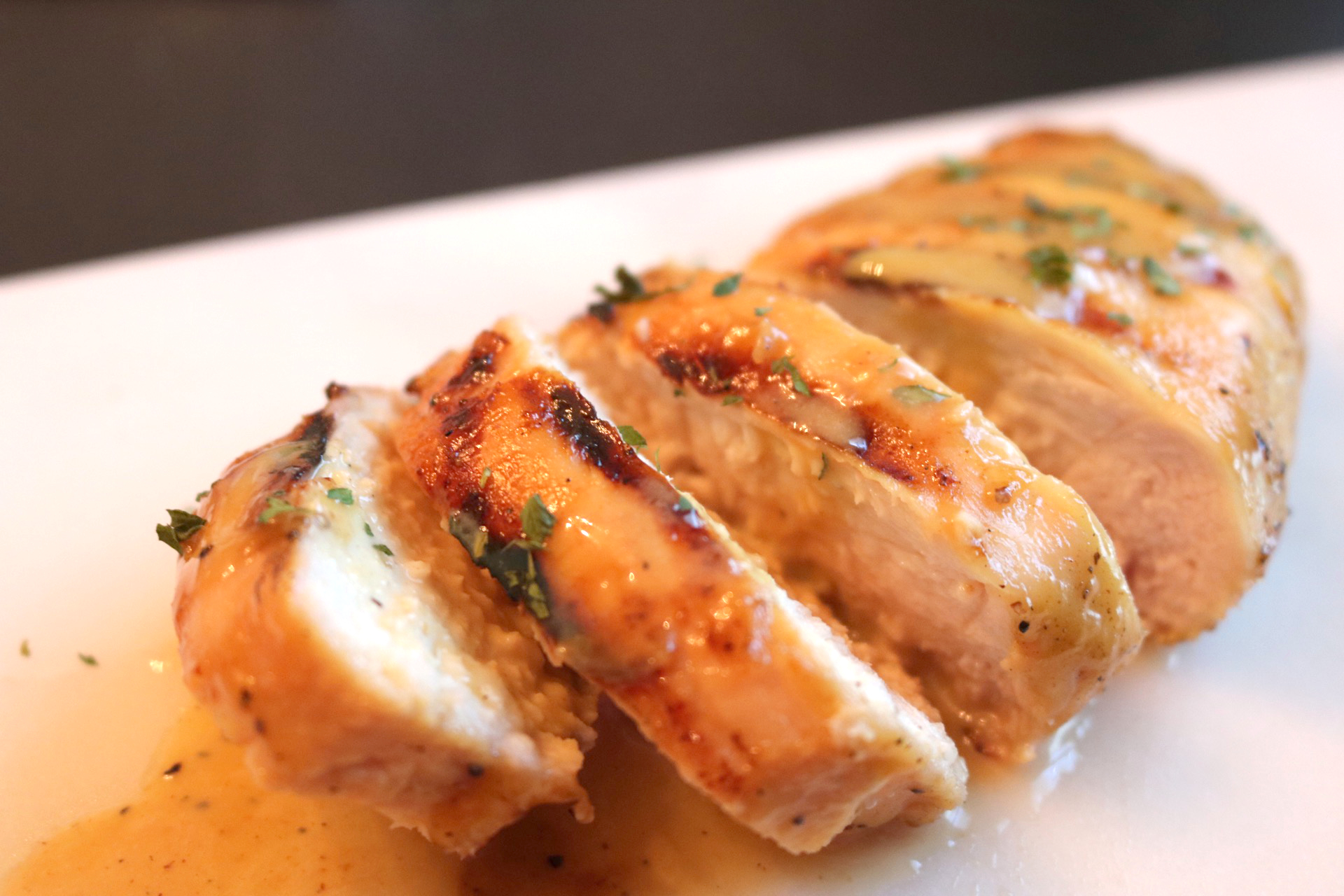 A little sweet
We are HUGE fans of honey mustard anything. I may have been known to judge restaurants by how much I like their honey mustard. Needless to say this Honey Mustard Grilled Chicken has to be good.
To make the perfect honey mustard marinade I started with equal parts mustard (I used dijon) and honey. Then I added in a little mayo for some extra creaminess, some olive oil, soy sauce (for a little bite) and some seasonings. Before I knew it I had a sweet honey mustard marinade that I loved!
I let it marinade all day, and it was perfect. If you needed to let it go overnight that would work as well.

Get to grilling
If you cannot grill outside right now (since it is winter and all) you could definately use a grill pan, or roast it in the oven as well. The flavor will still come through.
If you are going to grill outside here a few tips. Make sure to rub a little vegetable oil onto the grates before putting the chicken on them. Also make sure the grill is on medium. Since we are using boneless, skinless chicken breasts they will cook very quick and can dry out, so you don't want to over cook them. Third, when you remove the chicken from the marinade let it sit out for 10 minutes to take the chill off the chicken. This help get a good sear on the chicken when you grill it, it will also let you get the sauce thickened up a bit as well before you start grilling.
Heat it up
MJ
4 servings
Grilled Honey Mustard Chicken
A sweet and smoky grilled chicken that is perfect for a quick weeknight dinner
4 hrPrep Time
15 minCook Time
4 hr, 15 Total Time
Ingredients
4- 6oz boneless, skinless chicken breast
1/4 cup Dijon mustard
1/4 cup honey
1 tablespoon mayonnaise
1 tablespoon extra virgin olive oil
1 1/2 teaspoons soy sauce
2 teaspoons chili powder
2 teaspoons garlic powder
1 teaspoon black pepper
Directions
Place chicken into a large resealable plastic bag
In a small bowl whisk together remaining ingredients to make honey mustard marinade, taste and adjust seasoning as needed
Reserve 3 tablespoons of marinade in a small bowl and place in refrigerator to use later
Pour marinade into zip bag and seal
Place into refrigerator to let marinade for 4-8 hours
- When ready to grill -
Heat grill to medium heat
Remove chicken from marinade and place onto a foil lines baking sheet, reserving the marinade
In a small saucepan bring reserved marinade up to a boil and let cook for 4-5 minutes, or until it reduces and thickens a little
Divide sauce into 2 bowls
Place chicken onto preheated grill
Let chicken cook for 4-5 minutes on first side and then flip
Brush thickened sauce, from one bowl, over chicken as it cooks
Remove from grill and serve with remaining sauce from 2nd bowl
ENJOY!!
Notes
Each serving (1 chicken breast) is 7 WW Smart Points
Nutritional Info
Calories 159 - Calories from Fat 45 - Total Fat 5 g - Saturated Fat 0.8 g - Monounsaturated Fat 3.3 g - Polyunsaturated Fat 1.3 g - Trans Fat 0 g - Cholesterol 16 g - Sodium 346 mg - Potassium 153 mg - Total Carbohydrate 21 g - Dietary Fiber 1 g - Sugars 18 g - Protein 7 g Vitamin A 8 % - Vitamin C 3 % - Calcium 2 % - Iron 6 %
7.8.1.2
217
https://sparklesnsprouts.com/2017/01/11/grilled-honey-mustard-chicken/
All images are the property of Sparkles n Sprouts, to use image please contact the webmaster at michelle@sparklesnsprouts.com
A perfect weeknight dinner
This chicken really is perfect for a quick weeknight dinner. You can let it marinade all day and then throw it on the grill (or in the oven) when you get home. Not only will the adults love it but the kids will too.