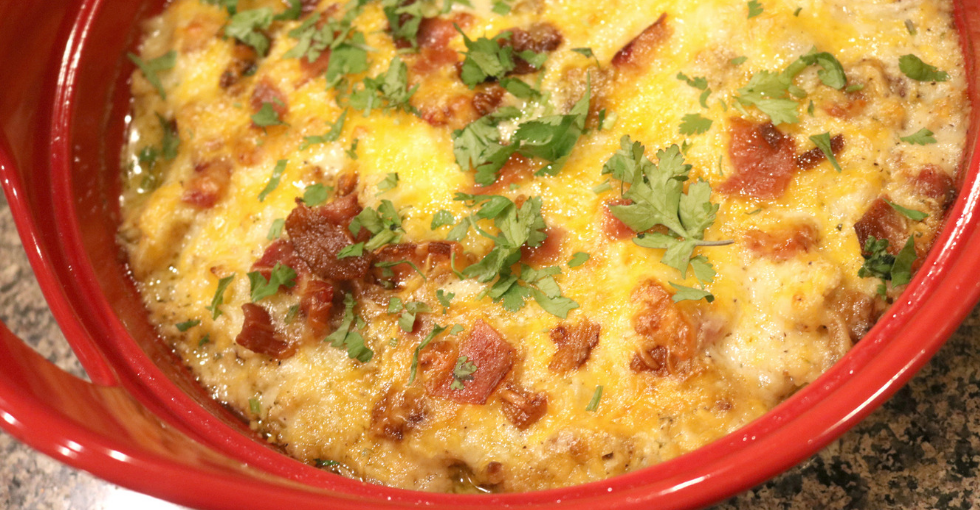 Loaded Cauliflower Casserole
Ok it is official I am a LOVER of Cauliflower. I love this Chicken and Cauliflower Casserole and the Mexican Cauliflower Rice but this loaded casserole is my FAVORITE!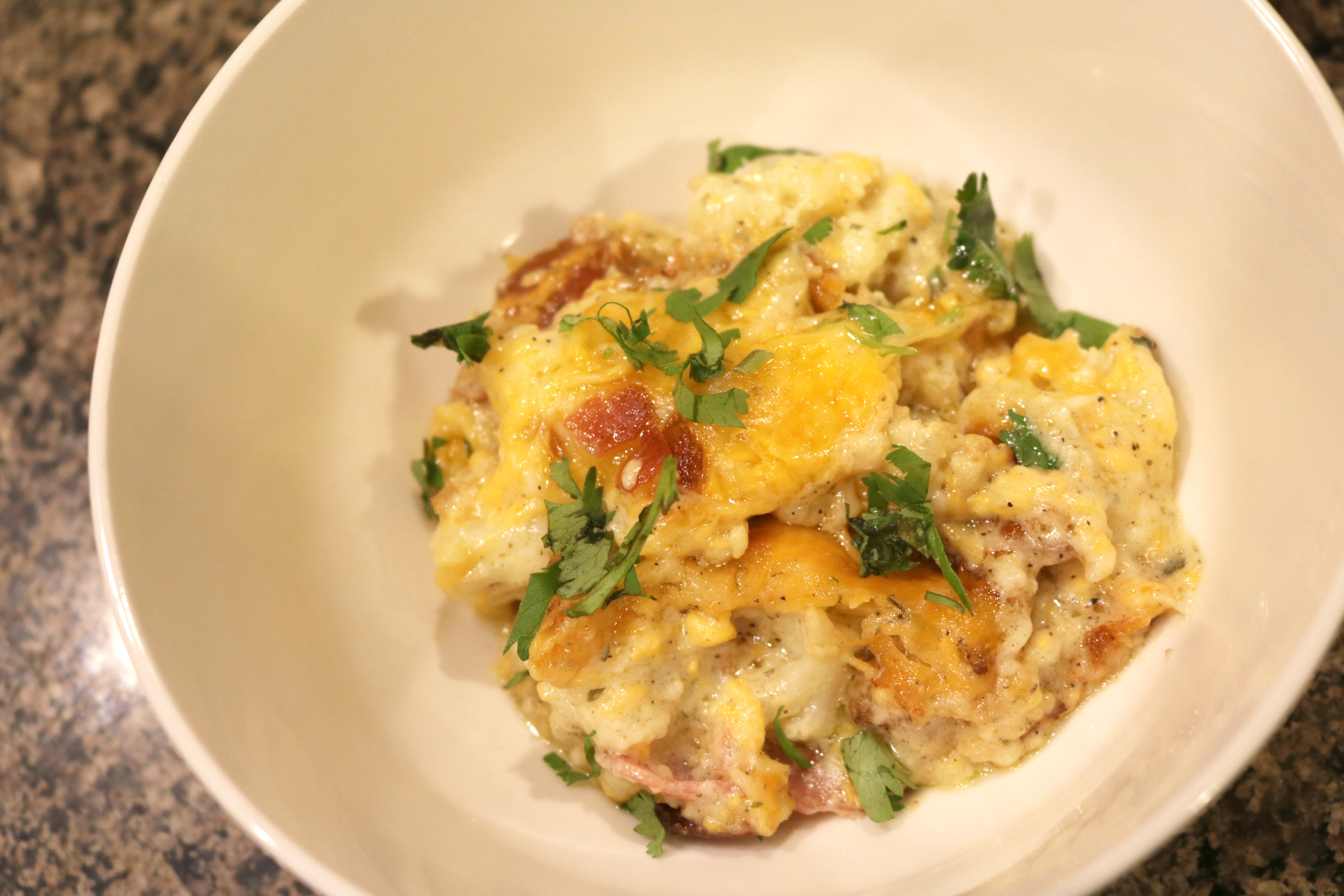 Roasting is key
There are a ton of loaded cauliflower casseroles on pinterest and they all sound amazing but for me cauliflower is at its best when it is roasted. I love the little bits of charred cauliflower with the cheese and bacon in this casserole.
The extra step of roasting adds another layer of flavor this already delicious casserole.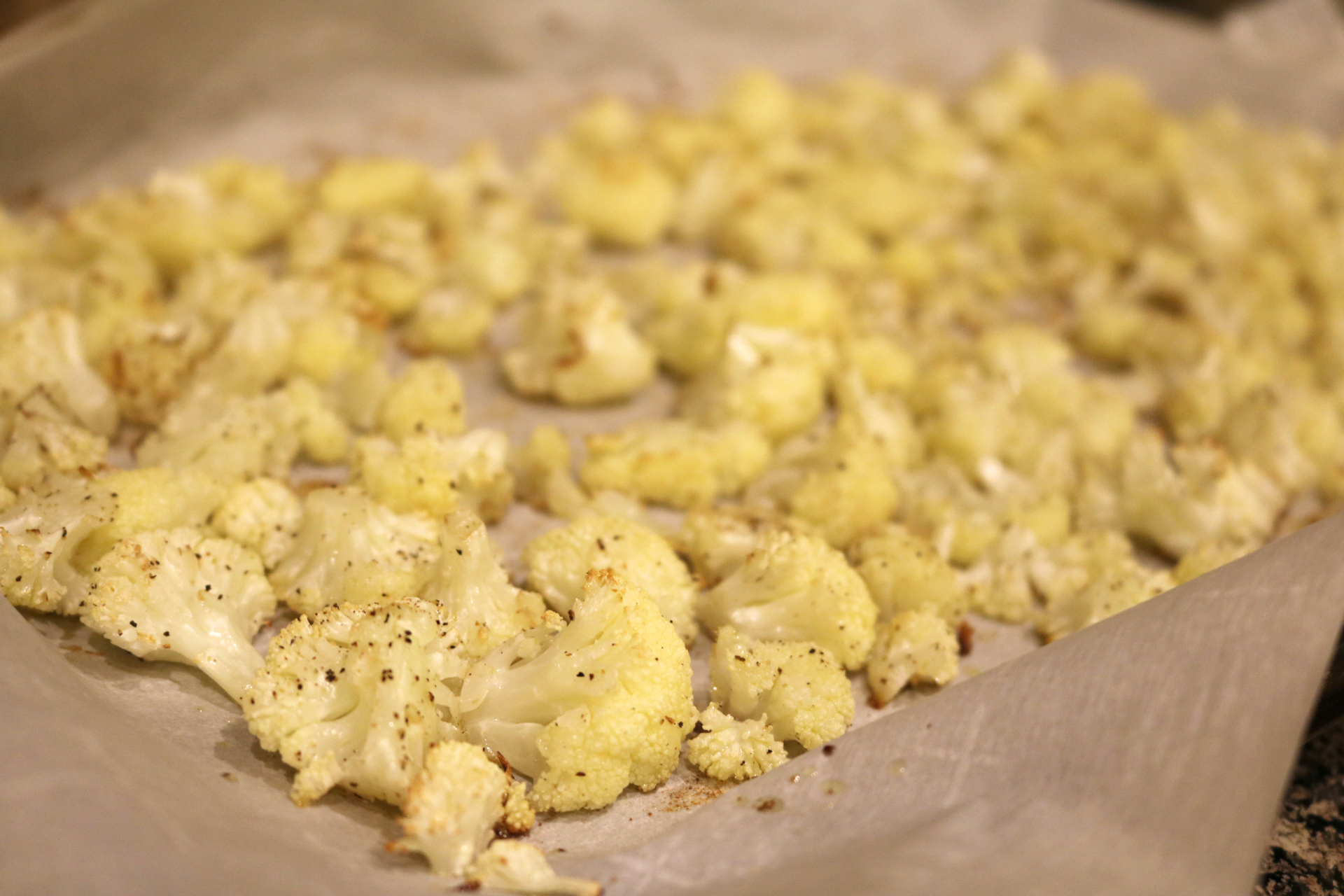 Bacon, please
A loaded casserole would not be loaded without the addition of bacon. Right? I mean the best loaded baked potatoes or loaded mashed potatoes have bacon in them. For this casserole I use 7 slices of crispy bacon. I put half into the casserole it self and then I use the rest on top.
The little pieces on top will get extra crispy as it bakes, giving a little crunch here and there. I mean just look how good it looks!!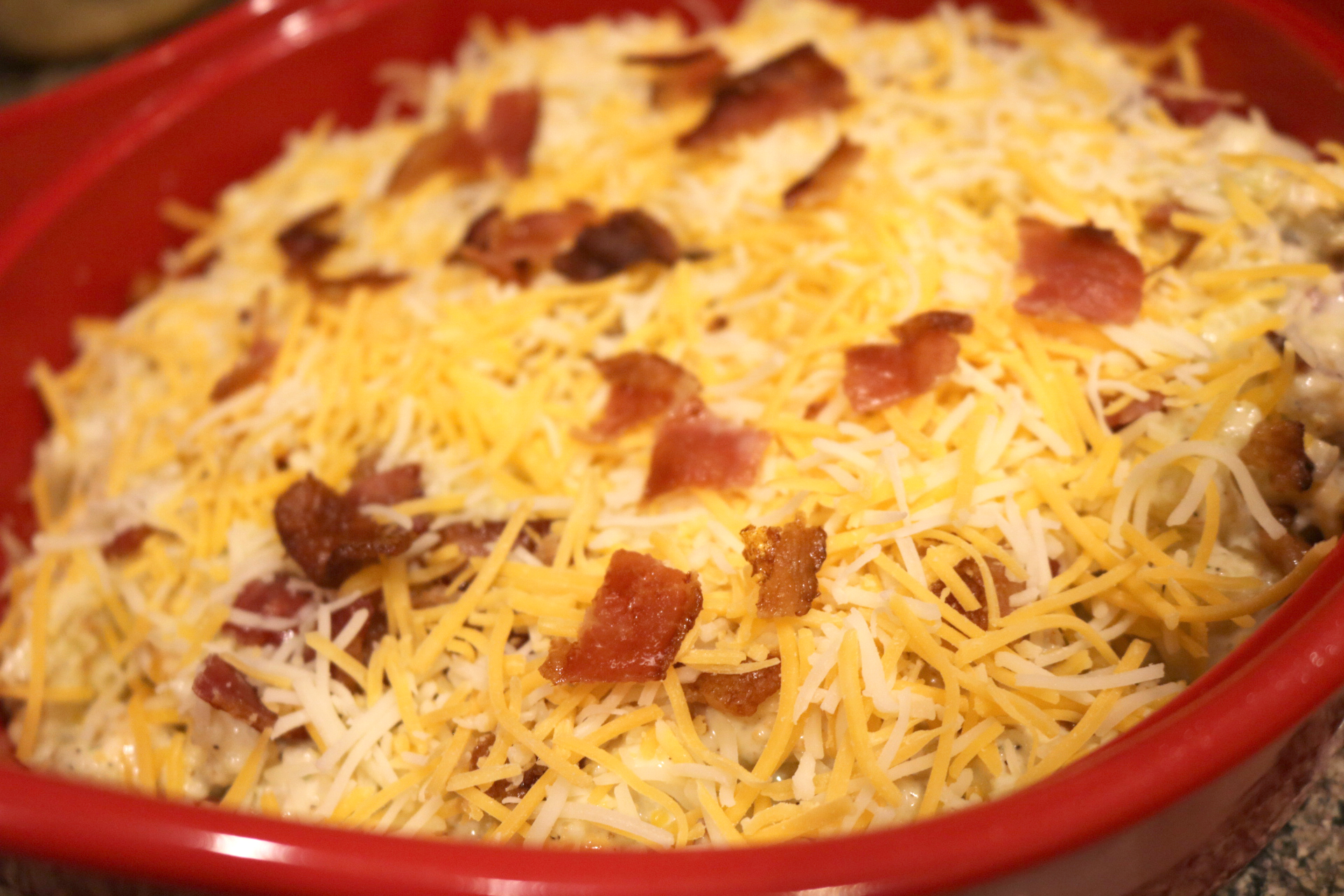 Better than potatoes? Really??
I know KETO/Low Carb people always say how good mashed cauliflower is and how it can be a substitute for mashed potatoes. I am not going to lie it took me a couple of tries to find a mashed cauliflower recipe that I LOVED, but this casserole… well I do not miss the potatoes at all.
When I fixed this for dinner last night I did not tell anyone that it was cauliflower, I wanted to know their honest opinions. Well, everyone LOVED it. Some didn't even know it was cauliflower and those that did said they loved it. My mom even said she liked this version more than my loaded potato casserole, I think that is a win for sure!
If my mom loves it… I know you will.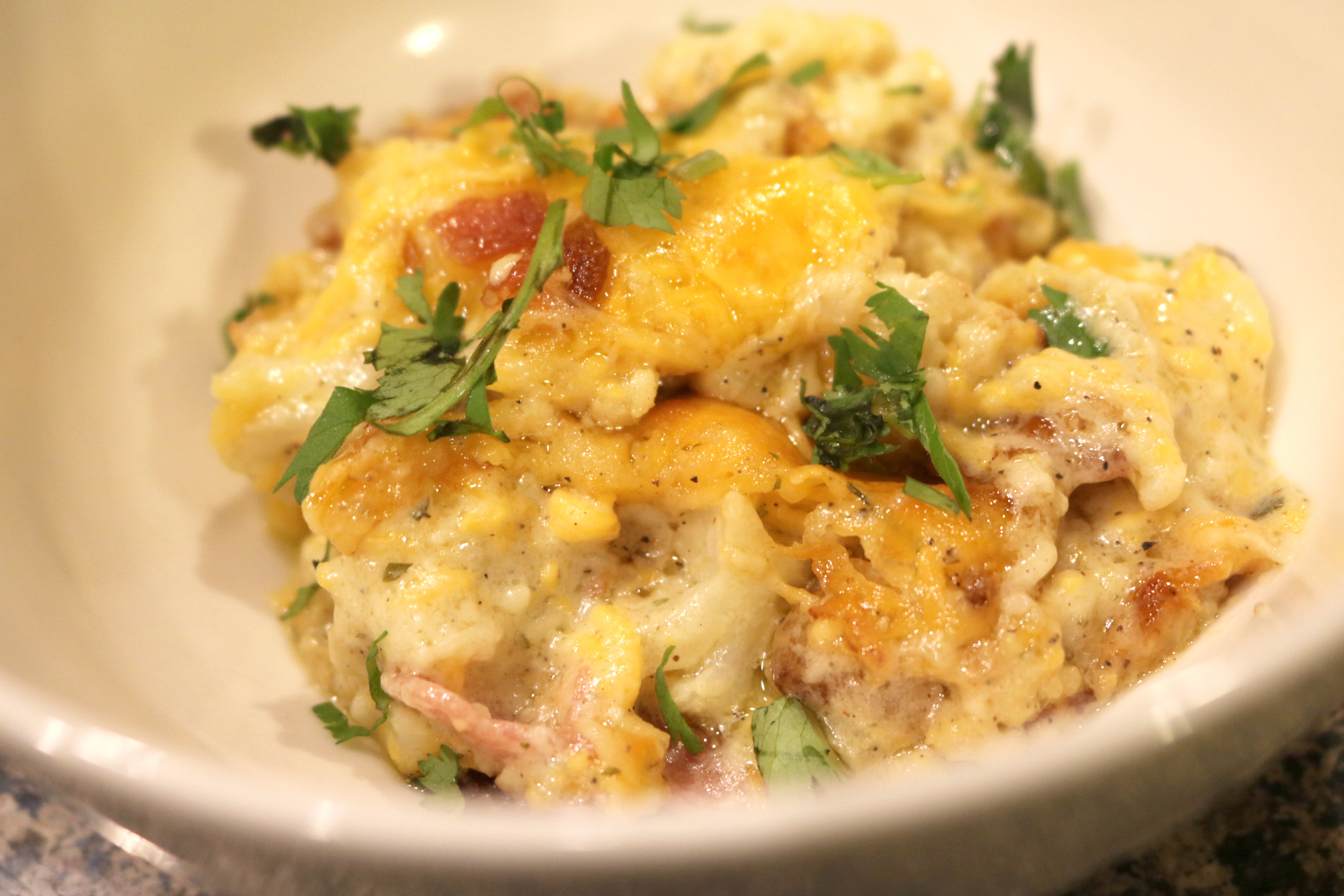 Make this NOW
Chelle Chelle
6 servings
Loaded Cauliflower Casserole
Loaded Cauliflower Casserole is a perfect side that everyone will love and it is KETO/Low Carb friendly. I have had people tell me they like this better than my loaded mashed potatoes... it really is that good.
10 minPrep Time
35 minCook Time
50 minTotal Time
5 based on 2 review(s)
Ingredients
1 large head cauliflower, chopped into bite size pieces
1 tablespoon extra virgin olive oil
2 teaspoons salt
1 teaspoon pepper
1/2 cup sour cream
1/2 cup mayonnaise
1 tablespoon ranch seasoning
1 1/2 cups shredded cheese (I used a Mexican blend)
6-7 slices crispy bacon, crumbled
1-2 tablespoons fresh chopped herbs, I used parsley (optional)
Directions
Preheat oven to 375
Spray a medium size casserole dish (I used a 1/2 qt dish) with non stick spray, set aside
Line a rimmed baking sheet with parchment paper
Spread chopped cauliflower in an even layer onto parchment paper
Drizzle olive oil over cauliflower and then sprinkle salt & pepper
Toss to combine
Roast in oven for 15-20 minutes, or until cauliflower is just fork tender and is starting to brown
While cauliflower is roasting in a large bowl whisk together sour cream, mayonnaise, ranch seasoning, 1 cup of cheese and 1/2 the bacon
Once cauliflower is roasted toss into sour cream mixture, stirring until all is combined
Spoon cauliflower mixture into prepared casserole dish
Top with remaining cheese and bacon
Cover and bake for 20 minutes
Remove cover and continue baking for another 5-10 minutes or until cheese is bubbly and starting to brown
Remove and let stand for 5-10 minutes
Top with fresh herbs just before serving
ENJOY!
Notes
Each serving is 5 net Carbs as based on the Carb Manager App
7.8.1.2
479
https://sparklesnsprouts.com/2019/01/18/loaded-cauliflower-casserole/
All images are the property of Sparkles n Sprouts, to use image please contact the webmaster at michelle@sparklesnsprouts.com
Make sure and pin this now so you don't lose it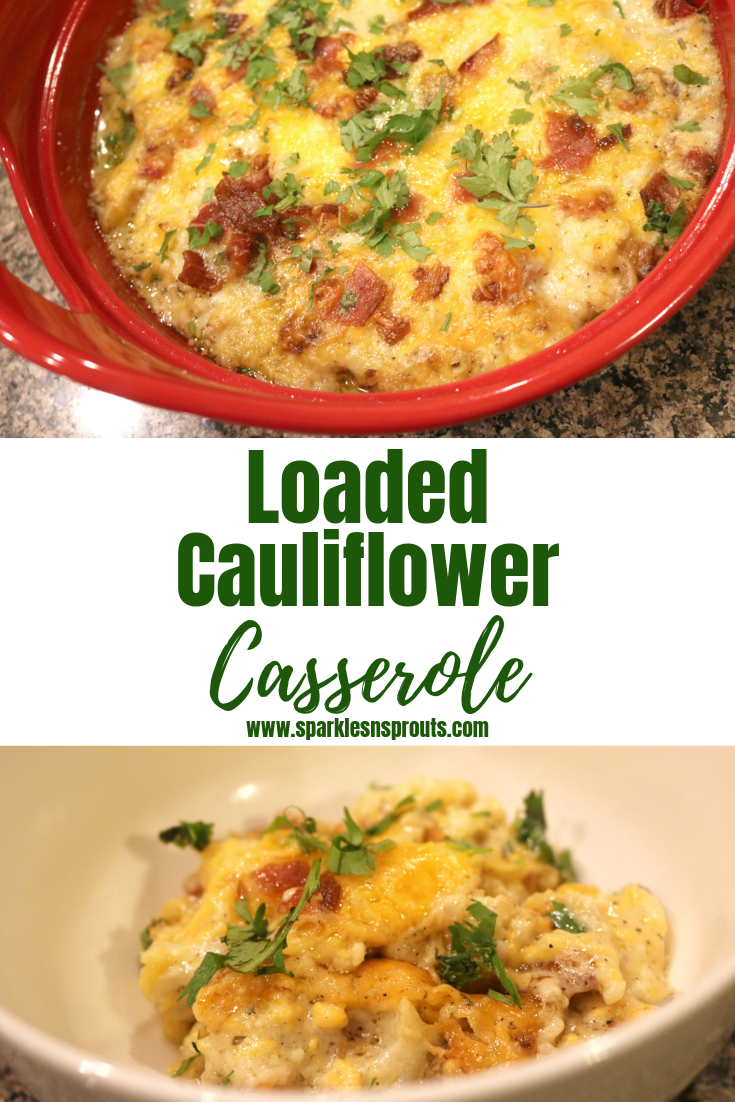 Follow us below so you never miss a thing