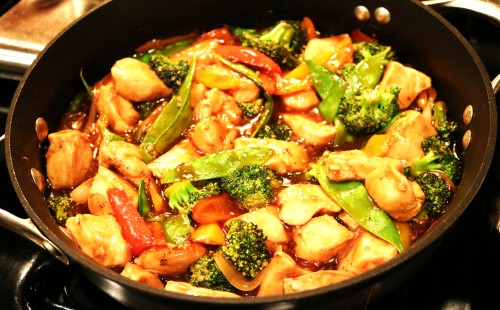 stirrin' things up with some stir fry
So how do you feel about stir fry?  This was a question posed to me not too long ago and to be honest I didn't have much of an answer.  I mean I have had my fair share of stir fry, ok maybe not my fair share but at least a couple here and there and they were always ok.  Probably my favorite was this one that I fixed last year (yes, I don't fix stir fry that often) but for some odd reason I was craving a little stir fry.
I was at the grocery store when the craving hit me and I immediately went back to the produce area and started grabbing everything that looked good…and before I knew it I had broccoli, snow peas, multiple bell peppers and onions (along with some other veggies but they didn't make the stir fry cut).  
Next decision was all about which protein to use.  I could go with a thinly sliced rib eye, sliced portobello mushrooms (people say they are like steak), shrimp, or I could use chicken…and in the end chicken won.  To make the chicken stand out a little I used salt, pepper and ground ginger…I personally love ground ginger and with chicken I think it is even better…and then I used it in the sauce again, just to really amp up the ginger flavor.  Since I was using chicken I decided to lighten-up the sauce a little making it perfect for even those who are watching their diet. 
I served the stir fry over my garlic brown rice (recipe can be found here) but you could serve over noodles or just on its own.  
MJ
4 servings
Skinny Stir Fry
A delicious veggie & chicken stir fry that is light but so full of flavor no one will know it is a lighter dish.
10 minPrep Time
30 minCook Time
45 minTotal Time
Ingredients
1 lb boneless, skinless chicken breast, cut into bite size pieces
2 tsp salt
2 tsp pepper
1 tsp ground ginger
1 head broccoli, chopped
1 bell pepper or several small bell peppers, sliced into strips - I used 8 mini peppers
1 cup snow peas
1 small onion, sliced
1/2 cup chicken stock
2 tbsp low sodium soy sauce
1 tbsp brown sugar
1 tbsp rice wine vinegar
1 tsp sesame oil
1 tsp ground ginger
2 tsp cornstarch
Directions
Spray a large skillet with nonstick spray and heat over medium heat
Season chicken with salt, pepper and ground ginger
Add chicken to hot skillet and cook for several minutes, until nicely browned and then flip and cook for an additional few minutes
Remove chicken and place on platter
To the same skillet add in all the veggies and cook until just beginning to soften, about 5 minutes, stirring often
In a small bowl whisk together chicken stock, soy sauce, brown sugar, rice wine vinegar, sesame oil, ground ginger and cornstarch until smooth
When veggies are just beginning to soften and brown pour sauce over veggies
Add chicken to skillet and toss to coat chicken and veggies with sauce
Cook for an additional 3-4 minutes or until sauce has thickened and reduced some, tossing often
Serve over brown rice, or on its own
ENJOY!!
Notes
Each serving (about 1 cup without rice) is 5 WW Smart Points
Nutritional Info Calories 257 Calories from Fat 50 Total Fat 5.5g Trans Fat 0.0g Cholesterol 97mg Sodium 1694mg Potassium 519mg Total Carbohydrates 11.8 Dietary Fiber 2.6g Sugars 6.1g Protein 39.0g Vitamin A 27% - Vitamin C 98% Calcium 5% - Iron 17% Nutrition Grade A
7.8.1.2
85
https://sparklesnsprouts.com/2016/02/22/stir-fry-skinny/
All images are the property of Sparkles n Sprouts, to use image please contact the webmaster at michelle@sparklesnsprouts.com
Now if the idea of stir fry scared you because you think you need a wok to make it…don't worry you don't need one.  You can make stir fry in your favorite skillet, just make sure the heat is high and that you cook everything in the same pan letting the recipe build flavor as you cook it.  My favorite skillet for stir fry is this one…it is the perfect size to fit everything without being to heavy to lift or too big to store…plus it comes with a lid making it perfect for a 1000 other recipes.
So whether you are looking for a dinner chocked full of veggies, or you trying to get your kids (big or little) to eat more veggies this dish is perfect for you!   You can also use almost any combo of veggies you prefer…just make sure to adjust cooking time as needed.
Make everyday sparkle – MJ