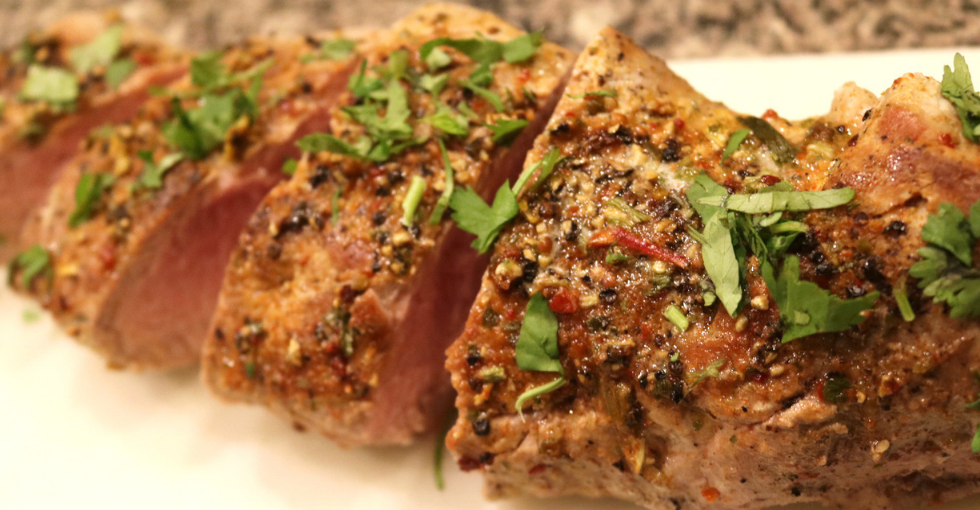 I love a good roasted pork tenderloin. They are quick, easy and you can change up the flavor with just a few ingredients. This Roasted Pork Tenderloin is so good, it is super moist and is ready in less than 30 minutes.
Also it is KETO/Low Carb friendly.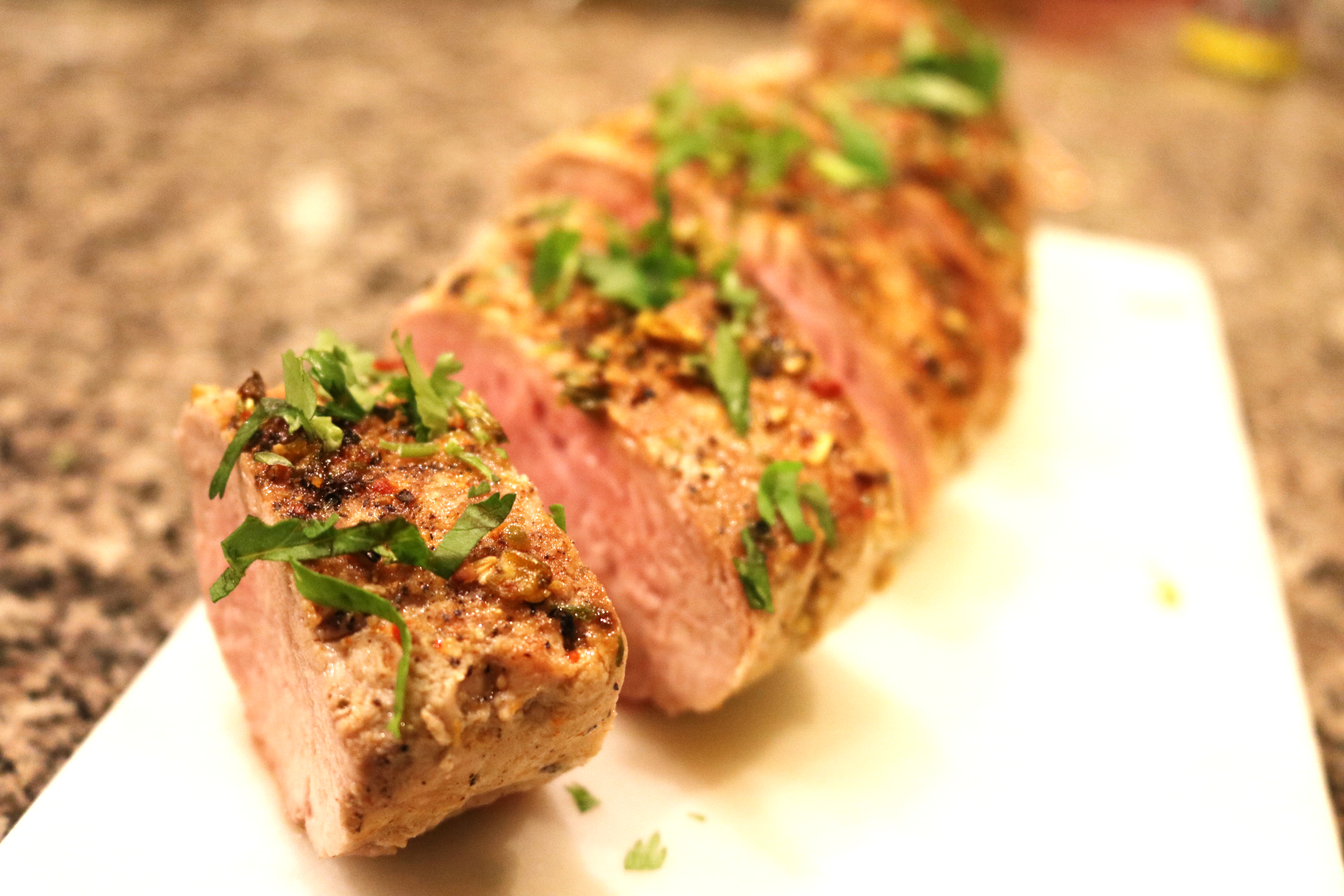 Its all about the seasoning
This great new spice store opened up close to me and I am obsessed with it. I love trying out all there combos and experiencing spices I have never used before. One of my favorite blends is this Signature Blend. It is loaded with tons of flavor and is coarse which helps make for a beautiful and delicious crust.
For this pork tenderloin I put on after I seared it and right before I wrapped it to roast in the oven. You could rub it on before you sear it… it is all your preference.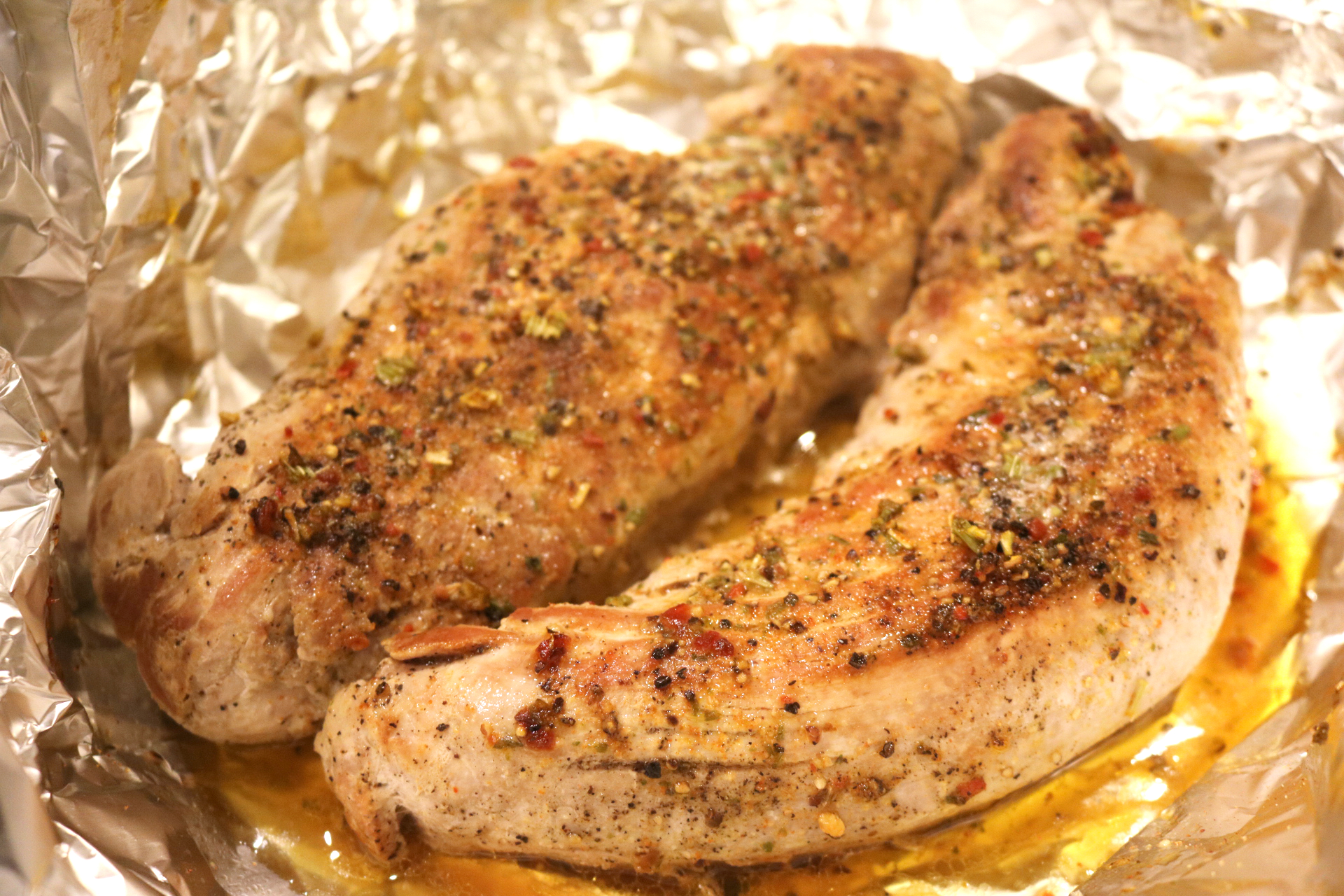 Sear it always
To add extra flavor and to help ensure it is super moist searing is key. For this tenderloin I seasoned it with salt & pepper and then rubbed on the seasoning blend. Not only does searing add flavor and keeps it moist but it also creates a beautiful color which I love.
I am a firm believer that you eat with your eyes first and when a dish looks delicious it probably is delicious when you finally taste it.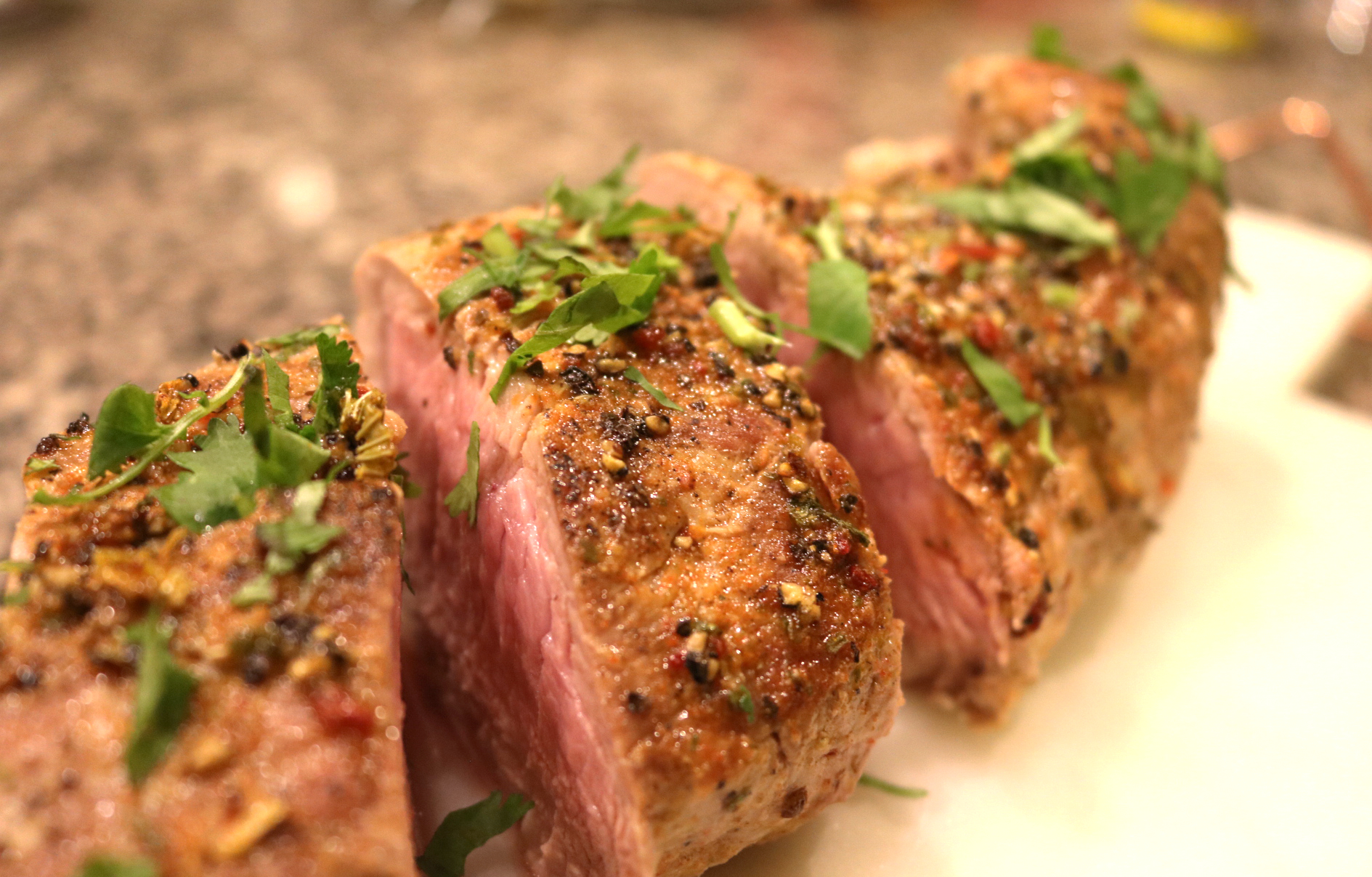 Yes, it is a little pink
OK, ok I know some of you might be a little nervous about pork being a little pink. For me I am a believer in a little pink will not kill you.
For tenderloins I cook them to 150-155 degrees and then let it rest for 5-10 minutes before cutting. This will help ensure all the juices have time to distribute into the meat and not run out when you cut into it. If you are not a fan of pink cook it to 160-165 degrees and then let rest and it will be amazing!
Also… then end pieces will be a little more done than the center so there is a little something for everyone.
Dinner for tonight…
Chelle Chelle
8
Roasted Pork Tenderloin
Roasted Pork Tenderloin is super moist, loaded with tons of flavor and comes together in less than 45 minutes, making it perfect for even the busiest of days.
5 minPrep Time
30 minCook Time
45 minTotal Time
Ingredients
3 pound beef tenderloin (or 2 - 1/1/2 pound tenderloins)
1 tablespoon extra virgin olive oil or avocado oil
1 tablespoon salt
1 tablespoon pepper
2 tablespoons course ground
all purpose seasoning
, your favorite variety will work just make sure it is low or no carb (some have sugar in them)
4 tablespoons butter, sliced into pats
1-2 tablespoons fresh chopped herbs
Directions
Preheat oven to 375
Line a rimmed baking sheet with aluminum foil, set aside
Place pork tenderloins onto cutting board and pat dry
In a large skillet heat olive oil over medium high heat
Season tenderloins with salt & pepper on all sides
Place tenderloins into skillet and sear on each side for 3-4 minutes
Move seared tenderloins to foil
Sprinkle tenderloins with all purpose seasoning
Place butter pats on top of tenderloins
Wrap foil around tenderloins
Place into oven and roast until internal temperature reaches 150-155, about 20-25 minutes
Let rest for 10 minutes before cutting
Sprinkle with fresh herbs & serve
ENJOY!
Notes
Each serving has 1 net Carb as based on the Carb Manager App
7.8.1.2
478
https://sparklesnsprouts.com/2019/01/20/roasted-pork-tenderloin/
All images are the property of Sparkles n Sprouts, to use image please contact the webmaster at michelle@sparklesnsprouts.com
Don't forget to pin this now so you don't lose it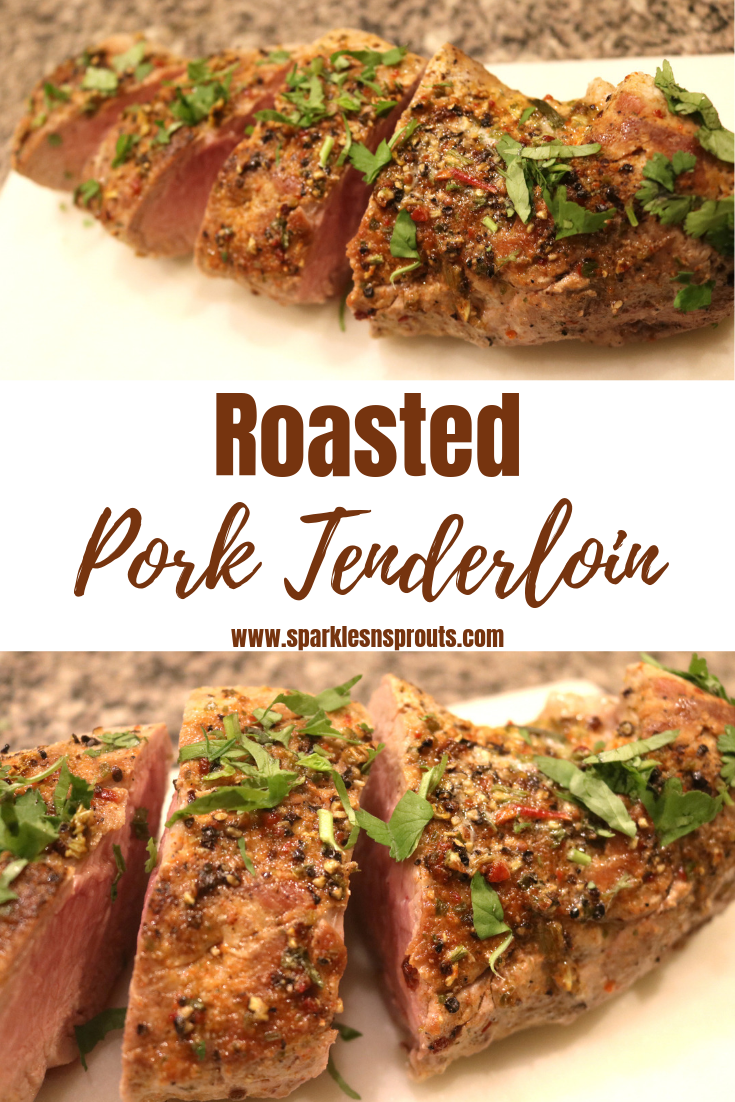 Follow us below so you never miss a thing