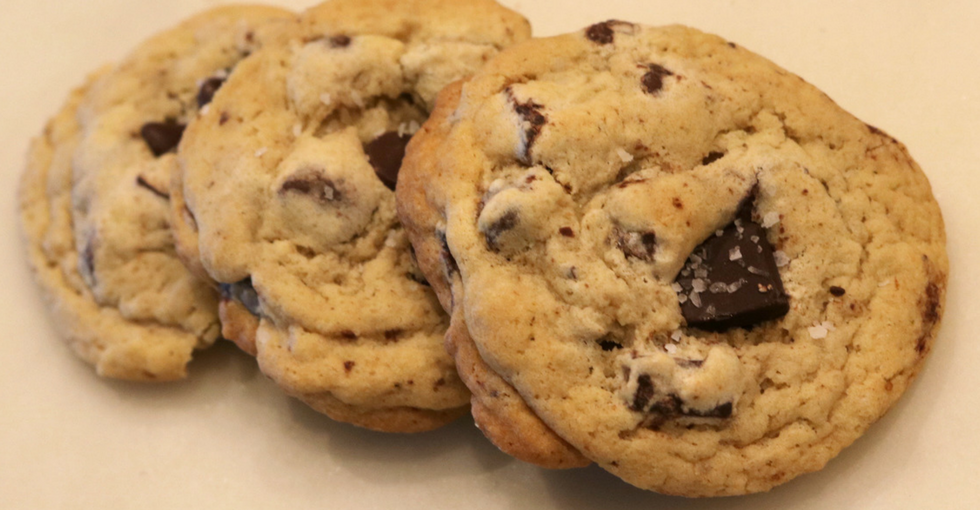 The BEST Chocolate Chip Cookie
I am so in the mood for chocolate chip cookies…I mean like a whole big plate of them with ice cold milk. Even more I want these cookies…RIGHT NOW!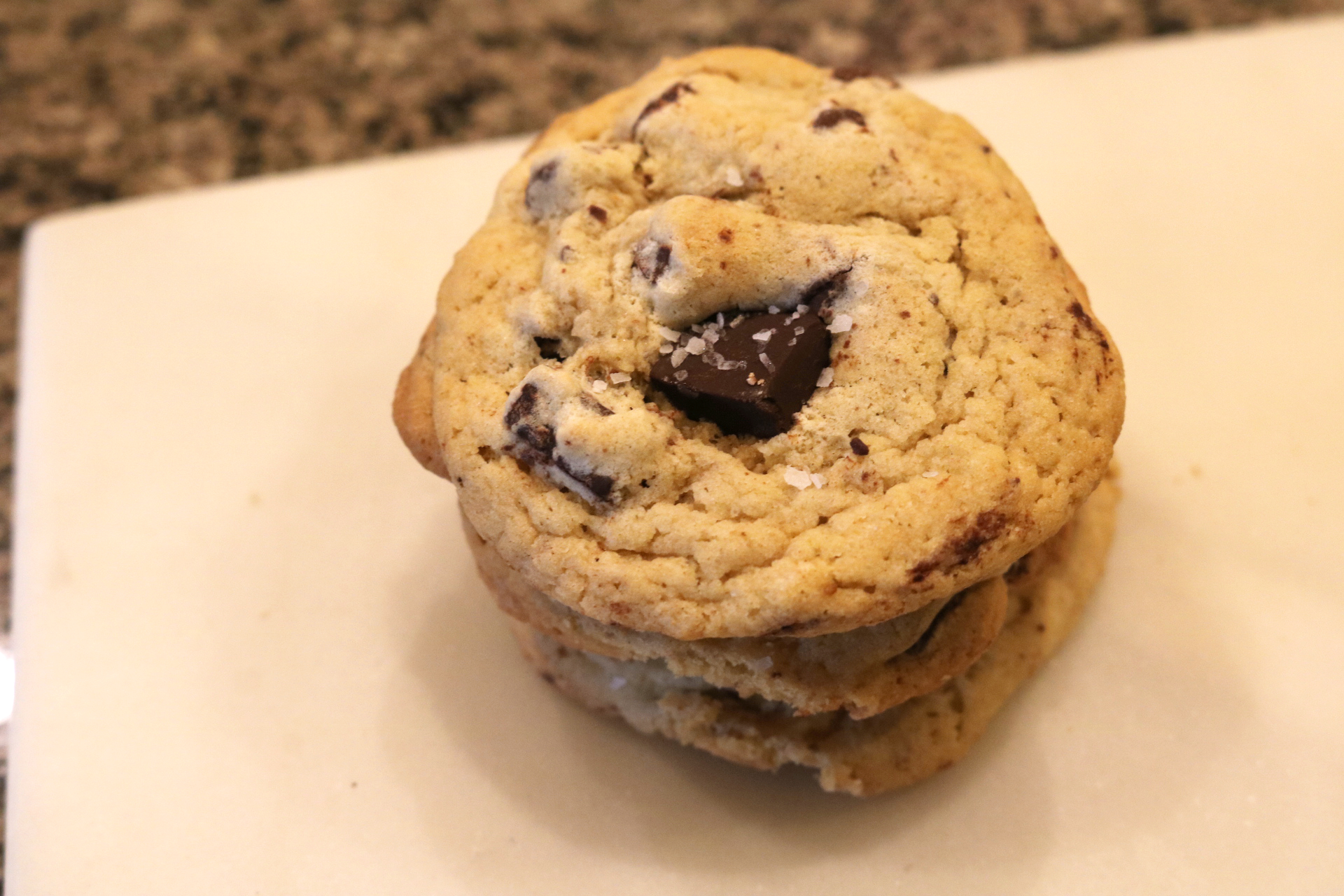 My version of the NYT recipe
If you have searched for a chocolate chip cookie recipe on Pinterest lately I am sure you seen the New York Times recipe. It is the recipe made with cake flour and bread flour and then you have to chill it for 24 hours. Well, I don't know about you but chilling cookie dough for 24 hours is not something I am very good at.
I have done it before and the cookies were really good (they are my sis-in-love's most favorite) so when she asked me to make them for her birthday I said sure…and then I ran out of time. Literally I remembered she wanted them the day of her birthday, and just in case time is not your thing that is less than 24 hours, but I couldn't let her down. It was time to improvise.
And I am so glad I did…they turned out AMAZING (& Mary loved them and had no idea they were different).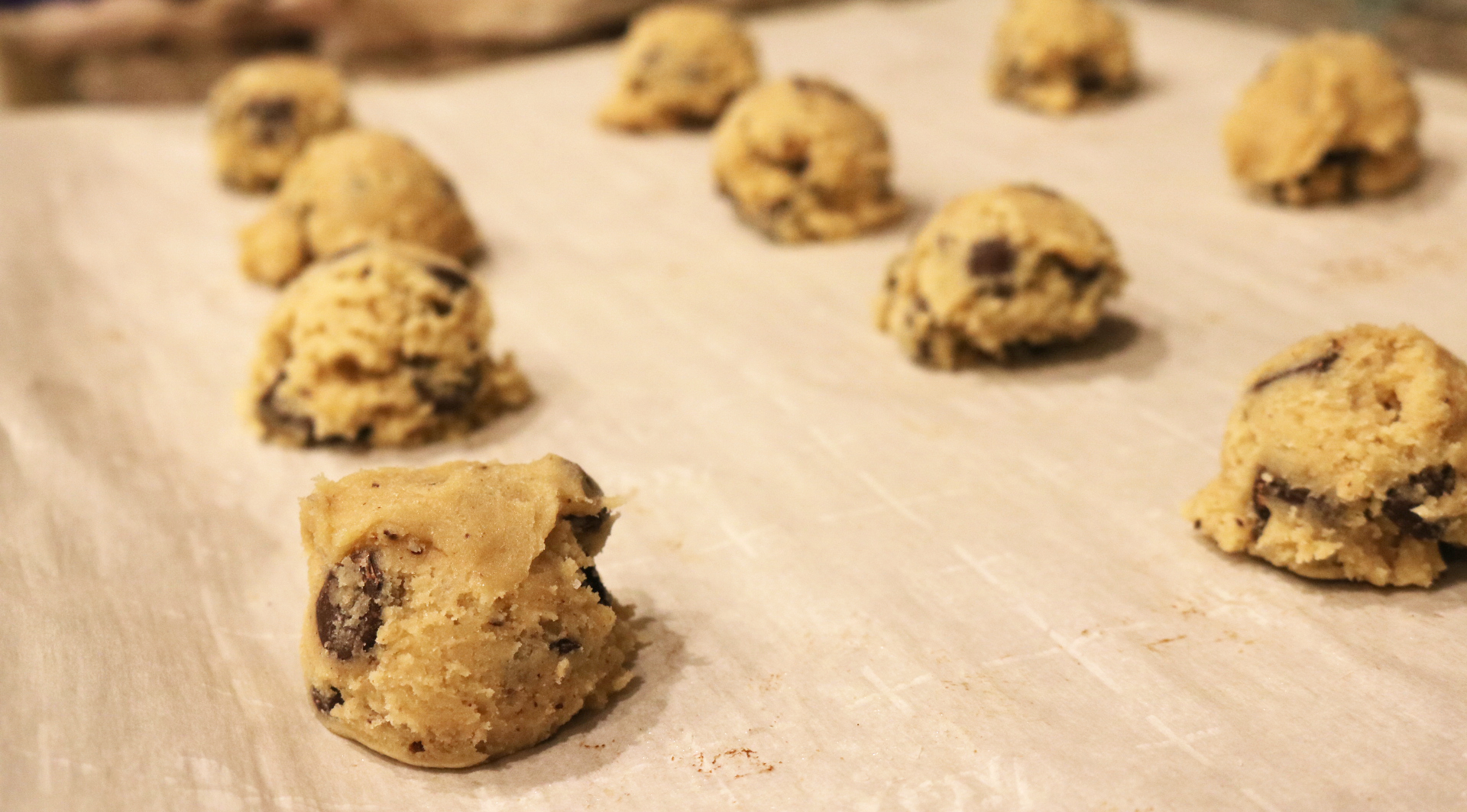 ohhh the dough
What makes these cookies so good is chilling the dough and letting it rest. Well being that I didn't have too much time I decided to speed up the chilling process and placed it into the freezer. I left it in there for just over a hour.
When I got it out the dough was chilled to perfection and made the most perfect mounds of cookie dough. I mean just look at them. I could just eat them all up…yes I love raw cookie dough.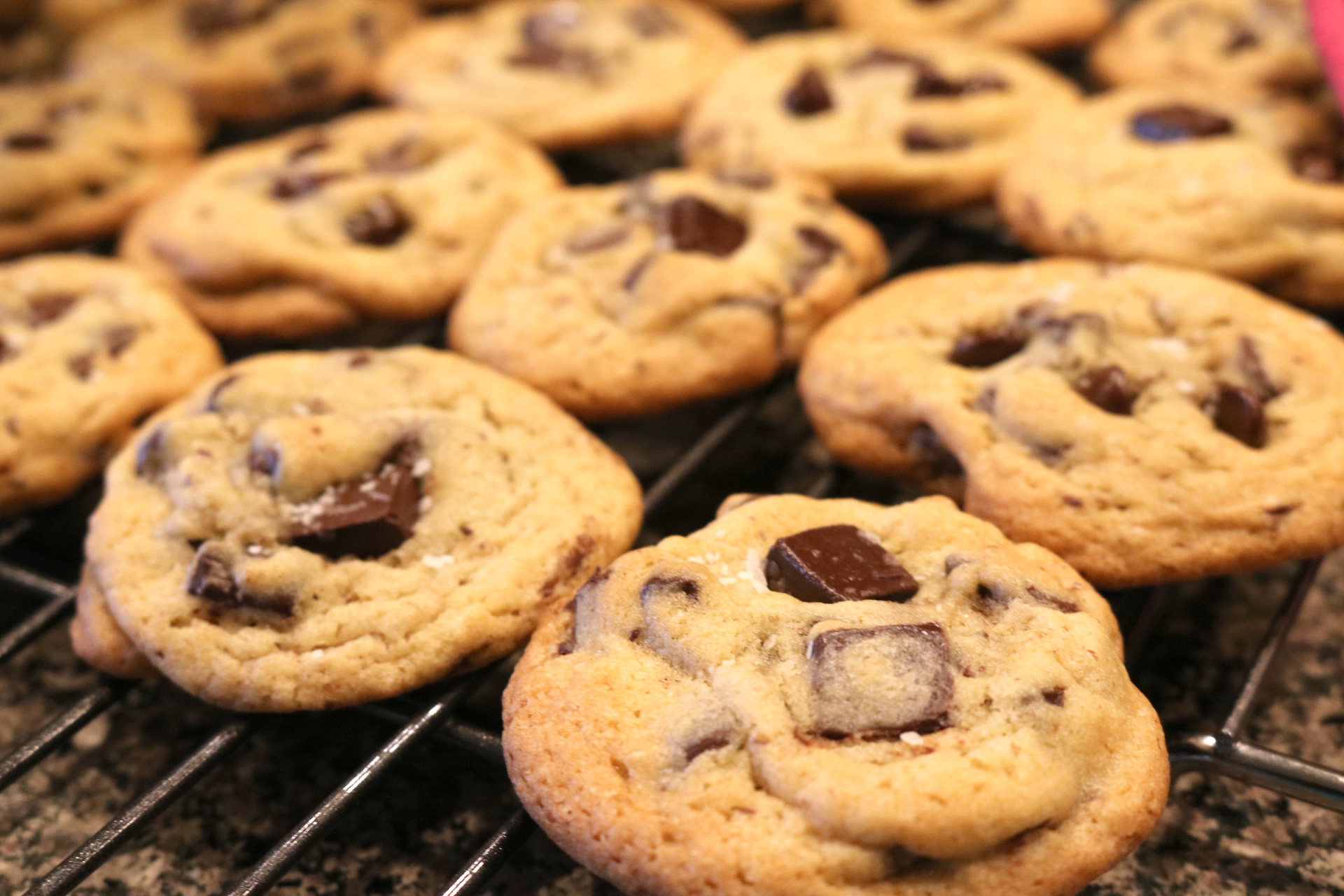 A little sprinkle of love
As soon as the cookies come out of the oven I do things immediately. I press in a few extra chocolate chunks into the top of each cookie, it just makes them pretty.
Secondly I sprinkle a little sea salt over the cookies. The little bit if salt adds so much flavor to the cookie. Don't worry they won't be salty, it actually intensifies the chocolate in each bite. Just try it…trust me.
You need to make these ASAP
Chelle Chelle (adapted from the NYT Chocolate Chip Cookie Recipe)
6 dozen cookies
The BESTChocolate Chip Cookie
The perfect chocolate chip cookie. Each bite is loaded with chocolate chips, a buttery cookie with crisp edges and a soft center making these the BEST Chocolate Chip Cookies ever.
2 hrPrep Time
11 minCook Time
2 hr, 11 Total Time
Ingredients
2 cups cake flour
1 2/3 cups bread flour
1 1/4 teaspoons baking soda
1 1/2 teaspoons baking powder
1 teaspoon salt
1 1/4 cups butter, room temperature
1 1/2 cups brown sugar
3/4 cup sugar
2 eggs
2 teaspoons vanilla bean paste (or vanilla extract)
1 cup semi sweet chocolate chips
1/2 cup dark chocolate chips
1/2 lb chopped dark chocolate
Sea Salt for finishing
Directions
In a large bowl whisk together flours, baking soda, baking powder and salt, set aside
In the bowl of a stand mixer cream together butter and sugars until light and fluffy, 4-5 minutes
Add in eggs, one at a time, scraping down the sides as needed
Add in vanilla bean paste, mixing until just combined
Reduce speed to low and add in flour mixture, mixing until just combined
Add in chocolate chips and chopped chocolate
Remove bowl and cover with plastic wrap
Place into freezer for at least 1 hour or into the refrigerator for up to 3 days
-- To Bake --
Preheat oven to 350
Line cookie sheets with parchment paper
Using a small cookie scoop place dough balls onto prepared pans
Bake for 10-12 minutes, or until golden brown but still soft in the center
Remove and press in additional chocolate chips if desired and sprinkle with sea salt
Let cool on pan for 5 minutes and then let cool completely on a wire rack
Enjoy!!
Notes
Use whatever combo of chocolate chips you prefer. You can also add in nuts if you would like.
7.8.1.2
404
https://sparklesnsprouts.com/2018/03/12/the-best-chocolate-chip-cookie/
All images are the property of Sparkles n Sprouts, to use image please contact the webmaster at michelle@sparklesnsprouts.com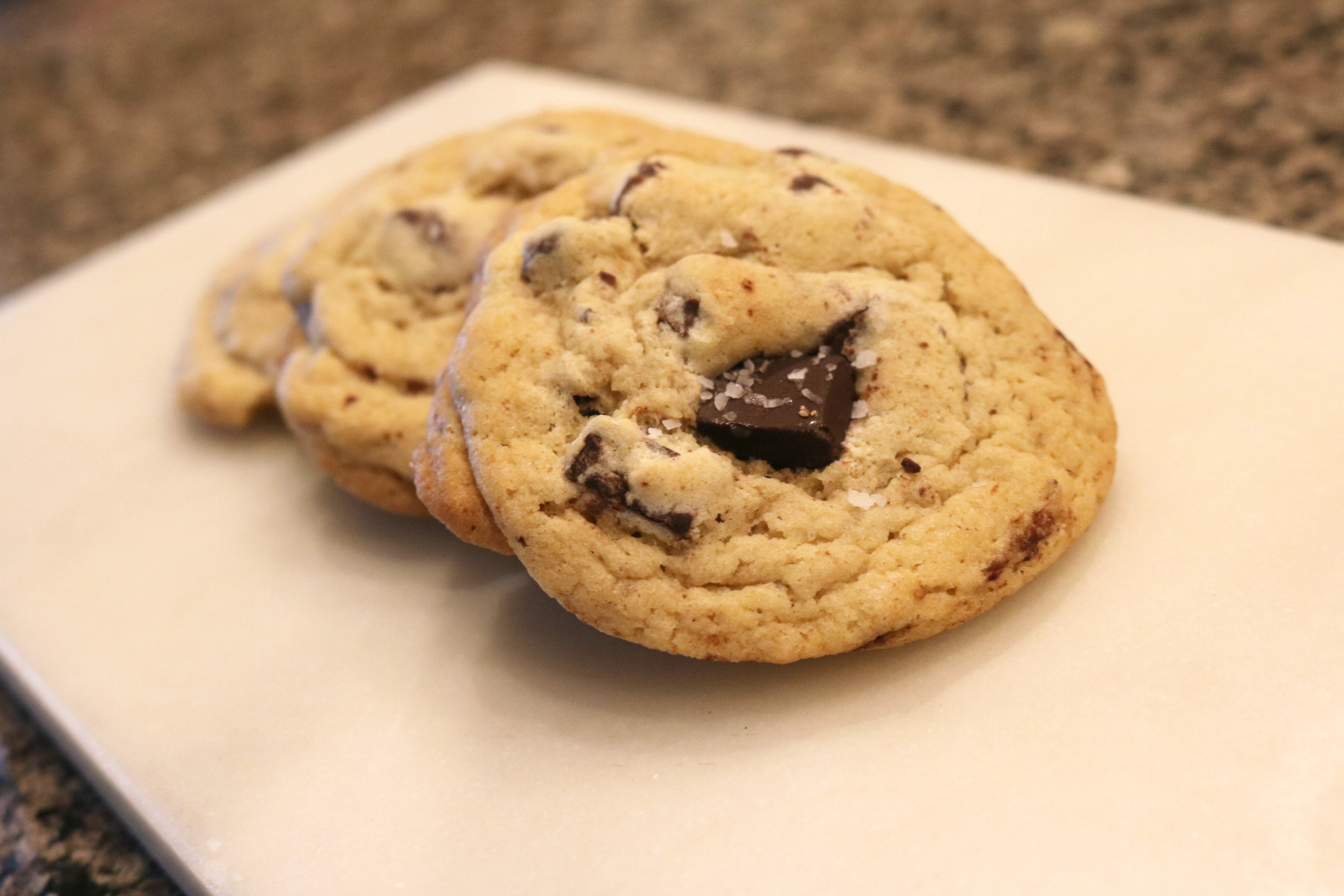 The birthday girl loved them
Like I said above my sis-in-love had no idea that these were not her "original" favorite cookies. I was a little nervous that she might be able to tell a difference but she couldn't. They really are The BEST Chocolate Chip Cookies…EVER!!